5 of the best New Jersey casino designs guide, NJ gambling property online, US building advice
5 of the Best New Jersey Casino Designs
June 19, 2021
By now, most people know that the architectural design of casinos plays a crucial role in psychology to lure gamblers. The beauty lies in the fact that all casinos are very similar to one another, but the devil's in the detail, and every casino has something unique by which they differ. So what are the best New Jersey casino designs?
Due to the financial aspect, it's not a secret that a huge amount of funding and research has been spent by casinos to attract new players as well as make the regular ones stay as long as possible, to spend as much as possible.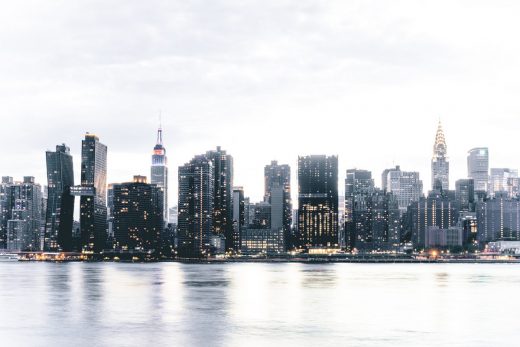 5 of the Best New Jersey Casino Building Designs
While there are differences in the classic gaming design and playground design, there are some tried and tested ways of appealing to the senses to create just the right atmosphere for players that most casinos use, like:
The right room temperature
Aromatic smells
Soft, ambient music
With that being said, as time went on, technology progressed, and the online gambling industry appeared on the market, people were very excited to try out this new form of gambling. Needless to say, it was a booming success.
As online casinos are taking the world by storm, traditional casinos constantly search for ways to improve and upgrade to shift all attention back to them.
Finally, if you are interested in how to gamble on the internet safely, NJ online casinos will provide you with all the necessary information.
New Jersey Designs Often Mimic Las Vegas
Most people, when they enter a casino, are aware of what's happening on a surface level, and believe it or not, a casino's ability to create a false sense of reality extends beyond house edge and a couple of free drinks.
With that being said, if you've ever visited some of the best New Jersey casinos, you've probably noticed the sheer size of the ballroom, followed by flashing, bright, glittering lights and sweet aromatic smells as well as various slot machines making extra alluring and inviting sounds.
Well, doesn't all of that look familiar? That's because most casinos, including New Jersey casinos, often mimic Las Vegas, rightfully so. With the amount of success Las Vegas casino resorts have due to architecture, it's no wonder why so many casinos want to imitate them.
Next time you visit a casino, try finding a clock or a window. The chances are that you will probably not find it because that's one of the main casino tricks to get players into the casino and keep them there.
#1 Hard Rock Hotel and Casino
The famous entertainment playground, situated along the iconic Atlantic City boardwalk, is Hard Rock Hotel and Casino. In less than a year, Jeffrey Beers International and Wimberly Interiors, a heaven-matched design team, transformed the once closed casino into the empire we know it today.
The dynamic terrazzo pattern along with the guitar theme are two main design staples of this casino. Extraordinarily good attention to detail and craftsmanship are noticeably manifested throughout this project, and the success of this casino came accordingly.
#2 Ocean Resort Casino
There's no denying that Ocean Resort Casino, in terms of elegance and modernity, is at the top of Atlantic City's entertainment establishments. And for a property that opened for the first time in 2012, Ocean Casino Resort, previously known as Revel, has a convoluted history.
The soundproofed rooms are sleek and spacious, and the William Sports Book is a booming attraction. For those of you who would love to swing, there's an incredible Top Golf simulator and bar off the casino floors.
Finally, when you get hungry, make a reservation at the Amada or if you have been craving for a medium-rare ribeye, the upscale steakhouse American Cut is for you. As for the drinks, the rock-edge craft beer bar Villain and Saint is a go-to location.
#3 Tropicana Casino and Resort
Tropicana Casino and Resort, previously known as TropWorld Resort, is situated alongside entertainment venues on the downtown Atlantic City boardwalk. This magnificent resort offers a full-service spa, a nightclub, a salon, and 20 restaurants, as well as indoor and outdoor swimming pools.
If you are looking to get loose, then the Damn Good Sports Bar, as well as the retro club Boogie Nights, are a must place to visit during your stay. Also, if you want to lay back and enjoy a good movie, the Tropicana Casino and Resort has an IMAX movie theater.
#4 Borgata Hotel Casino and Spa
Located in Atlantic City's Marina District, Borgata Hotel Casino and Spa is basically the East Coast equivalent of a LA experience. Every casino area is designed distinctly with elements like Chihuly glass sculptures, vertical water walls, and lighting treatments.
The casino offers 2,000 guest rooms and features 161,000 square feet of gaming, over 3000 slot machines, 182 gaming tables, and 80 table poker rooms.
Additionally, this casino has five acclaimed fine dining restaurants, nine casual dining options, 70,000 square feet of event space, a 54,000 square foot spa, and parking for over 7000 cars.
Finally, if there's one thing for certain, it's that from the moment you set foot in this establishment, the architect and detailed designs will surround you with elegance and comfort.
#5 Bally's Atlantic City Hotel and Casino
Bally's Atlantic City Hotel and Casino, located on the waterfront, offers inviting interiors as well as a wealth of amenities designed to make your stay luxurious as possible. Guests have the option to enjoy fast-paced gaming action with casino games like Spanish 21, Baccarat, and Blackjack.
On the other hand, if you are looking for a more relaxed experience, then you can sit back and play slots as progressives, video poker, and video reels.
Additionally, you can relax in one of the seven mosaic whirlpools set in a tropical environment, take a dip in the pool or play ping-pong with your friends in a recreation room.
Comments on this guide to 5 of the Best New Jersey Casino Designs article are welcome.
New Jersey Architecture
NJ Architecture
Gloria Gaynor's New Jersey Mansion
Sojourner Truth Apartments for Rutgers University, 40 College Ave, New Brunswick, NJ 08901
Design: Elkus Manfredi Architects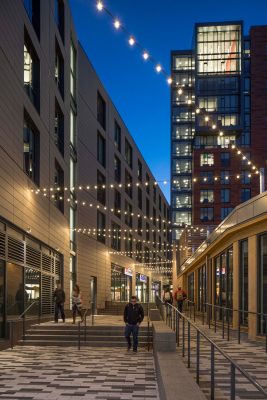 photo © Brad Feinknopf Photography
Sojourner Truth Apartments
The Modern, Fort Lee
Design: Elkus Manfredi Architects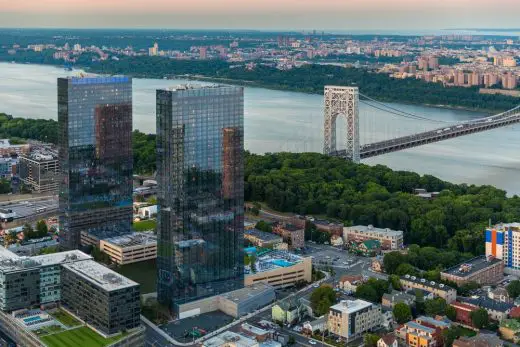 photo © Evan Joseph
The Modern at Fort Lee
Casino Buildings
Casino Building Designs
Top architectural casino projects in Canada
Do online casinos threaten land-based gambling?
10 reasons online casinos are better than traditional ones
Comments / photos for the 5 of the Best New Jersey Casino Designs advice article page welcome