Trusted Home Soundproofing Advice, Property Acoustics Tips, House Guide
Be the Better Neighbor and Soundproof Your Home
4 Dec 2019
Be the Better Neighbor and Soundproof Your Home – You'll Be Glad You Did!
Don't you just hate it when you're trying to relax at home and suddenly there's a huge ruckus outside? Or maybe you're trying to get some sleep and someone decided to get workers and start renovating their home at 6 am!
Also, if you're the one who's making a lot of noise most of the time, then there must be a way for you to do what you want without disturbing your neighbors. The best solution is to soundproof your home to keep everyone happy.
Have Double Drywalls
This is also known as double plasterboard walls, which are made of vertical wood studs and hollow cavities; you can have these on your walls and ceiling, having them from 1/2 inches to 5/8 inches thick. Then you will add another layer of drywall over the first one to give each room in the house better insulation and have sound barriers all over the place, so no sound would go in or out of the house.
Get Special Curtains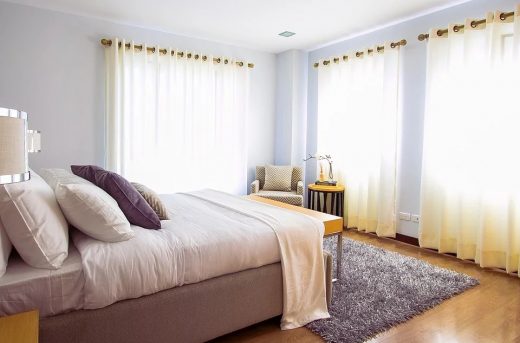 Image Source: https://cdn.pixabay.com/photo/2016/11/19/13/06/bed-1839183_960_720.jpg
Did you know that some manufacturers made curtains that are specifically designed to help with your soundproofing purposes? This product allows you to reduce the noise levels from the inside and the outside too; noise canceling curtains can come in different designs and materials, so you get to choose from microfiber, thermal blackout, normal blackout, velvet, linen grommet, and much more. They work perfectly because they are designed to absorb all the echoes inside and outside your home to help keep everything insulated.
Place Various Acoustic Panels
These panels are mostly made from polyurethane foam or extruded melamine foam; they come in different designs and colors like charcoal gray, burgundy, or purple. They are mounting adhesive, so you won't have a problem decorating your rooms with them; they are perfect for insulation and soundproofing your home so nothing inside can echo and bounce through the walls to the outside.
Place Your Subwoofer Speakers Correctly
This is something very simple and easy to do, but most people never notice that it's the cause of so much noise for the people outside. You need to modify your TV and speaker placement to have the speakers not pointed downward or in a corner of a shared wall. That can reduce the sound immensely because there won't be a lot of vibrating resonance transferred to your neighbors around you.
Get Solid Core Doors
Changing your doors to solid core is perfect, since they would be fully filled with wood and composite material inside their frame. So there won't be any sound transmitting on or out, allowing you to do whatever you want privately. Also, any sound coming from outside won't creep in as much as it did before.
Soundproofing your home might be the best solution you could ever ask for when it comes to noisy neighbors or to avoid becoming one yourself; it's the best investment you could ever think of because there won't be any complaints, ruined days off, or interrupted sleep patterns. So make the right choice and opt  for all the things you'd need to soundproof your home.
Comments on this guide to Be the Better Neighbor and Soundproof Your Home advice article are welcome.
Building Articles
Kite House, near Salisbury, Wiltshire, Southern England, UK
Design: AR Design Studio, Architects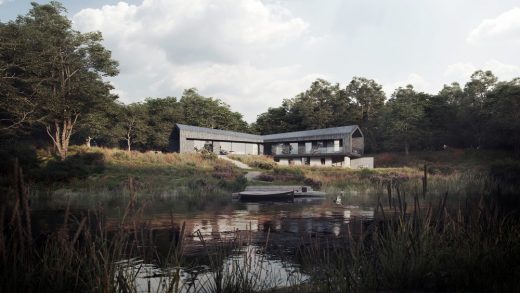 picture courtesy of architects office
House on River Avon
Comments / photos for the Be the Better Neighbor and Soundproof Your Home page welcome