5 Most Beautiful Land-Based Casino Buildings in the World, Gaming resorts, Gambling designs
5 Most Beautiful Land-Based Casinos in the World
Sep 2, 2020
Whether you have a passion for poker, are crazy for craps, or are a complete gambling novice, there's nothing quite like the thrill of getting all dressed up to spend an evening in a beautiful casino. Whilst many casino fans have switched their allegiance to the convenience of online casinos, such as Gambling Metropolis, the atmosphere and the architecture of a land based casino always combine to create an unforgettable experience that you'll never forget. But where will you find these architecturally beautiful casinos? Here's our list of the best five:
Monte Carlo Casino, Monaco


image source : www.montecarlosbm.com/
Monte Carlo is known as a gambling metropolis, and a playground for the rich and famous. The Monte Carlo Casino, officially known as the Casino de Monte-Carlo, is not only one of the most famous casinos in the world, but also one of the most beautiful. Opened in 1863, the imposing building is richly decorated in a Napoleon III style, and has an impressive and dramatic façade. Charles Garnier, the French architect who famously designed the Garnier Palace in Paris, is also the architect of the Monte Carlo Casino. A favourite location for fictional spy James Bond, Monte Carlo Casino was one of the world's first purpose-built casinos, and it remains one of the most impressive.
Marina Bay Sands, Singapore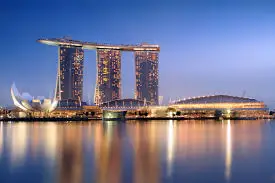 Image credit: Wikipedia
If you're looking for something equally imposing, but a little more modern, then look to the Marina Bay Sands casino and resort in Singapore. Construction of this gambling megalith is reported to have cost an incredible $8 billion, and it has three identical towers which are broader at the base and narrower as they rise. Finished in 2010, the building is as impressive on the inside as it is on the outside. Thoroughly extravagant, as well as housing a 500-table casino, the Marina Bay Sands also houses an entertainment and leisure complex, and 2,500 rooms and suites.
Caesar's Palace, Las Vegas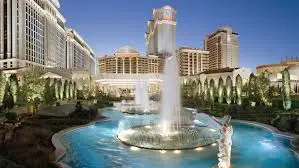 Image credit: Caesars.com
When they think of casinos, most people think 'Viva Las Vegas!' And of all the casinos on the Vegas strip, the one that stands out the most is Caesar's Palace, which is a casino and luxury hotel. Founded in 1966, Caesar's aimed to give guests a taste of the opulence of the Roman empire. The casino has an art deco style that has been infused with old school Hollywood glamour. It has a huge 270 meter frontage, 18 water fountains, and replicas of some of Ancient Rome's finest sculptures. Whilst it may not be original, it certainly is impressive!
Kurhaus of Casino Baden Baden, Germany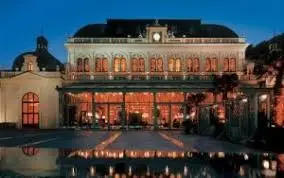 Image credit: badenbaden.com
Situated just outside of Germany's Black Forest region, the Kurhaus of Casino Baden Baden is both beautiful and historically significant. Designed by Friedrich Weinbrenner in 1824, and in a neoclassical design, the inside of the casino is truly opulent. Elaborate chandeliers and plush red carpets perfectly complement the imposing white pillars. The casino has inspired Fyodor Dostoyevsky's The Gambler, and has survived two World Wars. Although it may be small, the sheer beauty of its interior means that this little-known casino more than deserves its place on the list.
Sun City, South Africa


image credit: https://www.sun-city-south-africa.com/ Copyright Sun City International
Located deep in the jungle, Sun City is South Africa's premier casino and resort. Constructed with an opulent jungle vibe, the resort is just 2 hours away from Johannesburg. What makes this casino resort stand out from the crowd is its scale, and its undercurrent of adventure. You'll find four hotels, a casino, two golf courses and even a beach as part of the resort.  As well as trying their hand at the poker table, guests can also book exclusive safaris through the hotel, and see the Big Five as part of their casino experience.
Comments on this 5 Most Beautiful Land-Based Casinos in the World article are welcome
Las Vegas Buildings
Las Vegas Buildings
Vdara Hotel Las Vegas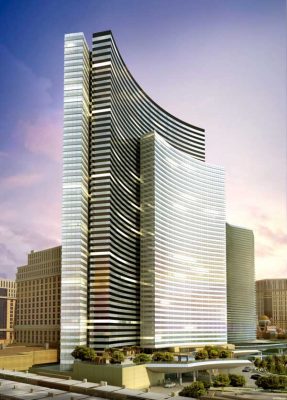 image : CityCenter Land, LLC
Monte Carlo Buildings
Monte Carlo Buildings
Casino Articles
Casino Posts
Best casino architecture around the world
7 Amazing Casino Architecture Designs
Most Beautiful Casino Buildings in the World
Comments / photos for the 5 Most Beautiful Land-Based Casinos in the World page welcome