2020 Bathroom Renovation Trends Tips, Property Enhancement Guide, Real Estate Improvement
2020 Bathroom Renovation Trends
18 May 2020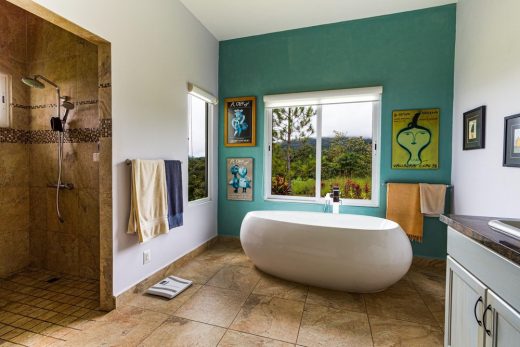 If you finally have some free time on your hands or you've recently come into some money, you might be thinking of renovating your home. One area that people devote a lot of time to is the bathroom, so if you too are looking into ways of how you can breathe some new life into this room, keep on reading for some 2020 trends that will surely help with this endeavour.
Smart Technology
Seeing as how more and more homeowners are implementing smart technology into their properties, it comes as no surprise that it has also reached the bathroom. We've all heard of high-tech toilets that have seat warmers, adjustable air dryers, automatic lid openers and other useful additions.
However, as technology is always advancing, we are now able to set a timer for our shower to start automatically or use voice-activated features that allow us to control the lights and temperature in the room. You can even add a TV or speakers that will make your time in the bath that much more enjoyable as you catch up on your favourite show or podcast.
Floating Elements
If high-tech toilets are a bit too much for you but you would still like your bathroom to look modern, you can consider a floating toilet. By mounting these on the wall, you will get more space on the floor and create the illusion of a bigger room. Plus, these models are usually very sleek which is sure to boost the aesthetic appearance of the bathroom. What is more, there are other elements that you can mount on the wall if you are looking to make the room more spacious, such as floating vanities which are perfect for a contemporary design.
Open Showers and Big Tubs
Another element that screams contemporary design is the open shower. This approach will visually increase the size of the room as well as provide you with more convenience. While it will be more accessible, some individuals don't like the lack of privacy that this design comes with.
In that case, you can choose to separate your dry and wet areas as then no one will intrude on you. In addition to open showers, big bathtubs are also all the rage now. Who doesn't love a good soak after a long, stressful day at work? Luckily, there are so many different styles of large tubs that you will have no problem finding and installing one, regardless of whether you want a freestanding one or not.
Brass and Gold Finishes
Brass and gold tones are taking over as well. However, you should keep it simple when it comes to these hues and use them for details. Fortunately, these can be incorporated in plenty of ways, from giving your tiles grout with a hint of gold and having your wallpaper be threaded with gold to replacing all your taps, handles and accessories with brass alternatives. If you are looking for a simple project you can do on your own, this is definitely something to consider. How-to guides are available for just about everything these days and more and more people are turning to YouTube DIY videos for inspiration and guidance.
Pops of Colour
While gold and brass will be used for subtle details, you can add bold shades with some bigger elements. Pops of colour are always welcome and there are many ways how you can execute this to perfection. For example, you can choose to have a statement wall. You can paint it, put up wallpaper or cover it in tiles – it doesn't matter as long as you pick a bright hue or a playful pattern. On the other hand, you can look for a tub that is painted in vivid pink or navy blue or choose to make your vanity lively with yellow. If you are not willing to commit to a design that is not neutral, then make your accents stand out by getting colourful towels and a soft rug that you can replace any time.
Wood Accents
Alternatively, if you don't like bold colours and want to keep the bathroom fairly neutral (but still keep up with 2020 trends) you can choose wood accents. Wood pairs nicely with vintage and industrial styles and it comes in many shades which means you can easily implement it into your design. From bathtub accessories through mirror frames all the way to vanities and storage cabinets, there are a lot of possibilities to consider when planning your bathroom makeover.
2020 Bathroom Renovation Trends Summary
From implementing the newest technology to make our bathroom-time more enjoyable to picking the right shades that suit our tastes, there are a lot of trends that we can choose to follow. However, as interesting as these trends might look, the most important thing is that you like your bathroom, so follow your instincts and you will do just fine.
Comments on this guide to 2020 Bathroom Renovation Trends article are welcome.
Bathroom Design
Bathroom Articles
Traits of a competent bathroom professional
Bathroom Flooring Best Options Guide
Design Ideas for a Small Bathroom Renovation
Top bathroom trends of 2020 guide
Residential Property Articles
Contemporary Property Articles – architectural selection below:
Comments / photos for the 2020 Bathroom Renovation Trends Guide page welcome