Bathroom Renovation Makeover, Property Leak Protection, Home Clean Up Tips, Style
Six Tips for Your Bathroom Renovation Project
6 Feb 2020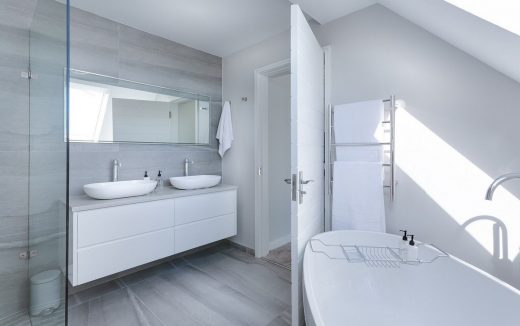 Bathroom Renovation Help
Six Tips To Help You Get Started On Your Bathroom Renovation Project
Bathrooms are one of the most important parts of a house. It's where we start and end our days, and possibly make most of our life-changing decisions.
Having an uncomfortable bathroom may seem like a minor issue – but it impacts your life in more ways than you know. So, you should always make sure it's in the very best conditions.
For those of you that are bored of how your washroom looks or perhaps are thinking of  adding another one of these magical rooms in your house – you've come to the right place
Here are a few tips to consider before starting on your bathroom renovation journey.
#1. Plan It Out
The first thing you need to do before renovating is to plan out what you want, how big is your space, and what exactly do you want to do?
Choosing your design style early on is going to make things a lot easier.  So, flip through a few magazines and go through Pinterest for some inspiration. Save all your ideas on a mood board, so you can access them later.
This is also when you should think about your budget. How much are you willing to spend on this bathroom renovation? If you're just revamping, it shouldn't cost a lot. But if you're adding an entire bathroom, be prepared to dish out the money.
It's best to get some professionals involved and ask for an estimate , regardless of whether you hire them. This will also give you an idea about what is needed and the technical details.
#2. Sort Out the Legalities
You're probably thinking there should be no need for permission when renovating your own house. I mean, it's just a bathroom, right?
Well, if you're building an entirely new bathroom, some building regulations definitely apply. So make sure you do your research before you get started.
If you're planning on working with drainage or ventilation, electric work, or even installing hot water cylinders, it's very likely that you'll need some official help. Make sure you have certified installers, and if necessary, building control might have to inspect your house as well.
#3. Revamping Your Old Bathroom
If you're thinking of changing an already existing bathroom, the job is a lot less stressful than adding an entirely new one.  Here are a few things to keep in mind before you get started with the revamping –
Make sure you look for local bathroom fitters for shower trays and baths  that match the older ones as closely as possible. You want them to be  the same size, so they fit in easily.
Also, pay attention to the lighting. Make sure it's not too dim while you're in the loo, but also don't get something that flashes in the middle of the night. The best option would be to install a light for which you can control the intensity.
Another useful tip is to change the flooring using tiles. They're the easiest way to give your bathroom an entirely new look without putting in too much work.
#4. Adding a New Bathroom
Adding a bathroom to your house is going to take a lot of work. But once the dream is complete, you'll be glad you put in the effort.
The first question that arises is the location. Where should the new bathroom go? Well, all you need is a little extra space that has enough ventilation, sound insulation, and some electrical outlets. This can be in the hallways or even a corner of your bedroom. You need for bathroom fitters to do the job well.
Next comes the issue of incorporating ventilation and plumbing into the new bathroom setting. It's best to pick a place where you can connect the new bathroom to an already existing ventilation and pipeline system. This will reduce your expenses a great deal.
If you cannot do so, you'll have to add in a new window or van for the ventilation, and possibly redo the piping lines for your whole house.
#5.Trust in the Professionals
You may think bathroom renovations are easy, but that is not always the case. If it's a few simple design changes, you can rely on yourself. But if you're adding an entirely new bathroom, or you have to break down walls, it's best to hire professionals.
Ask around the neighborhood for references. Make sure to ask people you trust, and talk to a few different companies. It's also important to understand that low prices might not give you good service.
In the long run, a bad job will cost you more than you are saving now. So invest at the right time and place, and you won't regret it. Also, sometimes, your builders might let you use their trade discounts.
This means that you might have the chance to buy equipment and fittings at lower prices, and with faster delivery.
#6.Be Prepared to Wait
Bathroom renovations don't just take place overnight. So, make sure you set a realistic time frame for your plans. The period of work will depend a lot on the size of your bathroom and how much needs to be done.
Usually, the process should take three to four weeks. But given the scale of renovation, it might take longer. After all, bathrooms are connected to all the internal pipelines and systems of the house, so it all needs to be done very carefully.
If you only have one bathroom, it's best to stay out of the house while the work is being done. There's no guarantee of how long it will take, but you should certainly stay patient.
Six Tips for Your Bathroom Renovation Project Summary
Final Thoughts
Bathroom renovations aren't a walk in the park. They involve a lot of planning, visualization, time, and yes – expenses. So, if you aren't ready for this commitment , you might want to rethink your decision.
Be prepared for hidden costs as well, because you never know what surprises you might find behind the walls. However, if you are organized enough and have realistic goals in mind, you're not going to be disappointed.
Soon enough, you'll see your design come to life – and this will make your long nightly showers even more peaceful!
Comments on this Six Tips for Your Bathroom Renovation Project article are welcome.
Building Articles
New UK Housing: British Housebuilding
150 North Riverside Building
Design: Goettsch Partners (GP)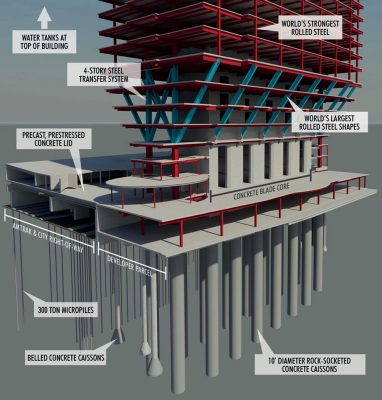 image courtesy of Chicago Athenaeum
150 North Riverside Building Chicago
London Architecture Links – chronological list
Property Articles
Mood Ring House, Fayetteville, Arkansas, USA
Architects: SILO AR+D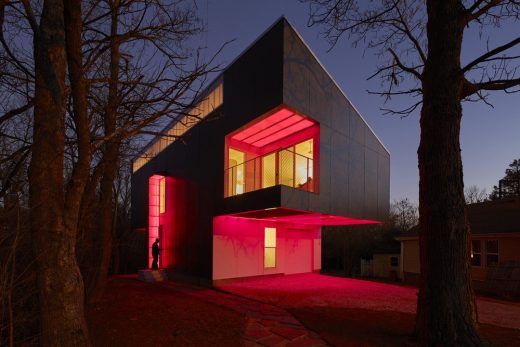 photo : Timothy Hursley
New Fayetteville House
Comments / photos for the Bathroom Renovation Help – Refurb Guide page welcome