Mansilla + Tunon Architects, Spain Buildings Project, Spanish Design Studio, Developments
Mansilla & Tuñón Architects
Contemporary Spanish Architects, Europe – Arquitectos España: Arquitectura
post updated 4 Apr 2021
Mansilla + Tuñón Architects News
29 Mar 2017
Royal Collections Museum in Madrid design by Luis M. Mansilla + Emilio Tuñón
March 29th, 2017 – From an urban perspective, the project is based on two fundamental principles: on the one hand, the Royal Collection museum should be part of the natural-artificial landscape of Madrid's western edge, and on the other, it is necessary to maintain the open, public nature of La Almunena and preserve views of the parks and gardens beneath the western lip of the city. The Museum, in its linear structure as an inhabited containment wall, tries to reduce the objective (physical and subjective (collective subconscious) environmental impact on the monumental plinth of the Royal Palace.
The Musac Building, Leon, Spain, design by Mansilla + Tuñón Arquitectos: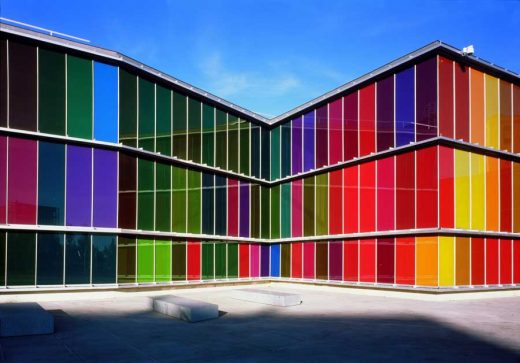 photograph from mansilla & tuñón arquitectos
The architects have tried to produce a building that is invisible from La Almudena Square by occupying a buried space that is yet to exist. The Royal Collection Museum contains the plinth of the Royal Palace, constructing a linear space that follows the lines of the Palace itself. A simple, compact building, a construction that is aware that maximum flexibility and potential is only possible within a strict order, which uses the materials of the Royal Palace and its dignified construction as a feature, with a modern layout, heavy yet light, opaque yet transparent.
The three exhibition levels, equal yet different, hold three differentiated collections: first: tapestries, second: paintings, sculptures and various items and third: carriages. Each space is organised like a warehouse measuring 150 by 20 metres, flanked by the remains of the Arab wall to the east and a monumental lattice composed of massive granite pillars open to the west above the Campo del Moro Royal Gardens.
The views across the gardens are the space between the structures, just as the pillars are matter between voids. The space is the rhythm of the beams, and the installations are the interface between what holds the building up. Structure, illumination, views, space, and infrastructure all have blurred edges and exchanged attributes.
The Royal Collections Museum is a plinth for the Palace from the outside; a frame for views of the gardens and the interior features. The most important part already exists; our job is to make it visible.
Location: Palacio Real, Madrid, Spain
Architects: Luis M. Mansilla y Emilio Tuñón
Client: Patrimonio Nacional
Collaborators: Carlos Brage, Rubén Arend, Matilde Peralta, Andrés Regueiro, Clara Moneo, Teresa Cruz, Bárbara Silva, Jaime Gimeno, Stefania Previati, David Nadal, Oscar F. Aguayo, Carlos Martinez de Albornoz, Asa Nakano, Coco Castillón, Javier González Galán, Mila Moskalenko, Inés García de Paredes
Principal engineering: J.G. Asociados, Alfonso Gómez Gaite
Civil engineers: Santiago Hernán, Luis Baena
Built area: 50,000 m2
Website: www.emiliotunon.com
18 Apr 2012
Mansilla & Tuñón – Book
Luis M. Mansilla + Emilio Tuñón – From Rules to Constraints
Edited by Giancarlo Valle
With contributions by Stan Allen, Enrique Walker, Sarah Whiting and Augustin Perez Rubio, photographs by Dean Kaufmann, Luis Asín, and Luis Baylón
From 2008 to 2010, Madrid based architects Luis M. Mansilla and Emilio Tuñón held the Jean Labatut Visiting Professorship at the Princeton School of Architecture. More than a collection of student work, From Rules to Constraints is a wide ranging reflection on teaching, design practice, history and the city. Focusing on three sites at three distinct scales, this book examines the constraints of the architectural project-social, political, historical, and environmental-in order to create new rules for working.
Examining both their teaching methods and Mansilla + Tuñón's own design work, the book presents the design process as an ongoing conversation between the building and the environment, between freedom and limits, and between the decided and undecided. In February of this year, as this book was nearing completion, Luis M. Mansilla passed away, making this one of the last records of his work and ideas.
Storefront for Art and Architecture
23 Feb 2012
Mansilla & Tuñón – News
Luis Mansilla (1959 – 2012)
Luis Mansilla of Spanish architecture practice Mansilla y Tuñón died, age 52, of a suspected heart attack.
He died in Barcelona on Wednesday 22nd February. Luis was attending a book presentation about the late Enric Miralles. Emilio Tuñón found Luis dead in his Barcelona hotel room early in the morning.
This world-famous architects studio is based in Madrid. Emilio Tuñón Alvarez was the friend & partner of Luis in both practice and in academia.
All of us here pass our respects to Carmen Pinart and his daughters, Emilio and the rest of the practice.
Mansilla & Tuñón – Major Buildings
Madrid International Convention Centre – CICCM Competition, Madrid, Spain
Date built: 2007
Architects: Mansilla + Tuñón Arquitectos + Peralta, Arquitectos



image from mansilla & tuñón arquitectos
Madrid Convention Centre
Due to its specific conditions, the site for the competition claims an optimistic intervention able to qualify the surrounding public spaces and buildings with a representative -civic- condition, strong enough not to be overwhelmed by the presence of the four high-rise towers.
The Musac Building, Leon, Spain
Date built: 2005
Architect: Mansilla + Tuñón Arquitectos


photo from mansilla & tuñón arquitectos
MUSAC Building Leon
Mies van der Rohe Awards : European Union Prize for Contemporary Architecture 2007
On a vast urban plan, MUSAC draws the scenario for art with the same optimistic attitude used by the Roman surveyors to sketch their cities in the landscape. In contrast to other types of spaces which, in their museum facet, focus on the exhibition of frozen historic collections, MUSAC is a living space that opens its doors to the wide-ranging manifestations of contemporary art. This is an art centre that constructs a set of chessboards on which the action is the protagonist of the space; a structure that develops from an open system, formed by fabric of squares and rhombi, and permitting the construction of a secret geography of memory.
Mansilla & Tuñón – Key Projects
Major Mansilla & Tuñón Designs
Art Museum, Castellón, Spain
Date built: 2002
Aquila Brewery Redevelopment, Madrid, Spain
Date built: 2003
Design competition in 1994

"El Aguila" by Mansilla y Tuñon from STUDIO BANANA TV on Vimeo.
Community centre, Lalín, Galicia, Spain
–
León Auditorium – Music Theatre, Spain
Date built: 2003
Architecture competition win 1994
León Arts Centre, Spain
–
San Fernando de Henares swimming pool, Madrid, Spain
Date built: 1998
More architecture projects by Mansilla + Tuñón Arquitectos online soon
Mansilla and Tuñón lecture : Rice Design Alliance, Houston, USA – 7 Apr Date built: 2010
Location: C/ Artistas 59. Madrid, 28020 Spain, southwestern Europe
Architects Practice Information
Mansilla + Tuñón Arquitectos – architecture studio was run by Luis Mansilla and Emilio Tuñón. Luis died age 52 in Feb 2012.
Both architects are ex-Rafael Moneo
Spanish architect office established 1992 in Madrid.
Luis M. Mansilla (1959-2012) and Emilio Tuñón Alvarez (1959).
Spanish Architecture



image : Foster + Partners
Mansilla + Tunon Architects: Mies van der Rohe Awards 2007
Academic Positions
– Architecture School of Madrid, Spain – Professors
– Princeton University School of Architecture, USA
– Harvard Graduate School of Design, USA
– Ecole Polytechnique Federale de Lausanne, Switzerland
– Barcelona International Architecture School, Spain
– Frankfurt Städelschule, Germany
– Architecture San Pablo CEU Fundation, Madrid, Spain
– Barcelona Architecture School, Spain
– New Puerto Rico Architecture School, Puerto Rico
– Navarra Architecture School, Spain
Spanish Architecture
Comments / photos for the Mansilla + Tunon Architecture page welcome
Website: www.mansilla-tunon.com