World Building News, Architecture Information, Design Developments, Images, Projects
Architectural Design News
Architectural Designs – Global Updates – Recent Building Developments
Recent Architectural Design News
29 Nov 2013
Piedmont Residence, Blue Ridge Mountains, North Carolina, USA
Design: Carlton Architecture + DesignBuild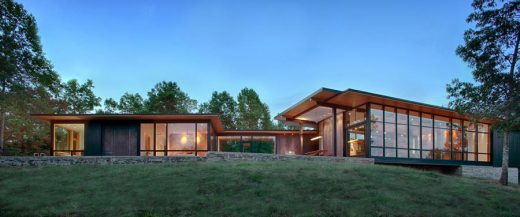 photograph : David Dietrich Photography
Blue Ridge Mountains House
Located in the foothills of the Blue Ridge Mountains, the residence lies along the southern edge of a hillside overlooking a mountain lake and expansive views beyond. The design of the home sought to sensitively root and connect it to its place, enhancing the owners' ability to experience all aspects of the land and the home together.
27 Nov 2013
Harvard Art Museums, Cambridge, Boston, MA, USA
Design: Renzo Piano Building Workshop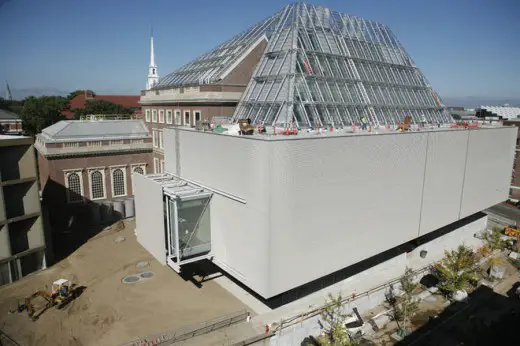 photograph Courtesy of the Harvard Art Museum ; photographer : Harvard Art Museum
Harvard Art Museums Renovation
Photographs showing progress on this building by RPBW.
22 Nov 2013
Roominaroom, Limehouse, east London, UK
Design: atmos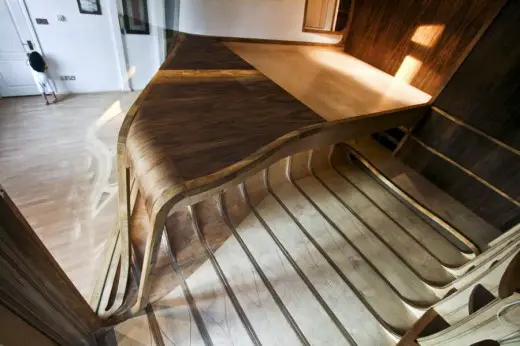 photo from architects
Roominaroom – a highly sculptural refurbishment of a Limehouse (London) flat – all done with a CNC-carved kit of timber parts. It has recently won a UK Wood Award in the Small Project category.
Part III: Implementing Renzo Piano's Creative Plan

Morgan Library and Museum Disability Architecture
25 Nov 2013 by Joel Solkoff
How do you excavate into New York City's famously hard Manhattan schist to construct a 299-seat auditorium underground? The answer is here in the next episode of the exclusive www.e-architect.com series.


photo © Renzo Piano Building Workshop. Courtesy Gagosian Gallery
The series details how Pritzker-prize winning architect Renzo Piano's work goes from Creative Vision to Completion. This process Piano himself describes as "a miracle." The series focuses on New York City's Morgan Library and Expansion, Piano's first New York City project—a series evolving into a discussion of other Piano projects and lessons architects can learn from the work of individuals widely-regarded as among the most excellent in their profession.
22 Nov 2013
F.3 Fellbach aquatic centre, near Stuttgart, Germany
Design: 4a Architekten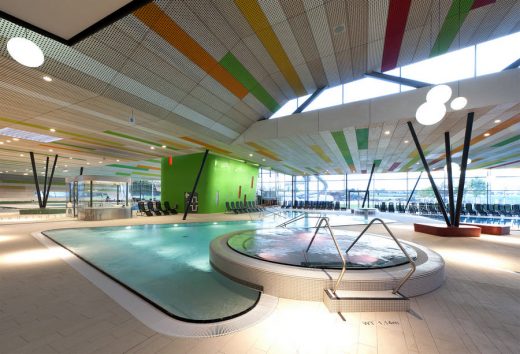 photograph © David Matthiessen
Aquatic Centre Fellbach
A place for the whole family to come and bathe – the new F.3 family and recreational aquatic centre in Fellbach has something to offer everyone. The combined baths were opened on 15th September 2013. 4a Architekten have transferred the three separate areas – the sports area with indoor pool and open-air pool, the adventure pool and the sauna world – into a flowing form that gently blends into the landscape and picks up on regional aspects in both shape and design.
22 Nov 2013
VUC Syd Education Centre, Denmark
Design: AART architects + ZENI architects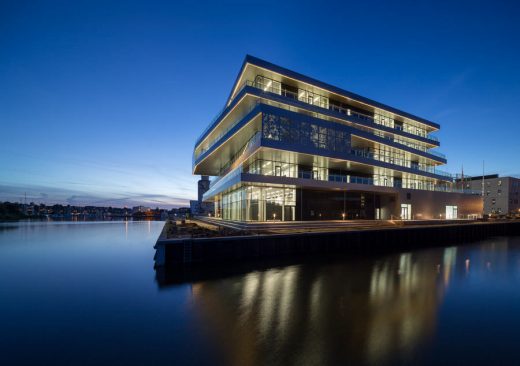 photo : Adam Mørk
VUC Syd Education Centre
The new education centre for VUC Syd in Haderslev, Denmark, has no traditional classrooms. Instead, it appears as a vibrant and visually engaging educational environment, in which group areas, presentation spaces, dialogue cubicles and quiet zones allow for a more diverse approach to education.
21 Nov 2013
Al Bahr Towers, Abu Dhabi, UAE – new photographs
Design: Aedas



photo : Christian Richters
Al Bahr Towers Abu Dhabi
These twin tower buildings were recently crowned as the 'Best Overall Project in the Middle East' as well as the 'Commercial Project of the Year' at the sixth annual Middle East Architect Awards 2013
21 Nov 2013
Google Madrid Headquarters, Spain
Design: Jump Studios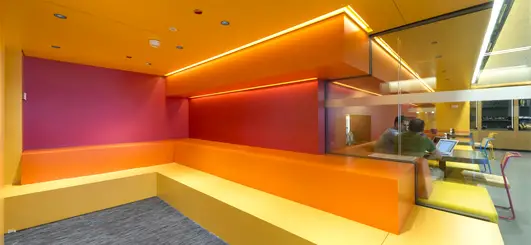 photograph : Daniel Malhão
Google Madrid HQ
The extensive fit out and refurbishment of Google's Madrid HQ sets new standards in office interior design on the Iberian peninsula. Jump Studios, a London based architecture practice with a recently launched satellite office in Lisbon, has completed Google's new Madrid office using advanced materials to deliver a highly sustainable and inspiring new workplace for the company's Iberian operations.
19 Nov 2013
Doha Building Photographs, Qatar
New architecture images by Pygmalion Karatzas for e-architect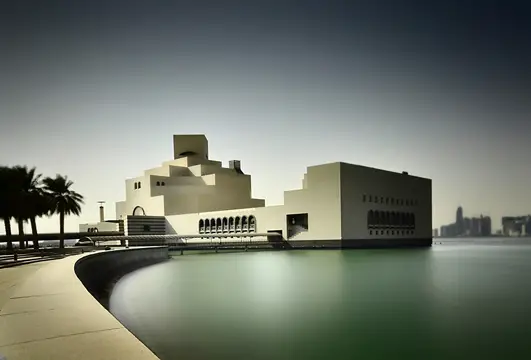 photograph © Pygmalion Karatzas
Doha Building Photos
In this exclusive report by Greek architectural photographer Pygmalion Karatzas we bring you the most interesting new buildings in Doha, Qatar. There are some great architects working in the the country, including Arata Isozaki, I.M. Pei, Jean Nouvel, Legorreta + Legorreta, NORR and Allies & Morrison architects.
14 Nov 2013
Monumental shifts/New World Orders – article for e-architect by Brian Carter, Buffalo, NY, USA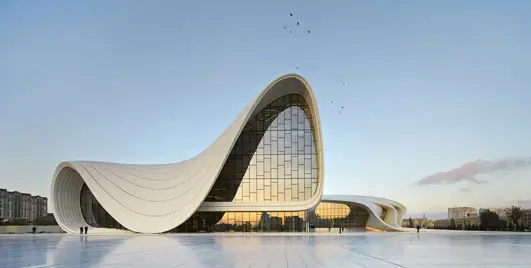 photograph : Hufton + Crow
Monumental Buildings
This newsletter highlights monuments that define distinct shifts and clearly assign architecture as a marker of new world orders. Extraordinary images of completed buildings in Baku and Turkey, Taiwan, Panama, Padua, Leeds, New York and Moscow, are placed alongside promises of others that are yet to come in Stockholm and Glasgow.
New Spanish Property, Madrid, Spain
Design: Fran Silvestre Arquitectos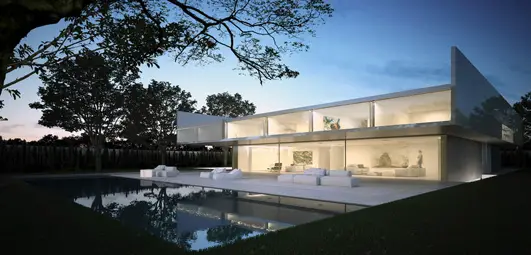 photo : Diego Opazo
Aluminium House Madrid
A consolidated landscape surrounded by gardens with big trees within the metropolis of Madrid is the fortunate starting point of this house. The piece, of metallic and horizontal nature, produces the effect of having just one storey.
EcoBuilding, Porter School, Tel Aviv University Campus, Israel
Design: Geotectura / Axelrod-Grobman Architects / Chen Architects



photograph : Noa Magger
Porter School Building
New photos of this green building, the EcoBuilding, due to complete in the first quarter of 2014. The most exciting development is the Capsule, now suspended high over the Atrium (entrance of the building), which serves as a focal point of the building and the EcoWall, which includes a thermal-solar tubes system for energy production.
Glasgow Architecture News, Scotland – Whistleblowers in Scotland are Ignored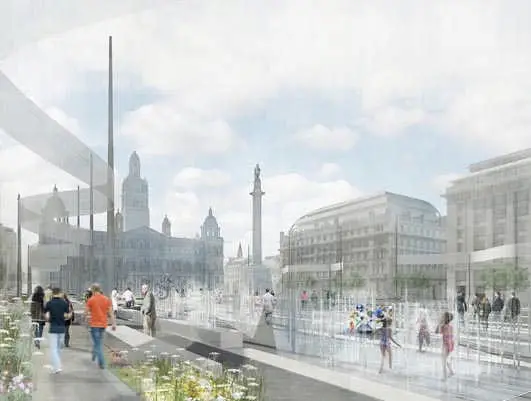 image from architects
Standards Commissioner's Flawed Report Signals Loss of 'Checks and Balances' in Scottish Public Life. The Royal Incorporation of Architects in Scotland (RIAS) is taking the unusual step of issuing this press notice to highlight significant failings by the Commissioner for Ethical Standards in Public Life in Scotland in his recently published report on the George Square Competition, an architecture contest that was won by John McAslan + Partners only for the architects to find out within minutes of winning that the competition had been abandoned.
Denton Corker Marshall Architects news
Denton Corker Marshall wins Best Bar Design, Australia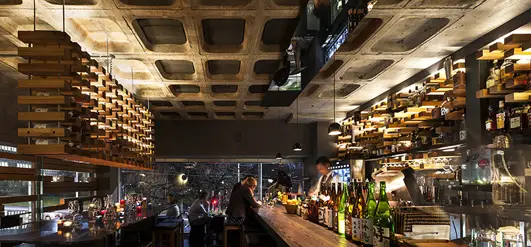 photo : Itsuka Studio
Denton Corker Marshall has been awarded Best Bar Design at the 2013 Eat-Drink-Design Awards for Hihou, announced in Melbourne. The architecture practice also received a high commendation for Nama Nama in the Best Café Design category. According to the awards jury, "Hihou is a poised and dramatic exercise in spatial experiences…The clarity, control and embedded nature of every move and moment at Hihou create a memorable hybrid of contemporary East-West hospitality and a Zen-like haven in the heart of the city."
Blåvand Bunker Museum, Jutland, Denmark
Design: BIG architects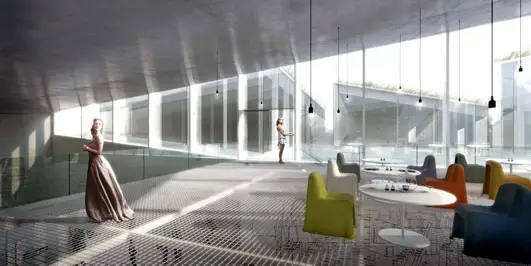 image : BIG
Bjarke Ingels: "Contrary to the existing closed concrete lump, the new museum will, in its architecture, function as an open heart integrated into the landscape. The museum is in every way the opposite of the militant history with its more closed, dark and heavy features. Organized around an open central square, the galleries allow much light and will give magnificent views to the surrounding countryside. The bunker is a war machine without holes for doors and windows and rejects all humanity. In contrast, the museum is integrated into the landscape and invites visitors inside."
Lajeunesse Residence, Montréal, Quebec, Canada
Design: NatureHumaine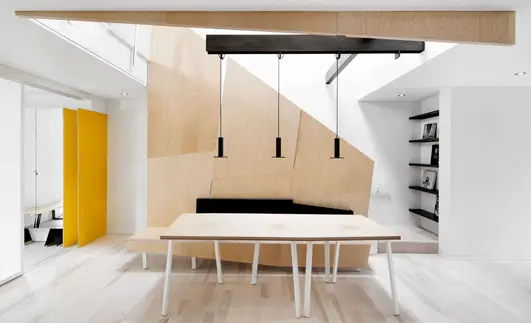 photo : Adrien Williams
This house renovation project combined two existing apartments into a single family house on two levels. The Client's request was for the architects create something modern and bright. Due to the noisy street at the front of the house, the main living spaces were placed at the back facing north creating the challenge of bringing direct sunlight into these spaces. A double height lightwell topped with a skylight, aids in bringing light to the center of the house.
Maggie's Cancer Caring Centre, Newcastle, England
Design: Edward Cullinan Architects ; Lighting design: Speirs + Major



photograph : James Newton
Maggies Cancer Caring Centres are for anyone affected by cancer. They are drop-in centres where people, including patients, friends and family can get the comprehensive support they need to help them to live with, through and beyond cancer. Of the fourteen centres across the UK, the most recent – designed by the Cullinan Studio – opened in May 2013 in Newcastle, a short walk from the Northern Centre for Cancer Care (NCCC) at Freeman Hospital.
Ruch Chorzow Stadium, Poland
Design: Andrea Maffei Architects s.r.l. Milano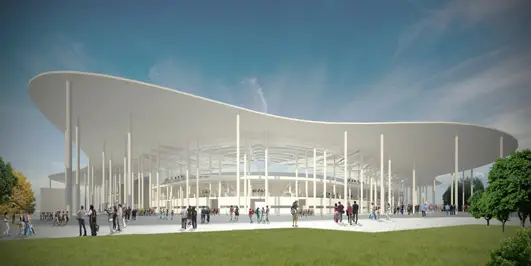 image from architects
The large roof which is supported by thin steel columns filled with concrete, lies on the project area according to an organic form, which encompasses the area of the stadium, and that laps the car parks to the north and east, thus providing protection to users find themselves protected from bad weather. The roof is made of reinforced concrete, and is entirely painted white, and perfectly smooth on the bottom, while the upper part is characterized by the necessary inclinations useful for the drainage of rainwater, which occurs inside the same pillars.
E-House, Bodrum, south west Turkey
Design: ACE Architecture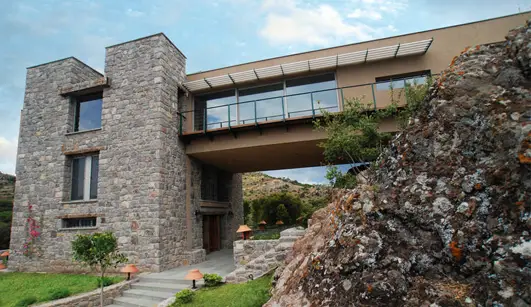 photo from architects
The near surrounding environment has low density private housing typology with 2 storey summer villas with gardens. The plot area has an 5,000 sqm with a steep slope, in other words, there is 25 m difference in the site itself. The main design element is the huge rock which is visible from each angle, covering the one third of the site.
Parramatta Towers Competition, western Sydney, New South Wales, Australia
Design entry: Esan Rahmani & Raymond Ng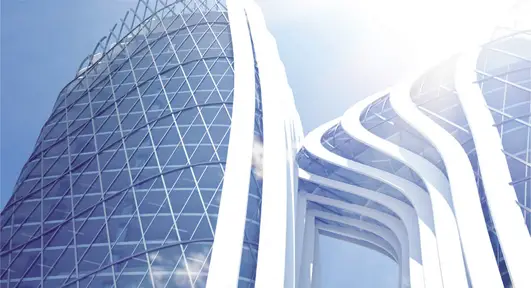 image from architects
This is an entry to the architectural design competition for Stages 5 and 6 of the Parramatta Square Precinct development, Sydney. The council invited architects to submit visionary ideas for two large commercial towers in the heart of Parramatta City Centre. The council undertook this architectural competition in a two-stage process.
Taiwan Architecture Awards 2013 : Buildings + Architects – Winners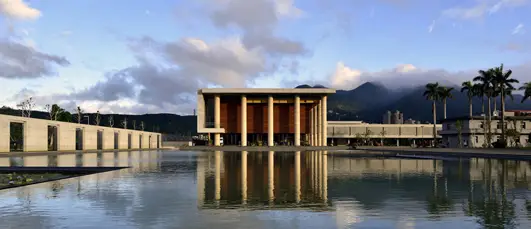 photograph courtesy of Artech Architects
The Water-Moon Monastery building by Artech Architects has won the First Prize of the 2013 Taiwan Architecture Awards. Water-Moon Monastery was established by the commission of the past Buddhist Master Sheng Yen, the founder of the Dharma Drum Mountain Buddhist Association. All the selection panelists agreed that in Taiwan it is almost an impossible task to design a religious institution without iconic forms and abundant symbolic objects, and the Water-Moon Monastery has achieved it.
World's Most Colourful High Rises



photo © Jaume Castañé
High-rises don't have to get lost in the gray concrete jungle: some are a real riot of colour, with vivid facades in scarlet, turquoise or canary yellow – or even combining all the colors of the rainbow. Facades such as these break the drabness of so many concrete tower blocks, and their creative designs stimulate the imagination. A list of the world's most colorful high-rises has now been compiled by Emporis.
Architectural News – December 2013 – January 2014
Architecture News September 2013
Architecture News August 2013 : Global Building at a glance
Aga Khan Award for Architecture Prize – winners news
Architecture News July 2013 : Global Building at a glance
Architecture News June 2013 : Global Building at a glance
Architecture of 2012 – update
critics select their key buildings + designs



image : OMA
Buildings of 2012
e-architect have selected some key buildings



photo from architects
We feature selected buildings below that have recently appeared on the architecture news. A wider selection can be found in the monthly architecture news pages. We try to choose major buildings / designs that have created the most interest for our readers across the globe.
Architecture News – current developments from across the globe
Architects News – 2013 archive up to November 19th
Buildings of 2013 : major architectural developments in the year
Key Architectural Links
Buildings for the World Architectural Design News page welcome