Parramatta Tower Competition, Sydney Skyscraper Building, Australia Architecture Design, Architect
Parramatta Stage 5 & 6 Towers Competition, NSw
Australian Skyscraper Development design by Esan Rahmani Architect
18 Nov 2013
Parramatta Square Stages 5 & 6
Location: Parramatta, western Sydney, New South Wales, Australia
Design: Esan Rahmani Architects
Entry to Parramatta Stage 5 & 6 Towers Competition
Design Competition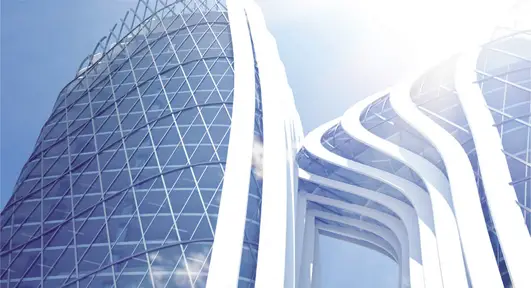 images from architects
Parramatta Stage 5&6 Commercial Towers Competition – Esan Rahmani & Raymond Ng
The proposal for the Parramatta's stage 5 & 6 commercial towers aims at integrating the towers within the urban fabric of the city by favouring retention of existing public access through the site and providing the city of Parramatta new public destinations.
The design favours two separate towers which allow unobstructed public access from the public promenade to the Parramatta train station. The building separation between the two towers is increased after 15 storeys to maximise daylight to all offices and reduce over shadowing by one another greatly reducing the need for artificial lighting during day time.
In the broader context the towers are linked into the urban fabric by making the top 4 levels of each tower being public and accessed via glass lifts separate from the private access. The public levels provide sky bars, restaurants, exclusive retail shops as well as a semi-enclosed public garden with sunbathing decks and pool.
This strategy is to make parts of the building public is to balance the private gain in wealth with public benefits by seeking to enhance public life by providing unique activities and destinations for the city of Parramatta. Being the first of two skyscrapers in the city we found the tops of the towers presented themselves as the most interesting destination that the public would want to visit.
Project Team: Esan Rahmani, Raymond Ng, Sergeij Cantillo
Project Shortlist of Stage 1
Parramatta City Council architectural design competition for Stages 5 and 6 of the Parramatta Square Precinct development, Sydney.
The council invited architects to submit visionary ideas for two large commercial towers in the heart of Parramatta City Centre.
The council undertook this architectural competition in a two-stage process.
Parramatta Stage 5 & 6 Towers Design Competition Entry – external link
6 Nov 2013
Futuristic commercial office towers vie to win Parramatta Square design competition
A pair of futuristic, conical commercial office towers wrapped in photovoltaic panels and topped with wind turbines has become one of four proposals being considered for construction in Parramatta Square.
Parramatta City Council's Parramatta Square Stages 5 and 6 design competition jury yesterday confirmed those in contention to design towers in the Square are:
– Sydney-based Francis-Jones Morehen Thorp
– Johnson Pilton Walker
– Bates Smart
– Italy-based Mario Cucinella Architects
The four teams were chosen from a field of 73 designs from firms across the United States to Uganda, and Perth to Sydney, submitted to Council last month. Concepts ranged from contemporary interpretations of the traditional office block, to futuristic and sculptural towers.
When constructed, the commercial towers will add up to 140,000 square metres of office space to the Parramatta CBD and function as two of the key centrepieces of the vital three hectare Parramatta Square site in the heart of the CBD.
Lord Mayor Cr John Chedid said: "We're delighted to see such forward-thinking, innovative solutions. Without question, this creative range of designs, submitted by many of the leading architecture firms across the world today, will help us meet our future business, cultural, entertainment and tourism needs, and signpost Parramatta in a distinctive, unique way."
"Council is very confident in the strength of the four proposals selected, and looks forward to the construction of signature buildings for the city of Parramatta in the near future," Cr Chedid.
"We thank our jury for their expertise – NSW Government Architect Peter Poulet, City of Sydney Director of City Planning, Development & Transport Graham Jahn, NSW Department of Planning and Infrastructure urban design team leader Elisabeth Peet, and Parramatta City Council's Director of Property Development Scott Gregg."
Each proposal was assessed in terms of its sustainability, design, urban design, feasibility, and innovation.
Describing the four finalists, the jury said the Francis-Jones Morehen Thorp proposal was for "two elegant, connected, tapering geometric towers that have the potential to become signature buildings in Parramatta Square".
Of the Johnson Pilton Walker proposal, they said it created links between Parramatta Square, Darcy Street and the Parramatta Station concourse, extending open public space over the two levels. They added: "The rectilinear towers hover high above the new open space, which is a grand gesture to Parramatta Square."
The Bates Smart scheme "proposes a differentiated active podium that addresses Parramatta Square, activating it with a mix of retail uses. Two rectilinear towers with deep recesses form a backdrop rather than an iconic gesture".
Commenting on the Mario Cucinella Architects proposal, they said: "This environmentally-focused scheme proposes a pair of conical towers whose surface is animated by a breathable photovoltaic system. The roof plane features sculptural wind turbines signalling the sustainable emphasis of this design."
Each of the four chosen teams will now compete in a design excellence competition closing on 6th December. Each will receive $30,000 on submission of a complying scheme, with Council announcing the winning design before the end of the year.
The firm appointed for Stages 5 and 6 will join a range of internationally recognised architecture firms already appointed to design other landmark buildings within the Parramatta Square precinct.
Stage 1, a commercial building at 169 Macquarie Street, was awarded to Architectus; Stage 2, the Aspire residential tower at 160 Church Street, was awarded to Grimshaw Architects; and Francis-Jones Morehen Thorp was appointed to design community/Council facilities and commercial space for Stage 3.
Architectural Concept Competition
Dates: 30th September 2013 – 25th October 2013.
An open architectural concept competition to reveal a visionary design.
Architects will be required to deliver:
1 x A1 board with a visionary concept idea.
A statement of design philosophy and approach.
A capability statement and project team, including resumes.
Design Excellence Competition
Dates: 11th November 2013 – 6th December 2013.
The design competition jury will evaluate all the design concepts from the Architectural Concept Competition against the selection criteria provided and will nominate a shortlist of four of the most promising concepts.
The four nominated architecture practices or teams will then be invited to participate in a Design Excellence Competition. Each shortlisted architecture practice or team will be paid $30,000 on submission of a complying Design Excellence Competition entry.
Parramatta Stage 5 & 6 Towers Competition Entry images + information from Esan Rahmani Architects
Parramatta Stage 5 & 6 Towers Competition information from Parramatta City Council Media Unit
Parramatta Stage 5 & 6 Towers Design Competition – external link
Location: Parramatta, Sydney, NSW, Australia
New Architecture in Sydney
Contemporary Sydney Buildings
Sydney Architecture Designs – chronological list
Sydney Architecture Walking Tours by e-architect
Sydney Architecture Contest : Proposition 2065
Recent Sydney Building designs on e-architect:
Dr Chau Chak Wing Building Sydney
Australian Architecture
Contemporary Australian Building Designs
Comments / photos for the Parramatta Stage 5 & 6 Towers Competition – Sydney Skyscraper Design Contest page welcome