Stephen George + Partners Architects buildings, English design studio, SGP London Office
Stephen George + Partners Architects, UK
SGP: Contemporary Architecture Practice, London, England, UK
post updated 29 August 2023
Stephen George + Partners Architects News
10 Nov 2020
SGP expands London office with appointment of two new directors
Stephen George + Partners LLP (SGP) has added two new Studio Directors to its London office in response to a growing workload in the Southeast. Muhammad Khan and Kevin Kelly joined the AJ100 architectural practice as part of its continued expansion into the region and an ongoing commitment to deliver quality projects within the London and south east markets.
Says Michael Barker, Senior Partner of SGP: "We are delighted to welcome Muhammad and Kevin to our London office. Both bring valuable additional expertise to support existing sectors such as industrial, transport and healthcare, as well as developing new sectors, such as data centres and historic buildings.
Two new Studio Directors, Muhammad Khan and Kevin Kelly, join SGP's London office in response to a growing workload in the Southeast: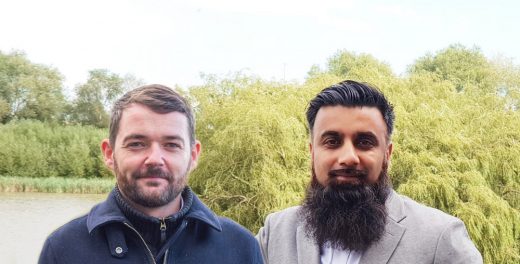 image courtesy of Stephen George + Partners
"In SGP's 50th anniversary year, this expansion of our London office, taking on new premises and senior staff, signals clearly to our existing and potential clients, in new and established sectors, that SGP is 100% committed to applying our core values – We Care + We Challenge + We Deliver – across London and the south-east."
Building on his extensive design background in sectors including industrial and logistics, commercial, aviation, retail, residential and healthcare, Muhammad has been tasked with developing new business in areas such as data centres and science and biomedical.
Says Muhammad: "My role is to focus on SGP's presence in the south east and London, maintaining and developing relationships with key clients and stakeholders and continuing to deliver the SGP commitment to quality design and practical delivery for our clients – new and old."
Kevin will focus on healthcare and the heritage and culture sectors, having previously worked for BDP and Heatherwick Studio, delivering a broad range of projects ranging from a new signature building for Great Ormond Street Hospital and the Military field hospital NHS Nightingale, to an extension to the Royal Albert Hall.
Explains Kevin: "Many buildings of high heritage value are poorly suited to modern usage. Working with clients like the Royal Albert Hall has given me the skills to unlock potential in existing buildings by designing key interventions to improve the feel and operation whilst upholding the identity and integrity of existing heritage assets."
Kevin and Muhammad will have the opportunity to build on SGP's enviable track record of high-profile projects in the south-east, such as the £50million, 246 acre mixed used development for Prologis at The Bridge, Dartford; four units at the prestigious London Gateway Logistics Park, and a daring reconfiguration of existing buildings into a flagship 8,180sqft last mile logistics and distribution facility in Kentish Town.
16 Sep 2019
New Director for Stephen George + Partners' industrial team
September 16th 2019 – Stephen George + Partners (SGP), an AJ Top 100 architectural practice, has appointed Luke Abbott as Studio Director, based at their Leicester office.
Luke will be working with Partner Marcus Madden-Smith in SGP's industrial and logistics sector group. In addition to managing a team, Luke will be involved in client liaison, feasibility studies, concept design, and plans of works.
Luke Abbott, SGP Leicester Office Studio Director: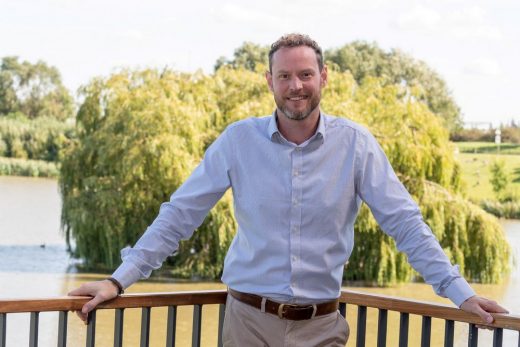 image courtesy of Stephen George + Partners
Explains Luke: "I was attracted to SGP as I knew them as an established practice, but with an ambition to expand and the resources and talent to make that expansion work. I've designed buildings across many sectors but am now looking forward to focusing my skills in the industrial and logistics market."
Concludes Marcus Madden-Smith: "Luke will be a great asset to the practice, bringing years of management and technical expertise to SGP. Industrial and logistics is a core sector for us, and one where we are well-known for our ability to deliver client requirements, from a range of building sizes and complexities."
Luke joins SGP from Roger Coy Partnership where he was Director of Architecture, combining team leadership with multi sector experience including education, healthcare and residential, as well as commercial.
In addition to Luke's appointment, SGP's Leicester team has been further enhanced with the news that Nita Varia, Principal Architect, and Satnam Flora, Architect, have been promoted to the level of Associate.
19 March 2019
Stevenage Bus Interchange Building, Hertfordshire, southeast England, UK
Design: Stephen George + Partners (SGP), Architects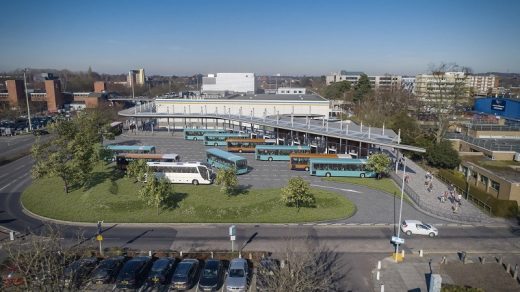 picture : SGP
Stevenage Bus Interchange Building
Award-winning professional services firm, WYG and leading architectural practice, Stephen George + Partners (SGP), are delighted to confirm their appointment by Stevenage Borough Council to design the new Bus Interchange for Stevenage Town Centre.
18 Feb 2019
Stephen George + Partners Promotions in 2019
Stephen George + Partners LLP (SGP) has kicked off the New Year in style with a hat-trick of internal promotions.
18th February 2019 – Nicola Pettman has been promoted from Principal Architect to Associate, Arshad Khan from Principal Architectural Technician to Associate, and Karen Coekin from Accounts Assistant also to Associate.
James Nicholls, Managing Partner at Stephen George + Partners: "We are delighted to see these latest examples of SGP's commitment to a strong and attractive career path within the practice. These three important Associate promotions strengthen SGP's internal processes and procedures for our clients as well as the design and delivery of their projects."
From L to R: Arshad Khan; Nicola Pettman; Karen Coekin: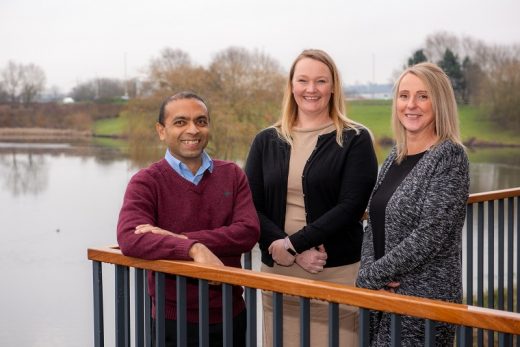 image courtesy of Stephen George + Partners
Nicola joined Stephen George + Partners in 2013. Sitting within the practice's residential sector and co-ordinating a team of Architects and Technicians based in the Leicester office, Nicola is primarily responsible for the design and delivery of schemes varying from bespoke housing to the organisation and technical management of standard house type portfolios.
Karen is a key member of the accounts team, having joined Stephen George + Partners in 2007, and is responsible for credit control and managing SGP's day to day financial activities.
Arshad joined in 2016 as part of a team working in masterplanning, distribution, commercial, retail and mixed-use schemes. Arshad's previous experience includes a wide range of projects from commercial, education and religious developments and he has worked in different regions in Africa and in the Middle East.
2 Feb 2019
Stephen George + Partners consolidates BIM capabilities with new promotion
Stephen George + Partners LLP (SGP) has reinforced its commitment to BIM best practice by promoting James Blood to the post of BIM Manager.
James joined SGP in 2018 as BIM Co-ordinator, bringing over 20 years of experience in architecture and BIM, including establishing business strategies, and structuring, defining and implementing architectural service provision with openBIM standards, methodologies, technologies and processes at the core.
James Blood, Stephen George + Partners LLP: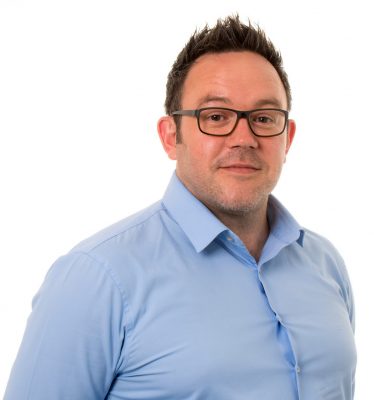 image courtesy of Stephen George + Partners
James has acted as model and information manager on live collaborative BIM projects and fulfilled both these roles on the Dudley Advance2 FE College facility, the first IPI project in the UK, which was delivered close to Level 2, as defined under the Government's mandate.
"I am looking forward to keeping SGP on the cutting edge of BIM methodology, delivering quality assured openBIM outputs throughout the practice. SGP's ability to link 3D models with a virtual reality suite is very exciting, allowing us to show a client the design rather than having them interpret plans and diagrams. Richer information sets also provide real value for clients in the post hand-over phase, supporting operating and maintenance functions and helping manage the life cycle of the new asset more efficiently." James Blood, BIM Manager, Stephen George + Partners LLP.
James previously acted as a consultant to major UK construction product manufacturers to assist them in the structuring and delivery of their product data around ISO openBIM standards, for delivery into the project workflow. As a result of these activities, James worked closely with Northumbria University, the Technical coordinator of BuildingSMART UK and the NBS to help develop the Xbim toolkit, more specifically the Revit add-in. This led to him being invited to work as part of the B/555 committee, where he helped write the BS 8541 suite of standards.
"We are delighted to have promoted James to this key role. His knowledge and experience will be vital to keeping SGP at the forefront of BIM best practice. James will be working closely with our clients, developing and implementing BIM methodology across all our sectors." Marcus Madden-Smith, Partner, Stephen George + Partners LLP.
Stephen George + Partners
Established in 1970, we've grown into one of the UK's leading architectural practices, with offices in London, Leicester, Leeds, Birmingham and Solihull.
Recognised by the Architects' Journal AJ100 as one of the country's largest practices, our success in both public and private sectors has led to vigorous development in the UK and abroad.
Our award-winning teams are highly versatile, providing an exceptional level of expertise in masterplanning, design and delivery.
We excel in quality of service and are proud to have built long-term relationships with clients across a range of sectors, including Logistics & Industrial, Healthcare, Offices & Workplace, Education, Residential, Retail & Mixed-use, Interiors & Fit-out and Transport.
We are known for our quality, reliability and integrity. We respond rapidly to client requirements, applying technical expertise and commercial realism to resolve complex issues effectively and we produce well-designed, innovative and deliverable buildings.
We are committed to nurturing an open, inclusive, fair and supportive business that also embraces our duty of care to our community, the environment and society as a whole.
Stephen George International, Bulgaria
Stephen George International was established in 2009. Our Sofia office serves as a centre for operating throughout Central and Eastern Europe and further afield.
Our team is highly experienced and offers a full architectural and multi-disciplinary service in a range of sectors including masterplanning, retail + mixed-use, residential, industrial + logistics and interiors.
The team also offers an advanced capability in the production of marketing material, computer visualisation and graphic design.
More news and projects by Stephen George + Partners architects online soon
Subsidiaries: Enable by Design Ltd, MKguru Architect Ltd
Location: 85 Tottenham Court Road, London, W1T 4TQ, UK
Architecture in London
Contemporary Architecture in London
London Architecture Links – chronological list
London address of SGP: 85 Tottenham Court Road, London, W1T 4TQ, UK
London Architect – design practice listing on e-architect
London Architecture Designs – architectural selection below:
Marks & Spencer Oxford Street Store Demolition
Marks & Spencer Oxford Street Department Store
The Royal College of Art, Howie Street, SW11 4AY
Architects: Herzog & de Meuron
Royal College of Art Battersea Campus
Houses of Parliament Restoration and Renewal Programme
Houses of Parliament Restoration and Renewal
English Architecture
Contemporary English Architectural Designs
Buildings / photos for the Stephen George + Partners page welcome
Website: Stephen George + Partners Architects, UK