Marks & Spencer Oxford Street Department Store demolition, M&S London shop, UK capital retail building, Shopping
Marks & Spencer Oxford Street Store Demolition
21 July 2023

photo : Christmas lights, Marks & Spencer, Oxford Street W1 by Robin Sones, CC BY-SA 2.0 https://creativecommons.org/licenses/by-sa/2.0, via Wikimedia Commons
Marks & Spencer Oxford Street Department Store Demolition
We post comments below regarding the news about Michael Gove rejecting plans to demolish the flagship M&S store in Oxford Street, from Dr David Crosthwaite, chief economist at the Building Cost Information Service, which delivers data to the built environment industry.
Dr David Crosthwaite, chief economist at BCIS, said:
With a growing number of buildings requiring retrofitting or replacing to meet current standards and client expectations, this decision about M&S in Oxford Street highlights the need for the industry to develop the skills and commitment to assess each building or project individually to make better, informed decisions regarding cost and carbon calculations.
Taking a traditional life cycle cost approach probably favours rebuilding, while life cycle carbon calculations are more likely to come down in favour of refurbishing existing buildings.
However, it may not be possible to refurbish some buildings to meet the required standards.
The industry will also need to invest in skilled labour to deliver the high level of upgrades needed across domestic and non-domestic buildings.
The average cost of refurbishment projects is generally about 60% of new build projects of the same type of building.
There are many reasons for this but it also probably reflects the point at which new buildings become more attractive in cost terms. Accounting for the carbon may well change this.
The BBC reports that the retailer wants to replace the Art Deco building at 458 Oxford Street with a new shop and large office block.
Despite strong opposition, Westminster Council and City Hall previously approved the scheme before it was later recalled by the government.
M&S boss Stuart Machin said the decision was an act of "self-sabotage".
The retail company had said it wanted to build a modern new store within a 10-storey complex, as it believed the current building was "failing". But environmental and heritage campaigners argued the 1929 building should instead be refurbished and restored.
The decision on Thursday follows a public inquiry into the development last autumn, ordered by the Communities Secretary Michael Gove – who has the power to overturn local planning decisions.
21 July 2023
South Bank Campaigners Welcome Gove's M&S Decision
Marks & Spencer building in Oxford Street demolition
Organisations campaigning against Mitsubishi's proposals for 72 Upper Ground (formerly the headquarters of ITV and the London Television Centre) have welcomed the Secretary of State's decision to refuse an application to demolish the Marks & Spencer building in Oxford Street.
Michael Gove's decision, published today, states: "He does not consider that the applicant has demonstrated that refurbishment would not be deliverable or viable and nor has the applicant satisfied the Secretary of State that options for retaining the buildings have been fully explored, or that there is a compelling justification for demolition and rebuilding."
Michael Gove has announced that he will take his decision on Mitsubishi's 72 Upper Ground proposals "on or before 8 August". Mitsubishi proposes the demolition of all buildings on the South Bank site, including the ITV tower, and their replacement by a massive office development described in the national press as "an aggressive behemoth", "a grotesque monstrosity", "a brute of a building", "the slab" and "a forthcoming monster".
Campaigners, including local MP Florence Eshalomi, have called for any scheme on this 'brownfield' South Bank site to include a substantial number of new homes. Cross-examined at the public inquiry as to why the ITV tower could not be refurbished for flats, Mitsubishi's architect readily admitted that it could be "but my brief was for grade A offices".
The Mitsubishi scheme will also rob adjacent housing of daylight, cast its shadow on the South Bank riverside walkway and Bernie Spain Gardens, and destroy views of the riverside and heritage buildings.
Michael Gove MP
Michael Gove issued a warning in November 2022 when he said his department would block new-build schemes that were not aesthetically 'high quality'.
'We will use all the powers we have, including call-in powers, in order to make sure that developments which are not aesthetically of high quality don't go ahead,' Gove was reported as saying at the time.
Michael Gove told MPs on 4 November 2021: "We want to have a planning system where people can feel confident that beauty is taken seriously, confident that the environment is benefitting, confident that the money will be there to support infrastructure, and confident that the community has a role ultimately in determining what is right". He added, "We want to be in a position where communities accept and welcome new development".
Faced with opposition to house building elsewhere, the Government is looking for homes to be built on 'brownfield' sites wherever possible.
SOS Save Our South Bank Action Group
The SOS Save Our South Bank Action Group consists of local residents, organisations and groups who came together to ensure that local people are consulted on the redevelopment of the former ITV Studios at 60-72 Upper Ground. They are campaigning against Mitsubishi Estate's 'Slab' office scheme designed by Make Architects and developer CO-RE.
Find the petition and visit the website here
Coin Street Community Builders (CSCB) is a social enterprise working in Waterloo and North Southwark. CSCB owns, manages, and maintains the riverside walkway between the National Theatre and Sea Containers, Bernie Spain Gardens, Oxo Tower Wharf, Gabriel's Wharf, and Coin Street neighbourhood centre. It is freehold owner of the Iroko, Mulberry, Palm and Redwood housing developments which are leased to primary co-operatives managed by their tenants. It organises extensive community programmes and activities https://coinstreet.org/
CSCB's view: "The scale, bulk and siting of the proposed development is excessive, overbearing and overly dominant. The impact on daylight received by adjacent Coin Street housing co-operatives will be severe. The riverside walkway and gardens to the north of the proposed development currently enjoy sunshine throughout the lunchtime peak and afternoon but would be cast into shadow by this development. This wanton disregard of the South Bank riverside, one of London's most popular amenities, is unacceptable and short-sighted!"
Waterloo Community Development Group (WCDG) was founded in 1972. WCDG is a charity led by Waterloo residents to maintain and develop a healthy and sustainable community, for more land for homes and amenities such as shops and open space, for the benefit of present and future generations. wcdg.org.uk
WCDG's view: "The government's Building Beautiful Commission called for an overt focus on beauty and refusing ugliness as a primary purpose of the planning system. National planning policy puts the creation of beautiful and sustainable buildings and places at the heart of the planning process. These proposals are grotesquery on steroids, a swollen deformity for the South Bank".
The Public Inquiry
The Public Inquiry opened on Tuesday 6 December 2022 and concluded on 27 January 2023.
The Department of Levelling Up, Housing and Communities has stated that Michael Gove MP will make his decision on or before the 8 August 2023.
Previously on e-architect:
20 Apr 2022
M&S Oxford Street Store Demolition News
Demolition of M&S flagship Oxford Street store
Sustainability expert on Gove's decision to block demolition of M&S Oxford Street store:
Asif Din, head of sustainability Perkins&Will London, comments: "The saga surrounding the demolition of M&S's flagship Oxford Street store continues and the decision for Michael Gove to scrutinize the plans seems to be done purely on a basis of heritage value only.
Marks and Spencer Oxford Street, London W1 building: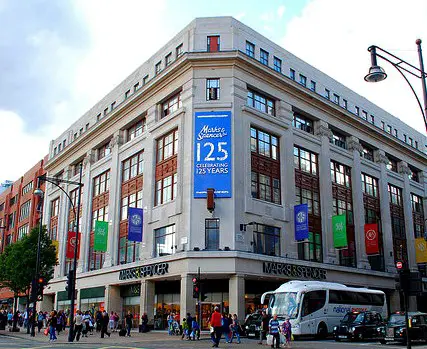 photo : Gary Rogers / Marks and Spencer, courtesy of wikimedia commons
"As a non-listed building, the heritage value of the building has not been recognized up until now and seems strange that this is drawing so much attention only when the building has been threatened the listing process is in place to deal with this to preserve buildings of historic significance. Gove has no remit under the carbon value of the building which is put in GLA policy. I am still of the opinion that the building can be retrofitted but find that this type of intervention by the central government disturbing on what seems to be a populist decision and not based within the hierarchy of decision making.
"Surely we've learnt from our collision course with climate change that we have to look at carbon savings now. Inaction is no excuse when the stakes are so high. In this case alone, embodied carbon equivalent to four million gallons of diesel risks being released back into the capital's atmosphere, reversing many of the gains made elsewhere in our road to net zero emissions by 2030. The construction industry has a high impact and the same security that has been placed on other sectors needs to be applied.
"The Intergovernmental Panel on Climate Change (IPCC) calls for cities to be bold in their approach to decarbonisation. Decision-makers have the power and jurisdiction to lay precedent today to ensure that carbon efficiency in construction is not tomorrow's issue. Retrofitting, and the resourceful conversion of the existing building stock, are essential to this aspiration, not only due to the profound environmental impact that demolition presents but because the financial burden of mistakes made now is a half-a-trillion pound problem.
"Throwing our hands up is not permissible in this day and age. If a systemic solution is not immediately clear, then decision-makers must canvas the development industry to search for one. Architects are ready to challenge existing practices and have the necessary skills to deliver low carbon buildings, but this conviction must be matched on both sides."
London Store Designs
London Retail Buildings, chronological:
Gabriela Hearst, corner of Brook Street and Davies Street, Mayfair
Architects: Foster + Partners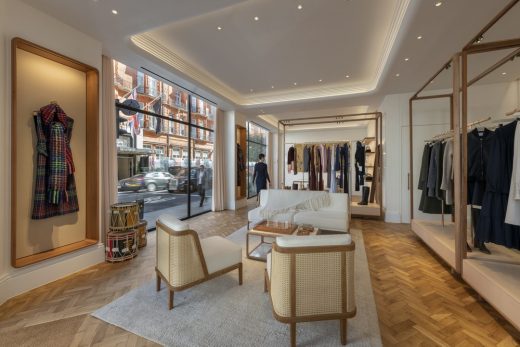 photography : Nigel Young / Foster + Partners
Gabriela Hearst London Store
GAP Store on Oxford Street: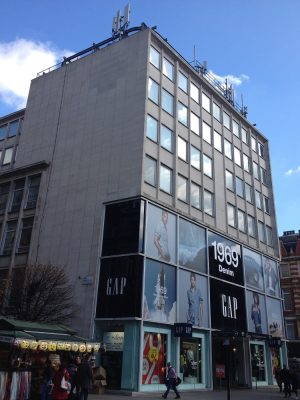 Debenhams Oxford Street store: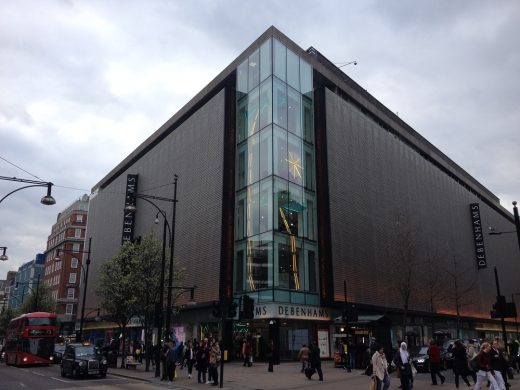 Boodles at 178 New Bond Street, Mayfair, West London
Design: Eva Jiricna Architects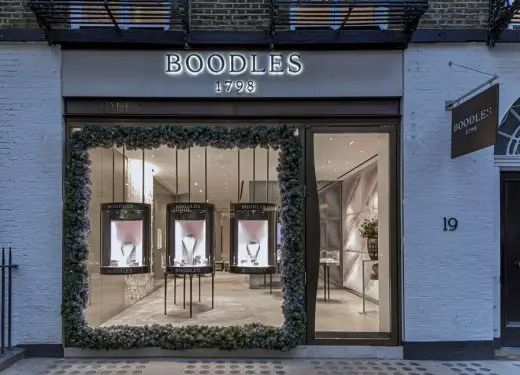 photo from architects office
Boodles on New Bond Street
South Molton Street Building, off Oxford Street, Mayfair, West End
Design: DSDHA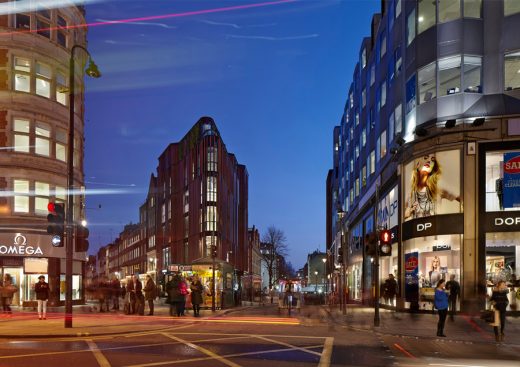 photo © Dennis Gilbert
South Molton Street Building
Westfield Stratford City, east London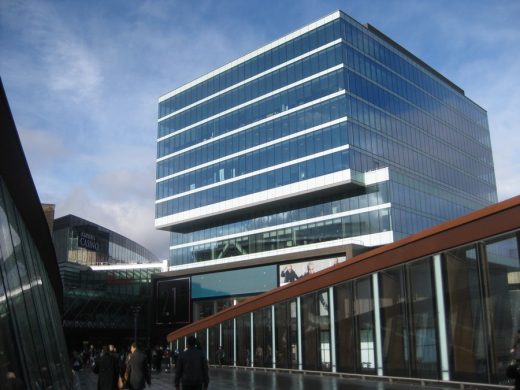 photo © Adrian Welch
Westfield Stratford City building
Fortnum & Mason store
Design: Jestico + Whiles
Fortnum & Mason store
Harrods, Brompton Road, Knightsbridge
Harrods Store
Harvey Nichols, Sloane Street / Knightsbridge corner
Harvey Nichols London
Hermès Bond Street Store, Mayfair
Design: DSDHA
Hermès London Store
Reiss Headquarters, Barrett St, central London
Design: Squire & Partners
Reiss Store
Selfridges Department Store, Oxford St, central London
Selfridges Store
More Marks & Spencer Oxford Street Store Demolitio information online soon
Location: London, south east England, UK
Architecture in London
Contemporary Architecture in London
London Architecture Links – chronological list
London Architecture Walking Tours
Bond Street shops
Bond Street shops
London Shop by Future Systems on Oxford Street
M&S Paddington Basin
Marks & Spencers Offices in London
Design: Rogers Stirk Harbour + Partners



photos © Nick Weall
Waterside House Paddington Basin, M&S London
Comments / photos for the Marks & Spencer Oxford Street Department Store London Demolition page welcome