Prentiss Balance Wickline Architects Seattle, PBW Architecture Practice, Building Photos, Design Office
Prentiss Balance Wickline Architects
PBW: Washington Architecture Studio, USA – Seattle Architectural Practice, WA
Prentiss Balance Wickline Architects News
Prentiss Balance Wickline Architects News
Oct 23, 2019
Big Pine Retreat, Mazama, Methow Valley, Washington, USA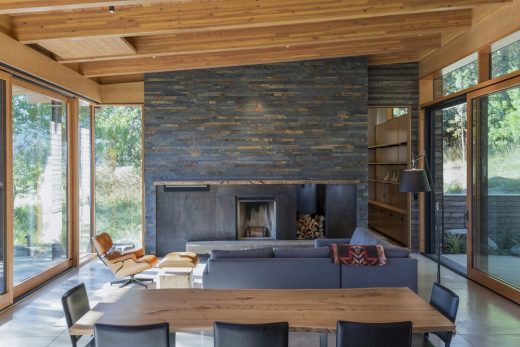 photography : Eirik Johnson
Residence in Mazama, WA
This property is nestled into a sloping site that is reigned over by a large, six-foot-diameter Ponderosa pine tree. The 2,500 square foot house is set at the edge of the meadow, taking advantage of the sweeping views of the Valley and North Cascades mountain range beyond.
Jun 14, 2018
Bailer Hill Residence, Friday Harbor, Washington, USA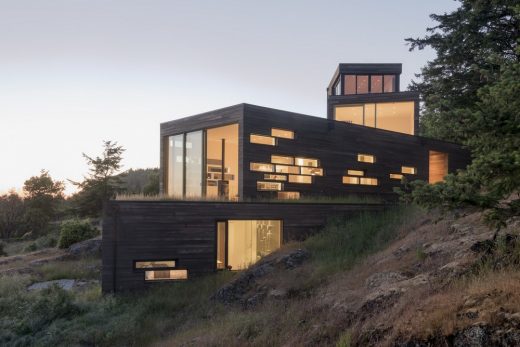 photograph : Eirik Johnson
Residence at Friday Harbor
Anchored to a rocky slope and looking out over expansive water views, this house is the expression of the clients' desire to connect to both the immediate landscape and the view beyond. Cascading organically down the hill, the house remains firmly rooted to the earth even as it rises high above the ground.
Mar 23, 2018
PBW News for Spring 2018
Bailer Hill made an impression in the last few months, making this year's AIA Seattle Home of Distinction list and slated to be published this summer in Seattle magazine. The house is in the spotlight in Dwell's January/February issue, as well as covered in a recent Houzz Tour installment.
Luxe covered the Washington Park project, a transitional modern house on a steeply sloped lot, in the Pacific Northwest March/April 2018 issue.
At the end of 2017, we made a few "best of" lists for the year; The Coyle is on Dwell's Top 20 Homes of 2017, and Lot 6 is in the Top 10 Cabins of 2017. We're also on the Luxe Gold List, published in their recent special issue;>Renoviso's top Houzz pages; and a number of "best tiny homes" for Eagle Point, like this article from Coastal Living.
On the Boards
Copper Harbor is framed and wrapped, getting a dusting of snow this winter. The Landing is also getting closer to finishing, and we caught a rainbow arching over the view during one of our site visits this year.
Over in the Methow, Little Star continues to make great progress, on track to be completed this summer.
We have a number of projects that have just started here in the office. It's always a joy to watch as a design starts to take shape from the first few ideas, and we are all excited to keep our momentum going through 2018.
Copyright © 2018 PBW Architects
Jul 26, 2016
North Bay House, San Juan Island, Washington, USA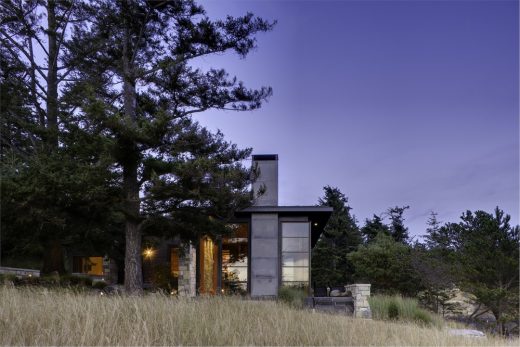 photograph : Jay Goodrich
House on San Juan Island by Prentiss Balance Wickline Architects
The clients desired an intimate, yet dynamic family residence that reflected the beauty of the site and the lifestyle of the San Juan Islands. The house was built to be both a place to gather for large dinners with friends and family as well as a cozy home for the couple when they are there alone.
Jul 18, 2016
Glen Lake Tower House in Michigan won an AIA Design Award.
The Creekside Residence in Missoula was published in Mountain Living.
Mar 23, 2016
This pair of American architecture practices has annoucned their merger.
Glen Lake Tower, Michigan: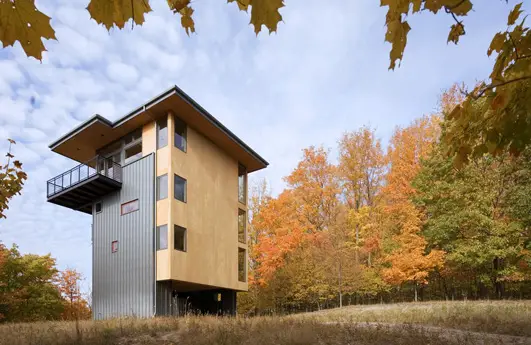 photo : Steve Keating Photography
Prentiss Wickline Architects and Balance Associates Architects have combined. At the core of both firms is the pursuit of balance: between natural and built environments, between a client's vision and real world parameters, between beauty and utility.
Working together they offer a richer and broader practice, continuing the highly personalized experience that both their prior firms have come to be known for. They are proud of our expanded knowledge base and network, and ultimately, they believe PBW Architects will enable them to bring new insights and better solutions to their clients and the world of design.
Balance Associates Architects – Major Projects
May 21, 2013
Pine Forest Cabin, Winthrop, near Seattle, Washington, USA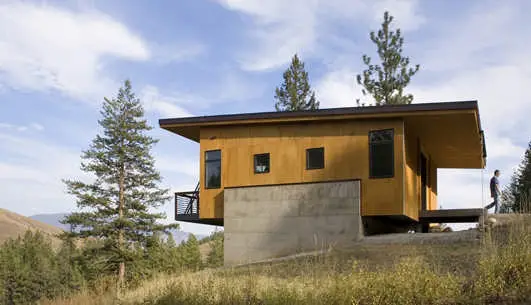 photo : Steve Keating Photography
Pine Forest Cabin
In order to meet the client's budget goals, an efficient plan and cost effective selection of building materials reduced construction costs and led to the simple box design. The use of sheet materials both inside and out maximized material efficiency while emphasizing the simplicity of the cabin's form.
May 21, 2013
Wolf Creek View Cabin, near Seattle, Eastern Washington, USA



photo : Steve Keating Photography
Wolf Creek View Cabin
Wolf Creek View Cabin sits in a lightly treed meadow, surrounded by foothills and mountains in Eastern Washington. The home is designed as two interlocking "L's". A covered patio is located at the intersection of one "L," offering a protected place to sit while enjoying sweeping views of the valley. A lighter screening "L" creates a courtyard that provides shelter from seasonal winds and an intimate space with privacy from neighboring houses.
May 21, 2013
Capitol Hill Residence, Seattle, Washington, USA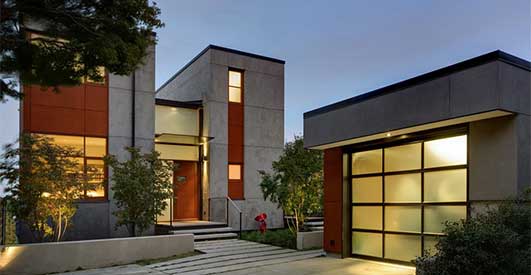 photo : Steve Keating Photography
Capitol Hill Residence
With a compact form and several integrated sustainable systems, this residence achieves the client's goals to maximize the site's views and resources while responding to its microclimate. The roof rainwater collects into a steel entry water feature, day light penetrates deep into the house through a central translucent slot, and exterior mounted mechanical shades can prevent excessive heat gain.
May 21, 2013
Glen Lake Tower, Michigan, USA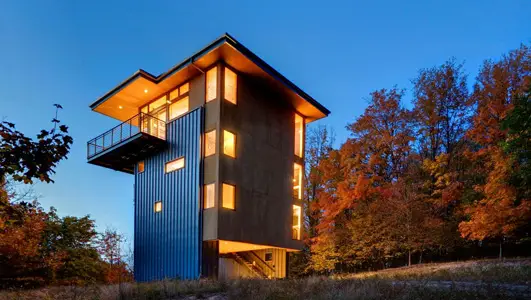 photo : Steve Keating Photography
Glen Lake Tower
High on a wooded hilltop above a lake in Michigan, the Tower House is the result of an inspiring collaboration between Balance Associates, clients with a passion for architecture as well as their site, and a skilled local contractor.
Apr 22, 2015
Wintergreen Cabin , Methow Valley, Washington, USA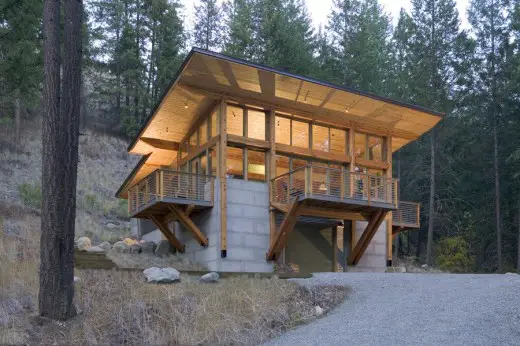 image from architect
Wintergreen Cabin Washington
Wintergreen Cabin is a 1,600 square foot building built into a steep hillside overlooking a stream with a view to the mountains in the distance. The cabin is anchored into the hill with a concrete base that contains the garage and other utility spaces. The upper floor houses all of the living areas.
Apr 23, 2015
Garden House in Seattle, Washington, USA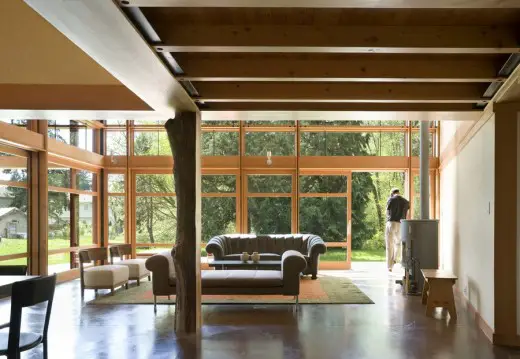 photograph : Steve Keating
Garden House in Seattle
This 3000 sq. ft. single family residence is located on a +/-2.5 acre Urban Western Washington site which includes a class (3) salmon stream running through the property.
More information re Prentiss Balance Wickline Architects online soon
Location: 224 West Galer Seattle, WA 98119, USA
Architects Practice Information
Prentiss Balance Wickline Architects – architects office based in Seattle, Washington, USA.
224 West Galer Seattle, WA 98119
206.283.9930
The practice says this:
We design with the belief that nothing is impossible, and temper it with good old-fashioned pragmatism, embracing both big ideas and intricate details. Taking into account location, context, and other inherent attributes of a specific project, we strive to create a balanced whole, integrating the structure and the environment.
We consider the interplay between inside and outside, light and shadow, aesthetics and utility, carefully selecting materials that harmonize with nature, prioritizing efficiency and sustainability. Most importantly, we look for opportunities to bring joy and unanticipated delight into the spaces we create as well as into the process that gets us there. This should be fun— after all, we are building dreams.
We are a passionate, collaborative, and highly attentive group. Our attention to you, our client, is paramount throughout the design and construction process. Beginning with one-on-one meetings and a tried-and-true proprietary questionnaire to help you articulate your goals, we develop a plan to bring your vision to life.
Utilizing long-cultivated relationships with highly skilled contractors or helping you to find the perfect fit, we dive into the construction phase while keeping you well informed. Consistent communication between client, architect, and contractor culminates in a meticulously developed project that typically surpasses expectations in terms of both the overall process and the outcome. Because we love what we do, we want you to love it, too.
Washington Houses – Selection
L2Q House
Peter Cohan, Architect
L2Q House Seattle
Cedar Park House, Seattle
Peter Cohan, Architect
Cedar Park House Seattle
Seattle Buildings – Selection
Seattle Public Library
Design: Rem Koolhaas Architect / OMA
Seattle Library Building
Comments / photos for the Prentiss Balance Wickline Architects – PBW Washington Design Studio page welcome
Website: pbwarchitects.com