Best ways to hang sheer curtains at home tips, Dubai apartment design style, UAE property decor guide
Best Ways To Hang Sheer Curtains In Your Home
6 May 2023
If you are looking for ways to add a touch of elegance to your home decor, then you must consider installing sheer curtains. These lightweight window treatments are perfect for decorative purposes and also for providing some privacy. Plus, with the right hanging method, they can create beautiful coverage and add visual interest to any room.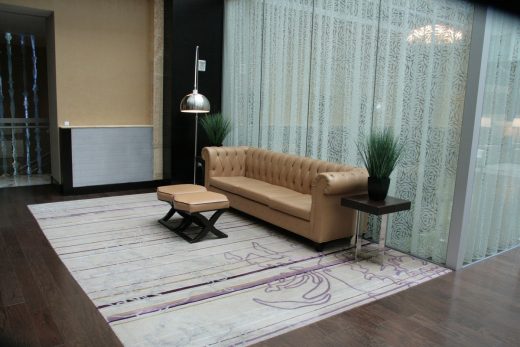 But before we discover various hanging methods, let's first inspect what sheer curtains are and why they are a popular choice for homeowners. In Dubai, sheer curtains are popular because of their ability to let in natural light while protecting against harsh sun rays. There are several options to take into account while deciding on the best hanging technique for sheer curtains.
In this article by Dubai Curtain, we'll explore various ways to hang sheer curtains, from simple tension rods to more elaborate ceiling mount brackets. Whether you're looking to add some flair to your living room or want to create a cozy atmosphere in your bedroom, these hanging methods will help you achieve every look you desire. So, let's dive into the details and discover the best ways to use sheer curtains in your Dubai home!
The Significance Of Finding The Right Hanging Method For Sheer Curtains
Finding the right hanging method for sheer curtains is essential for both aesthetic and practical reasons. Sheer curtains provide a delicate, light-filtering effect that can instantly enhance the appearance of a room. However, if they are not hung correctly, they can appear unflattering and detract from the overall design.
Using the wrong hanging method can cause the curtains to bunch or sag, hindering their ability to filter light and provide privacy. Proper hanging considerations such as using a rod with higher weight-bearing capacity, choosing the right length, and using suitable hardware can ensure that sheer curtains are not only visually appealing but also are useful in achieving their intended purpose.
Hanging Methods That Require No Drilling
Here are the four hanging methods; you can enjoy the beauty and functionality of sheer curtains Dubai by using these methods in your home with no drilling or complicated installation required.
Tension Rods
One option is tension rods, which are easily adjustable to fit any window size and provide a secure hold without damaging walls.
Adhesive Hooks
You can use adhesive hooks to hang sheer curtains without drilling. Simply clean the surface, place the hooks, and hang the curtains on them using clips or rings.
Magnetic Rods
Magnetic rods are ideal for metal window frames and provide a sleek, modern look. They are a popular choice for their ease of installation and versatility regarding measurements.
Spring Rods
If you're looking for hanging methods that don't require drilling, there are several options available that are perfect for fitting sheer curtains in Dubai homes.
Hanging Methods That Require Drilling
For a more permanent and secure hanging method, drilling is often required when hanging sheer curtains in living spaces. Here are the five hanging methods that require drilling:
Curtain Rods With Brackets
Curtain rods with brackets are a popular choice for their stability and a wide variety of decorative options.
Ceiling Mount Brackets
Ceiling mount brackets are another option that can create a dramatic effect and draw everyone's attention towards the curtains.
Wall Mount Brackets
Wall mount brackets provide a classy look that works well with any decor style.
Traverse Rods
Traverse rods are ideal for larger windows and provide a smooth, seamless operation.
Hidden Tab Tops
Hidden tab tops offer a clean and modern look that hides the hardware and provides a sleek finish.
Decorating Tips for Sheer Curtains
Besides choosing the right hanging method, there are several decorating tips to keep in mind when using sheer curtains in your home to create a beautiful and welcoming space.
Choosing The Right Color And Fabric
When selecting a color and fabric, consider the amount of natural light in the room and choose a shade that complements the overall decor.
Pairing With Other Window Treatments
Pairing sheer curtains with other window treatments, such as blinds or shades, can provide additional privacy and light control.
Layering With different Curtains
Layering sheer curtains with heavier drapes or curtains, such as blackout curtains can add depth and texture to the room while also providing insulation.
Adding Tie Backs Or Holdbacks
Adding tie backs or holdbacks can create a tailored look and allow more control over the curtain panels.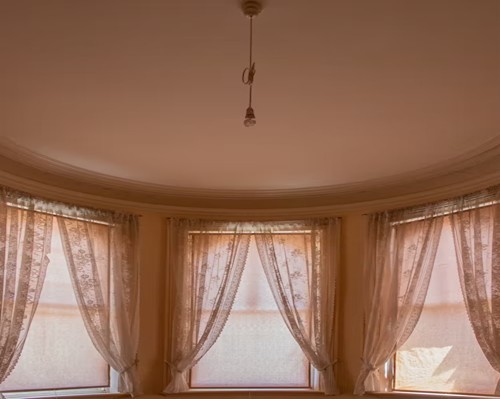 Photo by Mitchell Luo on Unsplash
The Best Ways To Hang Sheer Curtains In Your Home Conclusion
In conclusion, sheer curtains are a fantastic addition to any home decor. With their light-filtering effect and ability to provide privacy, they can instantly enhance the appearance of any room. However, finding the right hanging method is essential to ensure that they look their best and function properly.
By exploring all the hanging methods covered in this article, you can choose the perfect option for your Dubai home, whether it requires drilling or not. And, by keeping in mind the decorating tips mentioned in this article you can create a welcoming space that is both stylish and functional. So, whether you're looking to add aesthetic ambience to your living room or your bedroom, sheer curtains are a perfect choice, and with the right hanging method, they can transform any space into a stunning interior.
Comments on this guide to Best ways to hang sheer curtains at home article are welcome.
Curtains Articles
Curtains Posts
How curtains can change your office look
10 Outdoor Patio Curtain Ideas to Dress Up Your Porch
Why Does the Shower Curtain Move Toward the Water?
Building Articles
Residential Architecture
Comments / photos for the Best ways to hang sheer curtains at home page welcome