Fairy Tales, Blank Space, Architecture Storytelling Competition
Fairy Tales Competition
Architecture Storytelling Contest – organised by Blank Space
Sep 29, 2018
Fairy Tales Competition 2018
Fairy Tales Competition
Early-bird registration for the 6th annual Fairy Tales competition ends
Reasons to Register:
• Discounted registration for $45 USD until 11:59PM Friday Sep 28, 2018
• Incredible jury, including Moshe Safdie, Tatiana Bilbao, Jürgen Mayer, Mark Foster Gage and more.
• $5000+ in prizes.
• Most important: the chance to share your story. Past winners have been interviewed by Wired, gone on the do successful Kickstarter campaigns, and had their stories read by hundreds of thousands around the world, igniting meaningful and needed conversations in the architecture community.
Ready? Download the brief, check out the website, then register and start creating.
Nov 30, 2017
Fairy Tales Competition 2018 Deadline
Fairy Tales Competition Deadline
Regular Registration Deadline approaching fast. Sign up today!
Five Reasons Why You Should Enter the Fairy Tales Competition
Over the last 5 years, the Fairy Tales competition has captured the imagination of thousands of participants from around the world – from students and aspiring architects, to multi-national firms and Pritzker prize winners. Here is why, if you enjoy design and storytelling, you should give it a shot this year:
1) Fairy Tales pushes your creativity to a new level. Sure, you are a master at planning spaces and your taste for design is unparalleled. But do you always design with a story in mind? Fairy Tales encourages you to invent worlds that marry your creativity with a message, and allows you to rethink the way you approach design challenges. With storytelling guiding your design, you'll never look at architecture the same way again.
2) You'll be part of something big. The Fairy Tales competition has become a repository of the social and environmental issues that are at the forefront of everyone's mind on a yearly basis. They capture the zeitgeist of the times in highly imaginative and sometimes tongue-in-cheek ways. The community of designers and creatives who participate each year spans more than 60 countries. In times when the world is often portrayed as a scary, foreign place, Fairy Tales reminds us all that we belong in the global context.
3) Your work will be seen by an all-star jury, the kinds of people whose own work is changing the world. This year's winners will be selected by a jury that includes Bjarke Ingels, Daniel Libeskind, Elizabeth Diller, Thom Mayne, Roman Mars, and a dozen other of design and writing's greatest thinkers.
4) Top entries will be published in "Storytelling Architecture," a crowd-sourced book from Volume. The publication will celebrate the winners of this year's competition, and bring them together with the best entries from past years, for the first time ever. "Storytelling Architecture" is made possible by Volume, a new publishing platform, and will be available for pre-order in early December. You can sign up for updates here: https://vol.co/
5) It's a lot of fun! To cap the competition, Blank Space will host a night at the National Building Museum in Washington D.C. for storytelling and inspiring talks with the winners, jurors, and the design community. All participants in the competition will be invited to attend.
Enter before this Thursday, December 7th
Check out the website, download the brief, then register and start creating.
Regular Registration ($55) will be open until this Thursday, December 7th, and Late Registration ($70) is available until the Submission Deadline on January 5th, 2017.
All participants will receive a discount voucher for their copy of Storytelling Architecture, and two complimentary tickets to the final event at the National Building Museum.
The world needs great stories now more than ever. Your stories.
Blank Space, 117 E 102 St, New York, NY 10029, United States
1 Apr 2016
Fairy Tales Competition Winner
Alan Maskin of Olson Kundig Wins Fairy Tales Competition
Alan Maskin, principal and owner of Olson Kundig, with Jerome Tryon, Kevin Scott, Gabriela Frank, and Katie Miller have won the third annual Fairy Tales competition for their story titled "Welcome to the 5th Facade". Established by Blank Space this year's contest was the most competitive edition yet with over 1,500 submittals.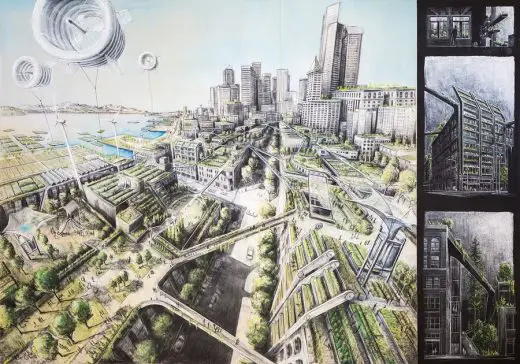 7′ x 10′ Mural from The Fifth Façade Project by Alan Maskin and Jerome Tryon.
Entrants from 67 countries around the world answered the brief that invited designers to put pen and pencil to paper, writing stories as well as crafting visuals for their submissions. The winners were chosen by an interdisciplinary jury that included: Hans-Ulrich Obrist, Co-Director of the Serpentine Galleries; Elizabeth Diller, Founding Partner at Diller Scofidio + Renfro; and Aaron Betsky, Dean of the Frank Lloyd Wright School of Architecture, among many other distinguished judges. The jury selected three prize winners with 10 honorable mentions.
"Our Fairy Tales 2016 submittal became a tangential detour from Olson Kundig's ongoing investigation into urban rooftops, the largely neglected uppermost layer of cities. The idea of applying a narrative filter – to both built and conceptual projects – became another way to look at and critique design ideas. "Welcome To The 5th Facade" used science fiction as it is traditionally used – as a modality to visualize and imagine a particular future in terms of both the pitfalls and the potential." ― Alan Maskin.
As an exploration in other mediums of storytelling, Alan with Chris Burnside, Ryan Paterson and Sam Tannenbaum created a sci-fi-style video that immerses viewers in the "Welcome To The Fifth Façade" story. To view the 5-minute video, click below:
The winning entries, along with the honorable mentions and other notable submissions, will be featured in the third volume of Fairy Tales: When Architecture Tells a Story. The anthology will give readers the opportunity to experience firsthand what happens when creatives tell a story. The book layout is designed by Bruce Mau Design, with a special cover by Spanish artist Vicente Garcia-Morillo. Copies will ship in July, and are available for pre-order at a discounted price of $14.
Copyright © 2016 Olson Kundig, All rights reserved.
Fairy Tales Competition winning design by Olson Kundig
10 Mar 2014
Fairy Tales Contest Winners
Organiser: Blank Space
Blank Space announces the Fairy Tales Competition winners
Blank Space is happy to announce the winners of 'Fairy Tales,' the world's first architecture storytelling competition.
(NEW YORK CITY, N.Y. March 10, 2014) – The results of the first ever architecture storytelling competition are in. The response to Fairy Tales was "overwhelming and astonishing," say the founders of Blank Space, with over 300 entries from 50 countries. The competition marks the first contest organized by the New York City based "office for thought provocation."
The all-star jury selected 3 winning entries and 10 honorable mentions:
First Place goes to Kevin (Pang-Hsin) Wang and Nicholas O'Leary for their entry "Chapter Thirteen".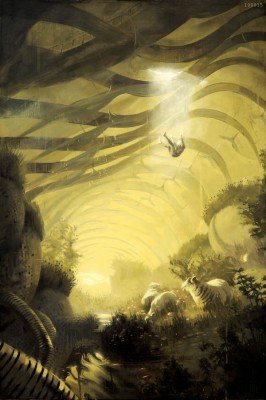 Mesmerizing, powerful images depict a bucolic yet futuristic world where a damsel in distress, Alice as a grown-up, is planning her escape from a setting that is no longer a wonderland, but a city that architecture has rendered unwelcoming and suffocating.
Penning the 13th chapter to Carroll's book, this submission actualizes a profoundly familiar fairy tale setting infused with new architectural forms, while elaborating on architecture's failures and weaknesses.
Second Place: "Man and Ground" by Anna Pietrzak.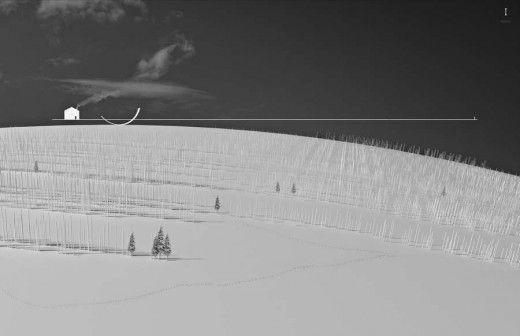 Minimalistic, evocative black and white images accompany a poetic analysis on the role of the ground as an architectural element, and as the co-protagonist of the architect's life, as a man and as creator.
Third Place: "Oscar Upon A Time" by Joseph Altshuler, Mari Altshuler & Zachary Morrison.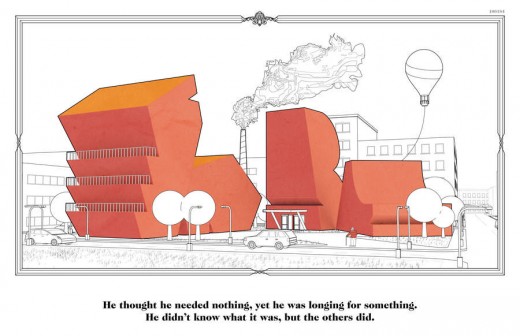 In this collaborative effort between two architects and an elementary schoolteacher, architecture is portrayed as a lifelong companion, changing shapes and growing alongside the protagonist of the story.
"We are glad that when asked to think differently about architecture, so many people were up for the challenge," the founders say. "Blank Space started exactly for this purpose: to uncover better means to communicate architecture, and in turn, to change the way the world perceives architecture. The response is a testament to the power of these ideas."
With Fairy Tales, Blank Space received more attention in its first year of activity than most established competitions, and was able to captivate a young audience with a thirst for new creative stimuli. The majority of the participants are aged 18-34: "there is a whole new generation of designers and enthusiasts seeking ideas and opportunities from a variety of creative fields," the founders add.
"The need and will to communicate universal messages resonates with every entry to the competition," says Will Alsop, Director at All Design and Fairy Tales jury member. "Each entry is infused with topics and themes both inspired by the participants' extremely diverse cultural backgrounds and from commonly shared thoughts and preoccupations about architecture's role in today's world."
"I feel like this was the most important aspect this competition brought to light: the fact that architects, designers and creatives from all over the world, while bringing their unique perspective to the challenge, also share some fundamental enthusiasms and preoccupations. Expressing these feelings in the form of a fairy tale, these creatives took it upon themselves to initiate a more inclusive conversation about these issues, which is up to all of us to keep developing," says Jack Zipes, Professor Emeritus of German and Comparative Literature at the University of Minnesota, and Fairy Tales jury member.
The winning entries, along with the honorable mentions and other notable submissions, will be featured in Fairy Tales: When Architecture Tells a Story, Blank Space's first publication. The compendium will give readers the opportunity to experience first hand what happens when creatives are encouraged to think in terms of narrative. The book is designed by Spanish designer Vicente Garcia-Morillo, who also designed Blank Space's identity. Pre-ordering is available for a discounted price of $10 on Blank Space's website: www.blankspaceproject.com
HONORABLE MENTIONS
The jury chose 10 honorable mentions for the competition:
• Detroit S.A.R. by and Ya Suo Rania Ghosn
• The Secret Life of New World Towers by Berenika Boberska
• Hypnagogic set of events experienced by 132x12866y78z by Zygmunt Maniaczyk and Marcin Kitala
• Exordium by Posin Wang
• Endeavourism by Mark Rukamathu and Yarinda Bunnag
• Andy's Window by JooYoung Ham and YooJin Lee
• Untitled by Irena Gajic, Tea Belicev, and Marta Gajic
• Ocularcentrism by Gianna Papapavlou
• The Metamorphosis of a Giraffe by Hannah Cook
• A "Flying" Fortress by Artur Dabrowski
16 Jan 2014
Fairy Tales Contest
Organiser: Blank Space
Extension to Friday January 31st
Blank Space announces the world's first architecture storytelling competition: "Fairy Tales."
Jan 31, 2014 – midnight EST : Project submission deadline
previously: Jan 17, 2014 : Project submission deadline
(NEW YORK CITY, N.Y. Sept. 9, 2013) – Fairy Tales is an open, international, ideas competition that challenges creatives from all professional realms to develop visionary, narrative-based design proposals.


image from competition organisers
Architecture competitions are the lifeblood of the profession, but they haven't changed that much in the past 100 years. Architects are still designing single building typologies like skyscrapers, museums, and houses ad infinitum. By retreating into itself, architecture has lost its ability to send universal messages, to represent culture in its time, and to address issues that are at the core of human existence. That is why Blank Space, an online platform for architecture, is launching the world's first architecture storytelling competition: "Fairy Tales."
Fairy Tales challenges participants to develop visionary proposals that take fun seriously and are audacious enough to ignite imaginations. The proposals will combine text-based architectural fairy tales with innovative graphic representations, and in doing so, seek to unlock the power of architecture by improving the way that it is shared, digested, and communicated.
To assess the entrants to the competition, Blank Space curated a team of experts who are each redefining their respective professions. The jury includes: Paula Scher, Partner at Pentagram; Will Alsop, Director at All Design; Mitchell Joachim, Co-President of Terreform ONE; Nigel Coates, Founder of Nigel Coates Studio; Jack Zipes, Professor Emeritus of German and Comparative Literature at the University of Minnesota; and Francesco Lipari, Co-founder of Cityvision.
"Since the beginning of recorded time, and perhaps earlier, fairy tales have been a means to confront and conquer the anxieties and hardships of humankind through metaphor," says Professor Jack Zipes, a jury member for the competition. "Similarly, good architecture can tell stories and give structure to the chaos that surrounds us. Examining architecture through the lens of fairy tales, as this competition does, will unleash the fantastic potential that architecture possesses."


image from competition organisers
The success of contemporary animated movies and the resurgence of the fantasy literary genre testify that fairy tales are very much alive, potentially more so with former children than with actual children. Even in the news, the element of fantasy plays a key role in selecting what stories go viral. It's a great time to be a storyteller.
Whether or not we realize it, stories form the foundation of architectural proposals, and it is through various narrative tools that a project's general constraints are outlined, and an architectural strategy is put in place. If narrative tells a story in time, architecture builds a story in space.
"Imagination transcends professional boundaries. It was crucial to Steve Jobs, Walt Disney, and JK Rowling, and it's important to my Terreform ONE group as well," says Dr. Mitchell Joachim, Co-President of Terreform ONE. "The Fairy Tales competition encourages designers to explore the creative potential of their imagination, and it will be exciting to see how the projects push past the boundaries of architecture into uncharted territories."
The early registration deadline is December 6, and the deadline for submissions is January 17, 2014. The jury will award 1st, 2nd, 3rd Place, and a selection of Honorable Mentions.
To register for the competition, or for more detailed information, please visit: www.blankspaceproject.com
Fairy Tales information / images received from Blank Space
Location: New York, USA
Architecture Competitions
Ocean Platform Prison Competition – [AC-CA] Architecture Contest



picture from design competition organisers
Ocean Platform Prison Architecture Competition
Russian Architecture Competition, Russia



image from competition organisers
Nikola-Lenivets Architecture Competition
Triumph Pavilion Architecture Competition, London, UK



image from competition organisers
Triumph Pavilion Architecture Competitions
Cambridgeshire Design Competition, UK



photo from RIBA Competitions
Great Fen Visitor Centre Architecture Competition
Comments / photos for the Fairy Tales Competition – Architecture Contest page welcome