Mecanoo architecten Delft, Netherlands Design Office, Buildings, Rotterdam Architecture News 2016
Mecanoo architecten Netherlands
Contemporary Dutch Architecture Practice – major design studio based in Delft, Holland
post updated 10 Apr 2021
Mecanoo architecten News Archive
Address: Oude Delft 203, 2611 HD Delft, Netherlands, Europe
Phone: +31 15 279 8100
Mecanoo – main page with current news for this Dutch architecture office
Mecanoo Architecture News in 2016, chronological:
18 Nov 2016
New Mid-Manhattan Library Building, New York City, USA
Design: Mecanoo and Beyer Blinder Belle, architects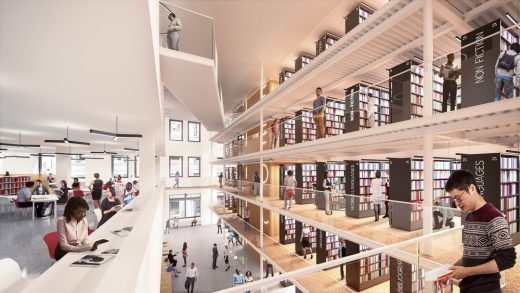 image from architect
New Mid-Manhattan Library Building
1 Sep 2016
Manchester City Council Nominated for RIBA Client of the Year for HOME
The annual 2016 RIBA Client of the Year award (by The Royal Institute of British Architects) recognises the role that a good client plays in the creation of fine architecture.
Manchester City Council – nominated by Mecanoo for their 2016 RIBA National Award-winning HOME (in addition to the 2016 RIBA Northwest Award winners Manchester Central Library by Ryder Architecture and Library Walk Link Building by SimpsonHaugh and Partners)
3 Jun 2016
Manchester University Engineering Campus, Northwest England, UK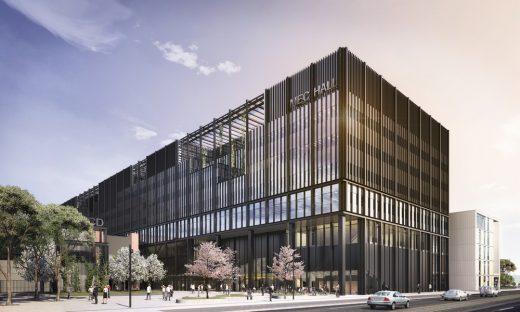 image : Mecanoo architecten Netherlands
Manchester University Engineering Campus by Mecanoo architecten
Planning permission approval for a £350 million engineering campus designed by this Dutch architecture practice. MECD will be one of the largest, single construction projects ever undertaken by a higher education institution in the United Kingdom. The development's main building – MEC Hall – is 195 metres long.
10 Jun 2016
Kaohsiung Station Building, Kaohsiung, Taiwan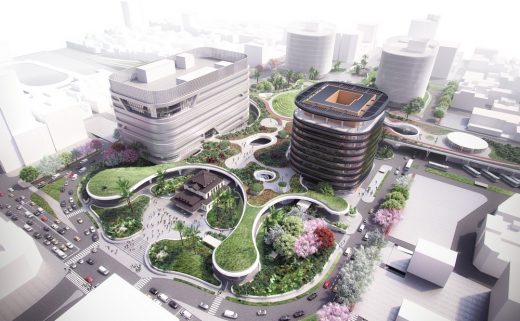 image : Mecanoo architecten Netherlands
Kaohsiung Station Building
With its organic, curvilinear shape and landscaped canopy, the new Kaohsiung Station will introduce a generous amount of public green space to Taiwan's second city. D
21 Mar 2016
Villa 4.0. Renovation, Hilversum, The Netherlands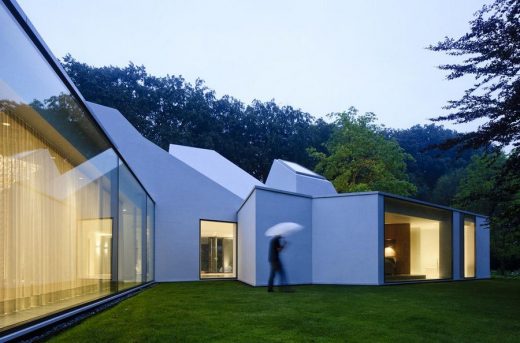 photo © Pedro Kok
Dutch studio Mecanoo has completed the last of a series of renovations on a 1967 home in Hilversum, The Netherlands, called Villa 4.0., reports designboom.
The original building completed in 2011 was designed by dick van gameren in collaboration with iding interior design and michael van gessel landscape.
The original floor plan began as a somewhat hexagonal form in a lush green site surrounded by a natural wall of dense trees and a small brook running along one side. Over the years, various owners have added onto the house to accommodate a larger program but in turn have also made the house increasingly more inward-looking and disconnected from the site.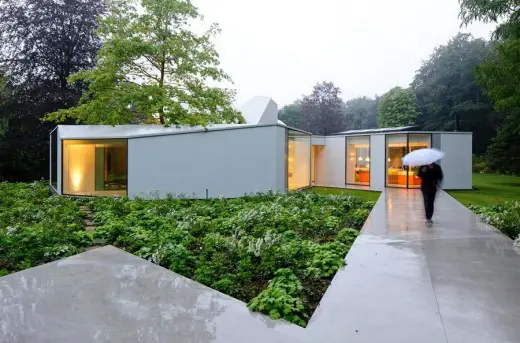 photo © Pedro Kok
As a result, the design strategy was based on re-opening the home to the exterior while updating the structure's sustainable performance. To begin with, all windows were replaced with more high efficient glazing, and outer walls and roofs were given insulation.
Mecanoo architecten News 2013 – 2015
28 May 2015
HOME, Manchester, England, UK
Design: Mecanoo architecten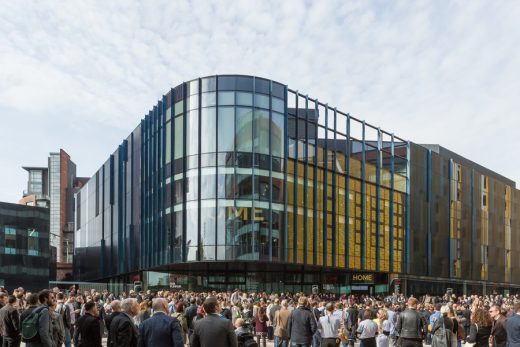 photograph Courtesy of Mecanoo architecten Netherlands
HOME Manchester
Manchester's new centre for international contemporary art, theatre and film, is a catalyst for the developments around First Street, giving Manchester a new cultural epicentre.
4 Oct 2013
Fontys Sports College, Eindhoven, Holland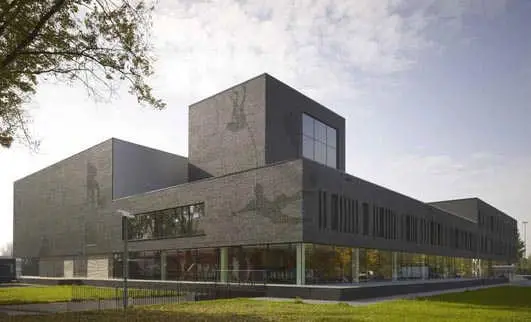 photo : Christian Richters
Fontys Sports College design – WAF Awards 2013 Completed Building Schools winner
World Architecture Festival Awards
Sport encourages friendship and solidarity and serves as an inspiration. Sport is healthy, relaxing, and above all, fun. This is evident in the sports college that Mecanoo architecten was commissioned to build by the council of Eindhoven and Fontys University of Applied Sciences on the Genneper Parken 'sports estate' in Eindhoven.
5 Sep 2013
Library of Birmingham, West Midlands, England, UK
Design: Mecanoo architecten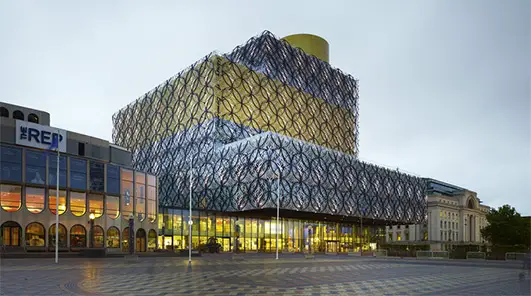 photo : Christian Richters
Library of Birmingham
Centenary Square, the largest public square in the heart of Birmingham, currently lacks cohesion or a clear identity or atmosphere. Mecanoo architecten's design transforms the square into one with three distinct realms: monumental, cultural and entertainment. These palazzos form an urban narrative of important periods in the history of the city; The Repertory Theatre (REP), a 1960s concrete building, the Library of Birmingham, designed in 2009 and Baskerville House, a listed sandstone building designed in 1936. The busiest pedestrian route in the city, what Mecanoo architecten calls the red line, leads pedestrians into Centenary Square.
Windconvertor EWICON, Netherlands
Windconvertor EWICON revealed: wind'mill' without moving blades.
Delft, 27 March 2013 – Is there such a thing as a wind mill without moving blades? Have a look for yourself! From Wednesday the 27th of March on, a scale model of the bladeless windmill can be viewed in front of the faculty of Electrical Engineering, Mathematics and Computer Science at Delft University of Technology. Mecanoo architecten designed the model EWICON (Electrostatic WIndenergy CONvertor) using technology developed by Delft University of Technology in a consortium with Wageningen UR and commercial companies in an economy-ecology-government partnership program context.
The breakthrough wind convertor transforms wind energy into electricity without the use of moving mechanical parts. The result: greatly reduced wear and tear, lower maintenance costs, and zero noise pollution or shadow casting. The EWICON can be installed on land or sea, and can also be integrated on to the roof of a tall building.


image : Mecanoo architecten
The EWICON has an abstract appearance with a flowing steel frame in the shape of a squared -0- supporting a framework of horizontal steel tubes. Within this framework, electrically charged droplets are created and blown away by the wind. The movement of the droplets creates an electric current, which can be passed on to the grid. In 2009, Mecanoo architecten applied the EWICON into the design of the Stadstimmerhuis 010 in Rotterdam, where the 010-sign on the roof would make use of two EWICONS. Continued development will be carried out once funding has been secured for further scientific research.
Animation of the EWICON:

8 Feb 2013
Noorderpoort college in Stadskanaal, Netherlands



image : Mecanoo architecten
Noorderpoort college
The start of the construction work at the new Noorderpoort school for vocational education has been celebrated in Stadskanaal on the 7th of February 2013. The 8,500 m² school building designed by Mecanoo architecten will be situated like a country estate on a beautiful front garden with extensive watercourses in the middle of the village's green hart.
24 Oct 2012
Kongsberg Cultural Centre, Norway
Mecanoo / Code Arkitektur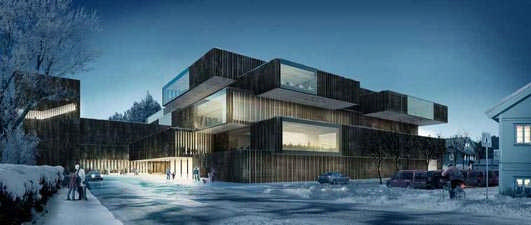 image from Mecanoo architecten
Kongsberg Cultural Centre
Mecanoo architecten with Code Arkitektur and Buro Happold, have won the design competition for a Knowledge and Cultural Square in the centre of a former mining town about 75 km southwest of Oslo. The project comprises of a design for a cultural and teaching building totaling approximately 24,000 m², and includes future expansion of other functions, such as student housing, sports facilities and businesses.
23 Jul 2012
New Harbor Service Building, Taiwan
Delft, 23 July, 2012 – Mecanoo shortlisted to design New Harbor Service Building in Taiwan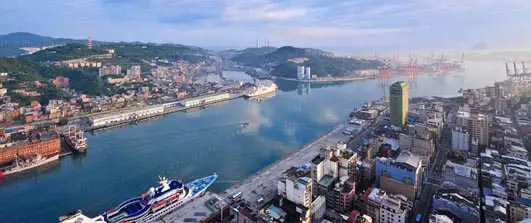 Courtesy of Mecanoo architecten
Dutch architecture practice Mecanoo has been shortlisted to design the New Harbor Service Building in the major Taiwanese port city of Keelung. The building will accommodate the office of Keelung Port Authority, a passenger cruise terminal and cargo terminal, a bus transfer station and commercial space.
18 Jul 2012
West Kowloon Cultural District Competition, China
Shortlisted Design Team for First Arts Venue



Courtesy of the West Kowloon Cultural District Authority
West Kowloon Cultural District Competition
Shortlist of five design teams invited to submit proposals for the design of the Xiqu Centre, one of the first landmark buildings for the WKCD, scheduled for completion at the end of 2015.
Shortlisted design teams:
– BTA & RLP Company Limited
– Foster + Partners with O Studio Architects
– Mecanoo architecten / Leigh & Orange
– Safdie Architects LLC
– Wong & Ouyang (HK) Ltd. (in collaboration with Diamond and Schmitt)
Mecanoo architecten : Practice information
4 Jul 2012
Calvijn Groene Hart comprehensive school, The Netherlands



image from Mecanoo architecten
Calvijn Groene Hart School
Calvijn Groene Hart comprehensive school celebrates topping out
On Monday 2 July 2012 the new building of the Calvijn Christian comprehensive school in Barendrecht, designed by Mecanoo architects, celebrated its topping out. The school building will come into use at the beginning of 2013.
7 Jun 2012
Amsterdam International Golf Club, The Netherlands



image from Mecanoo architecten
Amsterdam International Golf Club
Construction begins on the new clubhouse for the Amsterdam International Golf Club Schiphol. The new exclusive golf club is located next to Schiphol Airport, a stone's throw from Amsterdam's Zuidas business district. The 2,000 m² clubhouse is designed by Mecanoo and features, in addition to a high end restaurant, a fitness and wellness centre with luxury dressing rooms, lounges, terrace and roof terrace for parties and events.
14 May 2012
Mecanoo to design primary school in Mill, The Netherlands



pictures from Mecanoo architecten
Primary School in Mill
Mecanoo has won the commission to design a new primary school in Mill, the Netherlands through a European procurement competition in combination with Giesbers-Wijchen Bouw. The 4,200 sqm school building will be the new home for primary schools De Kameleon and De LenS, and houses a preschool, day and youth care and a youth and family center. Due to open at the end of the summer in 2014.
27 Apr 2012
Anne Frank School
Mecanoo architecten



picture from architects
Anne Frank School Utrecht
Friday, 27 April, marks the ground breaking celebration for the new Anne Frank School in Utrecht, the Netherlands. In addition to the primary school, the 2,600 m² building will feature a gymnasium, child care and preschool education. The 200 students will move into their new school at the end of 2012. The building's horizontal, glazed profile creates an elegant, light school. Cantilevers serve to block direct sunlight from entering the building.
25 Apr 2012
Onze Droomschool, Dordrecht, The Netherlands
Mecanoo architecten



image : Mecanoo architecten
Dordrecht School Building
The new 5,322 m² school brings together education, care and medical science. The Vlij 'Mytyl' school, the Blije Gaarde school and the Dordtse Buitenschool collaborate in their new premises with the care support body Gemiva-SVG Group and the Rijndam revalidation centre
28 Mar 2012
KAPP SKIL, Texel, Dutch Wadden Islands, The Netherlands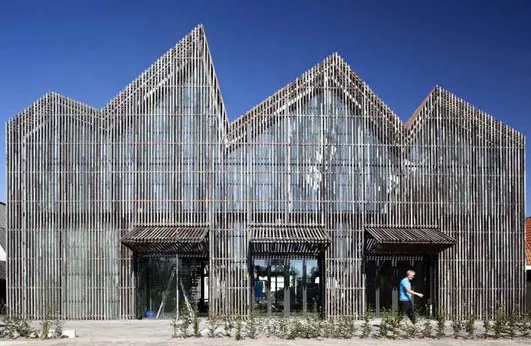 image : Mecanoo
KAPP SKIL Texel
Friday 30 March 2012, KAAP SKIL, maritime and beachcombers museum, on the Dutch Wadden Island of Texel will open its doors. In addition to two new exhibitions, the museum building designed by the Dutch office Mecanoo architecten, will house a café and offices.
21 Mar 2012
Eurojust Building, Den Haag, The Netherlands
Design: Mecanoo / Haskoning



image from architect
Eurojust Building Den Haag
The Mecanoo-Haskoning design team is the winner for the realisation of the new Eurojust headquarters in The Hague. The design visions of four candidates were judged on the following aspects: architectural quality, urban integration and landscape , functionality and programme of requirements, maintenance and sustainability, and integrated design process.
3 Mar 2012
Municipal Office Building in Boston, MA, USA
Design: Sasaki Associates and Mecanoo architecten



image from architects office
Municipal Office Building Boston
The office building is a part of Mayor Thomas M. Menino's Dudley Square Vision Project, which seeks to revitalize the once-thriving urban neighborhood of Roxbury and mass transit hub Dudley Square. The 17,000 m² facility will become the headquarters of the Boston Public Schools Administration and will include green, state-of-the-art office space, retail and civic spaces, and meeting space for the community.
Recent Mecanoo Designs
23 Sep 2011
Amsterdam University College, Netherlands



image from architect
Amsterdam University College
4 Jul 2011
Manchester Arts & Cultural Centre, Northwest England, UK



image from architects studio
Manchester Arts Centre by Mecanoo
4 Nov 2010
Taiwan Library Architecture Competition
Taiwan Library Architecture Competition – Mecanoo entry
Amphion Theatre, The Netherlands
2010



photograph © Christian Richters
Amphion Theatre
La Llotja theatre, Lleida, Spain
2010



photograph : Christian Richters
La Llotja theatre
Masterplan Longgang City Centre, China
2009-



picture from architect firm
Longgang Masterplan, Shenzhen
Birmingham Library Building, England
2009-



courtesy of Birmingham CC © Hayes Davidson
Birmingham Library
Student Housing Delft, The Netherlands
2009



photo from the architects
Student Housing Delft
Swimming Pool het Marnix, Netherlands
2007



picture from the architects studio
Swimming Pool het Marnix Amsterdam building
Montevideo, Rotterdam, Netherlands
–



photo from the architects office
Montevideo Rotterdam
Taiwan National Performing Arts Centre
2009-12



image from architects studio 041207
Taiwan National Performing Arts Centre
Palace of Justice Córdoba, Spain
2008-11



picture from the architecture studio
Palace of Justice Córdoba
Da Vinci College, Dordrecht, Netherlands
2007



image from the architect practice
Da Vinci College
Municipal office building and Train Station, Delft, Netherlands



picture from Mecanoo Architecten
Delft Offices
FiftyTwoDegrees, Jonker Bosplein 52, Nijmegen, Netherlands
Date: 2006/08 – phased
This 86m high building is a semi-conductor industry knowledge centre.
FiftyTwoDegrees Building
BBC Scotland, Glasgow, UK
Scottish Architecture Competition entry
Foxhill Housing, Sheffield, north England, UK
Date: 2006-
Sheffield Building
More information about Mecanoo architecten Netherlands soon
Location: Oude Delft 203, 2611 HD Delft, The Netherlands, northern Europe
Netherlands Architects Practice Information
Mecanoo architecten
Founding director/architect : Prof. ir. Francine M.J. Houben
This Dutch architecture studio have offices in Delft (Netherlands) and Birmingham (UK).
Delft Architect : Mecanoo architecten studio contact details
This Dutch architecture practice was founded in 1984.
Dutch Architecture
Erick van Egeraat – Mecanoo architecten former partner
Buildings / photos for the Mecanoo architecten Netherlands page welcome
Website: www.mecanoo.com