IBI Group Architects, Architecture Office, Healthcare Building, Canada Design Practice
IBI Group Architects
Healthcare, Science & Education Sector Architects: News
post updated 15 May 2021
IBI Group Building News
IBI Group News, chronological:
13 May 2020
Axis Condos, 411 Church Street, Downtown Toronto
Architect: IBI Group Inc.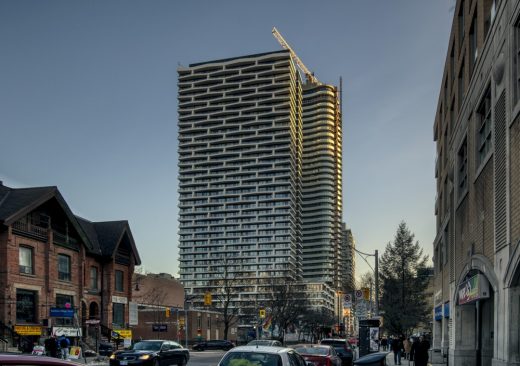 photo courtesy of architects
Axis Condos
A mixed use condominium project designed under the leadership of Mansoor Kazerouni, the Global Director of Buildings at IBI Group Inc., is a striking addition to the downtown Toronto skyline.
28 Feb 2020
Nova Centre, Halifax, Nova Scotia, Canada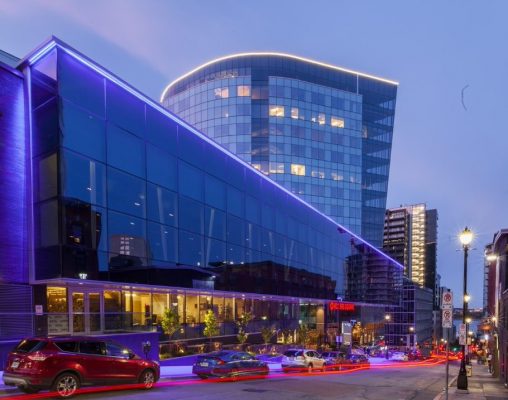 photo courtesy of architects
Nova Centre Halifax
$500M, mixed-use Nova Centre development, comprised of 1M sq. ft. of commercial, hotel and retail space on a 2.5 acre downtown sloped site, and featuring the centerpiece facilities for the Halifax Convention Centre (HCC).
8 Mar 2017
IBI Group to Design Cardiff University Journalism School
Cutting Edge Facilities will Inspire Next Generation Journalists
IBI Group has been announced as the architects for the new state-of-the-art headquarters for Cardiff University's School of Journalism, Media and Cultural Studies.
The commission will involve the transformation of 2 Central Square offices, located in Cardiff's Central Square Development, into an innovative, collaborative and professional learning space.
Situated next door to the new BBC Cymru Wales, the new School of Journalism location will promote industry-academic interface, putting the School at the heart of a vibrant media environment in the city centre.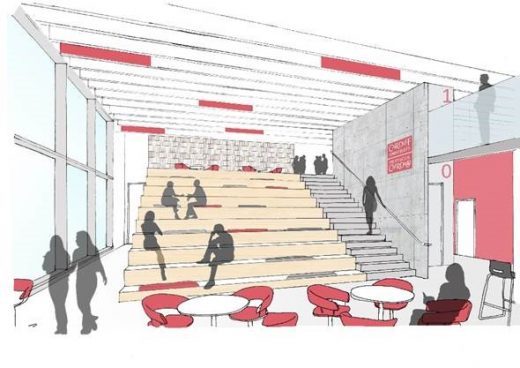 With 89% of the School's research being classed as world leading or internationally excellent, the refit is set to incorporate a number of technically-advanced design features that will not only enable students to excel in their chosen subject, but further raise the profile of the School as a world-leading centre of journalism.
Architect, Richard Golledge from IBI Group said: "Our Learning+ team is privileged to have been selected to design what will be a flagship learning environment; a place that inspires the next generation of national and international journalists to succeed. As local architects that design leading education estates globally, we are proud to be contributing to the excellent reputation that both the city and Cardiff University have gained for first-class education facilities."
The new building will provide the students with their own TV and radio studios, a 300-seat lecture theatre, six newsrooms, dedicated editing suites, a postgraduate research space, a library, and innovation and stakeholder engagement labs, whilst offering them valuable employability skills.
The School and BBC Wales have a strong working relationship, thanks to a long standing programme of professional training journalism internships. The cutting-edge facilities will be a shared resource, enabling a continued exchange of knowledge and experience.
Professor Stuart Allan, Head of the School of Journalism, Media and Cultural Studies said: "The BBC global reputation for media production, together with the innovative design of the new buildings, will make this a centre for excellence that will be genuinely world-class."
Work is due to start on the interior of the building in August 2017.
22 + 21 Feb 2017
IBI Group to Design Strood Riverside Masterplan
New development framework set to rejuvenate Medway Town, Southeast England, UK
IBI Group has been appointed to prepare a development framework for the regeneration of Strood Riverside, Medway.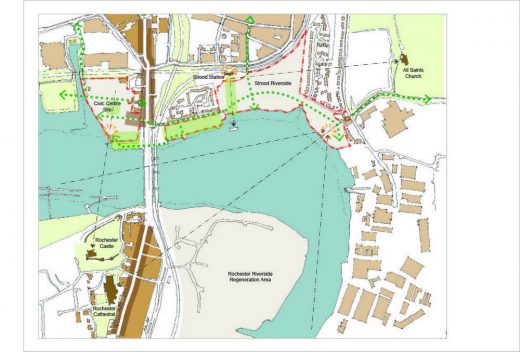 21st February 2017 – The stretch of waterfront overlooking Rochester Cathedral and Castle will see an ambitious regeneration over the next 20 years. IBI Group, a globally integrated architecture, planning, engineering and technology firm, will be working with Medway Council, flood defence engineers and property developers to regenerate and transform the riverside site into an amazing space to compliment the council's ambition of a waterfront university city with great heritage.
IBI Group Project Lead and Studio Associate Director, Marcus Wilshere said: "Strood Riverside has the potential to become one of the country's most vibrant waterside places and act as a significant catalyst to regenerating the wider Medway area. We are delighted to have been selected for one of their most important and high profile projects."
The location, which is popular with London commuters, is served by the high-speed rail link, which takes just over 30 minutes to London. Strood Riverside could attract potential investment to regenerate one of the last of Medway Council's Riverside sites and the nearby Strood Town Centre.
IBI Group will be engaging with local stakeholders to build consensus around how the development should look, in addition to preparing a Development Framework. The Framework will showcase how one of Medway Council's key riverside sites will be reinvigorated with a new transport infrastructure, whilst creating interesting and aesthetic architecture and public spaces that will excite development interest.
30 Aug 2016
IBI Group Appointed to Regenerate Southend
IBI Group has been appointed by Southend Borough Council to provide design and urban planning services to drive forward their Better Queensway Project.
The Better Queensway project will regenerate the Queensway area of Southend by providing high quality housing, shops and community facilities, and new public spaces. The project aims to reconnect the area and its residential hinterland, encouraging walking and cycling to the town centre.
This will be achieved by a major restructuring of the local road network including decking over the post-war ring road to create development and a new public space and improving the setting of the historic 'Porters' building. Proposals include the replacement of existing tower blocks and the provision of approximately 1,200 new apartments and town-houses for single people, couples, families and older people.
IBI will explore how intelligent systems technology can benefit the Queensway area and serve as a pilot project for a wider Smart Cities Strategy for the town. IBI will also support the Council in its search for a partner to deliver the project and provide a long-term revenue stream for the Council.
IBI Group's Marcus Wilshere said: "This is an exciting and ambitious project to not only secure a better future for the local community but provide wider benefits to the vitality of Southend town centre, the local economy and the ways the Council provides services. IBI will bring our international experience in making the liveable, family-oriented neighbourhoods at higher densities that is demanded by the Queensway project"
IBI Appointed as Advisors on NHS Healthy Towns Initiative
23rd of August 2016 – International design and technology firm, IBI Group has been appointed as specialist advisors in support of the NHS England Healthy New Towns programme.
Working in collaboration with 'World Health Organisation Collaborating Centre' at the University of the West of England (UWE), sustainability consultant Greengage, and wellness consultant Anni Hood, the role will be to integrate Evidence Based Design (EBD) approaches into the proposals formulated by the teams selected as NHS Healthy New Towns; ultimately promoting community wellbeing.
Launched in March 2016 in response to the NHS Five Year Forward View, the programme sets out to rethink how we live, how health and care services can be delivered, and takes an ambitious look at improving health through the built environment. The NHS has identified ten demonstrator cities as a testbed for this ambitious initiative, potentially impacting 76,000 homes, over 200,000 people, and the supporting community infrastructure.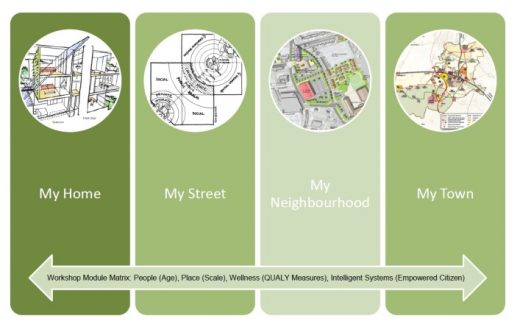 IBI Director, Mario Bozzo added: "It is fantastic that NHS England is working towards shaping the future wellbeing of our towns and cities. We are very excited to be part of this process and share our inter-disciplinary cross-sector knowledge to proactively remediate the health and care challenges of tomorrow."
Expert support and advice provided by IBI Group will include: Health and Public Service Strategy; Travel and Transport; Digital Smart Cities; Behavioural Insights; and Inclusive Design and Dementia.
The launch meeting for the expert support package for the Healthy New Towns programme was held in July. IBI Group and their partners have now commenced engagement with each of the Healthy New Towns to further develop their proposals before the end of the year.
Background:
About NHS England Healthy New Towns
NHS England is working with ten housing developments to shape the health of communities, and to rethink how health and care services can be delivered. This programme offers a golden opportunity to radically rethink how we live – and takes an ambitious look at improving health through the built environment.
The ten Healthy New Towns demonstrator sites include:
• Whitehill and Bordon, Hampshire – 3,350 new homes on a former army barracks.
• Cranbrook, Devon – 8,000 new residential units.
• Darlington – 2,500 residential units across three linked sites in the Eastern Growth Zone.
• Barking Riverside – 10,800 residential units on London's largest brownfield site.
• Whyndyke Farm in Fylde, Lancashire – 1,400 residential units.
• Halton Lea, Runcorn – 800 residential units.
• Bicester, Oxon – 393 houses in the Elmsbrook project, part of 13,000 new homes planned
• Northstowe, Cambridgeshire – 10,000 homes on former military land.
• Ebbsfleet Garden City, Kent – up to 15,000 new homes in the first garden city for 100 years
• Barton Park, Oxford – 885 residential units.
About IBI Group
IBI Group is a global team of dedicated and experienced architects, engineers, planners, designers, and technology professionals who share a common desire – to help clients create liveable, sustainable, and advanced urban environments. Since the company's founding in 1974, IBI Group has grown to employ more than 2400 professional staff based in 63 offices located around the world.
Studios in the UK and Ireland include: London, Cardiff, Brighton, Rochdale, Handforth, Liverpool, Glasgow, Newark, Birmingham and Dublin.
Website: www.ibigroup.com
Woodland View, Irvine, Ayrshire, Scotland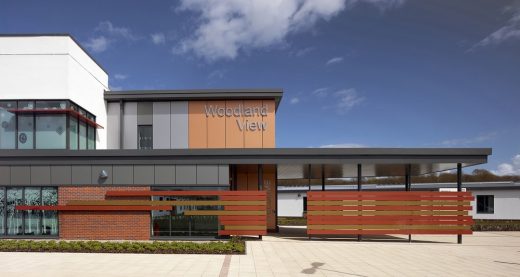 photo from architects
Woodland View Irvine by IBI Group – 22 Jun 2016
Woodland View, a £46million adult acute mental health and community facility located in Irvine, Scotland has opened its doors to service users. The 206-bed new build hospital designed by IBI Group and constructed by Balfour Beatty, is focused on delivering inpatient and outpatient mental health services for adults, including: rehabilitation, continuing care, addictions, forensics, and intensive psychiatric care.
9 Jun 2016
Cardiff University Brain Research Imaging Centre – CUBRIC, Wales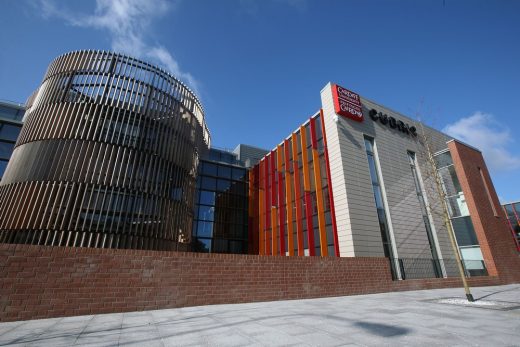 photo from architects
Cardiff University Brain Research Imaging Centre: CUBRIC
The Queen has officially opened Cardiff University Brain Research Imaging Centre (CUBRIC), one of the UK's top Universities for neuro-imaging, psychology and psychiatry.
20 + 18 Mar 2016
Glasgow Hospitals Celebrate International Property Award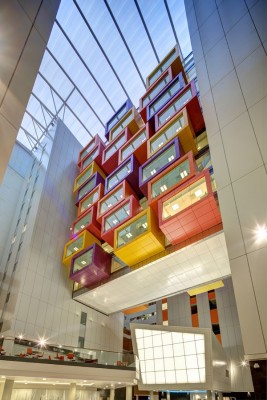 photo from architects
All eyes were on the Queen Elizabeth University Hospital (QEUH) and the Royal Hospital for Children (RHC), as they scooped the prestigious international MIPIM award for Best Healthcare Development.
The MIPIM Awards, launched in 1991 is the highlight of an annual event held in Cannes, France that brings together over 21,000 influential property players to honour the most outstanding and accomplished global projects from around the world.
Glasgow Hospital buildings by IBI Group
Hadyn Ellis Building Cardiff University, south Wales, UK – 13 Nov 2013
Design: IBI Group



photo from architect
Edwina Hart AM, Welsh Minister for Economy, Science and Transport has officially opened the £30m Hadyn Ellis Building. Designed by IBI Group, it is the first phase of the exciting and emerging new Science and Innovation Campus at Maindy Road being developed for Cardiff University.
1 Mar 2013
IBI Group unveils The Montefiore Hospitals, Brighton and Hove, East Sussex, England
Architect's give third lease of life to Victorian storehouse



photo © Richard Chivers
Montefiore Hospital Brighton
IBI Group has unveiled The Montefiore Hospital, a new private hospital in Brighton and Hove, East Sussex. The £35 million investment has given a former Victorian storehouse its third lease of life, with an elegant extension and refurbishment that provides cutting edge medical facilities.
Designed by Clayton & Black in 1899, No.2 Montefiore Road was a furniture depository built for Hanningtons, a local department store. In 1972 it was bought by the insurance company, Legal & General and converted into offices. When they moved out in 2005, the building was left empty with little prospect of being let without substantial modernisation.
5 Feb 2013
New South Glasgow Hospital – Construction News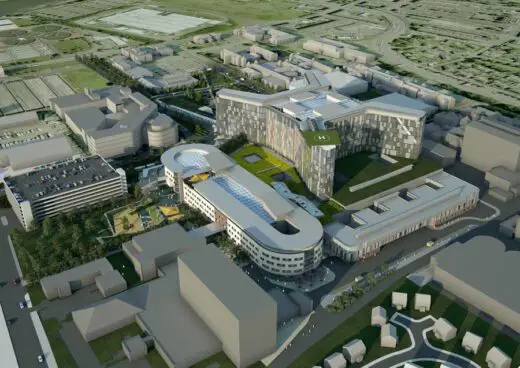 image from architects
The site of the New South Glasgow Hospital has been transformed by the building of the Adult and Children's Hospitals. Designed by IBI Group, the £842m 'super hospital' is Scotland's largest single investment in healthcare services ever.
29 Jan 2013
IBI Group Practice News
IBI Group Ranks 3rd in World Architecture 100 Survey
the IBI Group has been ranked the world's third largest architecture practice in the World Architecture 100 (WA100) survey.
IBI Group Studio News
History
IBI Group was founded in 1974 by nine partners to provide professional services in research, policy, planning, and design related to urban development and transportation.
The term IBI was derived from the last initials of the two senior partners – Neal Irwin and Phil Beinhaker – with the second "I" representing the international aspirations of the partners.
From the initial two offices in Toronto and Vancouver with 35 staff, IBI Group now has 80 offices in North America, Europe, Africa, and Asia, and more than 3,000 staff. IBI Group's professional services have expanded to four main disciplines: Urban Land, Facilities, Transportation, and Intelligent Systems.
Location: international
IBI Group Practice Information
IBI Group offices based around the World
IBI Group is a global firm comprising localised practices.
IBI Group
IBI Group is an international design practice, with a unique focus on shaping the future of healthcare, education and science environments.
Founded in 1989 and with over 230 staff, IBI Group is a well-known and trusted provider of design excellence. They offer a focused, personal service through a network of seven studios and as a member of the IBI Group, have instant access to multi-disciplinary architecture, engineering, consulting and design firms with more than 2900 employees in 76 offices around the world. This gives the unique opportunity to continually benchmark and share ideas on a truly global basis.
With such a close synergy between education, healthcare and science, IBI Group is ideally placed to bring its unique architectural and problem-solving expertise to the challenge of designing environments of the future, from small-scale refurbishments through to complex new build facilities.
An award-winning practice, they are committed to continuous improvement in the delivery of both current and future projects. All initiatives are supported by their flourishing research and development team 'IBI THiNK', dedicated to improving design quality and innovation through active involvement in research projects, including design for the senses, product design and sustainability.
The practice's success has been built on achieving client satisfaction through design excellence, whatever the project size, type or procurement IBI Group believes that good design really does make a difference.
Specialties
Architecture
Production Information
Masterplanning and Urban Design
Sustainable Design
Visualisation and Graphic Design
Interior Design
Conservation Consultancy
CDM Coordination
Product Development
Canadian Architectural Designs
Canadian Building Designs
Canada Architecture Design – chronological list
London Architectural Designs
London Architects : Offices
London Architecture Designs – architectural selection below:
British Academy Refurbishment, Carlton House Terrace, St. James's
Design: Wright & Wright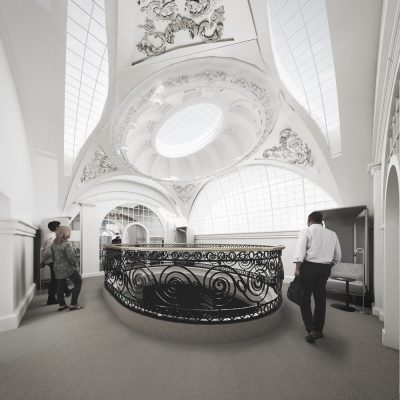 image © architects
British Academy Refurbishment
Comments / photos for the IBI Group Architects page welcome
Website: www.ibigroup.com