HLM Architects, Buildings Images, UK Architecture Studio, Projects, Design Office Photos
HLM Architects Office
Contemporary British Architecture Practice: UK Design Office News
post updated 3 April 2023
HLM Architects News
HLM News, chronological:
3 April 2023
Digital Society Institute,, Staffordshire, England, UK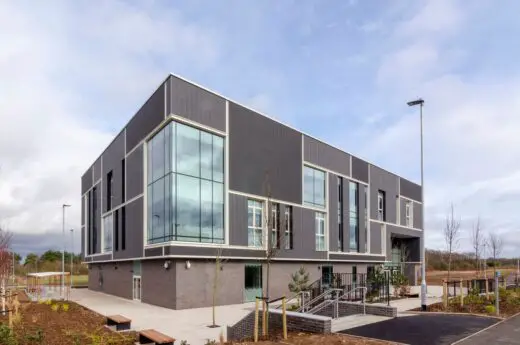 image courtesy of architects practice
Innovation Centre 7 Keele University,t
Designed by HLM Architects, working with Tetra-Tech, Poole Dick, Currie & Brown and William Bailey, and constructed by Bowmer and Kirkland, the 2,760 sq m building is located on the university's Science and Innovation Park in Keele, Staffordshire. Forming part of the Keele Growth Corridor University Enterprise Zone, this completion marks a major milestone for Keele University and further builds on its reputation as an outstanding hub of world-leading research and teaching, which aims to address some of society's most urgent challenges.
1 Feb 2023
Exploring the Synergies between designing for SEN and for Dementia Care
By Gina Callaghan, Architect at HLM Architects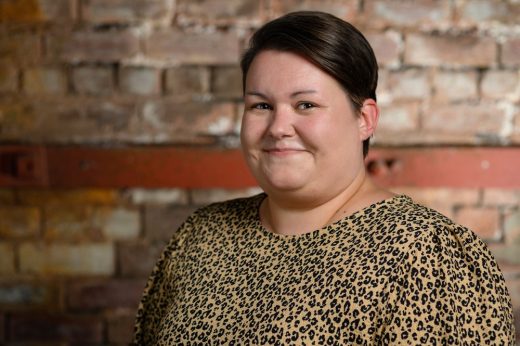 Gina Callaghan photo © HLM Architects
The education and healthcare sectors serve very different purposes. However, there are some close parallels between the sub-sectors of dementia care in healthcare, and Special Educational Needs (SEN) in education. In recent years, there has been a significant increase in specialised facilities for both, with a recognition that each requires a tailored approach rather than being added onto more mainstream facilities.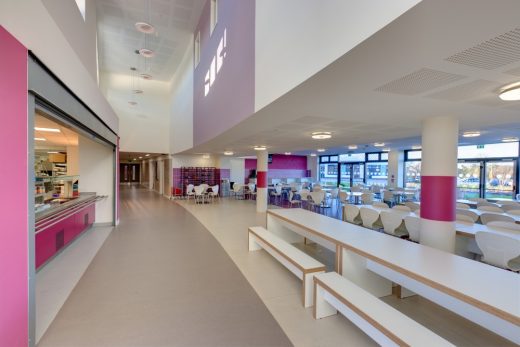 Penarth Learning Community, Wales photo © HLM Architects
Dementia care has typically been fitted into hospital accommodation, while provisions for SEN have traditionally been incorporated into the standard school system. By shoehorning these specialisms into more mainstream facilities, the user experience can never be optimised and a wider variety of different needs cannot be met.
Generally, a person with a diagnosis of dementia may lose their more recent memories, leaving them with memories of their earlier life experiences. In some cases, they also experience changes in behaviour and cognition, which can make it appear as if they are reverting to their childhood behaviours when, in fact, they are losing the adult memories that help them navigate the world. Similarly, individuals who are born with a learning disability find it difficult to acquire the adult memories that help them navigate the world independently.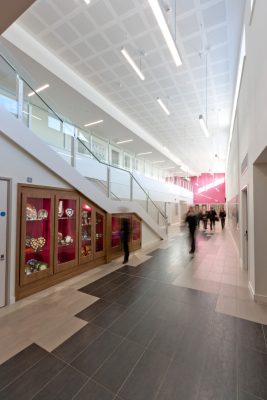 Penarth Learning Community, Wales photo © HLM Architects
Therefore, one of the major parallels that underpins both user groups is that they may interact with the world around them in similar ways. Our responsibility as architects is to design facilities that will improve the lives of their users and address their needs with sensitivity and understanding. What are some of the key considerations to bear in mind?
Layout and wayfinding
When it comes to building layout, simplicity of design works best to facilitate wayfinding without additional signage (which could be misunderstood). This promotes independence of movement and orientation, making the individual feel more assured. Achieving this involves ensuring the correct adjacencies that allow for freedom of movement without the need for extended travel periods where an individual can become confused. Logical layouts not only assist the person living with the disability, but also enable any necessary assistance to be successfully put in place, including the provision of security if required.

Altnagelvin Area Hospital – North Wing, Northern Ireland photo © HLM Architects
Wayfinding can be assisted by floor and door demarcation, as implemented within the Altnagelvin North Wing hospital scheme that we worked on in Northern Ireland, where design features include colour-coded doors and skirting margins that clearly identify doorways for patient access. Buttercup yellow is a standard colour use request from dementia Trusts, as it is more easily recognised as vision deteriorates. Similarly, the Penarth Learning Community scheme, which we delivered for the Vale of Glamorgan Council, co-locates mainstream and Additional Learning Needs (the equivalent of SEN in Wales) students within an inclusive community. Our design strategy here uses certain colours to represent different subjects in a clear way, enhancing the integration of multiple schools and subjects in one place.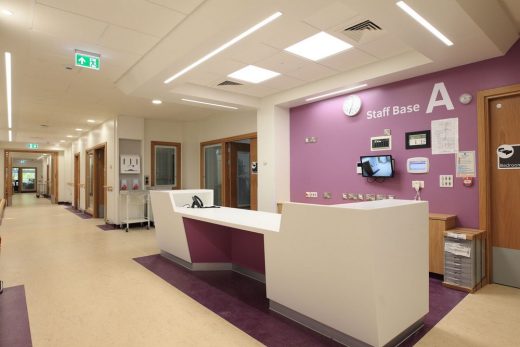 Altnagelvin Area Hospital – North Wing, Northern Ireland photo © HLM Architects
Stimulation
It is recognised that people living with dementia and SEN can both benefit from stimulating environments. Within an educational setting, this can improve their learned experience while sympathetically addressing individual needs; for dementia care, this can keep the mind and body active, which can have great benefits in terms of slowing the progression of the condition. Therefore, a balance is needed between allowing for creativity and stimulation whilst maintaining a safe, secure environment, with both demographics benefitting from integrated rehabilitative landscapes where movement is encouraged.
Routine
For many people with either a cognitive impairment or SEN, keeping to a routine is important and aids emotional regulation. Those living with dementia benefit from repeated activities which can have a positive effect on their short-term memory recall, while SEN pupils can find routines calming, reassuring and familiar. The Penarth Learning Community, provides a multi-partnership approach to the delivery of educational and medical support through the integration of Children's Services and Local Health Board staff onsite. This not only gives students with profound and multiple learning difficulties access to specialist care but also offers stability, routine and familiarity through interaction with regular staff.
As we see an aging population with an increased prevalence of dementia, we also see an encouraging increase in specialist facilities that cater for those living with cognitive impairments but dedicated design guidance is still limited. SEN provision, meanwhile, has a long history of research and, subsequently, more established guidelines for designing inclusive facilities. This gives us the opportunity to learn from and replicate elements of these successful design principles for dementia-specific resources.
Difficulty communicating and the exhibition of challenging behaviour is now more widely understood as the expression of unmet needs. By designing facilities that are sympathetic to the users and their unique requirements, we can help to provide stability, and help to improve their quality of life and experience.
31 Mar 2022
HLM Architects strengthens its leadership team with senior promotions
HLM Architects is marking the new financial year with a raft of appointments and promotions, including five appointments at leadership level who will head up the practice's education, healthcare, living & communities, justice & emergency services, masterplanning and urban design sectors, plus a new Head of MMC Delivery.
Richard O'Neil, Chair, HLM Architects: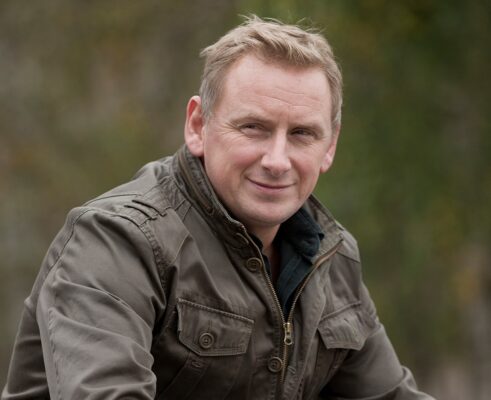 photo courtesy of architects office
Claire Wakelin has been appointed to the role of Head of Education, Philip Watson will remain Board Education Sponsor. Claire joined HLM in 2018 as the practice's London Studio Director and Education Lead for London and the Southeast, bringing a collaborative and creative approach to designing new buildings, masterplanning, and repurposing existing buildings.
As a specialist in the education sector, Claire has worked on a diverse portfolio of projects and was recently appointed alongside modular construction manufacturer Reds10 to the Department for Education's (DfE) £3 billion Offsite Schools framework and the £32 million London Institute for Healthcare Engineering (LIHE) project at King's College London.
In another internal move, Anne Daw will take up the role of Head of MMC Delivery. Since joining HLM in 2009, Anne has worked across multiple sectors including education, residential and defence where she developed an in-depth knowledge of MMC and led several research and development projects.
As Head of MMC Delivery, Anne will be responsible for driving HLM's ongoing integration and implementation of Modern Methods of Construction (MMC) and digital delivery across all studios and sectors as part of its 'Think: Offsite' approach.
HLM is also bringing in a new external hire to lead its healthcare team. Melanie Jacobsen Cox is joining the practice as Head of Healthcare from ADP Architecture where she was an Associate Director.
In her new role, Melanie will work nationally from HLM's London studio to sustain the practice's profile and success in the healthcare sector, which continues to go from strength to strength. She will work closely with Director and Board Healthcare Sponsor, Nick Beecroft as she transitions into her new role.
In further developing HLM's Living & Communities sector, Anna Kiho has been appointed Head of Sector. Anna has contributed significantly to the sector over the last seven years, developing an excellent understanding of the various markets, working with a range of clients building expertise in alternative residential typologies and trends.
Steven Lennon has been appointed as Head of Justice & Emergency Services following almost 15 years at HLM, during which time he has helped to develop and lead the practice's Emergency Services work including the delivery of a range of Tri-Service Stations as part of several nation-wide, new station programmes. He has worked closely with the Ministry of Justice and Home Office, leading a variety of innovative new community justice facilities focusing on rehabilitation and transformational change.
Stepping into the role of Head of Master Planning & Urban Design is John Richards, an experienced development masterplanner, urban designer and architectural designer with a proven background in the delivery of award-winning masterplan projects. John has worked with HLM on projects for more than 15 years and joined the practice as an Associate and Masterplanning Lead in June 2021.
In addition to the newly appointed sector leads, HLM has promoted four new associates: Alex Pullin, Adam McAvoy, Noor Itrakjy, and Olivia Jackson.
Richard O'Neil, Chair, HLM Architects, said: "These appointments will strengthen our leadership team and help support the direction and success of our growing portfolio. Together they bring unrivalled experience and sector insight, but also passion and excitement for what they do.
"We are always looking for the best talent so we can continue to deliver the outstanding work we're known for, which means investing in our people and bringing in new skills where we need them. It's our pleasure to reward those who helped us get to where we are today, and we're excited to see them thrive in their new roles."
16 Mar 2022
Pencoedtre High School, Barry, South Wales, UK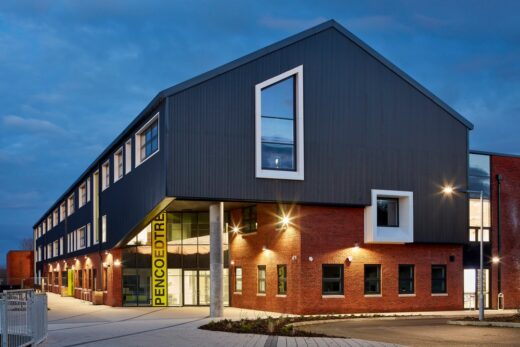 image courtesy of architect practice
Pencoedtre High School Barry
Built over a two-year construction period, the new school provides modern facilities catering for up to 1,100 pupils, including sixth form students, with additional amenities to accommodate pupils with enhanced learning needs.
15 Mar 2022
New-Bridge Integrated College Development, Loughbrickland, Northern Ireland, UK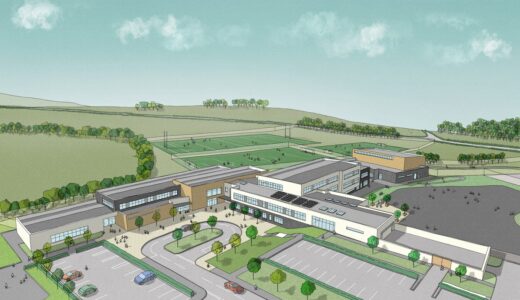 photo courtesy of architecture practice
New-Bridge Integrated College Development
Located off Donard View Road, the development will replace the existing New-Bridge Integrated College to make way for a new 10,000 sq metre school building and sports hall for its 620 pupils. It will be built by Ganson UK on the site of the existing school and an adjacent field under a phased demolition programme that will allow the school to remain operational throughout.
14 Mar 2022
Fairwater Campus, Cardiff, Wales, UK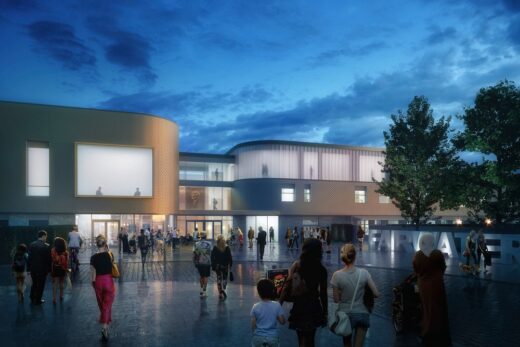 image courtesy of architects
Fairwater Campus Cardiff
Working in collaboration with ISG, ARUP, and Austin Smith Lord, HLM Architects has developed a design concept for a new joint education campus in the Fairwater area of Cardiff, Wales. Capturing Cardiff Council's vision, the Fairwater Campuswill co-locate Cantonian High School, Woodlands Secondary Additional Learning Needs (ALN) School, and Riverbank Primary ALN School, all onto the existing Cantonian High School site in Fairwater.
16 Jun 2021
HLM Architects grows Board of Directors and appoints new Associates
HLM Architects has grown its management team after expanding its Board of Directors with two additional members and appointing four new Associates.
The new Board members include Marcus Earnshaw, who has worked at the practice for over 26 years, and Simon Chenery, previously a board director at Sidell Gibson.
Marcus originally joined HLM Architects in 1995, bringing a comprehensive understanding of the architectural process combined with strong expertise in IT and computing. One of his most notable recent innovations is the Thoughtful Design Toolkit, a suite of digital tools that enable designers and clients to define, develop and assess their building projects in an evidence-based way.
Simon brings more than 20 years' experience working on residential-led regeneration projects, predominantly in London. His expertise on producing innovative and creative, project-specific design solutions secured him a leading role on projects such as Three Snowhill in Birmingham, the largest speculative office development outside of London, and Cambridge Assessment Centre, a new international headquarters that brought together 11 teams under one roof.
The four new Associates are Anne Daw, Karl Brown, Stuart Beaumont and Luke Riggall.
Anne joined HLM in 2009 and has worked predominantly in the education sector, ranging from primary schools to large university buildings and campus master planning, with extensive experience in modular schemes. Notable projects included the Caledonian Modular Schools valued at £250m, Sir Frederick Gibberd College and the Advanced Wellbeing Research Centre at Sheffield Hallam University.
Karl, who has worked for the practice since 2015, has focused primarily on the higher education sector. This has ranged from estate master planning through to small-scale refurbishment of innovative teaching spaces and large-scale new-build facilities. As a member of HLM's Sustainability Group, Karl is helping the practice meet the RIBA Sustainable Outcomes by embedding good, sustainable design principles in our projects and through his research and development on key themes.
Following 10 years of military service as a submariner, Stuart redirected his career in 2006 to qualify as a Chartered Architect. From his 12 years in practice, Stuart has gained a wealth of experience across multiple project scales, sectors, and work stages, leading new build and refurbishment projects in the Defence, Healthcare, Education, and Residential Sectors.
Luke, who is based in the London Studio, has worked cross-sector over the years within Education, Justice, Residential and Defence. He has led a range of complex and challenging projects from concept to completion. He champions the Defence Sector in the Southern region, and passionate about environmental sustainability and responsive design to suit user needs, context, and climate to create sympathetic and rich contextualised spaces.
The six new appointments come after it was announced earlier this year that the practice has transitioned to an Employee Ownership Trust, transferring 100% of its shareholding for the benefit of its employees.
Richard O'Neil, Chairman, HLM Architects, said: "We are pleased to welcome these new members to our Board of Directors and Associate appointments. The expansion of our management team reflects the strong growth our practice has achieved in recent years, and comes as we begin a new chapter at HLM with our transition to an Employee Ownership Trust, placing our team at the heart of our practice and ensuring everyone is key to shaping our future. Their collective wealth of experience, passion and drive will be a valuable addition that will no doubt contribute to our long-term success."
13 May 2021
HLM Architects launches 'HLM_Healthcheck', a new environmental design tool that measures wellbeing
From today, all HLM Architects' concept designs will be enhanced by utilising a new digital tool to ensure they are creating healthy environments
After more than three years in development and testing, HLM Architects has launched HLM_Healthcheck, a digital tool that assesses how emerging building design concepts are likely to perform by measuring the quality of the environment for the people that use them.
The software provides designers with desktop access to projected environmental sustainability knowledge over a building's lifetime. It enables very early design concepts to be tested for their impact on people's health and wellbeing without complex three-dimensional modelling.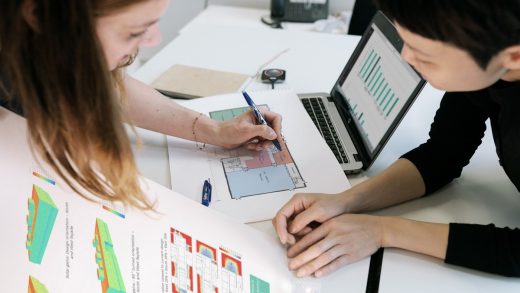 HLM_Healthcheck uses best practice from a range of established environmental design guidelines, including CIBSE, BREEAM, and WELL to instantly identify if design adaptations are needed to ensure that the places and spaces we create will have good access to views and daylight, not overheat or have poor air quality, mitigate noise pollution and provide a connection with nature and to other people.
It will be available to the HLM team from today and it marks a significant step in the business's campaign to achieve RIBA 2030 Sustainable Outcomes on all projects by 2025. HLM_Healthcheck is one of three digital tools that make up the Thoughtful Design Toolkit which has already been shortlisted for Innovation of the Year at the BCIA Awards.
Together this toolkit provides data-driven analysis that puts people at the heart of design decision-making.
Philip Watson, Director and Head of Design, said: "The Thoughtful Design Toolkit addresses universal challenges that clients and designers face in the creation of the built environment. We asked ourselves the question: what if we had a tool that quickly enabled us to test whether early-stage concept designs would support people's health and well-being and create environmentally sustainable buildings? We now have the answer: HLM_Healthcheck."
For more information about HLM_Healthcheck and our Thoughtful Design Toolkit, go to our Digital Innovation page at:
Digital and Innovation – HLM Architects
23 April 2021
New Linear Accelerator Treatment Facility in Edinburgh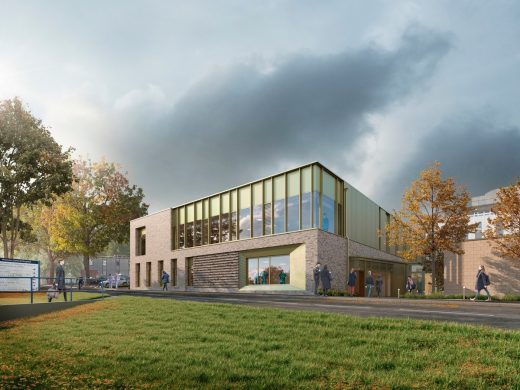 Work has begun on a new linear accelerator (LINAC) treatment facility at NHS Lothian's Western General Hospital (WGH) in Edinburgh, designed by HLM Architects and being delivered by RMF Health (a Consortium of Robertson Construction and FES).
New Linear Accelerator Treatment Facility Building
26 November 2020
HLM Architects Head of Design Philip Watson elected as RIBA Fellow
Philip Watson, Director and Head of Design at HLM Architects, has been elected as a Fellow of the Royal Institute of British Architects (RIBA).
RIBA Fellow Membership is an honorary designation that recognises the achievements of Chartered Members who have made a significant contribution to architecture, the profession, and the community.
Philip Watson HLM Architects: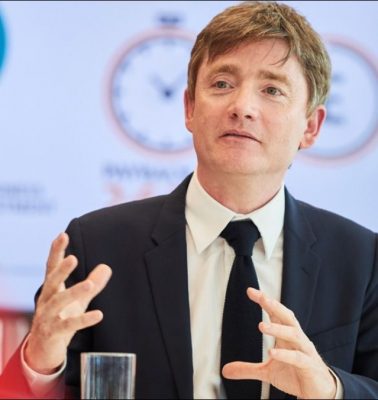 photo courtesy of architects
Philip, who is responsible for driving design culture across HLM Architects' five studios, leads the firm's research and development programme which currently covers design for wellbeing, client engagement, modern methods of construction, special educational needs, and sustainability.
The RIBA panel noted that Philip led the team that designed two SEN schools in Barnsley as part of the Building Schools for the Future initiative. Notably, Springwell Academy for social, emotional and mental health issues (SEMH) was the subject of study visits by the British Council for School Environments (BCSE) and was highly commended in their 2013 Design Awards.
Philip later co-authored a paper exploring how the kinaesthetic educational approach promoted at Springwell and its physical manifestation helped deliver a step-change in student outcomes. Leeds City Council subsequently adopted the Springwell model of delivery for all its SEMH provisions and have recently completed a further three schools.
After initiating a study with Imperial College London to measure the impact of high quality, sustainable environments on people and 'their performance', Philip was granted funding to explore the creation of a new digital tool for engagement with building users. The resulting piece of work, 'WellBriefing', won the AJ100 Best Use of Technology Award in 2017 with the judges recognising that the tool attempted to 'make the invisible, visible'.
In 2018, he was awarded 'Visiting Professor' at University of Leeds in recognition of his impact on students in bringing industry insight into an academic setting.
Earlier this year, Philip led the team that created the digital 'Thoughtful Design Toolkit' that seeks to define and deliver building occupant needs to support health and wellbeing. This was shortlisted in the BCIA Digital Initiative of the Year 2020 and in the Building Awards Digital Innovation category, also in 2020.
The panel commended Philip on his contributions to architecture, in particular the SEN school projects and their subsequent impact. They also noted his influence on the industry regarding thought leadership, practice and academia.
Commenting on the award, Philip said: "Being elected as a RIBA Fellow is not just a great honour; it's a testament to my lifelong belief that architecture and design has the power to improve people's lives. I look forward to continuing to champion positive change across our industry and society in my new ambassadorial role. And it's not bad for a lad from a Council estate in Birmingham."
24 Nov 2020
Design principles at SEN schools under the microscope in webinar
Special event to also explore challenges generated by pandemic
Tuesday, November 24 : HLM Architects and The Royal Society of Ulster Architects (RSUA) will host a webinar this week exploring the principles of designing spaces for Special Education Needs (SEN) school projects.
Organised by HLM Architects in partnership with the RSUA, the 'SEN Schools Today' webinar will go live on Friday 27 November and will be chaired by RSUA Chairperson, Donal MacRandal. Key presenters will include Catherine Ward and Simon Bell (HLM Architects), Holly Passmore (Psychology + Spaces), and Conor Houston (Fleming Fulton Special School).
With this year demonstrating how critical the balance is between safe, nurturing yet stimulating environments, particularly in SEN Schools, the webinar will be a timely reminder of how thoughtful design has never been more important.
Recent statistics revealed that there are more than 67,000 children with special educational needs in Northern Ireland's schools, with the Education Authority's support for children with SEN across mainstream and special schools reaching £311m in 2019-20.* Figures last year also highlighted that there were 140 special schools catering for particular types of disability and special needs in the Republic of Ireland.
The webinar will also include a panel discussion after the presentations to generate further discussion on this important topic.  Architects Arthur Sloan (Isherwood and Ellis) and Ciaran Mackel (ARdMackel Architects) will also take part in this expert Q&A panel discussion to dive deeper into the challenges that the current pandemic has generated in the context of designing learner spaces.
Commenting on the event, RSUA Chairperson Donal MacRandal said, "The pandemic has really brought into sharp focus the importance of providing education for our children, particularly in SEN schools, where stimulation and safety are crucial considerations.  Investment in the quality of our educational environments is one which we know society recoups many times over.
"We are proud to partner with the organisers of this webinar which brings in a wide range of sector-specific expertise from both architects and clients who have delivered buildings which help ensure that every child can reach their full potential.  I am confident the debate will help deliver even better spaces for our young people".
Speaker Catherine Ward, an Associate Architect at HLM and the company's SEN Lead has over twenty years' experience in architectural practice, working predominantly on education projects throughout the UK including HE, FE, Schools and SEN. In her role at HLM, Catherine manages the development of HLM's special education portfolio and profile nationally. Simon Bell, Director and Sustainability Sponsor at HLM, will also be joining Catherine to discuss how to approach SEN projects locally and the sustainability factors.
Commenting on the upcoming webinar, Catherine Ward (HLM Architects) said: "We are living in a time of flux, and more than ever we need to make the most out of essential spaces for learners. The focus now needs to be on what can be done with spaces to provide safety, while maintaining supportive and effective learning for young people. I look forward to debating how we can use these ideas to develop and further enhance future learning environments."
Conor Houston is the Chairman of the Board of Governors of Fleming Fulton Special School and founder of civic initiative, Connected Citizens and works to promote active citizenship and is passionate about creating the space for citizens to co-design solutions for our society.
Holly Passmore, Researcher at Psychology + Spaces is particularly interested in exploring how Covid-19 will impact children and young people's current and future health, well-being and opportunities.
The webinar is part of a series of online events being hosted by RSUA this autumn.
To register for the webinar please visit https://www.rsua.org.uk/events/continuous-professional-development/design-principles-at-sen-schools-under-the-microscope/
20 Nov 2020
Radisson Blu Hotel Sheffield, Heart of the City, Sheffield, South Yorkshire, England, UK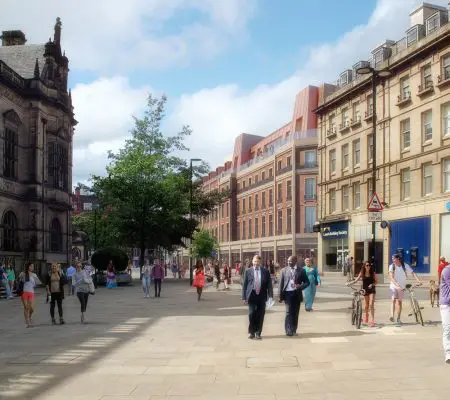 image courtesy of architects
Radisson Blu Hotel Sheffield Heart of the City
Proposals to introduce sophisticated hotelier Radisson Blu to a key Sheffield city centre location have been approved by the Local Planning Authority. The project, designed by HLM Architects working with the Council's Strategic Development Partner, Queensberry, is the latest to be approved as part of Sheffield's transformational Heart of the City scheme.
24 Aug 2020
HLM named one of six in competition to find homes of the future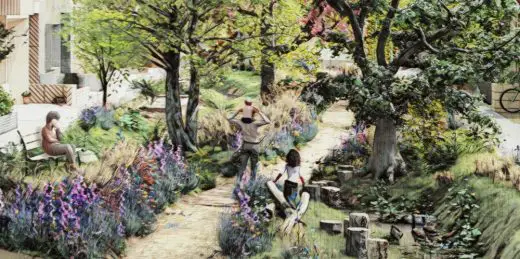 image courtesy of architects
24th of August 2020 – HLM Architects is delighted to announce that out of more than 200 entries it has been shortlisted to one of six for the second phase of the hotly contested RIBA Home of 2030 Design competition.
Announced yesterday (23 August 2020) by Housing Minister Christopher Pincher, the Home of 2030 competition has encouraged the best and brightest talents of the housing industry to design environmentally friendly homes that support people in leading independent, fulfilling lives as our society ages.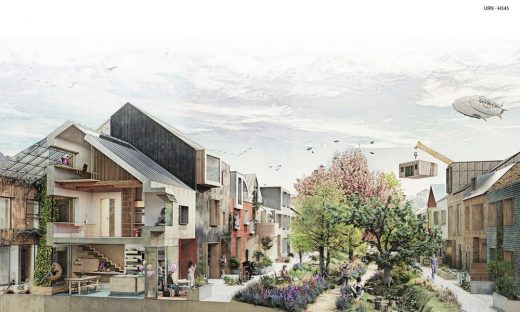 image courtesy of architects
The competition aims to attract the best and brightest talents of the housing industry to design the homes of the future. In the first phase of the competition, small businesses, designers and manufacturers were invited to come forward with ideas for new low carbon, age-friendly homes, meeting the highest standards of design whilst tackling the key challenges facing our society.
In developing its submission for the first phase of this competition, HLM Architects created the concept of a universal manufacturing platform that enables flexible, affordable, and sustainable 'forever' homes that are able to perpetuate a circular economy. These homes will be able to grow and shrink with their owners needs to create stable communities and a strong sense of place.
This concept was developed with support from the University of Sheffield Advanced Manufacturing Research Centre (AMRC) with the ambition to solve the issue of capacity and compatibility of offsite housing construction through development of a design standard that enables any offsite manufactured system to deliver the same high quality, sustainable design, with parts that are interchangeable.
In the second phase of the competition HLM Architects and AMRC will be joined by Mid Group, a contractor that will help develop a platform that provides interchangeability with a varied ecosystem of components and suppliers. Completing the team are Hydrock, who will bring engineering excellence and Greenbuild, HLM Architect's sustainability consultant partners.
HLM Director and Head of Design, Philip Watson said, 'Our ambition is to use the power of design and technology to create homes that are flexible, sustainable and affordable. These will be homes that adapt to people's needs over their lifetime so that they can put down strong roots, thus nurturing supportive communities. At a macro level we are also seeking to create a design platform that enables the entire construction and manufacturing industry to unite to solve our housing crisis.'
The team will now go on to develop their design concepts and present to the Evaluation Panel. Winners will then be introduced to Homes England development framework partners to explore the possibility of developing bids for a series of homes on Homes England land.
Background Information:
The Home of 2030 competition is a cross Government initiative that brings together MHCLG (the Ministry of Housing Communities and Local Government, responsible for housing supply, standards, planning and building safety), BEIS (Business, Energy and Industrial Strategy, responsible for innovation and business strategy) and DHSC (Department of Health and Social Care, responsible for health, wellbeing and issues arising from an ageing population).
Each of the departments is seeking a benefit: increased housing supply through greater diversity in the market, improved quality and standards in homes through innovation and technology, and social, environmental and economic benefits arising from better health outcomes. Homes England, the Government's housing accelerator, are engaged in the initiative and are now leading a subsequent development phase subject to successful development bids by Homes England Delivery Panel and Winner consortia.
26 Sep 2019
HLM Architects continued growth extends into the Dublin market
September 26, 2019: Leading design and architecture company, HLM Architects, has strengthened its offering to its growing portfolio of clients as it extends into the Dublin market.
The Dublin base, located at Fitzwilliam Place, facilitates HLM Architects continued growth and success. The workspace located in central Dublin will enable HLM to access wider opportunities and develop activities across Ireland.
With studios across the UK and internationally, the award-winning firm responds creatively to the unique circumstances of each project. HLM's studio in Belfast has undertaken several projects across Ireland for over 20 years.
Children's Health Ireland (CHI) at Connolly Hospital in Blanchardstown: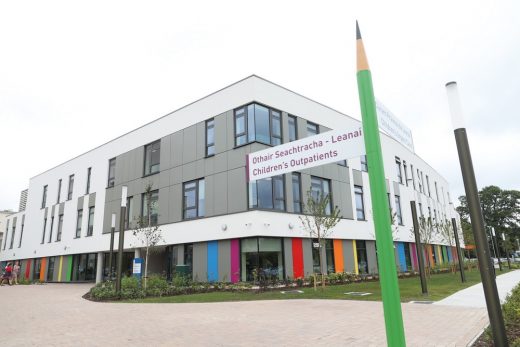 photo courtesy of architects
The firm recently marked a milestone with the completion of the urgent care centre for Children's Health Ireland (CHI) at Connolly Hospital in Blanchardstown, with work progressing on Children's Health Ireland at Tallaght University Hospital.
HLM delivers thoughtful design, with spaces and places that improve lives central to its offering. The 180 strong team has completed projects across a range of sectors including education, healthcare, residential, hospitality and leisure, defence, workplace and culture.
HLM Architects Director Nick Beecroft: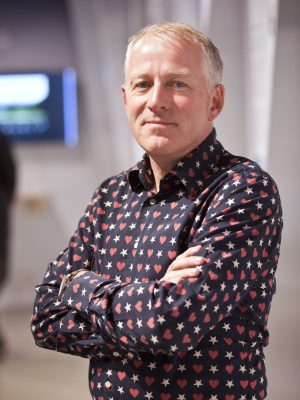 photo courtesy of architects
Commenting on the Dublin base, HLM Director Nick Beecroft, said "Through this expansion we have reinforced our commitment and offering to our ambitious clients in the Ireland market. The new HLM base ensures we are better suited than ever to create memorable places across Ireland, always understanding the needs of the people who use them.
"We are continually developing our already strong network in Dublin and are really excited to explore the opportunities across all our sectors."
The firm has won multiple national and international awards for its expertise across many disciplines, such as Architecture, Interior Design, Landscape Architecture, Environmental and Masterplanning.
10 Sep 2019
Swanley Square Shopping Centre in Kent, Ashford, Kent, Southeast England, UK
A major regeneration scheme designed by HLM Architects, aimed at revitalising Swanley Square Shopping Centre in Kent, with new retail, community and residential accommodation including Private Rented Sector homes, has been given the green light.
The U+I project, which was approved following a Public Inquiry held locally, comprises 340 residential homes, 46,780 sq ft of mixed-use development including retail, restaurants, shops, new community multi-purpose space, and a new multi-storey car park.
6 Sep 2019
Whitehorn Hall student accommodation at The University of St Andrews, Scotland
Design: HLM Architects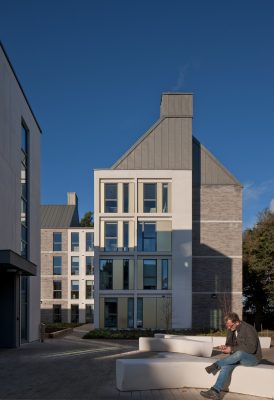 photo © David Barbour Photography
Whitehorn Hall student accommodation
Beating off stiff competition in the Architecture: Residential category, HLM was rewarded for the thoughtful and innovative design of Whitehorn Hall student accommodation at The University of St Andrews.
11 May 2019
Sudbourne Primary School Building, Hayter Road, Brixton, London SW2 5AP, England, UK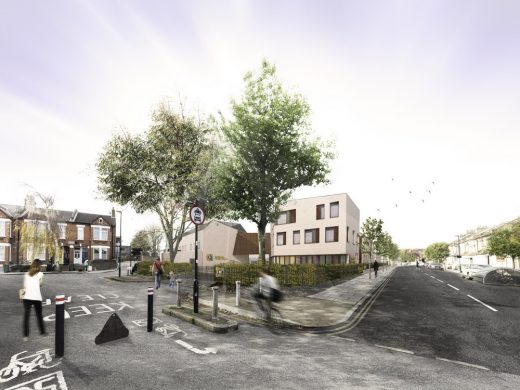 image courtesy of HLM Architects
Sudbourne Primary School Building
This new education building provides an additional 360 pupil places with the creation of a split site school, expanding from 1.5FE to 3FE.
11 Dec 2018
HLM and Kier VolkerFitzpatrick Appointed to £160 million project at RAF Lakenheath
Design and architecture company HLM has been awarded the £160million project at RAF Lakenheath in Suffolk, England, by the Defence Infrastructure Organisation.
The project includes building a F-35 flight simulator, maintenance unit, new hangars and storage facilities. HLM will be working alongside engineering and construction firm, Kier VolkerFitzpatrick, to design and deliver the new facilities. All HLM studios, including Glasgow, will be working closely together to ensure the successful delivery of the project.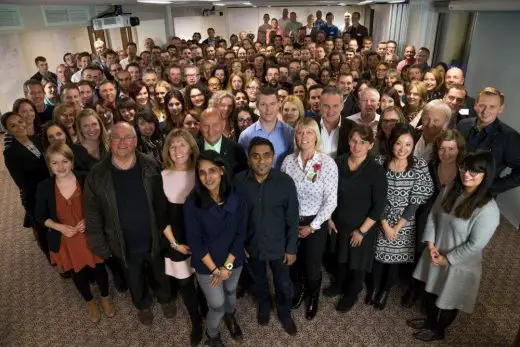 photo courtesy of architects
The Suffolk airbase will be the first permanent international site for US Air Force F-35s in Europe. The flight simulator will have the capacity to link to other simulators used by pilots across the UK and beyond, allowing expertise to be shared and pilots from the UK and US to work together.
Mick Scherdel, Director at HLM, said: "At HLM, we are privileged to be awarded the RAF Lakenheath project. Since the Defence Academy 2000, HLM has been improving and enhancing training, living and learning across the UK Defence Estates. RAF Lakenheath will benefit further from our recent experience on Project Wellesley, DCLPA Worthy Down and Catterick Garrison."
Managing Director of Aviation and Defence at Kier, James Hindes, said: "It builds on our extensive expertise in the defence sector, delivering first-class projects within secure environments including facilities at MoD Lyneham and RAF Shawbury."
For more information on HLM visit: www.hlmarchitects.coms or follow @HLMArchitects on Twitter.
6 Jul 2018
Patrick Arends Appointed as Head of Hospitality, Leisure & Culture at HLM
Patrick Arends has joined HLM, a leading design and architecture practice with studios in the UK and internationally.
Patrick Arends HLM Architects: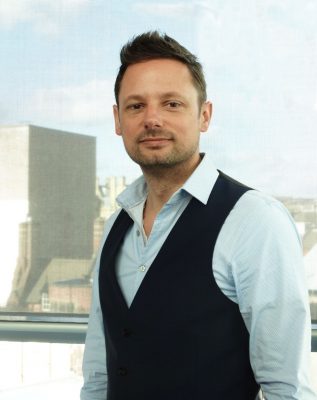 image courtesy of architects office
Patrick has been appointed as the Head of Hospitality, Leisure and Culture at the practice, bringing over 17 years of experience of delivering high quality and high value projects internationally. As sector lead, he will add to HLM's acclaimed experience in the hospitality, leisure and culture sectors.
As winner of the RIBA West Midlands Emerging Architect of the Year award in 2014, Patrick possesses a strong skillset of innovation, quality and detail in his design work. He will bring this insight to the practice and to each design project.
Patrick has delivered numerous national and international projects across the UK and the Netherlands. These include libraries, sports halls, hotels, art centres, theatres and Grade II listed cultural heritage buildings.
Karen Mosley, HLM Managing Director, said, "We are pleased to welcome Patrick to the growing HLM team and to extend our scope further within the hospitality, leisure and culture sectors. We are looking forward to sharing his valuable knowledge and experience with both our clients and our 150-strong team across all HLM studios."
Patrick commented, "I am delighted to join the highly-skilled, professional design and architecture team at HLM. As Head of Hospitality, Leisure and Culture, I am thrilled to begin delivering strong creative and visionary projects with a very talented team of colleagues."
Patrick is currently leading the Staybridge Suites Hotel project in Cardiff Bay. As the first long stay hotel in Wales, this will include 75 suites with fully equipped kitchens. Also in Cardiff Bay, Patrick and the HLM team have been appointed to create a 1000m2 extension to science centre Techniquest's current exhibition facility. The immersive space will be dedicated to engaging audiences with innovative, contemporary science and will highlight new research and developments across Science Technology Engineering & Mathematics sectors.
HLM has ambitious growth plans for its service areas of architecture, interiors, landscape architecture and urban design. It has also recently appointed 6 new directors to its Board, including internal promotions and a new appointment. Creating the next generation of leadership within the practice, the new directors will make further positive contributions to the direction and performance at HLM.
As an international practice, it serves Ireland and the UK with studios in Belfast, London, Sheffield, Glasgow, Cardiff and Manchester. It also has studios in Dubai and Abu Dhabi.
11 October 2017
HLM Glasgow Wins Prestigious People Development Award
10 Oct – HLM, a leading design and architecture company, has won the coveted People Development category at the prestigious Glasgow Business Awards 2017.
HLM's people development efforts are widely known, from the HLM Academy to the company's strong values, lifestyle packages and family friendly initiatives. The HLM Academy is a professional excellence programme which helps ensure all employees have the opportunity and resources to reach their full potential.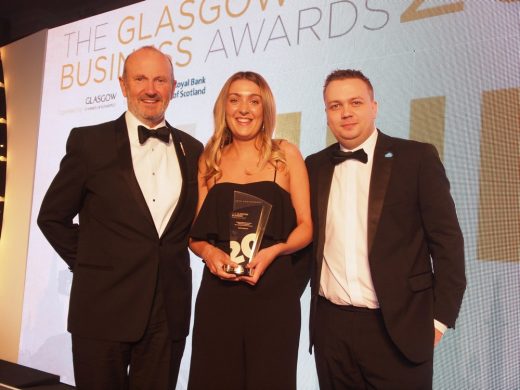 The unique programme consists of a thorough induction, as well as modules, webinars, coaching, graduate programmes and on-the-job structured training. The academy ensures training and development is a company priority and enables its team to work to the best of their ability.
HLM recognises that people development is vital for ensuring employees are engaged, with Deloitte's 2017 Global Human Capital Trends revealing that 84% of employees in the UK rate it important or very important .
The leading design and architecture company also recently recruited and trained over five apprentices this summer in its Glasgow studio. The scheme is one of the few in the Glasgow area which gives young people the experience they need to stand out in Scotland's increasingly competitive jobs market.
Lorraine Robertson, who heads up HLM Scotland said: "We are very proud to be recognised for our people development efforts, especially in such a competitive category at the Glasgow Business Awards. People development is at the heart of everything we do and we strive to give our team the best opportunity to continue to grow and develop their careers.
"I would like to thank the whole Glasgow team as this wouldn't have been possible without the hard work they put in everyday and the positive contribution they make to our learning and development culture."
The awards, organised by Glasgow Chamber of Commerce, recognise forward-thinking and innovative Glasgow-based organisations.
The People Development category aims to award businesses which successfully promote and implement a learning environment, which in turn ensures organisational and individual success.
Successful nominees in this category had to demonstrate a strategic commitment to development throughout the organisation, recognising the importance of supporting the workforce in their careers and continually adding to their skills.
The HLM Glasgow team were presented with the award at the glittering Glasgow Business Awards 2017 ceremony on Thursday 5 October 2017 in the Hilton Glasgow.
For more information on HLM or if you would like to get involved in the internship programme visit: www.hlmarchitects.coms or follow @HLMArchitects on Twitter.
HLM is an international practice, it serves the Ireland and the UK with offices Belfast, London, Sheffield, Glasgow, Cardiff, Manchester and Plymouth. It also has offices in Johannesburg and Abu Dhabi.
7 Apr 2017
Plymouth Science Park by HLM
The stunning new £7 million building at Plymouth Science Park has now been shortlisted for a record four prestigious building and planning awards for its forward-thinking space-age design.
Standing at the entrance way to the park at Derriford, behind the city's hospital, the new building is the most technologically advanced in the south west.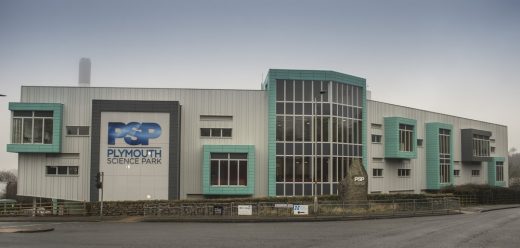 images from HLM Architects
1 Research Way has already been nominated for awards from the city's Evening Herald newspaper and also the RICS (Royal Institute of Chartered Surveyors) and to that clutch it has now added two more nominations from the prestigious Mitchelmores Awards.
They are finalists in the Commercial Project of the Year and Building of the Year categories.
Christian Jenkins, Director of Operations at Plymouth Science Park, said: "Plymouth Science Park is delighted to be shortlisted in two categories for these prestigious awards.
"We were absolutely clear from the outset on what the look and feel of 1 Research Way should be and we are more than satisfied with the results. As well as its visually striking looks and architectural features, its internal functionality and flexible working space was very attractive to businesses with the result that the building was 60% occupied within a week of opening.
"The units can accommodate 10-60 staff making it suitable to a wide range of businesses. Supported by the best ICT infrastructure in the region and a full range of on-site services, 1 Research Way has become the go-to place for aspiring tech and science businesses."
Marketing technology company Intelligent Optimisations (IO) has already taken the top floor of the building and educational website business The Key has moved about 40 staff into a large open plan office taking up about 60 per cent of level one.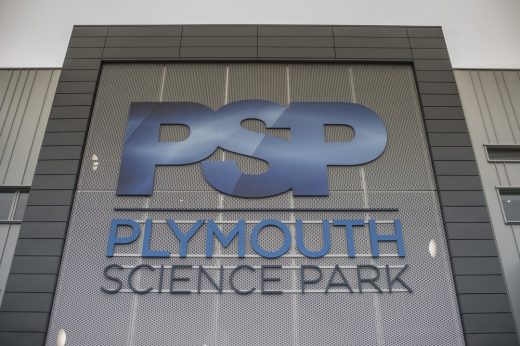 images from HLM Architects
One Research Way has 20,000sq ft of office space, and mixes open-plan offices with break-out areas to encourage more collaboration.
The building is fully serviced, with all bills, bar electricity and additional IT, included in the rent. It also has kitchens, toilets and showers and the front of the building features a huge glazed area, known as "the knuckle", illuminated at night.
It was built by BAM Construction, from a design by Royal William Yard-based architects HLM. It is clad with zinc-coloured aluminium, features exterior wall glass "pop outs", which have space for people to sit in, and inside there is a huge open atrium, capable of hosting seminars and conferences.
Winners of the Herald Awards will be announced at a glittering ceremony in the city on 20th April, the RICS Awards winners will be revealed at a ceremony in Bristol on 11th May and the Mitchelmores Awards will take place on 15th June in Exeter.
12 Sep 2016
HLM Architects BIM News
HLM associate joins panel of industry experts at BIM conference in Edinburgh
With the Scottish Government aiming to adopt a BIM Level 2 approach across public sector projects by April 2017, Paul Tunstall, associate at architectural practice HLM joins a panel of industry experts, architects and technology leaders at the BIM in Scotland conference in Edinburgh this month to illustrate how BIM theory can give competitive advantages to companies in Scotland.
Tunstall will discuss HLM's broad experience of BIM and expertise in using it through the project lifecycle, starting from the initial decision on which platform to use through to challenges encountered in a large multinational implementation. As part of his presentation, Tunstall will also explore how he envisages the HLM practice and the wider architectural industry developing.
Providing architectural, landscape architecture, interior design and environmental design services, in recent years HLM has expanded operations to six offices in the UK and two others internationally.
HLM has a one-team culture which creates a platform for all its UK and overseas offices to share both workload and resources. This poses a challenging environment for its BIM activities to ensure consistency in quality and timely delivery.
"HLM was one of the first architectural practices in the UK to achieve certification through the Building Research Establishment's (BRE) Business Certification Scheme, firmly establishing it as a leading BIM Level 2 compliant organisation," said Tunstall.
"My presentation will explore the concept of 'Wide Area BIM' and demonstrate some of the systems and tools that help make it possible."
Tunstall has been an employee of HLM for over 18 years, implementing CAD and BIM systems across the group and providing training and support for its team of over 200 employees. He leads a team of Information Managers having the technical skills to support HLM's many software tools and systems, under a group-wide Technology Team.
The UK Government implemented a mandate for BIM on all of its public-sector projects in April of this year and Tunstall was instrumental in ensuring that HLM had the preparation and knowledge to undertake any project required to deliver BIM Level 2, well in advance of the deadline by guiding the practice through the BRE Business Certification Scheme.
As a member of the BuildingSMART organisation in the UK, he represents HLM in workshops and discussions to maintain HLM's alignment with BIM and associated initiatives, both in the UK and internationally.
The BIM in Scotland conference is free to attend and takes place in Edinburgh on Wednesday 21 September 2016.
15 Apr 2016
MOD Training Base in Winchester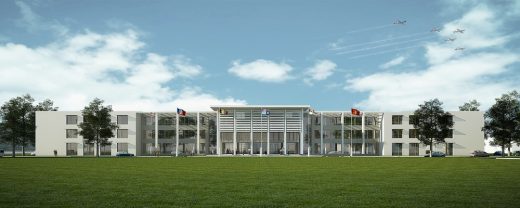 image from architect
The £250m Defence College of Logistics, Policing and Administration (DCPLA) at Worthy Down in Hampshire has received planning approval through delegated powers from Winchester City Council, marking the second and final application for the scheme known as Project Wellesley.
25 Sep 2013
HLM Group Completes Sidell Gibson Architects Deal With the Support of Irwin Mitchell
New Deal Follows Strategic Investment In Llewelyn Davies Brand
Law firm Irwin Mitchell has advised HLM on its acquisition of architecture, urban design and interiors practice, Sidell Gibson.


photo © Paul Riddle
HLM is architecture, landscape architecture, urban design, masterplanning, interior design and sustainability practice. In addition to its office in Sheffield, it has a presence in London, Glasgow, Belfast, Cardiff and Plymouth in the UK, as well as Johannesburg and Abu Dhabi.
The newly acquired practice will trade as Sidell Gibson and be run independently of HLM, operating from new offices in central London. The team will continue to build on its expertise in high quality commercial buildings, housing and restoration projects.
HLM Architects – Key Projects
Major buildings / developments by HLM, alphabetical:
Altnagelvin Area Hospital – New South Wing, Derry, Northern Ireland
2004-08



images from HLM Architects
Altnagelvin Area Hospital Derry
The £45m New South Wing is the third phase of works, but the first phase of new build clinical accommodation in this significant hospital redevelopment. It will provide replacement facilities for key services, including maternity and neo-natal, oncology, cardiac care, adult acute inpatients and rehabilitation, as well as a new patient records department and staff changing facilities.
Arundel Great Court – offices, London
–
The Business Academy, Yarnton Way, Bexley, southeast London
–
Clackmannanshire Community Healthcare Facility, Scotland
2005-09






images from HLM Architects
A new integrated Health Centre for the people of Clackmannanshire. The facility comprises of a Health Centre with pharmacy and community patient services, Inpatient and Day Hospital Building and Community Mental Health Resource Centre with consulting rooms and day hospital accommodation on the ground floor with non-patient staff office above. The purpose was to establish an integrated health facility that meets the needs of the residents of Alloa and the wider population of Clackmannanshire.
Cornwall Ecotown, St. Austell, Cornwall, south west England
2010-




images from HLM Architects
As one of the first four Eco-Towns to be selected out of 57 initial submissions by the government in 2009, we entered this competition in St. Austell, Cornwall following our success with Future Works Eco Home, winning entry in Wales and our winning scheme for Scotland Housing EXPO.
Following our successful Stage 1 submission, we were shortlisted as 1 of 25 to submit our Stage 2 entry. The Stage 2 decision will be made in June 2010 where we hope to be selected as 1 of a number of architects to develop the initial pilot scheme sites in St. Austell with an opportunity to apply our scheme designs to the wider context.
Cowbridge Comprehensive School, Wales
2010



image from HLM Architects
Cowbridge Comprehensive
This building by HLM lies in a very rural location just outside the market town of Cowbridge. It is the first of three secondary schools to be developed by the Vale of Glamorgan Council with funding from the Welsh Assembly Government. The school will accommodate 1550 pupils including a large 6th form intake of 350 students. Construction began in January 2009 and was compled in time for the new academic year of 2010.
Ellesmere Nursing Home, Chelsea, London, UK
2007



image from HLM Architects
Ellesmere Nursing Home
This building by HLM is located on Fulham Road, Chelsea, London. It is adjacent the Chelsea Westminster Hospital, and replaces the derelict home that existing on the site up to 2003. The nursing home and day centre is a 3 level courtyard arrangement, and have a combined (approximate) gross internal area of 4950m2 – the rest of the development on the upper levels comprises private apartments for sale.
The New Victoria Hospital, Glasgow, Scotland
2004-09
The new Victoria Hospital treats around 400,000 patients annually by offering integrated diagnostic and treatment services including outpatient clinics, day surgery, rehabilitation, and specialised emergency services, thereby introducing an ambulatory model of one stop care in South Glasgow based on the following key principles:-
• Increased accessibility to ambulatory care for the local community
• Prevention of emergency work adversely affecting the efficient delivery of elective care
• Improved quality of patient focused care
• Streamlining of the patient journey to provide a one stop service
• Achieving compatibility between healthcare delivery and technology in a fit for purpose building
Sale Town Centre Redevelopment, Trafford, Greater Manchester (Cheshire), England
–
Mid Argyll Community Hospital and Integrated Care Centre, Scotland
–



image from HLM
Scottish Hospital building
New Victoria Hospital, Glasgow, Scotland
–
Scottish Building
Passive House – Scotland's Housing Expo, near Inverness, Scotland, UK
2010



photo from HLM
Scotland's Housing Expo
Queen's Centre for Oncology & Haematology, Hull, Humberside, eastern England
2003-08





images from HLM Architects
New Regional Cancer Centre for Humberside and North Lincolnshire providing cancer and haematology services on one site at Castle Hill Hospital. The scheme encompasses 6 linear accelerators, together with Outpatients and a Day Hospital, 100 beds in 4 wards and Pathology, Pharmacy and Medical Physics facilities. The building is located in a rural setting on the edge of the main hospital site, set into the Northerly hillside maximising views out to the countryside from all patient areas.
Woodview Learning Community, Whitleigh, Plymouth, Cornwall, south west England
2006-08






images from HLM Architects
The objective was to consolidate and improve the current provision of education and community facilities and extend the range by the introduction of the Woodlands Physical Disabilities School and Hostel combined with the relocation of the local Youth Centre and Community Education. The new facility combines teaching and support facilities into one 'campus', creating a fully inclusive, functionally operational, secure and protected learning environment. The pioneering new campus provides for the educational needs of children of all ages through the following facilities.
Woolwich Civic Offices, London
2007-
£45m
For London Borough of Greenwich
Civic Headquarters
Woolwich Civic Offices
More design projects by HLM Architects online soon
Location: England / Scotland, UK
Architects Practice Information
Architect offices based in England and Scotland, UK
Website: www.hlmarchitects.com
HLM : Glasgow architect offices
Contemporary British Architectural Designs
Comments / photos for the HLM Architects page welcome