Scottish Housing Expo, Buildings, Architecture Images, Properties News, Architects
Scotland's Housing Expo
Inverness Homes – Residential Buildings in Northern Scotland, UK
15 Dec 2011
Scotland's Housing Expo News
'Expo Fiasco'
Project Scotland out today with headline 'The showpiece that became an eyesore' about the Highland Expo in Inverness, with local MSP Mary Scanlon claiming it was a "fiasco".
25 Feb 2011
Scotland's Housing Expo Event
SCOTLAND'S HOUSING EXPO TEAM ANNOUNCE DATE FOR PROFESSIONALS' EVENT
The team that brought Scotland's Housing Expo to the Highlands in August 2010, has announced it will host a professionals' event on Friday 18th March due to popular demand. The event will be a last chance for professionals to view the unique collection of homes and meet the developers, contractors and architects who designed and built the Expo.
Plot 14 – The Skylight Home – Richard Murphy Architects
Plot 5 – The Corner House – J M Architects / Plot 6 Woodrock – AIM Design
Plot 25 – The Flower House – A&J Burridge
Plot 12 – The Gem – Trevor Black Architects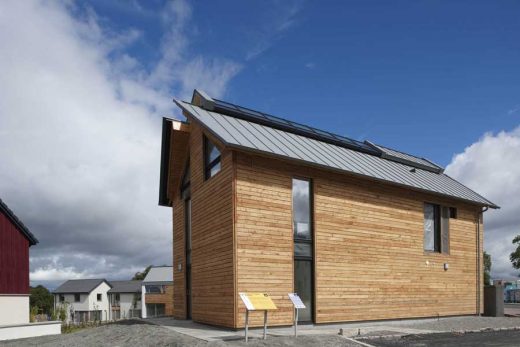 Susan Torrance chief executive of the Highland Housing Alliance explains: "Scotland's Housing Expo was the first event of its kind in Scotland that attracted over 30,000 visitors to view 52 sustainable house designs– homes which now form Braes of Balvonie a ground breaking community.
"Since completion of the Expo, we have been inundated with hundreds of visitor requests from architects and property professionals UK wide who are keen to tour the homes and learn more on how the properties were designed and built. This is a fantastic outcome as it was always our aim to stimulate fresh thinking on sustainable construction methods and energy conservation. "Interest in the event is strong and we're looking forward to welcoming professionals back to Inverness. An exhibition of innovative products will be on display and sponsorship packages are available. Those interested should book now to avoid disappointment."
Scotland's Housing Expo Professionals' Event will be held on 18th March at the Drumossie Hotel, Inverness. Concession tickets are priced at £120 and £180 for professionals and the price will include lunch. Property sector sponsorship packages start from £200. Sponsors of the event are Scotframe Timber Engineering Ltd, Russwood Ltd, NorDan UK Ltd, Core Structures Ltd.
Plot 7 – House No 7 – David Somerville Architects
Plot 9 – Three on Nine – Graham Mitchell Architects
Plot 17 – Secret Garden – Rural Design




To book tickets and find out more on sponsorship packages please contact the Highland Housing Alliance on tel: 01463 251133 or email Johanna.moffat(at)highlandhousingalliance.com
13 Dec 2010
The Passive House at Scotland's Housing Expo
Architect: HLM
Client: Highland Housing Alliance (Competition Organisers)
Contract Value: £535,000
Contract Size: 320 sqm
Project Description
The Passive House terrace is one of the first certified Passive House developments in Scotland and the UK, and demonstrates how housing can respond to the low carbon agenda by achieving an 80% reduction in energy consumption and negating the need for a conventional heating system altogether.
Through careful orientation and a compact form our units are designed to significantly reduce energy consumption as part of the Passive House philosophy. An off-site prefabricated closed panel system along with high performance windows provide a super insulated air–tight building fabric massively reducing ventilation heat losses whilst ensuring excellent thermal comfort internally.
A balanced mechanical ventilation system with heat recovery is also employed as a key element of the strategy, reducing heating bills but also providing cleaner, fresher excellent quality of indoor air. Hot water is then provided from regenerative sources via an air source heat pump. Enhanced biodiversity is provided through careful landscape design and the use of local species, enhancing of wildlife habitats, composting and providing opportunities for food production.
7 Oct 2010
Braes of Balvonie – Scotland's Housing Expo
SCOTLAND'S HOUSING EXPO SITE REBORN AS 'BRAES OF BALVONIE'
Homes due for completion by Spring 2011 with exciting incentives available
The highly-innovative collection of homes comprising Scotland's Housing Expo is to be renamed 'Braes of Balvonie', with all homes due for completion by Spring 2011.
A sales office for Braes of Balvonie will open in October, and developers are urging prospective buyers to book viewing appointments quickly to avoid disappointment.
A selection of the homes has now been released for sale, including Plot 9.2, which was created for the Expo by Graham Mitchell Architects and built by William Gray Construction. It forms one of the homes within an elegant terrace of three and this timber-framed property offers three spacious bedrooms. Simple environmentally-friendly design provides well-lit, healthy spaces incorporating a system of water recycling, heat recovery, solar water heating and an air source heat pump.
The lucky buyer of Plot 9.2 will also benefit from £4,500 worth of Ikea furniture on moving into the home.
Other incentives available for buyers who reserve prior to the Spring 2011 launch include:
– IKEA vouchers for any property reserved before the end of October 2010
– Exclusive offers and event invitations for those registering their details now
– Access to the priority list for future releases for those registering now
Guide prices for the first five homes at Balvonie Braes have now been announced, with further prices for homes to be released duly. The prices announced are:
– Plot 7: 'House No 7' (guide price £300,000)
– Plot 9.2: 'Three on Nine' (guide price £220,000 including furnishings by IKEA if reserved by the end of October)
– Plot 17: 'The Secret Garden': (offers over £300,000)
– Plot 18: 'The Whole Life House' (offers over £350,000)
– Plot 26.1: 'The Hardcore Softhouse' (guide price £230,000)
As well as the homes for sale at Balvonie Brae, the properties to rent will also be completed in the autumn of 2010, with the first tenants set to move in by Christmas. The rented homes will be owned by Cairn Housing Association.
Susan Torrance, chief executive of the Highland Housing Alliance, which bought, masterplanned and delivered the architectural competition that resulted in the Braes of Balvonie homes, said:
"Now that the Expo has been delivered, very successfully, and the site has been used as a showcase of outstanding homes, the site will begin to fulfil its next purpose, which is to become a living, breathing community of occupied homes.
"Braes of Balvonie, the new name for the development, will be fully complete by Spring 2011 and the properties are available to purchase now, so now is the time for potential buyers to register and view, if they haven't already, in order to avoid missing out on one of these fantastic homes."
Becky Lindsay director of Rettie & Co, which has been appointed to sell the Highland Housing Alliance's homes on the site, added: "These are unique, architect designed properties, encompassing terraced, semi detached and detached homes and offering people at all life's stages the opportunity to be part of a unique new community. Appointments can now be booked to view the Highland Housing Alliance's properties for sale by contacting the Rettie & Co sales team and we would recommend that people view these homes for themselves in order to appreciate them fully."
To book an appointment please contact the Rettie & Co sales team on tel: 0845 220 6565 or by emailing: [email protected] visit www.highlandhousingalliance.co.uk
Previously:
24 Aug 2010
Scotland's Housing Expo Photos
Photos by David Blaikie, of the house his studio designed:

Lios Gorm A Green Place to Live – David Blaikie Architects
16 Aug 2010
Scotland's Housing Expo House Photos
Photos by Kirsty Ward:
Stealth House – jmarchitects


The Timber House – John Gilbert Architects



The Flower House – AJ Burridge





The Hardcore Soft House – StudioKAP


The Passive House – HLM Architects


The Skewed House – Oliver Chapman Architects


Lios Gorm A Green Place to Live – David Blaikie Architects


The Gem – Trevor Black Architects


13 Aug 2010
Scotland's Housing Expo – Home Photos
Scotland's Housing Expo – Photos of the buildings



photo from the organiser
2 Aug 2010
Highland Housing Expo Houses
In addition to the houses, gardens and interiors, events for trade and industry representatives are a key feature of Scotland's Housing Expo 2010. With an outline theme for each week's events, the trade and industry seminars will provide an opportunity for an in-depth look at matters relating to housing and house building in Scotland.
Issues addressed will include design frameworks and master planning at home and abroad focussing on city street design with case studies, for example, from Craigmillar. Lessons from Northern Europe offers an opportunity to discuss how other countries have tackled design, featuring examples from Malmo, Finland and links with Scotland's own Polnoon.
Scotland's Housing Expo images / information received 020810
Highland Housing Expo – News Update
Scotland's first Housing Expo in Inverness is still on : The Expo aims to give a national focus to the design of our built environment and associated issues from the development of low Carbon design strategies to the complementary roles of design and sustainability within both public and private housing.
Scotland's Housing Expo – Not So Fair

News that the Highland Housing Fair will not go ahead as planned this year, unsurprising given the depressed state of the housing / property sectors in Scotland currently. Scotland's Housing Expo was a major initiative that the RIAS – under former leader Mary Wren – was involved in.
Scottish Housing Expo – house images

Highland Housing Fair – News Update Nov 2007
Organisers of the UK's very first Housing Fair have now announced that it will take place in the Highlands of Scotland throughout the whole of August 2009.


masterplan image : Cadell2
Highland Housing Fair Competition – Mar 2007
Over 120 other architects/developers registered for the HHF Competition, confirming significant shared interest in competing on the basis of design to showcase innovative and sustainable house designs.
Location: Scotland
Architecture in Scotland
Scottish Architecture Designs – chronological list
Inverness Buildings
Eden Theatre & Cinema : Inverness theatre
Culloden Battlefield Visitors Centre: Inverness Area building
Maggies Highlands : Maggies Inverness
Scottish Natural Heritage HQ Building: Scottish Natural Heritage Inverness
Comments / photos for the Scotland's Housing Expo page welcome