Visionary Architecture Exhibition, Berlin Building Project News, GRAFT Design Images
Visionary Architecture Exhibition Berlin
Show at LUMAS Berlin, Germany Architectural Shows
12 Aug 2009
LUMAS Berlin Exhibition
LUMAS Berlin – Close to Ku'damm, is pleased to announce the opening of the exhibition
Exhibition : Visionary Architecture – GRAFT / 3deluxe
Opening Reception / meet the artist: September 24, 2009, 7-9 pm
Exhibition dates: September 25 – November 03, 2009
GRAFT, "Atmoscape.2 Lindwurm"
Limited Edition, Edition of: 100, studio stamp



image © GRAFT, www.lumas.com
GRAFT, "Monster of Grace 1.1"
Limited Edition, Edition of: 100, studio stamp



image © GRAFT, www.lumas.com
3deluxe, "BERGEN02"



image © 3deluxe, www.lumas.com
3deluxe, "TianjinHighRise"



image © 3deluxe, www.lumas.com
About the exhibition
With the exhibition Visionary Architecture LUMAS shows an exclusive selection of graphical works by the architects GRAFT and 3deluxe. The so called "renderings" are standing in the focus of the exhibition: three-dimensional computer visualizations of the architectural blueprints.
They are complemented with digital graphics, which make the creative working process of the architects comprehensible and which also include classical freehand sketches. The exposed pictures disclose the process from the first idea to the finished realization and impress with organic or futuristic forms and absolute perfection. That's why they are able to be an artwork by themselves and on their own way, just as well fascinating as the imposing constructions of the architects.
GRAFT, "Monster of Grace 3.1"



image © GRAFT, www.lumas.com
The founders of GRAFT describe their interdisciplinary network as an "Architecture label". This word choice points towards their versatility, adaptability and most of all their connection with current life styles. With a strong feel for new trends, Lars Krückeberg, Wolfram Putz, Thomas Willemeit, Gregor Hoheisel and Alejandra Lillo, working out of L.A., Berlin, and Peking, transform their creative ideas into an amorphous, and visionary visual language.
These Architects and designers challenge traditional boundaries and explore the interplay and effect of influence factors such as high and everyday culture, philosophy, architecture, film, literature, and music. The analysis, communication, and thereby the creation of the relationship between and through these aspects enables them to develop their work further, to define it new ways, and to create worlds where living in tomorrow world is possible today.
Therefore, GRAFT does not consider themselves exclusively an architectural company, but continually broaden their horizons. It is not without reason that their focus in architecture, urban planning, design, and music is lead by the idea of the "pursuit of happiness".
3deluxe, "GlassCube"



image © 3deluxe, www.lumas.com
The interdisciplinary designer group 3deluxe, consisting of 30 creative minds headed by Dieter Brell, Peter Seipp, and Andreas und Stephan Lauhoff, is one of the most progressive representatives of the German design avant-garde. For more than 15 years now the Wiesbaden studio, which has branches in Hamburg and Shanghai, has been leading the way in architecture and interior design, graphic and media design.
In the international context the seemingly organic formal language of 3deluxe has proved to be just as much an influence on style as the virtually extended spatial orchestrations and the significant graphic design, which suspends the boundary between two and three-dimensionality.
Inspired by a new perspective, which questions the dualism of naturalness and artificiality, 3deluxe's work reflects current social and cultural trends, while at the same time revealing visions for the future. As such 3deluxe sees architecture not so much as a static structure but rather as a multi-layered, changeable system that permits previously unknown perspectives in spatial perception.
It put this concept of multi-layered atmospheres into practice extremely impressively in the design of the 'CocoonClub' in Frankfurt for the star DJ Sven Väth, as well as in the architecture of the 'Leonardo Glass Cube', which moreover is based on its striving for ever new forms of expression of beauty.
For the first time ever GRAFT and 3deluxe are granting a look at the collection of ideas behind their fascinating architectural designs. Freehand sketches with their innumerable filigree details, as well as the masterly computer visualizations immediately fascinate observers.
About LUMAS
LUMAS has created a new space for art, which offers young collectors and all art-lovers a diverse selection of works by over 120 established artists and emerging newcomers. At 11 galleries in Germany, in SoHo New York, Zurich, and Paris more than 940 works are available as original photographs in editions of 75 to 150, signed by the artist. These editions allow LUMAS to offer affordable prices between 100 and 800 USD. LUMAS makes museum-quality art photography affordable for everyone.
Address:
LUMAS Berlin – Close to Ku'damm – Fasanenstraße 73. 10719 Berlin. Germany. Phone: +49 (0) 30 88 62 76 01
Mon – Sat 10am – 8pm ; Sun 1pm – 6pm
CONTACT HQ:
Dr. Jan Seewald – Public Relations Manager
e-mail: [email protected]
Giesebrechtstraße 20, 10629 Berlin, Germany
Phone: +49 (0) 30 30 30 69-46 Fax: +49 (0) 30 30 30 69-70
Location: Fasanenstraße 73, Berlin, Germany, western Europe
Berlin Architecture
Contemporary Architecture in Berlin – architectural selection below:
Cube Berlin, Washington Platz
Design: 3XN, Architects, Denmark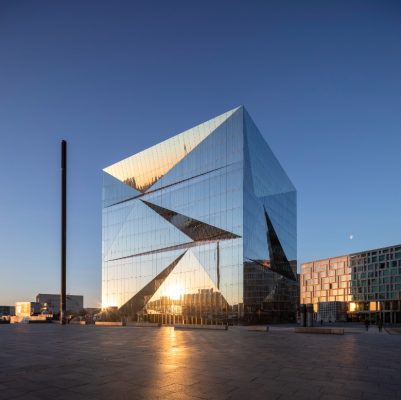 photo © Adam Mørk
Cube Berlin Building
Berlin Architecture Walking Tours
Berlin Architecture Designs – chronological list
Berlin Building by GRAFT
Comments / photos for the Visionary Architecture Exhibition Berlin Architecture page welcome