Isi Metzstein Architect Glasgow, Gillespie Kidd & Coia, Scottish Architecture, Projects, Practice
Isi Metzstein Architect
GK&C, Glasgow, Scotland, UK – designer of St Peter's Seminary, Cardross and Robinson College, Cambridge.
post updated 22 Apr 2021
Isi Metzstein Architect News
Toast to Isi
e-architect attended this event and congratulate the organisers on arranging this significant get-together at short notice, and for their generosity.
Date: Saturday, 21 Jan 2012 6pm to 8pm
Venue: Bute Hall, Gilbert Scott Building, University of Glasgow, off University Avenue, G12 8QQ, Scotland
Isi Metzstein
Isi Metzstein died on Monday 10th of January 2012, aged 83.
Isi Metzstein spent much of his career as an architect working with Andy MacMillan at Gillespie Kidd & Coia (GK&C). Latterly he taught at the Glasgow School of Art.
Andy + Isi (on the right) – The RIAS honours Professors MacMillan and Metzstein at annual Convention in 2008: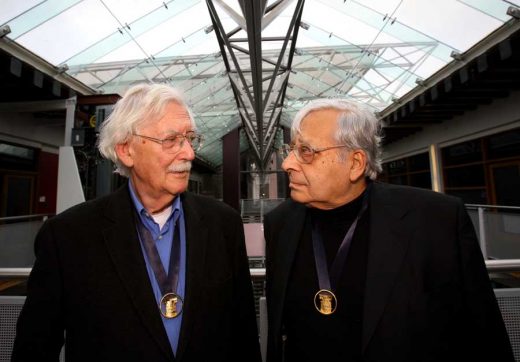 photo from RIAS
Tributes to Isi Metzstein from Richard Murphy, David Page, Alan Dunlop, Archdiocese of Glasgow, RIAS, Robin Webster, Dick Cannon and Penny Lewis further down this page.
Key buildings by GK&C included St Peter's Seminary at Cardross, Robinson College in Cambridge and St Bride's Kirk, East Kilbride. But it was the Cardross Seminary that stands out as the most powerful and interesting work by the practice.
Isi was born in Berlin in 1928. The family moved to Scotland when he was 11. At 18 he was hired by Gillespie, Kidd & Coia and with Andy MacMillan designed many Modernist churches, schools and colleges.
Isi could be considered the father figure of the architectural profession in Scotland.
St Benedict's, Easterhouse, Glasgow, Scotland, 1965: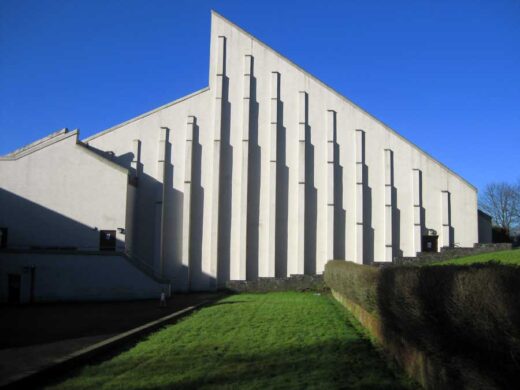 photograph © Adrian Welch
He was both an architect and teacher and made a large impact. Isi Metzstein worked with Andy MacMillan were known as 'Andy and Isi', they were awarded the RIBA Annie Spink award in 2008 for excellence in architectural education. Andy MacMillan had been friends with Isi Metzstein since September 1945, when they met at the School of Architecture.
St Bride's Kirk, East Kilbride, South Lanarkshire, Scotland, 1962:



photo from Paul Stallan _Studio, RMJM
Isi Metzstein won the Royal Scottish Academy Gold Medal for Architecture in 1975. He was an honorary fellow of both the Royal Institute of British Architects (RIBA) and the Royal Incorporation of Architects in Scotland (RIAS).
I had the fortune to join architect Isi Metzstein on a number of architectural juries over the years, he had acerbic wit and formidable powers of analysis. We had an ongoing dialogue about iconic architecture, starting with a visit to Frank Gehry's Maggie's Centre at Dundee, but most of the time even senior architects would sit back and let Isi do the talking. He was definitely looked up to by the architecture profession.
Andy + Isi, 2008:


The last time I talked with Isi Metzstein was at the 2011 Glasgow School of Art architecture / art degree show. We discussed Zaha Hadid's new Glasgow Transport Museum for about 20 minutes. He described it in typically succinct terms (focusing on the principal north & south facades) as, 'the drawing of a building has become a building of a drawing'. Our sympathy goes to his wife Dany, and his relatives. He will be missed.
Adrian Welch. editor
Tributes to Isi Metzstein
Tributes in order of arrival, first at the top – all sourced by e-architect.
Tribute to Isi Metzstein from Richard Murphy
Some personal memories of Isi.
I first met Isi Metzstein as most do, in a crit. His crits were legendary. He took no prisoners but all the students adored him for it all the more. His analytical powers were razor sharp; he could spot the essential weaknesses of a scheme in a few seconds. Later when he hired me as a junior lecturer at Edinburgh University I quickly became his lieutenant. It was a second education for me, the cold douche of the Metzstein discourse introduced me to the idea that architecture, as he used to argue himself, was an intellectual activity. Buildings have, or should have, their own logic which is why so much current gesture architecture left him cold or bewildered. Later we taught together at Syracuse University and during leisurely breakfasts in the campus diner he began to open up to me the private side of his life and in particular his childhood memories of life in Germany and his evacuation, a subject he rarely wished to discuss but at the same time always wanted to put the record straight and counter any myth-making.
After setting up my own practice we invited him in on a regular basis, and with some trepidation, for crits on our own work. Timing was everything. If the project wasn't started he might just design it for you; if it was too far advanced he would point out the faults which you knew it was already too late to correct. There were moments, such as when he said in a really loud voice "Muff (his nickname for me), this is the worst building you've ever designed" so that everyone in the office could hear! Thankfully it never got built). But his influence on me has been massive. Indeed subliminally I find myself standing back, looking at a plan or a section and thinking "what would Isi think?"
Every year he and Dany played Santa at our Christmas dinner and he came on a number of trips with us to Verona, Eichstatt, Dublin, etc. despite increasing immobility. He was always the last to bed, and over a Macallan or two discussion became passionate over what we had seen that day. It was just so much fun to have him with us and deepen our insights.
While many of his buildings have been treated shamefully, a retrospective exhibition at the Lighthouse and the book by Jonny Roger won his approval. Indeed the exhibition in Glasgow coincided with another on Spence held simultaneously in Edinburgh. In the same period Spence who of course had moved to London had built ten times the number of buildings and yet visiting the two exhibitions by these two giants of Scottish architecture I was left in no doubt as to who was the more original, the more daring and the more profound.
His witticisms are legendary. After he broke his leg a couple of years ago I went across to Glasgow a few times during a slow recovery. On one occasion he had graduated to a zimmer frame. Dany showed me into the living room. Then the door opened. Slowly in came zimmer and then Isi, and with a look of thunder on his face and in a low slow voice said, "Yes…..half man….half shopping trolley!" Such wonderful memories and such an impossible void to fill. I, and many others, will miss him terribly.
Richard Murphy
Richard Murphy Architects
Tribute to Isi Metzstein from David Page
I once had an August pleasure of driving Isi around Scotland for three days as a judge on the Saltire housing awards. The journey from city to coast and from Lowland to Highland, was paralleled by Isi's amazing commentary between solving clues for the the daily times crossword, where no idea, setting or structure was left untouched by the breadth of his thought. Of course there was the danger on arrival of the apocryphal observation, 'I am not getting out the car for this' – and on occasion he didn't.
David Page
Page Park Architects
Tribute to Isi Metzstein from Alan Dunlop
Isi was a brilliant architect and teacher and his impact on the profession in Scotland and the UK was profound. His projects, in partnership with Andy MacMillan, were seminal in the development of Scottish modernism and we all owe him a great debt of gratitude.
Alan Dunlop
Alan Dunlop Architects
Tribute to Isi Metzstein from the Archdiocese of Glasgow
A spokesman for the Archdiocese of Glasgow said: "Isi Metzstein played a huge influence in the day to day lives of Catholics in the west of Scotland over the last 60 years. His innovative work for the great firm Gillespie, Kidd and Coia, transformed – not without a certain degree of consternation on the part of the occasional mystified parishioner – the understanding of generations of ordinary worshippers of what a church should and could look like. He once wrote: "I've always thought it takes 40 or 50 years for art to become appreciated … We tried to design buildings to be physically and metaphorically permanent and timeless. We never designed for the day, but always into the future." It is a tribute to that foresight and skill that no less than 11 of the firm's commissions within the territory of the Archdiocese of Glasgow alone are now listed for their architectural merit, often being the only building of real artistic significance in the area."
Archdiocese of Glasgow
Tribute to Isi Metzstein from the Royal Incorporation of Architects in Scotland
"There is no question that the double act of Isi Metzstein and Andy MacMillan were the greatest architects of the latter half of the 20th century. Their legacy in Cumbernauld, in Glasgow, throughout Scotland and much further afield is an architectural achievement of which we can all be very, very proud. Isi Metzstein was a man of great humour, extraordinary wit and sometimes acerbic turn of phrase. His teaching methods were unconventional but the students he taught are now some of the best architects in Europe."
Sholto Humphries (President) / Neil Baxter (Secretary)
RIAS
Tribute to Isi Metzstein from Robin Webster
I was fortunate to have worked with Gillespie Kidd and Coia for a brief period when they were designing Cardross, a number of churches and student residences at the University of Hull.
It was a wonderful and exciting experience, and continued into the evening every Wednesday, when both Andy and Isi would hold court in the pub and discuss issues regarding architecture and pretty well anything else.
Plenty has been said and will be said about Isi's acute perception, wit and trenchant criticism: he was also an exceptionally kind man, who in my experience was prepared to talk to and encourage anyone, no matter what their talent or experience. (Although he had the reputation for making people cry at crits, he pointed out that it was really he who should be crying). He was often to be seen at parties surrounded by people clinging on his every word….he will be greatly missed, and his passing is a great loss to us all.
Robin Webster
cameronwebsterarchitects
Tribute to Isi Metzstein from Dick Cannon
Isi was a lovely man – a one off – fiery and critical, warm and funny and whose invaluable contribution to Scottish Architecture and Education has been acknowledged by all.
Neil Gillespie has rightly identified him as the conscience of the Architectural profession in Scotland.
He had an unwavering clarity on how Architecture should be approached in a way that few achieve and lunches with him at Paperinos will be sadly missed. Never relaxing but always stimulating his critiques, jousting and discourses over pasta laced with "Isi humour" was always something to look forward to. If he had visited one of our buildings it was with more than a little trepidation that I approached lunch hoping for some positive comment which was all the more valuable if it came. His conclusion after one such visit was "I don't like it but it could be worse".
Around Isi it was easy to be more thoughtful and have the realisation that more could be achieved and for that together with his warmth and advice I thank him.
Dick Cannon
Elder and Cannon
Tribute to Isi Metzstein from Penny Lewis
Isi Metzstein didn't write very often but when he did the text was very precise. I think he was disappointed that his provocative AJ review (July 2008) of Reaich and Hall's Beatson building did not inspire a wider debate about what he described as the "disturbing superficiality of current architecture." The text was also a polemic against architectural publications (one of which I edited) which he said favoured 'operational and social reviews' of buildings as opposed to 'architectectonic' ones. A fitting tribute might be for every practice, publication and architecture school in the UK to take the time to consider his critque. He wrote:
"Essentially, all buildings are parcels of single or closely-packed, multi-cell volumes of varied plan and sectional ordering. The wrapping, with the possibility of local variations in stiffness, thickness transparency colour and texture has an intense capability of artistic and functional orchestration, and thus an opportunity for combining artistic self expression and public pleasure.
Recent and current practice is heavily into two types of packaging – a loose bubble or a tight stretch-wrap. While each is very different in form, their generality, and the priority given to technical performance, paradoxically manage to disassociate the façade from internal and external obligations. The highly seductive stretch-wrapping technique deprives architecture of much cultural and historic richness."
Isi Metzstein was adored by so many because of his talent, his insight, his wit, his commitment to public life but most of all his refusal to be pragmatic, which in our current culture is a very rare quality.
Penny Lewis
aefoundation
Tributes to Isi Metzstein welcome
Major Gillespie Kidd & Coia Building
St Peter's College, Cardross, Helensburgh, Scotland – bought by NVA, May 2011
Date built: 1968



photo © Niels Lomholt
Major St Peter's College Cardross : Catholic Seminary Arts charity NVA purchased St Peter's Seminary at Cardross in Spring 2011 as part of £10 million plans for its redevelopment. The charity plans to convert the Cardross Seminary building into an 'intentional Modernist ruin'.
Key Gillespie Kidd & Coia Building
St Bride's Kirk, East Kilbride, South Lanarkshire, Scotland
Date built: 1962


images from Paul Stallan _Studio, RMJM
St Bride's Kirk, East Kilbride : Modern Scottish building
Isi Metzstein – Gillespie Kidd & Coia Projects
Gillespie Kidd & Coia information
Location: Glasgow, Scotland
GK&C Practice Information
Gillespie Kidd & Coia formerly based in Glasgow, Scotland
Andy + Isi
Andy MacMillan and Isi Metzstein were awarded honorary degrees by the University of Glasgow on behalf of The Glasgow School of Art in 2008
Gillespie Kidd & Coia – Cardross Seminary, Scotland
Scottish Architecture
RIAS Convention in Edinburgh – honour for this architect in 2008
Comments / photos for the Isi Metzstein Architect page welcome