Elkus Manfredi Architects, Boston Design Studio, American Architecture, USA Building Images
Elkus Manfredi Architects
Contemporary Architecture Practice in Boston, MA, USA: Massachusetts Design Office News
post updated June 4, 2021
Elkus Manfredi Architects News
Elkus Manfredi Architects News
June 4, 2021
Sojourner Truth Apartments for Rutgers University, 40 College Ave, New Brunswick, NJ 08901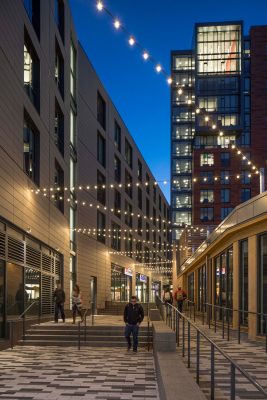 photo © Brad Feinknopf Photography
Sojourner Truth Apartments, The Yard, New Jersey
Creating a new residential community while strengthening town-and-gown connections, The Sojourner Truth Apartments at The Yard provides 442 student beds in 135 apartments in two-, three-, and four-person suite apartments with full kitchens and living rooms.
Sep 22, 2020
Samuels & Associates Headquarters, 136 Brookline Avenue, Boston, Massachusetts, United States of America
Samuels & Associates Headquarters Boston
In its new Fenway headquarters, Samuels & Associates establishes its presence in the heart of the neighborhood. The building at 136 Brookline Avenue was built to contain the heavy machinery and vehicles of an auto service and repair business, so its sound structure made it a good candidate for a new use.
July 14, 2020
Pier 4 Office Building, Boston, Massachusetts, United States of America
Design: Elkus Manfredi Architects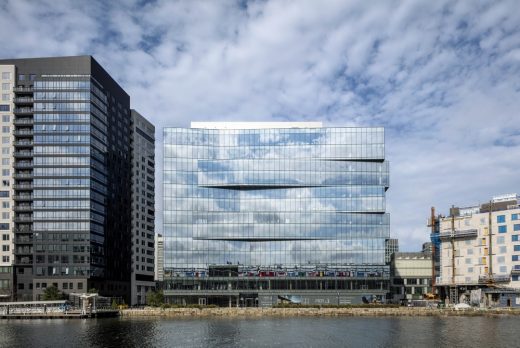 photograph © Magda Biernat
The Modern at Fort Lee, NJ
With its prime, highly visible position on Boston Harbor, the Pier 4 office building makes an iconic signature statement. Its glazed curtain wall exterior envelope provides movement facades that respond uniquely to its influential surrounding views, such as the city and the harbor.
Oct 31, 2019
The Modern, Fort Lee, New Jersey, USA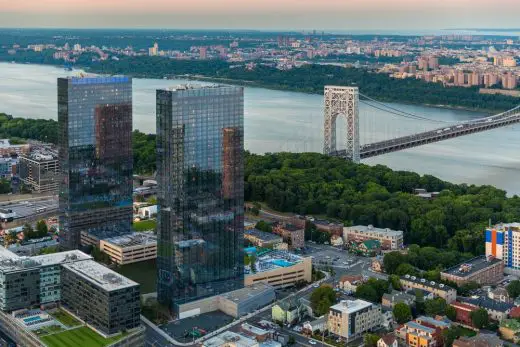 photograph © Evan Joseph
The Modern at Fort Lee, NJ
The Modern at Fort Lee is a new mixed-use residential development at the foot of the George Washington Bridge in New Jersey. It is a major landmark for Fort Lee and a catalyst for significant future growth in the surrounding area.
July 9, 2019
Joan & Edgar Booth Theatre and the College of Fine Arts Production Center, Boston University, 820 Commonwealth Avenue, Brookline, Massachusetts, USA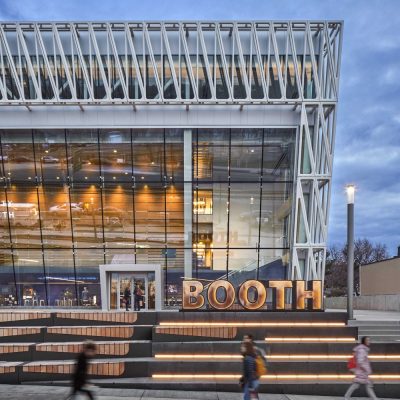 photo © Robert Benson
Joan & Edgar Booth Theatre and the College of Fine Arts Production Center Boston University Building
The new facilities enable BU College of Fine Arts School of Theatre to become a more unified and comprehensive program, with state-of-the-art facilities as teaching tools for all aspects of theatre production and performance.
Jul 20, 2018
Elkus Manfredi Architects to Design Mintz Levin Boston Office
Leading law firm Mintz Levin is undertaking an ambitious and comprehensive new design for its offices at One Financial Center in Boston. The firm recently announced that it has extended its lease in the building for 15 years commencing on July 1, 2019. Mintz Levin, which has seven other offices in the U.S. and London, has been a tenant at One Financial Center since 1984. The firm's leadership has engaged Colliers International to manage the project and Elkus Manfredi Architects to help transform the Boston office into an efficient and flexible space that will meet the needs of its clients and support the firm's staff in a modern, collaborative environment. Suffolk is the general contractor for the project.
"From the start, we were impressed with the way Elkus Manfredi approached our project – they took the time to understand who we are as a firm, our work as attorneys and how we serve our clients," said Michael L. Fantozzi, the Managing Member of Mintz Levin's Boston office. "They are designing a space that we believe reflects the firm today and our plans for the future."
Elkus Manfredi will draw upon its signature cross-industry design approach, combining features of such diverse project types as hospitality, residential, and hi-tech design with its extensive experience in designing for large law practices.
The office will provide a collaborative, visually inviting environment for staff, with the highest standard of materials and finishes utilized throughout, the best ergonomics, and advanced systems installed for important environmental functions such as lighting, acoustics, and air quality. Adjacencies will be carefully considered to maximize efficiency; meeting spaces will be generous and varied to support different collaborative needs, balanced with private spaces for quiet, focused work. When complete, the new office will occupy 206,000 square feet on seven floors.
"Mintz Levin is a leader in thinking about how its new office can best support its attorneys and staff and, how it can help the firm's legal teams do their best work for their clients," explains Elizabeth Lowrey, Principal at Elkus Manfredi. "The redesigned Boston office will be comfortable and welcoming for all, providing operational efficiency and the flexibility to evolve as the firm's business and functional needs respond to opportunities yet to come. We are thrilled to work alongside Mintz Levin's visionary leadership to transform their premier office space into a smart, dynamic environment that will carry the firm forward far into the future."
About Mintz Levin:
To learn more about Mintz Levin, please visit www.mintz.com
Jul 17, 2018
David Manfredi and Elizabeth Lowrey to Receive Award
David Manfredi and Elizabeth Lowrey to Receive Real Estate Finance Association's Annual Distinguished Service Award at 30th Annual Gala.
July 16, 2018 (Boston) – David Manfredi, CEO and Founding Principal, Elkus Manfredi Architects and Elizabeth Lowrey, Principal, Elkus Manfredi Architects have been selected by the Real Estate Finance Association (REFA) to receive the Robert S. Swain Jr. Distinguished Service Award at the 30th Annual REFA Gala, to be held Thursday, October 11, 2018 at the Marriott Copley Place Hotel. Details may be found at https://2018refagala.weebly.com/
The annual REFA Gala, Boston's premier commercial real estate awards dinner, will honor Mr. Manfredi and Ms. Lowrey for their contributions to the real estate industry and to the Greater Boston community.
2018 REFA President Paul Ayoub, Partner, Nutter, McClennen & Fish LLP and REFA Gala Co-Chairs Marci Griffith Loeber, Managing Principal, Griffith Properties and Paul Nasser, CFO and COO, Intercontinental Real Estate Corporation will present David Manfredi and Elizabeth Lowrey with their awards.
In honoring David Manfredi and Elizabeth Lowrey, Elkus Manfredi Architects also becomes the first architecture firm to be recognized among a distinguished list of companies.
David P. Manfredi, FAIA, LEED AP has worked with industry leaders across the country on a diverse portfolio of planning and design projects, creating vital new mixed-use urban neighborhoods, reusing and reinventing important historic context and infrastructure, and transforming the edges of universities from barriers into connective seams with surrounding neighborhoods. From the life science research center at The Broad Institute to the Boston Landing District, home of New Balance, the Boston Bruins, and the Boston Celtics – to some of our country's most iconic "people places" such as The Grove in Los Angeles, at every scale, in every context, David's mission is to create common ground that brings people and communities together.
Elizabeth O. Lowrey, IIDA, RDI has been responsible for the interior architecture studio at Elkus Manfredi Architects since the firm was founded and part of the firm's leadership since being named a Principal. As a leader in the creation of corporate, hospitality, residential, retail, and academic environments, Elizabeth works with clients including Walt Disney Imagineering, Fidelity Investments, Vertex Pharmaceuticals, New Balance, The Boston Consulting Group, National Development, and Harvard and MIT. She is widely known for her strength in strategic planning, her ability to help clients discover and articulate their vision through design, and her skill in creating dynamic, connected environments that enhance the quality of life for communities of all types and scales.
About the Robert S. Swain, Jr. Distinguished Service Award
The Robert S. Swain, Jr. Distinguished Service Award is named in honor of the late Robert S. Swain, Jr. Mr. Swain gained respect and admiration of his colleagues throughout the real estate finance industry during his 33-year career in the profession. He was a valued member of the Greater Boston Real Estate Board and was an active member and leader of the Mortgage Finance Committee, which developed into the present Real Estate Finance Association. The award is an annual recognition of an outstanding contribution made to the real estate industry either by lifetime example or specific achievement.
About REFA
Formed in 1988, The Real Estate Finance Association (REFA) is a trade association formed to bring together the best people, knowledge, and experience to provide informative programs and networking opportunities for commercial real estate finance professionals throughout the Greater Boston area. Real estate professionals from a variety of institutions join REFA to exchange ideas and promote the exchange of information between professionals in the real estate finance community, while fostering a platform for growth and education. REFA is a division of the Greater Boston Real Estate Board (GBREB).
About GBREB
Founded in 1889, the Greater Boston Real Estate Board counts as its members more than 12,000 professionals engaged in all sectors of the real estate industry. One of the local boards of the National Association of REALTORS® (the largest trade association in North America), BOMA International and the National Apartment Association, GBREB is considered unique nationally due to its varied membership base. The Board also has five major divisions which are: Building Owners and Managers Association (BOMA); Commercial Brokers Association (CBA); Greater Boston Association of REALTORS® (GBAR), Real Estate Finance Association (REFA); Rental Housing Association (RHA).
Feb 22, 2018
MassDOT Research and Materials Lab is LEED Gold Certified, MA, USA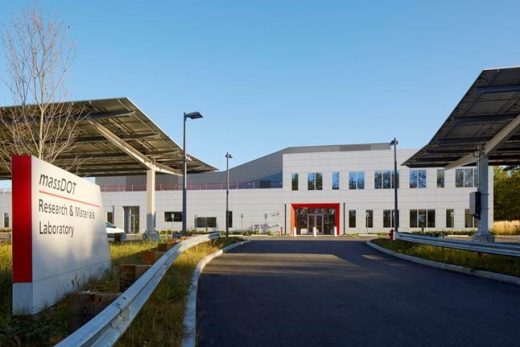 photograph : Bruce T Martin
MassDOT Research and Materials Lab
First MassDOT Building to be Nationally Recognized for its Environmentally Friendly Features
The Massachusetts Department of Transportation (MassDOT) is pleased to announce that the MassDOT Research and Materials Lab in Hopkinton, MA has been nationally recognized for its environmentally-friendly features.
Jan 26, 2018
Woodlawn Residential Commons, University of Chicago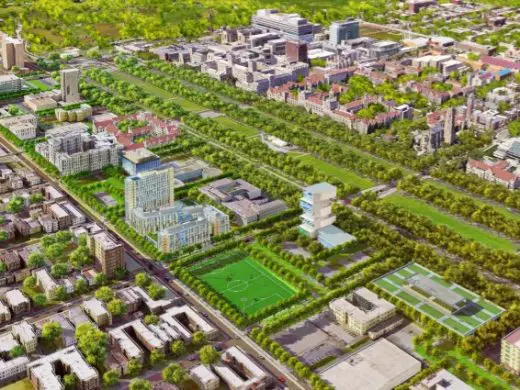 image © Elkus Manfredi Architects
Woodlawn Residential Commons, University of Chicago
Continuing efforts to enhance on-campus housing for College students, the University of Chicago plans to build a new residential hall and dining commons opening in the 2020-2021 academic year. The new Woodlawn Residential Commons will be located between Woodlawn and University avenues, just north of 61st street.
Oct 26, 2017
Union Point Master Plan, 12 miles south of Boston, Massachusetts, United States of America
Design: Elkus Manfredi Architects with Sasaki Associates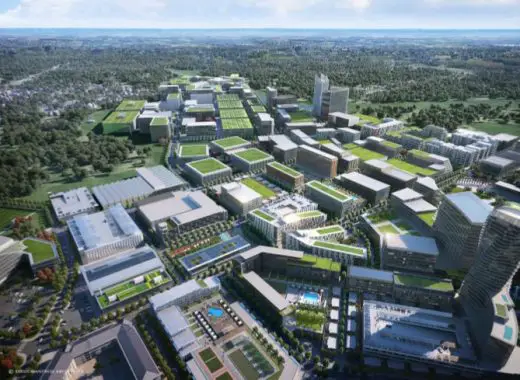 image © Elkus Manfredi Architects
Union Point Master Plan
Union Point is a culturally rich urban environment 12 miles from Boston, with direct access to the city's transit system. The development is located at the intersecting point of the towns of Weymouth, Rockland, and Abington, Massachusetts.
Apr 28, 2017
Howard F. Elkus Scholarship
Boston Architectural College announces the establishment of the Howard F. Elkus Scholarship
BOSTON, MASSACHUSETTS – The Boston Architectural College (BAC) has established the Howard F. Elkus Scholarship to benefit its students in memory of the renowned architect who passed away on April 1. This endowed scholarship will provide critical aid to financially disadvantaged and underrepresented minority students at the BAC. The first scholarship is anticipated to be awarded Fall 2017.
"Howard's passing is an enormous loss to the Boston Architectural College, and to the entire design profession, nationally and internationally," said Glen LeRoy, president of the BAC. "He was a visionary, a transformative member of our Board of Trustees, and a true friend. Howard was deeply committed to the College's mission of providing design education to students who are underrepresented in architecture and the related industries. He will be profoundly missed by the BAC community and beyond."
Elkus served as an overseer from 2009 to 2015 and then as a trustee from 2015 to 2017. He believed in the College's mission, which is to diversify the design professions by providing any student the opportunity to pursue his or her dream to study design. Elkus championed dozens of BAC students and hired many to work at Elkus Manfredi Architects, the award-winning firm he co-founded in 1988 with architect David Manfredi. To ensure that Elkus's commitment to the BAC endures, the scholarship was created with gifts made in his memory to carry on his legacy and leave a lasting impact on future generations of BAC students.
For more information about the scholarship and to contribute to the fund, please visit the-bac.edu/howard-elkus.
About Howard F. Elkus (1938-2017)
Howard Elkus, FAIA, RIBA, LEED AP was an internationally recognized architect and urban planner responsible for the design of numerous widely acknowledged landmark projects during his distinguished career. Since co-founding Elkus Manfredi Architects in 1988 with architect David Manfredi, and previously as a principal of The Architects Collaborative, Howard's work consistently broke new ground with diverse project types from single buildings to urban master plans on a grand scale.
With David Manfredi, they built a major international architecture and design practice around their shared dedication to the value of place-making and community-building. The firm's work includes the New Balance headquarters, Hudson Yards in Manhattan, Miami Worldcenter and Harvard University's Graduate Commons.
About the BAC
Founded more than 125 years ago, The Boston Architectural College offers spatial design bachelor's and master's degrees in architecture, interior architecture, landscape architecture, and design. It also provides certificates in digital design and visualization and sustainable design. The BAC was the first architectural school to offer online architecture and design degrees.
4 Apr 2017
Obituary from Elkus Manfredi Architects
Howard F. Elkus FAIA, RIBA, LEED AP
Howard F. Elkus, the internationally acclaimed architect and urban designer, died unexpectedly at his Palm Beach, Florida, home on Saturday, April 1st. A longtime resident of Lincoln, Massachusetts, he was 78.
Elkus's work spans five decades, first with The Architects Collaborative (TAC) and then with Elkus Manfredi Architects, the firm he co-founded with fellow TAC architect David Manfredi in 1988. Elkus's portfolio of well-known projects is vast, and his vision had a positive impact on communities around the world.
Howard Elkus at his desk: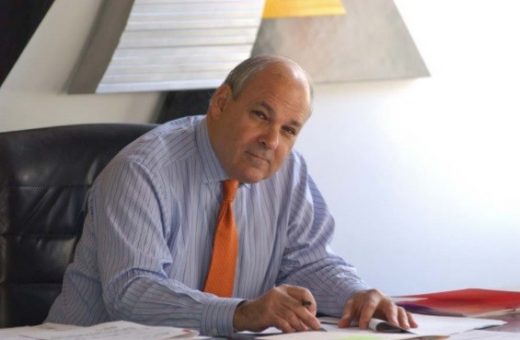 Among the scores of notable projects designed by Howard Elkus all over the country and the world were the Shops and Restaurants at Hudson Yards in New York, Boston's Copley Place, Miami Worldcenter, the Shops at Columbus Circle in New York, Al Maryah in Abu Dhabi, CityPlace in West Palm Beach and Las Vegas City Hall. Over a period of 20 years, he has been the master planner and designer of multiple buildings for Emerson College's campus relocation to Boston's historic theatre district, and he designed of the headquarters of the American Institute of Architects (AIA) in Washington, D.C.
With his ebullient, infectious personality and boundless energy, Howard Elkus was as much a force of nature as he was a brilliant architectural pioneer. He was born in San Francisco on April 12, 1938, the son of Eugene "Gene" Elkus, Jr. and Felice "Billie" Kahn. Descended from some of the most prominent builders of the American West, Howard was ever-conscious of his heritage. Throughout his life and career he embraced the family mission to build for a better future.
Howard Elkus, on left, with David Manfredi, co‐founders of Elkus Manfredi Architects: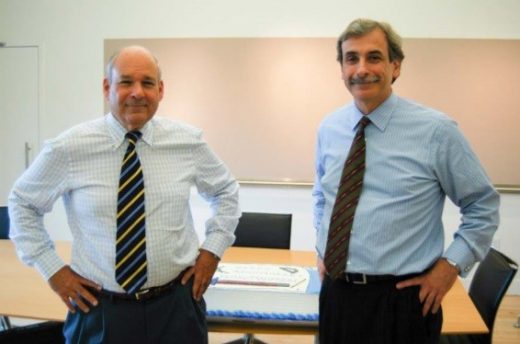 Elkus's mother was from a family that included some of the most accomplished industrial architects and builders of the 20th century. Her father, Felix "Skipper" Kahn, was founder of the construction company McDonald & Kahn, and later the Six Companies, which built the Hoover Dam. Among other notable landmarks, the Six Companies also built the San Francisco Bay Bridge, the Grand Coulee Dam, and the San Francisco War Memorial Opera House. Felix Kahn's siblings, all of whom inspired Howard Elkus throughout his life, included the notable architect Albert Kahn, who is often cited as one of the fathers of modern design.
Albert Kahn was a prolific designer whose work most famously included Ford River Rouge complex. The architecture and engineering firm he founded still practices in Detroit today. A third brother, Julius, with his sister Molly pioneered technology for the use of steel for concrete reinforcement. Julius later went on to found the Truscon Steel Company which supplied steel to the building industry, most notably for long-span structures.
Howard's father was a member of an equally eminent California family that included politicians, industrialists, and philanthropists. Eugene was himself an industrialist with interests across California. Eugene's most profound achievement came during World War II, when he served as superintendent at the naval armaments and engine plant, Joshua Hendy Ironworks in Sunnyvale, California.
There, he applied new technology that enabled the factory to produce custom-designed munitions and matériel in record-breaking time, which had a measureable impact on the outcome of the war. This period in his father's life greatly affected the then young Elkus's understanding that collaboration and teamwork combined with technology and great vision could change the course of history. It is a lesson he carried with him his whole life.
Although Elkus's early years pointed towards a life in architecture, it was not initially as evident to him that architecture would be his life's passion as it was to others. Speaking at his office last December, Elkus recalled that "As a child, I loved looking at the drawings in Sir Banister Fletcher's Brief History of Architecture. At night, I would design sets for movies, plays, and operas and model them with cardboard. Later in college, I worked as a union construction laborer on the Stanford campus." And yet, rather than pursuing design, he pursued a degree at Stanford University in mechanical engineering.
Photos © Ben Cheung
Principals of Elkus Manfredi Architects celebrating the 20th anniversary of the firm in 2008.
From left: Howard Elkus, John  Martin, Elizabeth Lowrey, Sam Norod, and David Manfredi: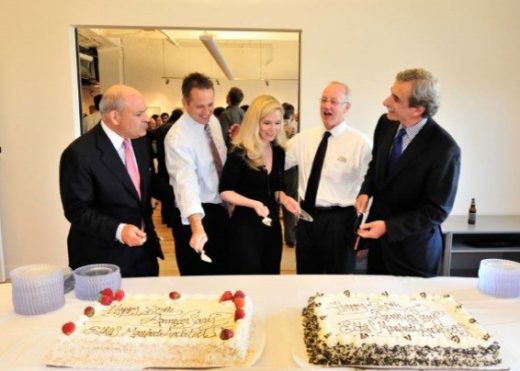 "I wasn't burning to be an architect," Elkus said, "But one day I interviewed with Walter Landor, one of the world's great industrial product designers, and asked him, 'If I'm going to be you, what's the best background?' He said, 'Study architecture.' " Elkus subsequently attended Harvard University's Graduate School of Design, graduated with distinction in 1963, and joined The Architects Collaborative.
As a young principal and rising star at The Architects Collaborative (TAC), Elkus worked closely with the firm's founder, legendary modernist Walter Gropius. He rose quickly to national distinction in 1973 as designer of the headquarters of the AIA in Washington, D.C., which Robert Ivy, EVP/Chief Executive Officer of the American Institute of Architects, recently described as "a handsome building that frames the world for us, and helps the world frame its view of the work we do."
As a principal at TAC, he further reinforced his belief in collaboration. Elkus's recent eulogy for his friend and colleague, founder of TAC John "Chip" Harkness, expressed one of his most deeply held beliefs about collaboration and shared vision, not just in architecture but as a way of approaching the world: "We know now the significance of the venture [the founders of TAC] set out upon: collaboration in the architectural profession, a concept which was revolutionary in the way buildings were conceived.
Little did they comprehend that the collaborative approach would be the touchstone of human endeavor in the 21st century. Today, collaboration is the way of scientific research, the crossroads of science and the arts, the catalyst of innovation itself, and the resolution of social, environmental, and economic issues. Humanity owes them great gratitude for their ideals and convictions."
In 1983, Elkus was made a Fellow of the American Institute of Architects (AIA) – one of the youngest members of the AIA ever to achieve that distinction. The citation at his investiture reflected on Howard as both a designer and a design leader: "Howard Elkus is that increasingly rare kind of architect who as a principal in a large firm, manages very large projects but still keeps his hand on a soft pencil. His design approach makes no lines of demarcation between architecture and urban design."
Architects Howard Elkus and David Manfredi: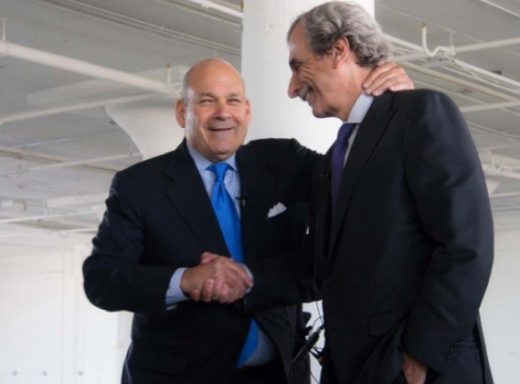 In 1988 Elkus cofounded Elkus Manfredi Architects with fellow TAC architect David Manfredi, who said of their partnership: "We had a shared enthusiasm for collaboration, and working together was a joy from our first encounter. We cofounded Elkus Manfredi Architects with the earnest mission to work with the best people, on the best projects, and to always have fun. Our partnership was understood: we had an unwavering trust that was sacred to both of us."
Elkus Manfredi Architects is now Boston's largest architecture firm, and a national leader in LEED and environmentally appropriate design with projects located across the globe.
Elkus's work consistently broke new ground with diverse project types from single buildings to urban master plans on a grand scale. He was an early pioneer of the concept of "placemaking," with knowledge and urgent curiosity, bringing into play specific characteristics of locale as diverse as geology, light, scent, sound, anthropology, cultural history, and psychology that he called "sense of place."
In the early '80s, Elkus was master planner and design architect for Boston's landmark Copley Place, the most ambitious mixed-used development of its kind at the time. Copley Place was a new paradigm for both air rights development over an infrastructure complex, as well as the layering of mixed uses for maximum impact. The physical constraints of the site were formidable, spanning a highway interchange and several rail lines, and bordering Copley Square, an important historic space of architectural significance.
The project's community review process, led by Elkus, is considered a national model. Copley Place repaired a major rupture in Boston's urban fabric, its system of pedestrian pathways transforming the area into a bustling hub of activity, reconnecting and revitalizing surrounding neighborhoods. Copley Place's impact is still felt internationally as the groundbreaking prototype for the many successful mixed-use projects that have followed in its footsteps.
Elkus trained first as a mechanical engineer as well as an architect, and was noted for his elegant architectural resolutions to complex, multifaceted program requirements and difficult sites with daunting constraints. His planning and design solutions were devoted as much to context as to form and appear disarmingly simple, disclosing no evidence of the challenges surmounted.
His deep commitment to designing for the human scale and building community has been at the international forefront of the movement to create livable environments that honor the old while celebrating the new. His visionary body of work – from master planning, to buildings and revitalized historic cultural centers, inspiring educational environments, new downtowns, and reinvigorated urban "people places" all over the world – is considered a tour de force.
Generations of urban pedestrians, shoppers, workers, hotel guests, students, and homeowners have experienced Elkus's merging of the practical and the playful. He believed public spaces must contain a narrative connected to their purpose and still speak to each individual.
"These projects can be vast, but he felt that everyone has to be able to become intimate with the space in some way," said Jenny Elkus. "There is a place for someone who wants to sit and be seen, and a place for someone who likes to retire to a protected shady space and watch the action from afar. There is a place to be up high and look at the sky or down at interior spaces. There are hundreds of ways to interact with space, and his buildings are vessels for that."
Elkus's distinctive designs for retailer Neiman Marcus epitomized his insistence that a site should hew to "the big picture," his habitual term for a simple idea that blended architecture, homage to locale, brand, and the user's emotional connection to an environment. The rippled façade of the Neiman Marcus store in Natick, Massachusetts, suggests the hem of a dress (in fact, the model dress that inspired it was designed by Elkus for his wife Lorna).
At the Roosevelt Field shopping center in Garden City, New York, the Neiman-Marcus store plays with multiple references to the retailer's symbol, a butterfly: A two-story glass entrance is bounded by a façade suggesting spreading wings, with shimmering jewel-like metal shingles inspired by a microscopic view of a butterfly's wing structure. Jenny Elkus noted that the spreading wings also suggested an open-armed greeting around the entrance, epitomizing her father's viewpoint of public architecture: "All of his projects had their arms wide open," she said.
Karen Katz, President and CEO of Neiman Marcus Group, said on Tuesday, "Howard Elkus was an extraordinarily talented architect and a true gentleman. I considered him a friend. His inspiring vision was apparent in every project that we worked on together. He will be missed, and yet he lives on in the beautiful stores he designed for us."
Kenneth Himmel, President and CEO of The Related Companies, shared a relationship with Elkus that lasted decades as they collaborated on large-scale mixed-use urban environments all over the world. "Howard was my 40-year-favorite and most dedicated colleague," Himmel said, "but most important to me, he was my closest friend. He was passionate about cities, about the public realm, and about people.
He cared deeply about urban spaces and the people his developments impacted. He was curious and creative and his energy was contagious. He was a delight to be around and his professional accomplishments can only be matched by the devotion to his family and friends and the relationships he cultivated. He will be missed each and every day, but his legacy will live on through all of the magical places he created and the people he touched throughout his life. "
David Manfredi noted, "Howard's portfolio of work is prodigious: his planning transformed tired urban neighborhoods and made vibrant new ones; he designed beautiful buildings and places that always uplifted everything around them; and he was dedicated to the enhancement of the public realm for everyone."
Elkus lectured widely in the United States, Europe, and Asia. At the time of his death, he was working with his trademark enthusiasm on major urban projects around the U.S., including the revitalization of Boston's Faneuil Hall Marketplace, the restoration of Union Station in Washington, D.C., and Union Point, a comprehensive mixed-use "Smart City" currently in development south of Boston. His current international work includes a new downtown district for Abu Dhabi, a mixed-use center in Turkey, and three different mixed-use environments in Mexico.
Speaking on behalf of Elkus Manfredi Architects, David Manfredi said, "I will miss his passion, his stories, his charm, his great talent, his endless love of life and adventure, and most importantly, his friendship. His legacy and relevance flourish in places and with people around the world."
Howard Elkus is survived by his wife Lorna Wheatley Moffat Elkus of Lincoln, Massachusetts, and Palm Beach, Florida; daughter Jenny Felicia Elkus of Boston, Massachusetts, and Newport, Rhode Island; son James Howard Elkus of Fairfield Connecticut, and his wife Elizabeth Price Ewing; and three grandchildren, William Price Elkus, James Alexander Elkus, and Elizabeth Wheatley Elkus.
Private services have been held, and information regarding memorial gatherings is forthcoming. The family and firm suggest that donations in Howard Elkus's memory may be made to The Boston Architectural College, The Old North Foundation of Boston, and/or Artists for Humanity. Personal communications may be sent to Elkus Manfredi Architects, 25 Drydock Avenue, Boston MA 02210.
4 Apr 2017
Elkus Manfredi Architects News Archive
Howard Elkus
It is with great sadness that Elkus Manfredi Architects announces the unexpected passing of Howard Elkus. https://www.elkus-manfredi.com
We grieve the loss of Howard as a friend, mentor, visionary, and co-founder of our firm.
We will post an Appreciation of Howard's career and influence on this page shortly.
Selected Buildings by Elkus Manfredi Architects
Aug 15, 2016
Union Trust Building, 501 Grant Street, Pittsburgh, USA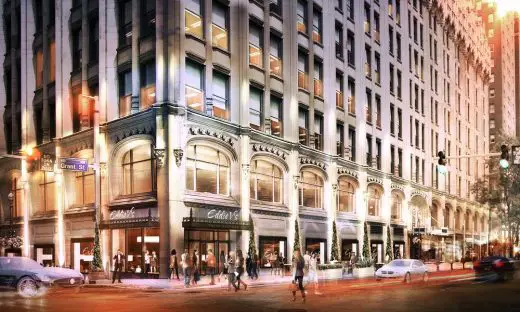 image courtesy of architects
Union Trust Building in Pittsburgh
This highly prominent corner is occupied by Eddie V's, a nationally renowned seafood restaurant with frontage between the Fifth Avenue and Grant Street entrances. The new vertical sign on the corner and additional awning signage provide Eddie V's with a distinct identity and visual prominence, and make a significant contribution to the vitality and appeal of this important streetscape.
Sep 24, 2014
The Verb Hotel Boston Redevelopment, The Fenway, Boston, Massachusetts, USA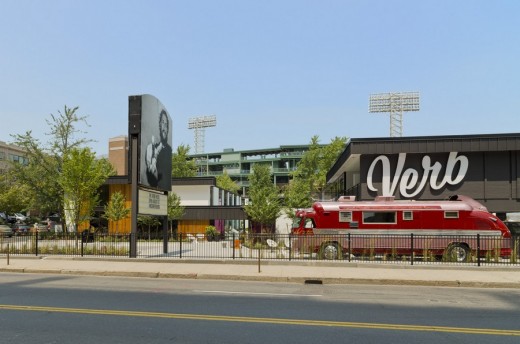 photograph © Adrian Wilson
The Verb Hotel Boston
Core/shell restoration of original 1959 two-level brick motel.  93 guest rooms, fitness room, courtyard with swimming pool and deck, reception lobby, refurbished 1947 vintage Flexible tour bus. Restaurant to open Spring 2015.
More architecture projects by Elkus Manfredi Architects online soon
Address: 25 Drydock Ave, Boston, MA 02210, USA
Phone: +1 617-426-1300
Architecture Practice Information
Architect office based in Boston, Massachusetts, United States of America
Boston Architecture Designs – chronological list
New York State Architecture Designs
Comments / photos for the Elkus Manfredi Architects page welcome