Buckley Gray Yeoman Architects, BGY, London Architecture Studio, England, Building, Design Office
Buckley Gray Yeoman Architects
Contemporary English Architecture Practice News – Design Studio UK
Buckley Gray Yeoman News
BuckleyGrayYeoman News, chronological:
1 Oct 2019
27 Eccleston Place, Belgravia, West London, England
Architects: BuckleyGrayYeoman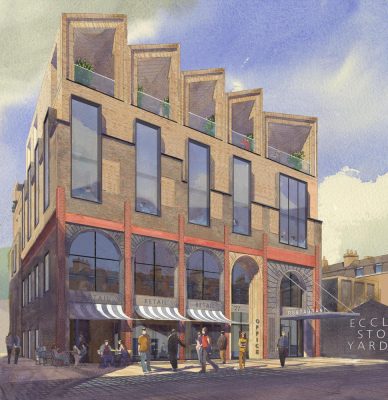 photograph from architects
27 Eccleston Place
The renovation of 27 Eccleston Place on behalf of Grosvenor Britain & Ireland will breathe new life into a former industrial Ice Factory building – located on the boundaries of Victoria and Belgravia.
17 Dec 2018
Tanger 66, Barcelona, Catalonia, Spain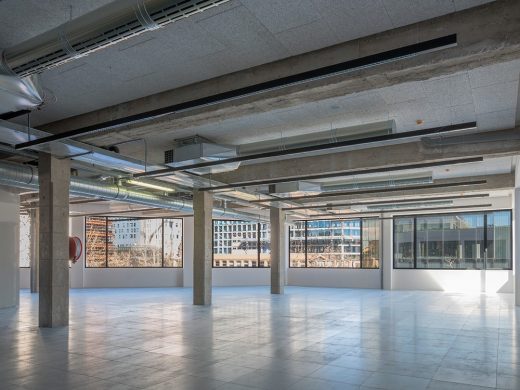 photograph © Peter Landers
Tanger 66 in Barcelona
BuckleyGrayYeoman complete transformation of 1940's warehouse into 8,400 sqm Barcelona tech workspaceCompletion follows on the heels of new project wins in Madrid, Milan and Sweden as firm looks to grow international portfolio.
31 Oct 2018
Chocolate Factory Mixed-Use Building, Bristol, southwest England, UK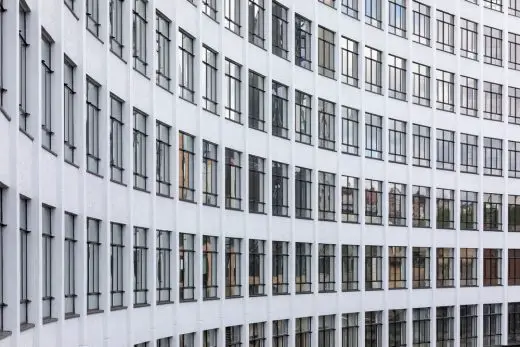 photograph © Peter Landers
Chocolate Factory Mixed-Use Building in Bristol Building
Refurbishment of Programme on behalf of Resolution Property. The former Fry's chocolate factory been refurbished to create a 180,000sqft workplace-led campus for Bristol's burgeoning creative and digital business community.
18 Jan 2018
Herbal House Building Refurbishment, Clerkenwell, London, England, UK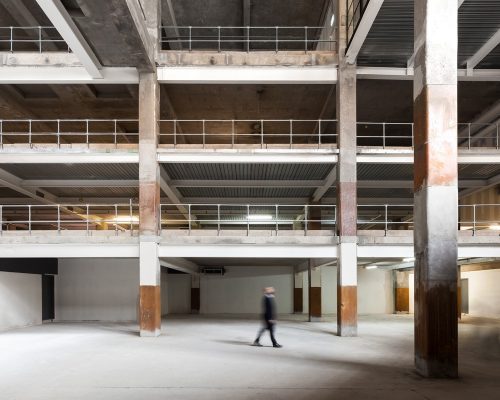 photo © Peter Landers
Herbal House Building
BuckleyGrayYeoman has completed the extensive refurbishment of Herbal House, a former print works in Clerkenwell, owned by Ærium and managed by Allied London. Arranged over ten floors, Herbal House provides 115,000sq ft of flexible office space and high-quality apartments in the heart of Clerkenwell, close to Farringdon station.
8 Dec 2017
20 Old Bailey, City of London, England, UK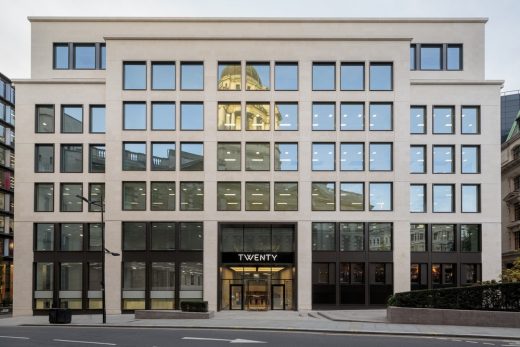 photography © Dirk Lindner
20 Old Bailey London Offices
20 Old Bailey delivers high quality, contemporary office space directly opposite England's Grade II* listed Central Criminal Court on Old Bailey.
BuckleyGrayYeoman's refurbishment has in-filled under-used spaces, rearranged the cores and servicing and added a two-storey extension to create 2,900 sqm of additional space on the site.
2 Aug 2017
Earlham Grove Apartments, Forest Gate, Newham, East London, UK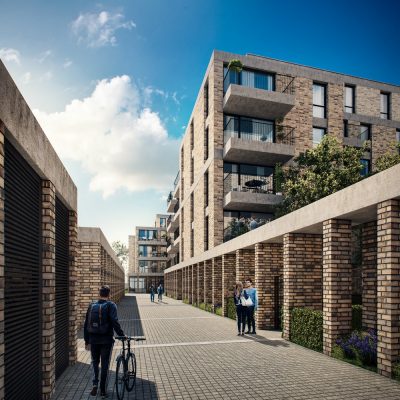 image from architects
Earlham Grove Apartments
Planning consent received on behalf of Aitch Group in partnership with Mura Estates, for three residential blocks consisting of 78 units, located behind Woodgrange Road high street on Earlham Grove in the London Borough of Newham.
12 Apr 2017
Art Gallery Hub1-5 Cromwell Place, South Kensington, England, UK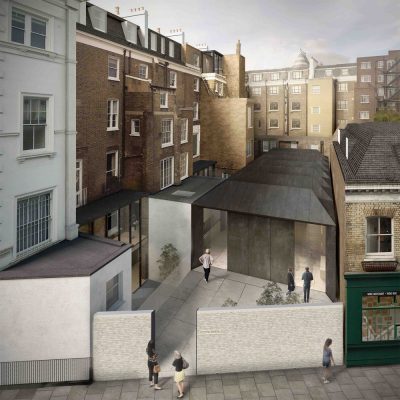 image from architects
Art Gallery Hub in South Kensington
Royal Borough of Kensington and Chelsea approves plans to provide a new home for up to 30 independent art galleries in the heart of South Kensington.
29 Mar 2017
Fred Perry HQ, Mount Pleasant, Clerkenwell, London, UK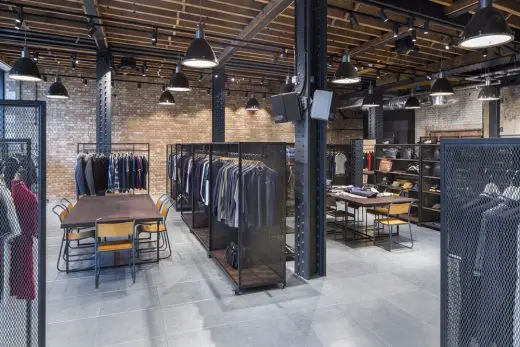 image from architects
Fred Perry HQ design by BuckleyGrayYeoman
New headquarters in Clerkenwell designed by BuckleyGrayYeoman unites all of Fred Perry's back-of-house functions on to one site to create a new space for clients and friends to experience the Fred Perry Brand.
22 Aug 2016
Eccleston Place Development, Victoria, southwest London, UK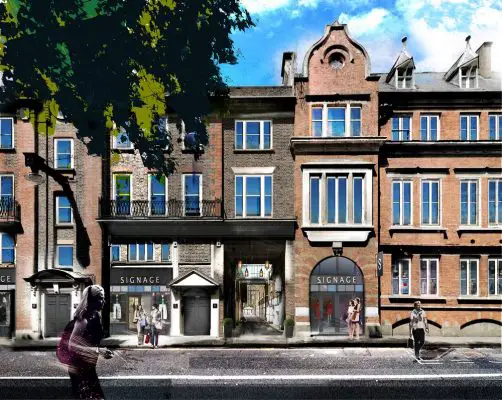 image from architects
Eccleston Place Victoria
The scheme for Grosvenor seeks to create a new destination for innovative entrepreneurs in Victoria and comprises the sensitive refurbishment of circa 80,000 sq ft spread over four buildings to provide shops, co-working space and eateries, clustered around a landscaped courtyard.
The Black & White Building, Rivington Street, London, UK – 8 Nov 2013



photo © Matt Clayton
Amr Assaad, Associate Director at BuckleyGrayYeoman said:
"The Black & White Building provides customisable, flexible office spaces in a building brimming with historic industrial character. Our refurbishment put a contemporary twist on the existing building: retaining and emphasising the best of the original fabric and making that the starting point for a stylish interior fit-out that celebrates the edgy character and energy of Shoreditch.
8 Apr 2013
Clerkenwell apart'hotel, London, England



photo © Hufton+Crow
Clerkenwell apart'hotel
BuckleyGrayYeoman Architects has completed the £8m transformation of a prominent industrial building on Rosebery Avenue, creating a new luxury apart'hotel in an area that has become London's focal point for creative industries.
11 Sep 2012
BuckleyGrayYeoman's Epworth House gets the green light, London, England



image from BuckleyGrayYeoman architects
BuckleyGrayYeoman Architects' design to refurbish and extend Epworth House – a prominent office building adjacent to City Road, EC1 – has received planning permission from the London Borough of Islington.
Epworth House dates from the 1930s and includes a prominent Art Deco building on the corner of City Road and Epworth Street.
For client London & Regional Properties, the £11m project will significantly improve the quality of the office accommodation by modernising and remodeling the building. Epworth House currently comprises 87,000 sq ft of office accommodation and BuckleyGrayYeoman's plans include replacing and extending the top two floors to add 10,000 sq ft of office space. The redesign of the upper levels of the project will take the form of a new stone and glass structure.
The new design also transforms and reconfigures the interior spaces and main core of the building, creating a new atrium at the heart of the project that facilitates more flexible floorplates and clear connections between the three adjoined buildings that make up Epworth House.
Externally, the 1930s Art Deco building will be sensitively restored and the main entrance relocated to the corner of Epworth Street and City Road, enhancing the building's street presence and also aligning the entrance with the new atrium space. A new dark stone façade will be added to the ground level of the building to further improve Epworth House's street presence.
Matt Yeoman, Director at BuckleyGrayYeoman Architects, said: "The challenge was to breathe new life into the building – and its mix of architectural styles – whilst also remaining sensitive to the site's prominent urban setting. Work is due to start on site early next year.
Recent Buckley Gray Yeoman Designs
10 Bloomsbury Way, Camden, London, England



image from BuckleyGrayYeoman architects
10 Bloomsbury Way – 30 Aug 2012
BuckleyGrayYeoman architects received planning consent for a major commercial refurbishment in the heart of London's Midtown Business Investment District. Commissioned by London & Regional Properties, this building development will create over 21,800 sqm of office space.
9 Jul 2012
Fred Perry Westfield Stratford City, east London, south east England, UK
Fred Perry launches Westfield Stratford City store designed by BuckleyGrayYeoman
BuckleyGrayYeoman has completed the design of Fred Perry's new store in the Westfield Stratford City shopping centre, London, creating a retail space that merges contemporary design with the fashion brand's rich 60-year heritage.
The centrepiece of the design is an anamorphic artwork of Fred Perry's famous laurel wreath. Made in Hackney, close to the architects' studio, the sculpture consists of 32 suspended brass leaves that run the length of the retail space. When viewed from the front of the store, the leaves align to create a complete image of the laurel wreath, but as customers move around the artwork it transforms into layers, creating different shapes and patterns.
This experiential element of the design runs throughout the project, which features several elements that play with the idea of viewpoint and scale. As customers explore the store, the details of the design subtly reveal themselves. A seemingly plain white wall framing the golden laurel wreath artwork at the back of the store is a mosaic of white Fred Perry pin badges. Running along the right-hand side wall of the store are graphic panels depicting blown-up photography of a classic white Fred Perry polo shirt. Footwear and accessories are displayed on surface of light boxes, creating lines that replicate the proportions of the contrasting "tipping" around the collar and sleeves that is the signature detail of the Fred Perry Shirt.
The store has been designed with a calm, open approach to layout and a restrained material palette of concrete, black steel and wooden parquet flooring. A walkway running through the centre marks a division between the apparel and footwear & accessories areas. Products are displayed on eight concrete tablets, positioned in a linear arrangement that forms a 12 meter-long spine through the store that also creates seating for customers.
In the changing rooms, photography depicting sports legend Fred Perry sits alongside images of the fashion brand's strong connection with the youth style-tribes of the last 60 years and its resonance with contemporary subcultures.
Paul White, Director at Buckley Gray Yeoman, said: "We wanted to create a sophisticated interior with a real sense of clarity whilst also celebrating of the expectation-defying individuality of the brand which has gained it an incredibly loyal following over the last six decades. Attention to detail at every contact point, from the shelving to the commissioned artworks help transmit this remarkable brand's history." The storefront's simple design is made from black steel.
The Westfield Stratford City Store is the third project BuckleyGrayYeoman has completed for Fred Perry. A new store in Munich, also designed by the practice, is due to be launched in August.
11 May 2012
Channing School, Highgate, London, south east England, UK



image : BuckleyGrayYeoman Architects
Channing School
BuckleyGrayYeoman Architects' £6.5m plans for Channing School in Highgate have been granted planning permission by the London Borough of Haringey. The designs for the leading independent day school will add two buildings to the school's estate, significantly improving Channing School's facilities whilst remaining sensitive to, and building upon, its rich architectural and educational heritage.
18 Apr 2012
Virginia Quay, east London, England
Buckley Gray Yeoman gets the green light for Virginia Quay housing project
Buckley Gray Yeoman's plans for a residential development at Virginia Quay have been given the go ahead by the London Borough of Tower Hamlets and London Thames Gateway Development Corporation.
Designed for Cube Developments by Buckley Gray Yeoman Architects, with DP9 acting as planning consultants, Virginia Quay consists of a 12 storey building of 26 high-quality apartments for both the affordable and private residential market. The new scheme occupies a prominent site on the north bank of the River Thames opposite the O2 Arena and has been designed to create a new architectural focal point for the area, incorporating a green glass and dark brick exterior that gives the building a distinct identity.
From the river, the building will appear as a slender form which fits within a tight site surrounded by residential blocks. Negotiating the proximity of the surrounding buildings, Buckley Gray Yeoman's design has been arranged as a series of stepped blocks that respect the daylight rights of Virginia Quay's neighbours, whilst maximising the new building's views of the river. This structure creates a mixture of eco-friendly sedum roofs and timber-decked roof-top terraces for residents. All the apartments will also incorporate full-height glass windows and balcony spaces.
Matt Yeoman, Director of Buckley Gray Yeoman, said: "We're delighted that the project is progressing. After a long period of consultation with the public and a proactive working relationship with the planning teams from both the council and development corporation, we are confident that our design will negotiate a challenging site and have uplifting effect on the surrounding urban fabric."
The building's design consists of three unified parts – the plinth, the torso and the head. At ground level, the plinth is set back from the main pathway and the area created is partially lined in timber to create a covered and clearly marked entrance. The torso of the building uses brickwork throughout, with green buck-painted coloured ribbons and panels introduced on the north and east, animating and unifying the facade. The uppermost storey – the head – is recessed, giving scale and clarity to the top of the building.
6 Feb 2012
Buckley Building, Clerkenwell, London, England
Buckley Gray Yeoman



picture from architects
Buckley Building
Work has begun on Buckley Gray Yeoman's £15 million refurbishment and extension of an outdated office building in the heart Clerkenwell, London. Derwent London, the developer of the building, has renamed the project 'The Buckley Building' in memory of the late Richard Buckley, one of the founding partners of Buckley Gray Yeoman.
Matt Yeoman from Buckley Gray Yeoman said: "To have Derwent London name their new building in Richard's memory is a fantastic gesture. Richard's family is delighted, as am I and everyone at the practice".
14 Nov 2011
Forest Gate Town Centre, southeast England
2011-
PLANS FOR FOREST GATE TOWN CENTRE GO ON SHOW
The latest plans for the regeneration of Forest Gate Town Centre will go on show at a public exhibition next Wednesday (16th November) in advance of a planning application for the scheme being submitted before the end of the year.
Masterplanned by Buckley Gray Yeoman (BGY) for Obsidian, the scheme proposes a new 'Community Street', approximately 785 homes and shops, restaurants and cafes along with public space and play areas. The strategic objective is to ensure the area can take full advantage of the arrival of Crossrail in 2017.
An important aspect of the brief is to preserve the best of the existing fabric and create a variety of new buildings that will restore the Victorian 'urban village' feel of the area. BGY's response centres on the retention of a grid pattern similar to the existing Victorian streets, the retention of a local High Street and the provision of both public and private green space.
Buckley Gray Yeoman is also the architect for two new buildings in the first phase of development, a nine-storey residential building of 150 homes and a five-storey block with retail at ground level and 32 apartments above. Both buildings sit within the Woodgrange Conservation Area.
BGY Director Matt Yeoman commented: "Forest Gate is an incredibly strong community and our objective is to provide the people that live there with modern and extended facilities. Throughout the design process the team has been extremely keen to engage with local stakeholders. From independent retailers like Barry the butcher (a local institution) to the nearby school, we have welcomed the views of all. Two formal public consultation exhibitions have been held along with fortnightly design workshops and the conversations we have had with local people have had a real influence on the design proposals.
"What has been really encouraging is that people clearly care about their local area, are proud of it and can see that through the consultation process they can make a genuine contribution to its regeneration".
Obsidian hopes to start work on site in the first half of 2012 and to deliver the bulk of the regeneration plans over the following five years.
Roedean School Development, East Sussex, southeast England
2011-



image from architects
Roedean School Development
Buckley Gray Yeoman (BGY) has been appointed to refurbish four boarding houses at Roedean School, one of the UK's leading independent girls' schools. The project will transform Roedean's accommodation, ensuring the quality of the interior spaces reflects the school's reputation for excellence.
Buckley Gray Yeoman – Key Projects
Featured Building by Buckley Gray Yeoman Architects:
Broadway Hotel – proposal, The Broadway, Stratford, east London, UK
2007-
Nandos Restaurant, Manchester, England
2010



image from architects
Nandos Manchester
Buckley Gray Yeoman's re-design of Nando's shortlisted for Restaurant & Bar Design Awards 2010
The re-branded branch of Nandos Manchester designed by Architectural practice Buckley Gray Yeoman opened to the public in December 2009. Four months on, the restaurant has been shortlisted in the 'multiple restaurants' category for the Restaurant & Bar Design Awards 2010.
More projects by Buckley Gray Yeoman online soon
Location: 56 Shoreditch High Street, London, E1 6JJ, UK
Buckley Gray Yeoman London – Practice Information
Architect studio based in London E1, England
Buckley Gray Yeoman Architects : London Architecture Office
Buckley Gray Yeoman
Formed in 1997, Buckley Gray Yeoman is an award-winning architecture and design practice based in Shoreditch, London. Directed by Paul White and Matt Yeoman, the firm provides pragmatic and deliverable solutions to complex design issues.
With an expanding portfolio of work across a range of sectors including offices, residential, retail, hotels, schools and masterplanning, Buckley Gray Yeoman prides itself on delivering projects on time and within budget, regardless of the size or complexity of the challenge. Completed projects include Fashion Street in Shoreditch; the Fred Perry Headquarters in Covent Garden; Citadines hotels in Holborn, Kensington and Paris; The Residence – part of the 5 star New York Palace Hotel; along with various major private residential homes. Buckley Gray Yeoman is currently working on the new Fred Perry store in Westfield Stratford, a masterplan at St Katharine Docks, and Citadines Taflagar, which is due to open February 2012 in time for the London Olympics.
The growing reputation of Buckley Gray Yeoman for delivering the highest quality of design has been acknowledged by a number of recent awards including: Evening Standard Award, RIBA Housing Project Award, Architects' Journal Award, FX Interior Design Award, Retailers' Retailer of the Year Award and RIBA Award.
Buckley Gray Yeoman Architects : London Architecture Office
Website: Building
Comments / photos for the Buckley Gray Yeoman Architects page welcome
Website: www.buckleygrayyeoman.com