BDP Architects, Building Design Partnership, Architecture Studio, Pictures, Designs, Projects, Offices
BDP Architects – Design Office
Contemporary Architectural Practice, England, UK, Europe: Design Firm News
24 + 14 Apr 2017
BDP News
GSA Stow College Building Conversion, Glasgow, Scotland
The Glasgow School of Art unveils designs for conversion of former Stow College building.
New image online: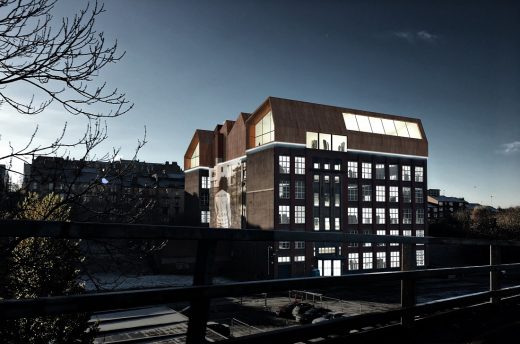 The design, by BDP architects, includes refurbishment of the five floors of the original 1930s building, replacement of the current rooftop extension (added in the 1960s) and glazing over the massive interior light wells to form two atria which will offer flexible spaces: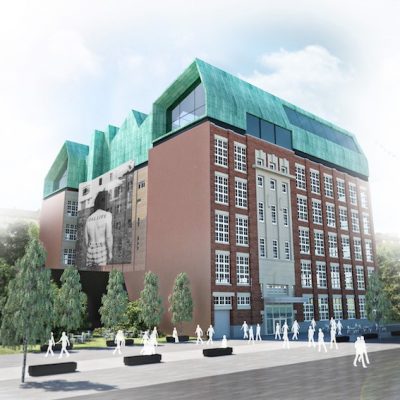 The largest change to the building will be the removal of the current top floor, which was added in the 1960s and is of much lower standard than the original 1930s building.
It will be replaced with a new extension specifically designed to meet the needs of the Painting and Printmaking disciplines with top-lit north-facing windows ensuring a substantial provision of wall space. The partial double height space allows for the inclusion of a mezzanine floor.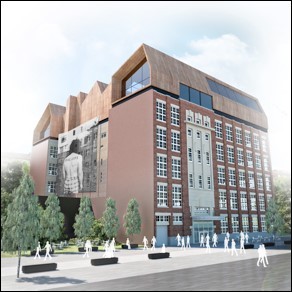 3 Apr 2017
Queen Street Station Renewal News, Glasgow, Scotland
Network Rail have been granted permission to proceed with a major facelift of Queen Street Station to accommodate projected growth in passenger numbers.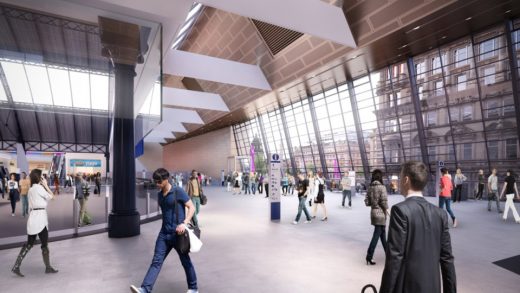 The scheme by BDP will entail demolition of the present concourse and its replacement by a new expanded platform area extending out to George Square via a 500m glass facade, creating the necessary space for a new fleet of longer Class 385 carriages.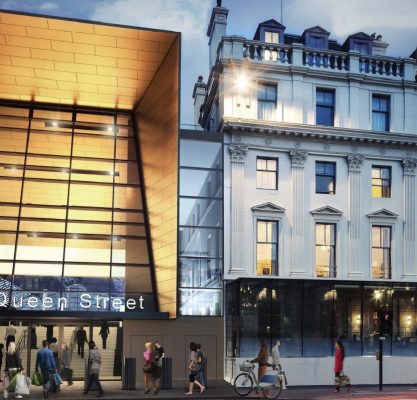 images courtesy of architects / Network Rail
2 Nov 2016
Boxpark Croydon at Ruskin Square, South London, UK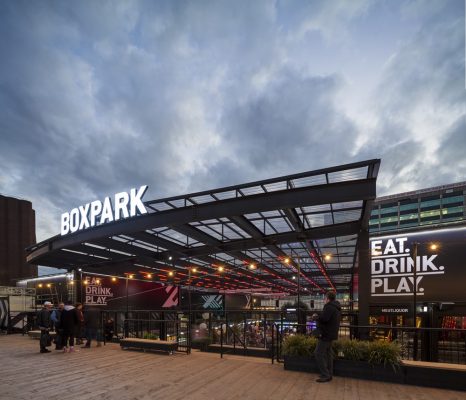 photo : BDP/Nick Caville
Boxpark Croydon at Ruskin Square
The scheme is part of the mixed-use Ruskin Square development next to East Croydon station and creates a unique dining experience focusing on small independent traders, transforming the quality of the leisure offer in Croydon.
13 May 2016
Meadowhall Shopping Centre Building, Sheffield, England, UK


image from developer
British Land, joint owner of Meadowhall in Sheffield, reveals details of the proposed Leisure Hall at Meadowhall, Yorkshire's premier shopping destination, as the company begins a public consultation on the proposals.
Sheffield Meadowhall Shopping Centre Building
22 Apr 2016
Glasgow School of Art Campus Development Plans, Glasgow, Scotland
The Stow College Building which the GSA will refurbish for the School of Art Fine Art. BDP appointed as architects for the conversion: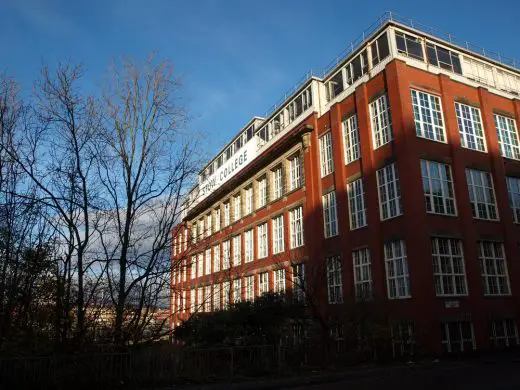 photo Courtesy of Glasgow Kelvin College
The Glasgow School of Art unveils major campus development plans:
· Restored Mackintosh Building returns as heart of expanded Garnethill campus.
· The Mackintosh Building to return to its original academic configuration as home for all first year students
· The GSA to extend campus to include the former Stow College site.
· Stow Building to be refurbished imaginatively, and bring together all pathways in the School of Fine Art in one building for the first time in over 50 years. BDP appointed as project architects
Website: Glasgow School of Art Campus Development
3 Mar 2016
BDP Combines with Nippon Koei
The UK's second largest architectural practice BDP has combined forces with Japanese engineering practice Nippon Koei to form a new group which aims to be the world's leading integrated architecture, design and engineering firm.
The two companies exchanged contracts today on a deal in which Nippon Koei has acquired the entire shareholding of BDP for the sum of £102.2 million.
Nanjing Medical University Building by BDP: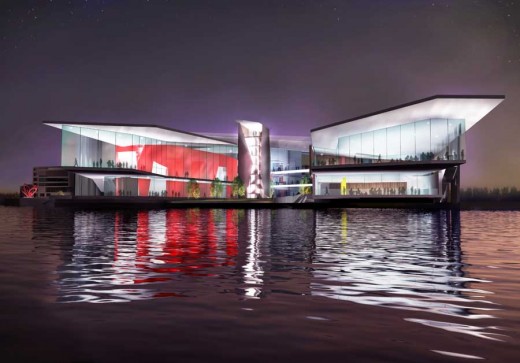 image from architects
While both companies will retain their existing operations and their own brand identity, their complementary geographical footprints and technical skills mean that they will be able to work collaboratively to win and deliver integrated design solutions across international markets.
BDP is a leading UK-based international practice of architects, designers and engineers with six UK studios as well as offices in Ireland, the Netherlands, the Middle East, China and India. The firm employs 950 people and had a turnover of over £81m in 2015.
University of Wales, Newport building by BDP: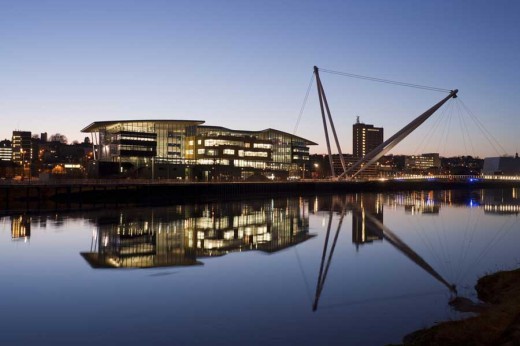 photo © Martine Hamilton Knight
Originally established in 1946 as Japan's first independent engineering consultancy, Nippon Koei's primary strength is in civil engineering although it offers a range of services to both Japanese and international clients. A significant proportion of Nippon Koei's work is associated with infrastructure development funded by the Japanese Government and the World Bank in developing economies across Asia, South America and Africa.
In coming together with BDP, the company would like to expand its current international offer in the rapidly expanding Asian commercial markets. Nippon Koei employs around 3,200 people and had a turnover of £430m in 2015. The company has been listed on the First Section of the Tokyo Stock Exchange since 1954.
The Point, Manchester, building by BDP: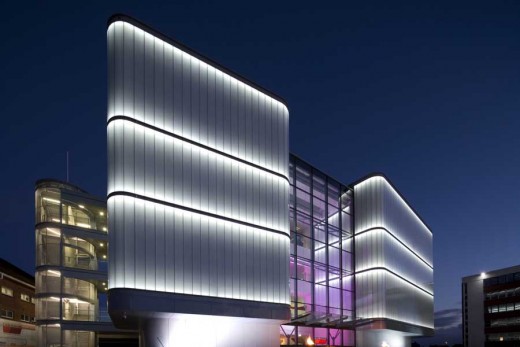 image from architects
John McManus, chief executive of BDP, said: "The alliance with Nippon Koei heralds an exciting new era in BDP's evolution. Although separated geographically, our two firms share common values and have highly complementary strengths in terms of professional offer and sector expertise.
"By uniting the two firms, we are creating an organisation which genuinely has the potential to be greater than the sum of its parts. We believe that this strategic international alignment will deliver huge benefits to our clients and will offer exceptional prospects for our people to develop both professionally and personally."
Kuwait Cultural Centre building by BDP: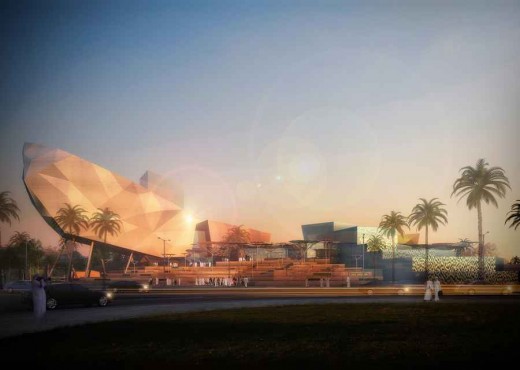 image from architects
Ryuichi Arimoto, president of Nippon Koei, said: "As a leading architecture and design firm in the UK, BDP's participation in the NK group will mark a great turning point in both of our histories. We will join forces on a global basis and provide solutions together to the many urban development problems from both an engineering and an architectural perspective.
"The combination of NK's 70 years of experience in social development and infrastructure together with BDP's 55 years of experience in the education, health and commercial sectors, will create significant opportunity to add value for our clients and, I am confident, will lead the group to become the world's leading integrated architecture, engineering and design company for the next generation. I also believe that the synergies between us will not only advantage our projects but will be of enormous benefit to our staff from a human resources perspective."
BDP Architects – Latest Designs
Architecture News for BDP, chronological:
12 Nov 2013
Suzhou Buildings, eastern China
Design: BDP architects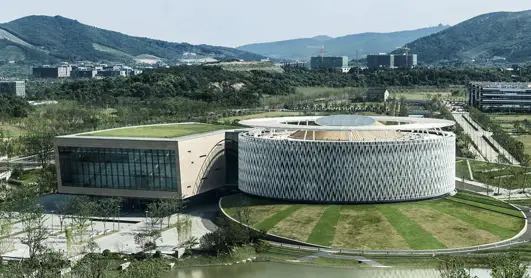 photo © Marco Jacobs
The first raft of BDP designed projects in China is now starting to complete with two civic projects in Suzhou:
– Suzhou Planning and Exhibition Hall building (above) is an 8,000 sqm exhibition facility within the Science and Technology Smart City.
– Suzhou Tourist Centre consists of a banqueting, exhibition, conference space for up to 600 people, a centre for local design products and produce, three restaurants, VIP club and tourism centre.
10 Sep 2013
The new Appleton Academy Bradford, Yorkshire, northern England, UK
Design: BDP Architects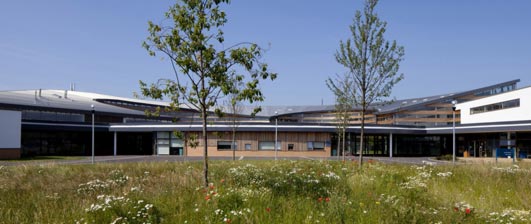 photo © Sanna Fisher-Payne/BDP
This new £22m building is the transformation of two existing schools into one new all through 3-16 academy for 1,300 pupils. The project utilised BIM throughout the entire design process.
13 Aug 2013
London Fire Station Buildings, UK – news
Design: BDP Architects



picture from architects
A consortium led by Kier has reached financial close to design, build and maintain nine ageing fire stations across south-east and east London. The Blue 3 consortium, which employed the services of BDP's architects, will deliver the programme for the London Fire Brigade under the Private Finance Initiative and maintain the stations for 28 years.
30 Apr 2013
Cancer Treatment Centre, Hampshire, England
Design: BDP



image from architect
Cancer Treatment Centre Hampshire
BDP has won the design competition for a new cancer treatment centre for Hampshire Hospitals NHS Foundation Trust. 36 architect-led teams entered the competition process from which six were shortlisted including Hopkins, Stantec Anshen & Allen, John Cooper, HLM and Steffian Bradley.
4 Apr 2013
Aberdeen Music Hall Building, Scotland, UK – Renewal
Architects: BDP



photograph from architects
Aberdeen Music Hall Building
BDP was chosen from a shortlist of five architectural practices by Aberdeen Performing Arts (APA) to develop design proposals for this Category A-listed building. The project will make this much loved concert hall more flexible, accessible, attractive and sustainable, providing greater audience comfort and improved facilities for performers. The revitalised Music Hall will play an important role in Aberdeen's vision to be a vibrant, creative and ambitious city with a strong cultural identity, a centre of artistic excellence and a cultural tourism destination.
4 Mar 2013
Cardiff and Vale College, Wales, UK



image from architects
Cardiff and Vale College
BDP has won the competition to design the 16,000 sqm Cardiff City Centre Community Campus for Cardiff and Vale College. The college is one of the largest in Wales serving Cardiff and the Vale of Glamorgan and this project brings together many of its activities onto a single campus in the heart of the city.
14 Dec 2012
Ebbw Vale Learning Zone, south Wales
Design: BDP



photo © Sanna Fisher-Payne
Ebbw Vale Learning Zone
This building provides post-16 vocational and academic learning. The building lies at the heart of the regeneration of the former steelworks site, the largest regeneration project in Wales, and occupies a key location close to the existing town centre.
12 Dec 2012
Shanxi Broadcast & TV Centre, China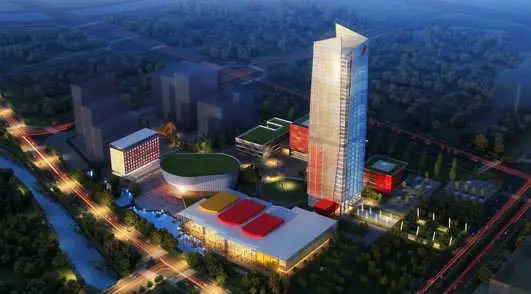 building image from BDP
BDP : Shanxi Broadcast & TV Centre
BDP has been commissioned by the Shanxi Broadcast & TV Channel to design its new Broadcast & TV Centre. This highly significant, provincial level, public sector project is located in Taiyuan, the capital city of Shanxi Province in north China. The development will form one of the focal points of the emerging Jinyang Lake Commercial District, and will play a critical part in the urban expansion of south Taiyuan.
8 Nov 2012
Jumeirah College, Dubai, UAE



image from architect
BDP : Jumeirah College
The architects have been commissioned for the relocation of a prestigious primary and secondary school in Jumeirah. The building relocation will provide additional facilities for 2,300 students. The new building has already started on site and will be a showcase school for the charitable organisation GEMS Education.
25 Aug 2012
Victoria Hospital Kirkcaldy, Fife, east Scotland



photo © David Barbour
Victoria Hospital Kirkcaldy
The new wing at Victoria Hospital in Kirkcaldy, Fife is now open. The 500 bed extension to the existing hospital was delivered by Balfour Beatty for NHS Fife through a Public Private Partnership. The facility contains eleven operating theatres and a new A+E department as well as offering a range of other services including maternity, paediatric, renal and critical care.
BDP Practice Information



image : BDP
BDP : practice information + older projects
BDP Architecture – recent news, from 2011-2012
BDP Past Projects Information



photo © Martine Hamilton Knight
BDP : Older Projects
BDP – Recent Designs
Hongqiao Central Business District, Shanghai, China



picture from BDP Architects
Hongqiao Central Business District – 14 May 2012
BDP has won an international competition to design a new business district in a key strategic transportation location in Shanghai. The Hongqiao business district, for client Golden Kingdom, will comprise 350,000 sq m of office, retail and landscape within close proximity to Shanghai's main railway station and its main domestic airport.
Pavilions Arena Plymouth, Devon, UK



picture from BDP Architects
BDP : Pavilions Arena Plymouth – 3 May 2012
BDP design proposals for the £83m Pavilions Arena redevelopment have been approved by Plymouth City Council, paving the way for a planning application to be made by Akkeron Leisure, the appointed preferred developer.
The scheme by BDP for the Pavilions site provides an extended and refurbished arena and also re-structures the site to provide a gateway from the city centre into the Millbay and Stonehouse areas of Plymouth via a new boulevard running to the north of the site.
Kuwait Cultural Centre



picture from BDP Architects
BDP : Kuwait Cultural Centre – 12 Mar 2012
BDP has been appointed by the Public Authority of Housing Welfare (PAHW) to design a Cultural Centre within the arid sands of the Kuwaiti desert. The new centre will lie at the heart of Sabah Al Ahmad, a major new city, and will provide state-of-the-art facilities and an inspirational home for a wide range of cultural activities.
Royal Sussex County Hospital, Brighton, south east England



picture from architects
Royal Sussex County Hospital – 31 Jan 2012
Brighton and Hove City Council has announced that it is minded to grant planning permission for the redevelopment of the Royal Sussex County Hospital site. This has been the largest and most complex application that BDP's planning team, headed by Tessa O'Neill, has undertaken.
Stevenage Town Centre, Hertfordshire, England



image from BDP
Stevenage Town Centre – 26 Jan 2012
This £250m scheme aims to re-establish Stevenage Town Centre as a major retail, business and leisure destination. Proposals include new shops and restaurants, offices, a public transport interchange, a magistrates' court, a hotel, and up to 120 new homes. Significant improvements will also be made to the town centre's public realm and parking provision.
Unite Stratford, east London, UK



image from BDP architects
Stratford Student Housing – 15 Dec 2011
BDP's student housing scheme for Unite in Stratford, London has been given the go ahead by the Olympic Delivery Authority. The project will be BDP's tallest building at 28 storeys and it will be the first building to be completed on the Olympic Park post games in 2014.
Merrion Centre, Leeds, England



image from BDP architects
Merrion Centre – 7 Dec 2011
BDP has been appointed to undertake a multi-million pound refurbishment at the Merrion Shopping Centre. The scheme known as 'New Front' has been given the go ahead by Leeds City Council.
İzmir Masterplan, Turkey



image from architects
İzmir Masterplan – 29 nov 2011
BDP has revealed details for a major new project on the outskirts of Izmir, Turkey's third largest city, for Turkish developer Megapol. BDP has produced the masterplan and concept design for the Vaha Project which creates a new shopping and leisure destination for the region.
Essex Business School, Colchester, University of Essex, England



image from BDP, architects
Essex Business School – 24 Nov 2011
BDP's interdisciplinary team has been selected to design the £14m Essex Business School at the University of Essex's Colchester Campus. The new building will be zero-carbon as part of the school's ethos to lead the development of sustainable business strategies. Therefore, as a simple response to the sloping site, the school has been designed to be visibly sustainable at every level, from its orientation on site, choice of structure and materials, landscaping and passive engineering strategies.
Hua'An County City Masterplan, China



building image from BDP
Hua'An County City Masterplan – 14 Jul 2011
BDP has been awarded the prestigious Hua'An County City Masterplan covering an area of 15 square kilometres. Hua'An County is a World Heritage Site and National Forest area of outstanding natural beauty in Southern Fujian Province.
BDP opens in Abu Dhabi
BDP merges with local architects practice SYNA to expand into the Middle East. 10 Mar 2010
BDP Abu Dhabi
Nanjing Eco-housing, China



image from BDP
Nanjing Eco-housing
Robert Gordon University, Aberdeen, Scotland



image from architect
Robert Gordon University Garthdee Campus
The Point, Old Trafford Cricket Ground, Manchester, England



photo : BDP © David Barbour
Old Trafford Cricket Ground
University of Wales, Newport – City Campus, Newport, Wales



photo © Martine Hamilton Knight
Newport City Campus
Technology and Innovation Centre, Scotland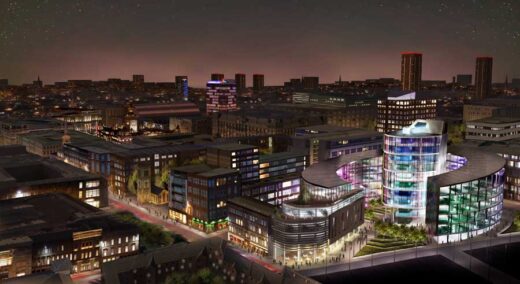 picture from Strathclyde University
Technology and Innovation Centre, Glasgow
Nanjing Medical University Buildings, China



image : BDP architects
Nanjing Medical University
More Design: BDP Architects online soon
Location: Manchester / London, UK
Building Design Partnership : main page arranged chronologically
London Architecture : news + key projects
Buildings / photos for the BDP – Building Design Partnership page welcome
Website: www.bdp.com