BDP Architects offices, Building Design Partnership news, Studio designs, UK architectural practice
BDP Architecture Office
International Architects Practice – Buildings + Designs: Office News Updates
5 September 2023
BDP Appoints New Mena Studio Lead
5th September 2023 – Multidisciplinary architecture and design practice, BDP has appointed a new studio lead in Abu Dhabi to capitalise on its recent success and to deliver on its growth strategy for the United Arab Emirates and the wider MENA region.
Craig Howard, who previously worked as an associate architect for BDP from 2012-2018, has rejoined to lead the practice following the retirement of Gary Dicken who opened BDP's MENA operation in 2010.
Craig Howard, BDP:


photo courtesy of architects practice
Under Craig's leadership, the 20-strong, multidisciplinary team of architects, planners and interior designers will continue to build on the legacy of BDP's work in the region, which includes several regional schools, the refurbishment of Qasr al Hosn in Abu Dhabi, the interior design of Heriot Watt University in Dubai and the full architectural design for the Abu Dhabi Cruise Terminal at Port Zayed, Abu Dhabi.
Craig has more than 25 years' experience delivering a range of projects in New Zealand, Australia, the UK and across the MENA region, where he has worked for the last 12 years. Prior to rejoining BDP, Craig worked for GHD where he was a principal and design director. He acted as project director on the new 4,500 student Yasmina British Academy and the new Early Learning Campus Cranleigh School, both for Aldar Properties in Abu Dhabi. He delivered projects such as zero energy/zero carbon workplace facilities for Masdar City and the INSEAD business school Abu Dhabi Campus over his five years with the organisation.
Of his appointment, Craig said: "I am excited to add to the BDP story in Abu Dhabi and to continue expanding on the evolution of architecture and design in the UAE. As we embark on a new era dedicated to the social, collaborative, and interactive impact of the built environment, BDP is well placed to deliver its unique brand of beautifully simple, socially progressive design.
"My cross-sector experience means I have built a passion for the design and delivery of high-quality spaces, that focus on positive social & environmental outcomes. At BDP, we have a chance to influence how places impact people and communities and build a better, more prosperous region that influences how we design buildings, for all."
Craig's experience will bring new focus to BDP's work on educational institutions in the region and will enable it to extend its experience in the cultural and heritage sector; bringing sustainable building innovations to market that support greener construction, operation, and maintenance.
Craig finishes: "I would like to take this opportunity to thank Gary Dicken for his leadership and wish him a very happy retirement. He had a significant influence on the design community in the UAE. Many of the most cohesive, progressive masterplans and projects have Gary's DNA on them and I look forward to continuing the legacy he has left."
Previously on e-architect:
6 December 2022
Renowned Urbanist David Rudlin Joins BDP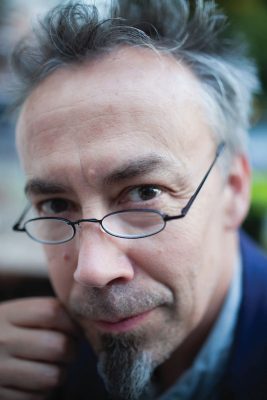 photo courtesy of architects practice
BDP News
David Rudlin, the former director of URBED (Urbanism, Environment and Design) has joined BDP as Urban Design Director.
David joins BDP's Manchester studio team and will lead a team of the UK's top urbanists delivering global projects. The team will include a number of URBED's urban designers including Kat Wong and Helen Berg who will be transferring to BDP with him. He will work with regions, cities and towns, planning and designing dynamic, functional places for people and communities from vision and masterplanning to design and delivery.
David is the former chair of the Academy of Urbanism and his previous practice, URBED was also the winner of the Wolfson Economics Prize in 2014.
Speaking of his appointment, David said: "BDP has a global reputation for designing urban environments in some of the world's most complex cities, socially, economically and physically. I'm so pleased to be joining an organisation that is built with the same values that we held at URBED; it is a future-thinking practice that works closely with communities, developers and stakeholders to shape progressive, successful and beautiful places. I'm excited to join the team."
David's appointment at BDP follows the announcement of the closure of URBED, which ends a 46-year run at the top of the urbanism profession. Founded in 1976, URBED was one of the organisations that pioneered the process of urban regeneration in the 1970s and 80s. The employee-owned cooperative made its name working on ground-breaking projects that reused the UK's industrial heritage, managed workspaces and town centres, and delivered sustainable urbanism, domestic retrofit, urban design and coding.
At URBED, David, alongside his colleagues, authored the National Model Design Code (NMDC) and played a leading role in the government's Social Housing Decarbonisation Fund.
Francis Glare, Principal and Head of Urbanism at BDP, said: "David's knowledge of city dynamics, social, economic, political and environmental drivers and urban design aesthetics make him a perfect fit for BDP. His appointment is a real statement of intent for our urbanism profession and we are thrilled to be welcoming someone of his calibre. We look forward to developing and applying the sustainable and inclusive urban design principles that he helped to establish at URBED to the global opportunities of our expanding practice."
David is the author of a number of research reports that inform the future of our cities, including 21st Century Homes for the Joseph Rowntree Foundation and Tomorrow: A peaceful path to urban reform for Friends of the Earth. He is also the lead author of 'Urbanism' published in 2016 and in 2019 RIBA Publishing produced his book with Shruti Hemani entitled Climax City.
He also writes a monthly column for BD Magazine and holds the position of chair of the Sheffield and Nottingham Design Panels.
Previously on e-architect:
12 November 2022
BDP Creative, Multidisciplinary Structure Delivers More Success
• BDP's annual financial report shows a turnover of £136.6million in the year to 30 June
• The multidisciplinary design consultancy posted an operating profit of £13.2 million
• New studios opened in New York, Edinburgh and Lima
• Chief Executive, Nick Fairham, attributes continued success to the practice's ability to adapt and problem solve.
AstraZeneca global headquarters in Cambridge, England, UK: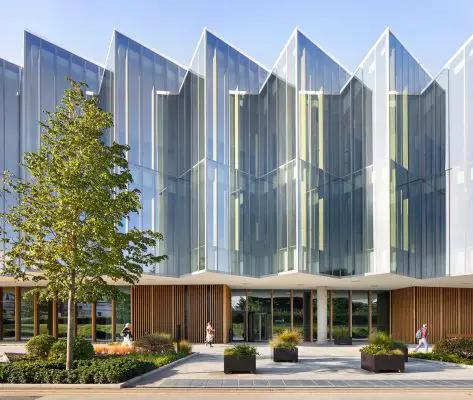 photo © Hufton + Crow
BDP Results
November 2022 – BDP has published its results for the financial year ended 30 June 2022. The practice achieved revenues of £136.6m and an operating profit of £13.2m.
The multidisciplinary practice won a number of prestigious projects in the financial year and expanded into new locations by establishing new presences in New York, Lima and Edinburgh to create a network of integrated, collaborative studios with global reach. The organisation's employee numbers have also returned to pre-pandemic levels as it welcomed talented people back to its workplaces across the globe.
BDP Chief Executive, Nick Fairham: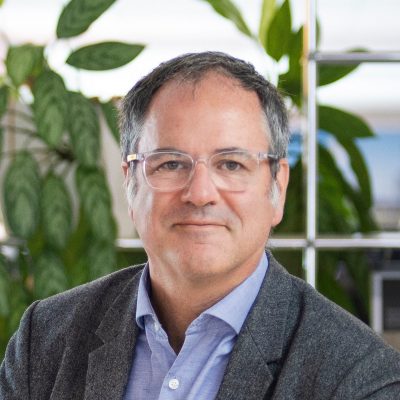 Chief Executive, Nick Fairham, said: "A unique ability to adapt and solve problems for our clients has resulted in an outstanding 2022 for BDP. Following the hiatus of the last two years we have seen an explosion of creativity with a renewed emphasis on careful, not careless design. We are creating a new generation of projects; adapting existing structures for new uses and using digital design and manufacture to support efficiency and wellbeing as we bring new buildings and places to our cities."
For 2023 and beyond, BDP plans to continue building on its market-leading approach in multiple locations by exporting its sector-specific expertise to its international studios to win new projects and grow across all disciplines. This is supported by BDP's new strategic plan 'Investing in Ideas', which promotes knowledge sharing across all its global studios, connecting sector experts and multiple professional disciplines to foster creativity and innovation.
Edinburgh St James building: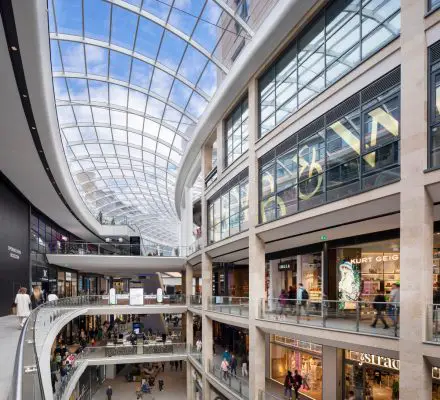 image courtesy of architects practice
Fairham continues: "Our award-winning projects range from the masterplanning of entire cities to the design of interiors and building components. The success of our approach is one based around our understanding of the needs of people and using careful analysis of data to enhance the environments in which our projects are located.
"Last year we celebrated 60 years as a design practice. Our socially progressive roots remain as relevant today as they did in 1961. The global conversation around how cities operate is continuing and we want to extend the debate to create a better quality of life for all; for a city to be truly successful, it must deliver socially as well as environmentally and economically."
MECD building for The University of Manchester: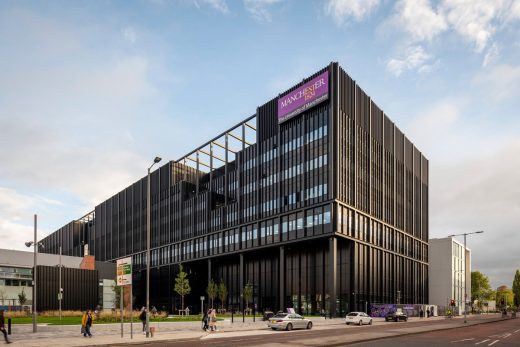 BDP is still regarded as a pioneer in multidisciplinary working and sustainable design; an approach which it carries through to each project. The company will move to a model of environmental, social and governance reporting from next year to demonstrate the value that multidisciplinary design can bring to its clients and communities.
Now with 19 city studio locations, BDP will continue to bring local intelligence to new opportunities across the globe that support the values and ambitions of the practice.
Manchester Metropolitan University Institute of Sport – MMUIOS: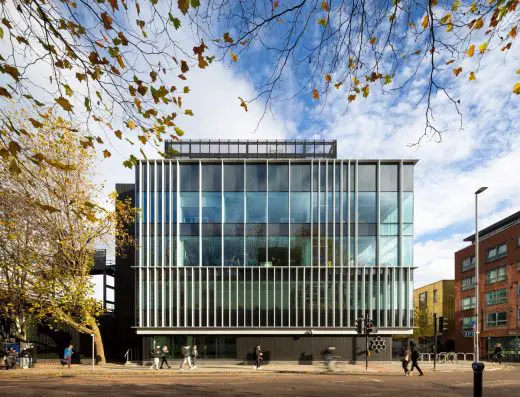 Background
BDP continues to work on high-profile and ground breaking projects, hitting key milestones such as topping out of the new Google HQ in Kings Cross, the official opening of AstraZeneca's new global headquarters in Cambridge and the completion of the transformational MECD building for The University of Manchester.
A new transport interchange for Crossrail at Whitechapel opened to connect the overground to the Elizabeth Line, energising the neighbourhood and linking the whole city. Works began on site for Everton FC's new stadium at Bramley Moore Docks in Liverpool which will elevate the waterfront area and the new net zero operational carbon Wren Hotel in Dublin was completed, receiving multiple awards for its sustainable design approach.
In Toronto, BDP Quadrangle was awarded the Governor General's Medal in Architecture for the 60_80 Atlantic, the first mass timber framed building in Toronto for 100 years.
Collaborative teams in Manchester and New Delhi continue to work with Nippon Koei using a digitally engineered approach to design the new lines for the metro in Dhaka and Rotterdam has built an impressive portfolio of education projects through a networked sector leadership.
BDP's Shanghai studio portfolio of work has seen growth in cultural, science, technology and research and urban design opportunities and it continues to work on the major repurposing of Yangshupu Power Station in Shanghai.
BDP Projects Information
BDP : main page with current news
BDP Architects : recent information on Building Design Partnership
Older Projects by BDP – Building Design Partnership
Recent BDP News
30 Nov 2021
BDP Posts Record Profits In Anniversary Year
BDP's annual financial report shows turnover of £124million in the year to 30 June 2021
Profits at the global, interdisciplinary design consultancy are up 2% to £13.6million
Chief Executive, Nick Fairham praises exceptional levels of resilience, collaboration and partnership in the practice's 60th
BDP has posted its highest ever profits for the financial year ended 30 June 2021. The practice achieved an operating profit of £13.6million – an increase of 2% on the previous year.
The record results come in the year that BDP celebrated its 60th anniversary, announced a new chief executive and completed the acquisition of sports stadia architecture specialist, Pattern Design Limited.
Nick Fairham BDP chief executive: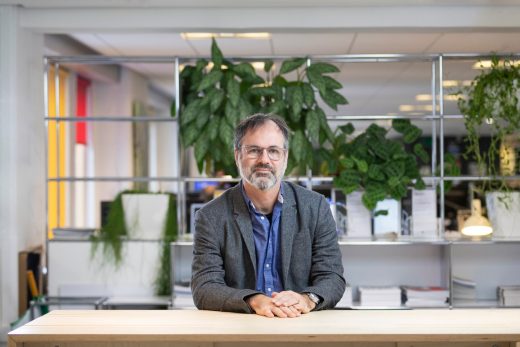 photo courtesy of architecture practice
New chief executive, Nick Fairham, said: "For 60 years, BDP has operated as a people-focused practice with social purpose. It drives our business planning, design thinking and culture. Now more than ever, this is crucial to our business.
Manchester Engineering Campus Development – MECD: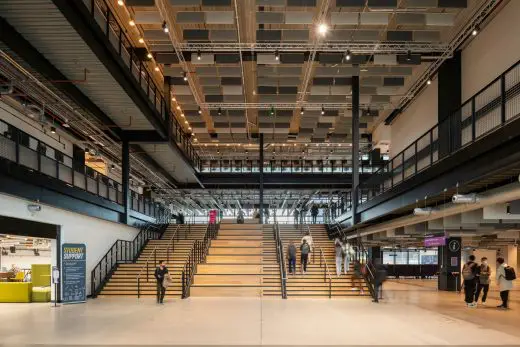 photograph : Greg Holmes
"The pandemic has transformed the way we work. In the last year, our teams have shown innovation, resilience and resolve to maintain our existing portfolio of projects, identify new opportunities and win exciting new work, in challenging circumstances. We continue to embrace the exceptional design quality, collaboration and agility upon which the practice was founded. Investment in technology and enhancement of our creative and sustainable design approach offers a practical and cost-effective way of accommodating change, but also one which supports the future of our planet and our business."
Glasgow Queen Street building design by BDP: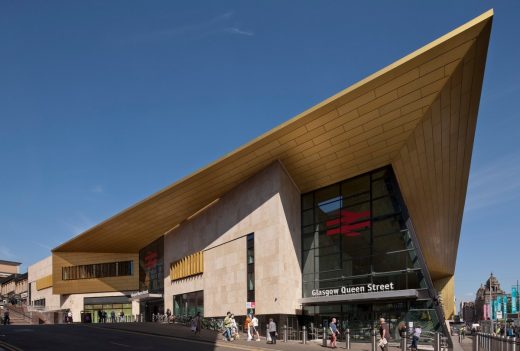 "Our interdisciplinary structure gives us unique insight to challenge the carbon impact of the built environment and sees us at the forefront of some of the UK's most sustainable projects.
We have taken on the challenge of retrofit and shown deliverable strategies from city scale to building components in the circular economy. Social value has been at the centre of our company culture since 1961.  It is no coincidence that the five BDP projects shortlisted in this year's RIBA regional awards each has such a strong, valuable impact on their communities."
Francis Holland School Creative Learning Centre, central London, England: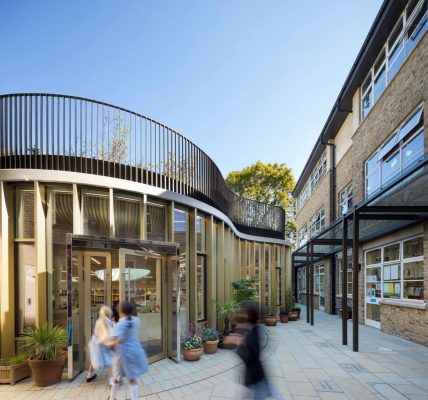 Strengthened by Nippon Koei's global presence, BDP's established international studio network underpins a long-term plan to further extend its interdisciplinary services beyond the UK market. This strategy began with the acquisition of global sports stadia experts, Pattern Design Limited in July 2021 – including its city studio in Lima. By offering interdisciplinary services and support from international hubs, BDP Pattern aims to win and deliver more large-scale sports projects across the globe.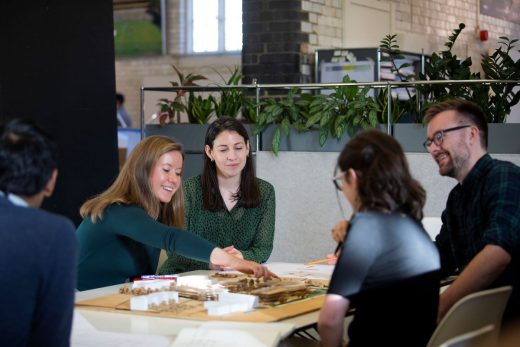 Nick Fairham continues: "Our global strategy is enhancing the diversity and innovation in our practice. In the last financial year, almost a third of our revenue came from projects won outside our core UK market and our significant presence in North America and Southeast Asia regions offers large markets and growing economies for future projects.
Manchester Engineering Campus Development: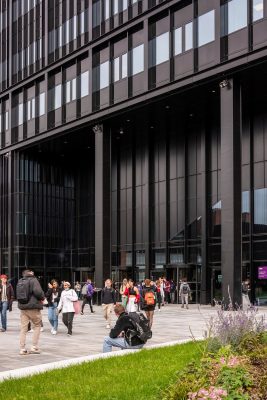 photo : Greg Holmes
"We recognise that the needs of cities across the globe are changing as climate change and new technologies drive cultural and business needs. Our integrated studio strategy means we can share, plan and adapt, whilst encouraging the reuse and refurbishment of existing assets and development of sustainable building strategies at every opportunity. The excellence of our people and the connectivity we have seen emerge through the pandemic will help us to continue our growth and offer the best of BDP to our global clients for the next 60 years and beyond."
7 Oct 2021
BDP returns to Edinburgh with Pattern acquisition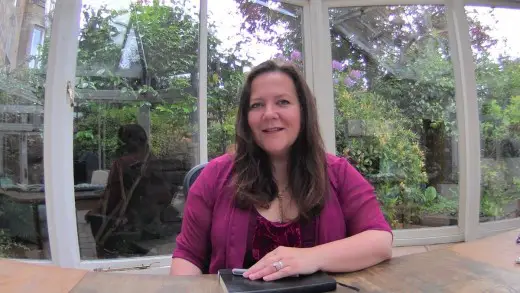 photo courtesy of architects office
BDP returns to Edinburgh with Pattern acquisition
BDP's recent acquisition of the specialist sports and stadia architecture firm, Pattern Design – the practice delivering Everton FC's new £500 million waterfront stadium – results in BDP's return to Edinburgh. Previously, BDP held an Edinburgh office from 2008 to 2011. The new Edinburgh studio expands BDP's presence in Scotland and coincides with BDP's successful completion of the £1bn St James Quarter development.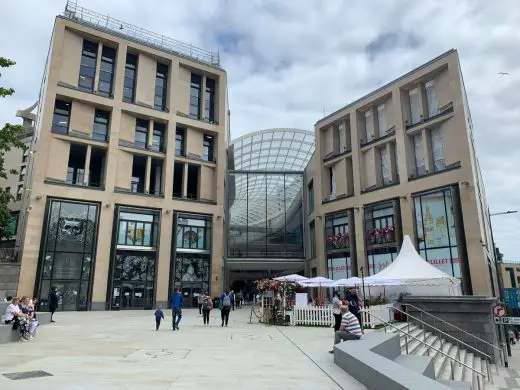 photo © Isabelle Lomholt
2012
BDP is again top in Western Europe
BDP has again come top – by fee income – of the Western Europe chart of the WA100 2012 survey of the world's largest architecture practices, a position the practice has held for over 10 consecutive years.
The UK is still the firm's largest market but China and India are growing substantially and for the practice, many of its key projects are to be found in Asia, including: the masterplanning of a sustainable city of 160,000 people in Hua'an China; two masterplans in Kerala, India; one for the Indian Institute of Technology in Mandi; and one in Suzhou, China.
Peter Drummond, BDP's Chief Executive said "These are the most extraordinary times that we have experienced at any time in our 50 year history. There is an enormous contrast in dealing with economic uncertainty and lower investment in social infrastructure in the west with massive investment in markets such as India and China. But we believe that our distinctive humanistic approach to architecture and placemaking creates a strong position for BDP in both circumstances."
15 Oct 2011
BDP's Shanghai studio moves to larger premises
As part of a long-term strategy for continuing to work in China and accommodate a larger design team BDP has moved into larger premises, still in Shanghai.
Nanjing Eco-housing, China: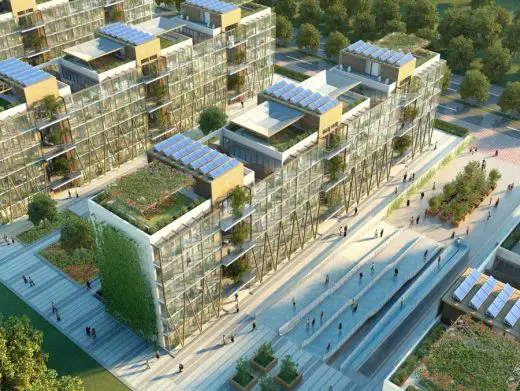 image from BDP Architects
BDP has been involved in China since 2007 and opened a studio at the end of 2010 to support this work and win further projects across the sectors.
Since then, the practice has successfully won a number of major developments ranging from urban regeneration masterplans through higher education, cultural and leisure facilities to retail and housing right across China including Beijing, Foshan, Hangzhou, Lanzhou, Nanjing, Shanghai and Suzhou.
The head of BDP's Shanghai Studio, Stephen Gillham, said "To support BDP's vision for China, our expanding portfolio and our growing design team, we are moving from premises which we had already outgrown to a brand new building nearby in Shanghai's Luwan District from where we will be able to provide even stronger solutions for our clients."
BDP's new address:
17 Urban City Centre, 45 Nanchang Road, Luwan District, Shanghai, 200020, China
Tel +86 (0)21-61962500 Fax +86 (0)21-61962501
11 Jul 2011
BDP – Appointment
Architect Scott Mackenzie has been appointed to BDP's board of directors. Scott has significant experience in the education sector and his appointment will strengthen the leadership in the Glasgow studio. He is currently working on new build facilities for both Inverness and Kilmarnock Colleges and the University of Strathclyde's Technology Innovation Centre. He is also project director for the Robert Gordon University Garthdee Campus, which involves the consolidation of the University's estate at a stunning campus on the banks of the River Dee. Scott joined BDP in 1999 and has been a director since 2006.
Placebook
As BDP is 50 this year they have created a blog to celebrate all the lovely projects created over the last 50 years. BDP are asking people to nominate their favourite BDP project on their Placebook blog. The blog encourages people to discuss, vote on, and nominate their favourite BDP buildings and projects.
Placebook started out as a simple idea to introduce current BDP designers to the history and diversity of work over the first 50 years. Such was the reaction to the idea, BDP have opened it up to former colleagues, friends, clients, contractors, journalists or anyone who may ever have enjoyed spending time in one of their buildings.
6 May 2011
BDP Cyclists set off in Aid of UK Charities
At 9.20am this morning more than 30 cyclists set out from BDP's London studio in Clerkenwell aiming for the studio in the Netherlands via Harwich on the first leg of the relay cycle ride which will involve over 200 riders from BDP on a tour around all of its studios in the UK, Ireland, and the Netherlands.
BDP Cycle for Jo London send off: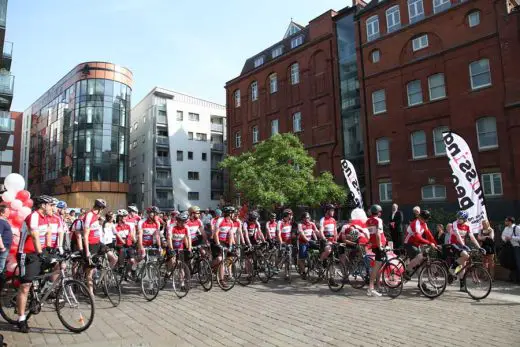 picture : Sanna Fisher-Payne, BDP
They were given a huge send off preceded by short speeches by Martin Houghton-Brown Chief Executive of charity Missing People and BDP Chief Executive Peter Drummond.
BDP – the UK's leading interdisciplinary design practice – launched 'Cycle for Jo' a fundraising challenge in honour of the landscape architect from BDP's Bristol studio, Jo Yeates, who went missing and was tragically found dead on Christmas Day.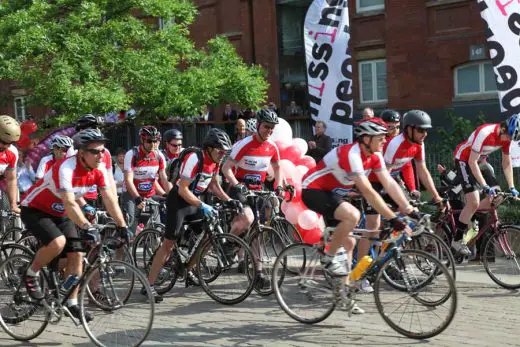 photo : Sanna Fisher-Payne, BDP
The first team left BDP's Clerkenwell studio in London today and the last team will arrive back in London on 25 May. Members from BDP studios in Abu Dhabi and India have also joined by cycling in their local areas.
In his speech BDP's CEO Peter Drummond said, "Cycle for Jo is our way of marking and remembering (Jo's) too short a life with us. And it is so fitting that the idea of a tour de BDP should come from a group of young people in the firm – the decision to dedicate it to Jo and raise money for causes that she believed in and the charity Missing People was a no-brainer."
As part of a series marking BDP's 50th anniversary, "Cycle for Jo" will raise funds for the charities Missing People, the British Red Cross and RSPCA.
11 Feb 2011
BDP wins Kuwait Masterplan
BDP has successfully bid for a transport and planning framework masterplan for the Salmiya district of Kuwait City; the formal signing of the 14 month contract, with a value in excess of £2m, took place in January. Salmiya district is an existing urbanised area on the Gulf Coast of approximately 20 sq km. Growing congestion, pressures for redevelopment and a recognition of the existing poor quality of place have led the Kuwait Municipality to commission this work which will set in place the infrastructure, planning and design guidelines to enable the transformation of the district over the next 15 years.
BDP has been challenged to create a sustainable masterplan for Salmiya district to keep it car-friendly, but also flexible for future growth. This will include more strategic siting of any new public works such as schools, universities and hospitals in relation to residential zones, plans for improved public transport provision, and better all-round pedestrian access to Salmiya's shops and civic amenities.
In addition the BDP-led Salmiya masterplan will work in harmony with the third Kuwait masterplan known as 3KMP. The 3KMP is an umbrella development strategy for the whole of Kuwait which is designed to help cope with the intensive economic and population growth anticipated in the region over the next 20 years.
Francis Glare, BDP's head of urbanism said "We would like to acknowledge the importance of the collaboration with our local consultants OBD and their contribution to the winning of this project. We believe this will be a growing area of work for us, as a new place-making approach starts to be applied to first generation Middle Eastern cities. The BDP approach is particularly relevant to the cities and societies of the Middle East as they move on from North American driven models of city planning dominated by traffic engineering."
3 Feb 2011
Remembering Jo
Statement from Keith Pavey, Head of BDP's Bristol Studio
"It is now over seven weeks since Jo was so tragically taken from us and it is still difficult to come to terms with her untimely and unnecessary death.
We have been overwhelmed by the many messages of condolence and sympathy we have received from our clients and colleagues in the construction industry. We are certain that there will be many lasting tributes to Jo from many directions but for our part at BDP we have concluded that we will progress the following:
• The creation of a small garden of remembrance at our Bristol studio.
• The sponsorship of an annual Landscape Design prize in Jo's memory for students at the University of Gloucestershire School of Landscape and Environment.
• The creation of a Book of Remembrance to include an anthology of Jo's work.
• The dedication to Jo of a cycle ride between BDP offices, planned to take place in late spring as one of several events to mark BDP's 50th anniversary, with the proceeds from sponsorship going to charities of Jo's parents' and Greg's(Reardon, Jo's boyfriend) choice.
We will not forget Jo and we hope the above will collectively become a lasting tribute to her."
11 Oct 2010
BCO Awards
BDP won twice at this year's British Council for Offices Awards in London. The fit-out for PricewaterhouseCoopers at 141 Bothwell Street, Glasgow was national winner of the Fit-out of Workplace Award, and West Lothian Civic Centre, Livingston was winner of the National Innovation Award. Presented by actor and trained designer Ronni Ancona, the awards are considered to be one of the most prestigious events in the corporate real estate calendar attracting over 1,000 key players in the office industry sector.
Of the PwC project the judges said: "This year's national winner of the Fit-out of Workplace Award is a quality fit-out that betrays no signs of opulence or financial exuberance and outstanding value for money.
Fundamental to any successful fit-out is the new environment's ability to contribute to the well-being and productivity of the workforce. It was clear to the judges that BDP's fit-out fully met these criteria. PwCs' fit-out illustrates a keen understanding of its corporate and staff needs and displays its sophistication as a client. The accurate delivery of the client's brief by the professional team has brought the entire project together."
Awarding West Lothian Civic Centre the National Innovation Award, the judges said: "This new home for public sector services in West Lothian accomplishes two significant achievements: providing an impressive and aesthetically pleasing building that betrays none of the traditional dourness or conformity of the customary public sector edifice, and innovatively combining a number of hitherto separate public services in one dynamic modern and efficient building." All entries are considered automatically for the Innovation Award as part of the assessment process with the regional judges nominating entries from their region to be put forward.
BDP Abu Dhabi
BDP Abu Dhabi
RIBA Hat Trick for BDP
BDP collected three prizes in the RIBA Awards. BDP's northern studios featured strongly with wins for the masterplan for the regeneration of Liverpool city centre, known as Liverpool One, for its own studio in Manchester's Ducie Street and also for a new five storey office building in Sheffield – 1 Northbank, the top floor of which is, coincidentally, also the home of BDP's own Sheffield studio. 21 May 2009
New Environment and Sustainability Institute, Cornwall, England
Tremough Campus Building. 13 Aug 2009
Liverpool One Award, UK : BCSC Award
Liverpool One Masterplan. 3 Dec 2009
Stirling Prize Nominee
Civic Trust Awards 2009
The Royal Alexandra Children's Hospital in Brighton and Victoria Square in Belfast both received top awards : BDP Triumphs At Civic Trust Awards
Location: London, England, UK
Building Design Partnership : main page arranged chronologically
Building Design Partnership Projects – No Images
Aintree racecourse – Grandstand, nr Liverpool, England
2007
Archway Masterplan, north London
2007-
Bournemouth Library, Dorset, England
2003
Buchanan Galleries Atrium building – proposal, Glasgow, Scotland
2007-
Buchanan Galleries
Cardonald College, Glasgow, Scotland
Cardonald College
City College, Brighton, East Sussex, England
2007
Fingal County Offices, Swords, County Dublin, Ireland
2002
Bucholz McEvoy with BDP Dublin
£9m
Hale redevelopment, Tottenham Hale, Haringey, northeast London, UK
2007
Mixed -use development: residential; commercial; retail; hotel; student accommodation; primary school; health centre
Leamouth school, east London, UK
2008-
For Ballymore Properties: within six lower floors of tower building
Manchester Piccadilly Station Refurbishment, England
–
The Marlowe Academy, Ramsgate, Kent, England
–
National Maritime College of Ireland, Cork, Ireland
2004
BDP Dublin
Roche Head Office, Welwyn Garden City, Hertfordshire, England
–
Sao Gabriel towers – Vasco da Gama centre, Lisbon, Portugal
–
Swansea masterplan, Wales
Welsh proposal
Überseequartier, Hamburg, Germany
2007-09
110,000 sqm office / retail development
Union Square masterplan, Aberdeen, Scotland
2007-
Shopping centre
University of Wales campus, Newport, Wales
2008-
University of Worcester – New Campus, England
2006-
Waterfront City, Melbourne, Australia
–
More projects by Building Design Partnership online soon
King's Buildings – South Range: Smirke Building, King's College London
1830s
Robert Smirke
Grade I Listed, Strand Campus – restoration: 2006 – Building Design Partnership
Website: www.bdp.com
Instagram: @bdp_com
Twitter: @bdp_com
LinkedIn: @BDP (Building Design Partnership Ltd)
About BDP
BDP is an international, multidisciplinary practice of architects, engineers, designers and urbanists. BDP works closely with users, clients and communities to create special places for living, working, shopping, culture and learning across the world. Founded in 1961, BDP now has studios across North and South America, the UK, Ireland, Netherlands, UAE, India, China and Singapore. BDP has a leading track record in all major sectors including housing, workplace, retail, education, health, transport, sport, leisure, urbanism and heritage, and has won more than 1000 awards for design quality.
In March 2016, BDP combined forces with Japan's leading engineering practice Nippon Koei to form an integrated design group of genuine international reach. Sharing a philosophy that places an emphasis on design integration and community impact, the new group offers a unique combination of deep technical skills in engineering, architecture and the full range of design disciplines.
Website: www.bdp.com
Architectural Designs
Buildings / photos for the BDP Architecture – Building Design Partnership page welcome