AZPML, Alejandro Zaera-Polo Maider Llaguno Architects, Studio, Buildings, Image, Designs, Projects
AZPML Architects
Alejandro Zaera-Polo + Maider Llaguno: London Design Studio, England, UK – Info + News
17 Jun 2016
AZPML: Alejandro Zaera-Polo / Maider Llaguno
Luxembourg Housing Competition, Kichberg, Luxembourg
Design: AZPML with Beckman N'Thépé Architectes
AZPML has won a European architecture competition to design three residential blocks in Luxembourg.
The units are part of a wider development of nine blocks which will be designed by different architects.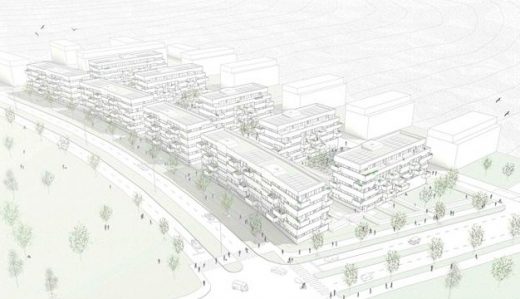 The scheme is in the Kirchberg district (home to La Philharmonie) of the city where its neighbours include European institutions such as the European Court of Justice and the European Investment Bank.
AZPML teamed up with French practice Beckman N'Thépé Architectes on their winning bid.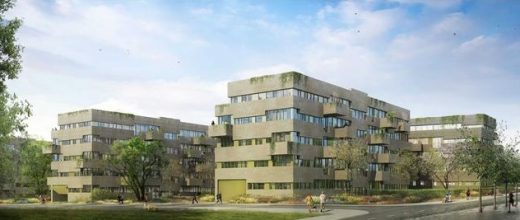 The design studios competed against Steinmezt de Meyer, Amann Canovas Maruri, KSP Jürgen Engel with Dagli Atelier, and Christian Bauer with Manfred Müller.
AZPML claimed the use of grey brick was to ensure the buildings fitted into the local context. Staggered balconies would allow different configurations of flats and ensure every building was subtly different.
Various environmental strategies were used including planted roofs and facades of concrete and mineral wool.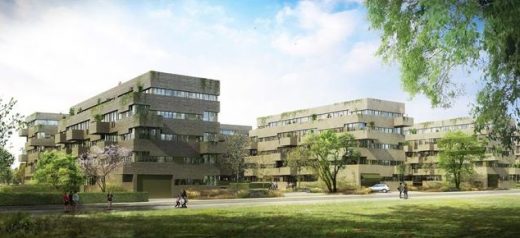 The winning designers for the other blocks were French architecture practices Tank and Petit Didier Prioux and Austrian design studio AllesWirdGut Architektur.
AZPML is the architectural practice founded by Alejandro Zaera-Polo and Maider Llaguno after Foreign Office Architects parted ways.
17 Mar 2015
New office tower Schnirchgasse 11, Vienna, Austria
Design: AZPML-SHARE architects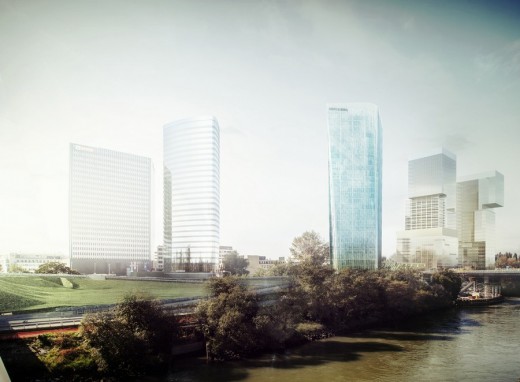 render : SBDA
New office tower Schnirchgasse 11 in Vienna
Our proposal for the new office Tower building in Vienna, Schnirchgasse 11, location Austro Control aims to strike a balance between a distinctive identity for the complex and an efficient operation, both in terms of flexibility of use and environmental performance. We have tried to reach a solution where expression and efficiency are mutually reinforcing.
8 Oct 2015
New Street Station in Birmingham, West Midlands, central England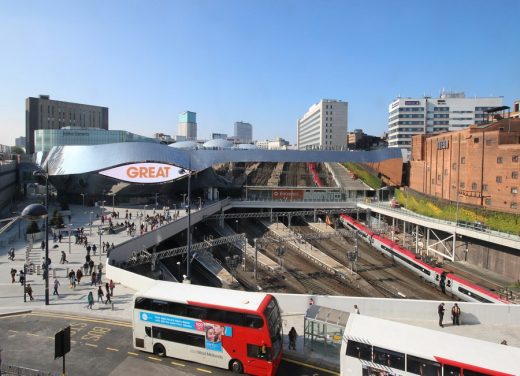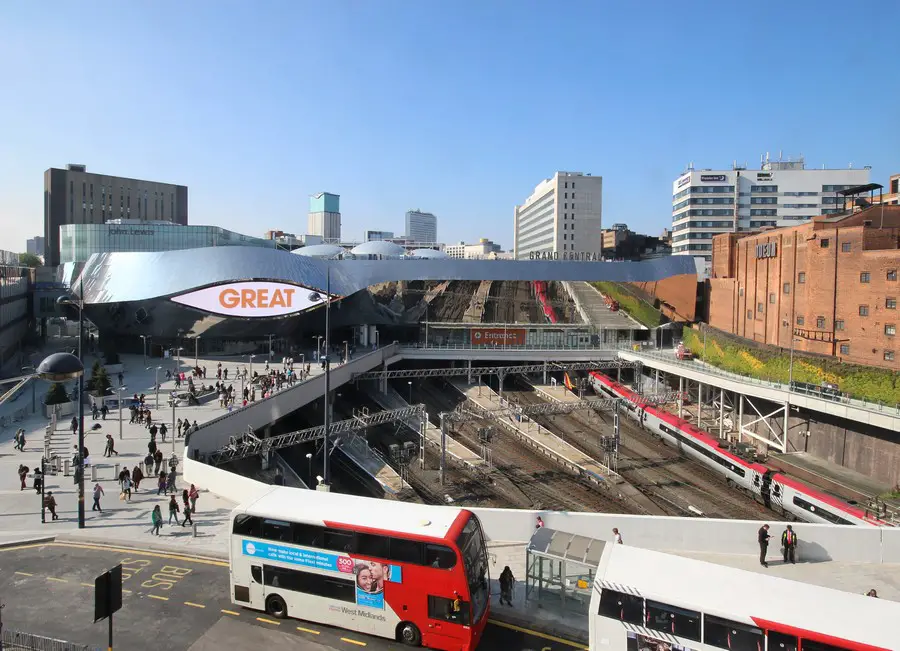 image from architects
New Street Station in Birmingham
Birmingham New Street Station is an important transport hub and a key aspect of the city's public realm. Occupying an important position in the city and handling a large amount of traffic, it provides the first impression of Birmingham to a large influx of visitors to the Midlands.
Her Majesty The Queen reopens redeveloped Birmingham New Street station – 19 Nov 2015
PAD (operative and confident one)



image from architects
Alejandro Zaera Polo Chair
Alejandro Zaera Polo's first venture in the world of the office chair: PAD, a chair which establishes a new paradigm for the relationship between people and furniture.
FOA – Foreign Office Architects – highlights below:
Location:55 Curtain Road, London EC2A 3PT, UK '
AZPML London
AZPML – Alejandro Zaera-Polo & Maider Llaguno Architecture, 55 Curtain Road, London EC2A 3PT, UK
+44(0)207 033 6480; [email protected]
FOA – Foreign Office Architects
Alejandro Zaera Polo
born in Madrid, Spain – 1963
Farshid Moussavi
born in Shiraz, Iran – 1965
A recent building by Farshid Moussavi, completed post F-O-A:
Museum of Contemporary Art Cleveland, Ohio, USA
Design: Farshid Moussavi



photo : Dean Kaufman
Museum of Contemporary Art Cleveland
Foreign Office Architects – Education
Alejandro Zaera Polo
1981-88 ETS of Architecture, Madrid, Spain
1988-90 Harvard Design School, USA – Masters degree in Architecture
Foreign Office Architects – Teaching
1993- Architectural Association, London, UK
University of Princeton, USA
UCLA, USA
Columbia, USA
2002 – Zaera Polo : Dean of the Berlage Institute in Rotterdam, Netherlands
Key Buildings by FOA
Yokohama International Port Terminal, Tokyo, Japan



photograph from Foreign Office Architects via RIAS in 2004
Yokohama Ferry Terminal : architecture competition winner
Auditoria Park, Barcelona, Spain



photo © Adrian Welch
Auditoria Park Spain : Parc dels Auditoris
Ravensbourne College building, London



photograph © Benedict Luxmoore
Ravensbourne College
Trinity EC3 tower, London, UK



image from Beetham
Foreign Office Architecture : for Beetham, revised due to new protected view.
FOA : main page on Foreign Office Architects
Major building by F O A Architects – Yokohama Ferry Terminal, Japan:



Yokohama Ferry Terminal photo from Foreign Office Architects via RIAS in 2004: Saturo Mashima
AZPML: Alejandro Zaera-Polo / Maider Llaguno : London Architects
London Architecture : news + key projects



photo © Adrian Welch
Buildings / photos for the AZPML: Alejandro Zaera-Polo / Maider Llaguno page welcome
AZPML: Alejandro Zaera-Polo / Maider Llaguno Architects Building
Website: AZPML