Lines of Life Singapore Park, Nikken Sekkei Architecture, Public Realm Images
Lines of Life Singapore Park
"High Line" Landscape Architecture in Southeast Asia – design by Nikken Sekkei Architects
page updated 17 Jul 2016 ; 27 Jan 2016
Lines of Life Project in Singapore
Architect: Nikken Sekkei, Architects with Tierra Design and Arup Singapore
Location: Singapore
Lines of Life Singapore
Lines of Life is a people-centric spine that stitches the nation with a collection of various lives. It aims to make the Rail Corridor highly visible, accessible, connected and relatable to communities, not just from north to south of Singapore, but from west to east as well. It also envisions the Corridor as an inspiring and relaxing environment that adds to the high quality of life in Singapore, as well as a catalyst to strengthen community bonding vis-à-vis Singapore's development.
Recent Timeline:
7 Mar – 31 May 2016 – Stage 2C: Preliminary Design: (For 4 kilometres signature stretch only)
June 2016 – (12 weeks): Public Exhibition of RFP Proposals
Website: Lines of Life Singapore Winners – Concept Master Plan and Concept Proposals
Singapore is set to have its own 'low line' version of New York's famous High Line, but 10 times as long, with 24km of disused rail corridor to become a 'Lines of Life' park that will cross Singapore from north to south, reports gardendrum.com.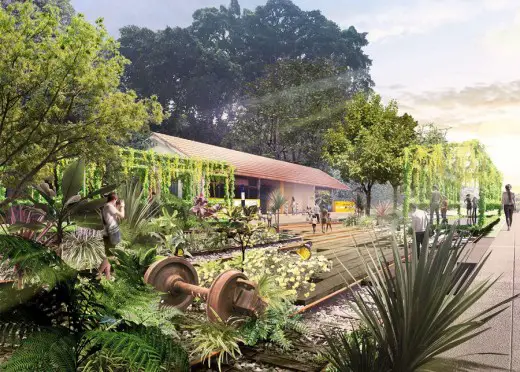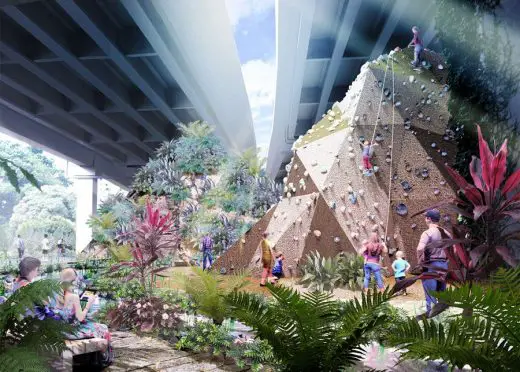 Japanese firm Nikken Sekkei was selected by Singapore's Urban Redevelopment Authority to further refine its design proposal.
The team beat an impressive shortlist that included OMA, MVRDV, and West 8.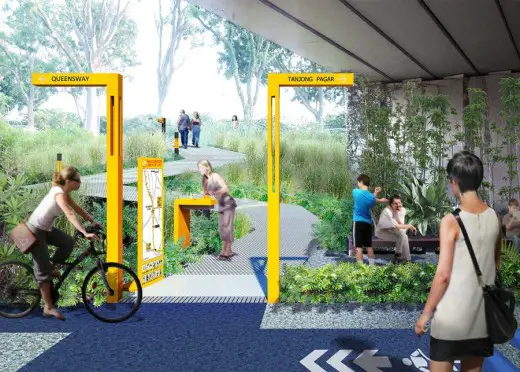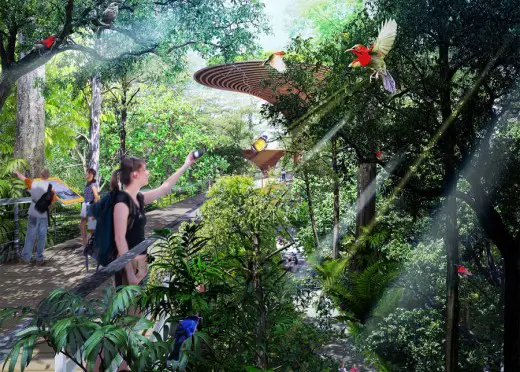 The masterplan includes footpaths, cycle paths and lush plant-filled parks, plus 122 access points that connect back into major roads, transport hubs and new urban development.
The park will run from Kranji in the north to Tanjong Pagar Railway Station in the south.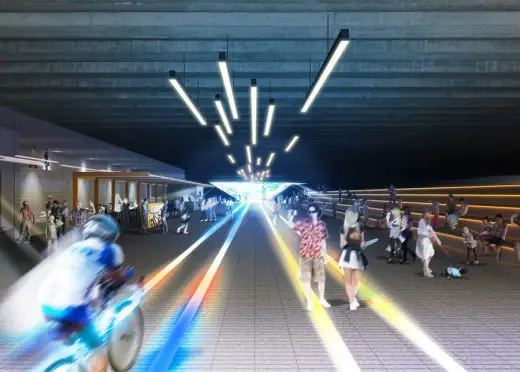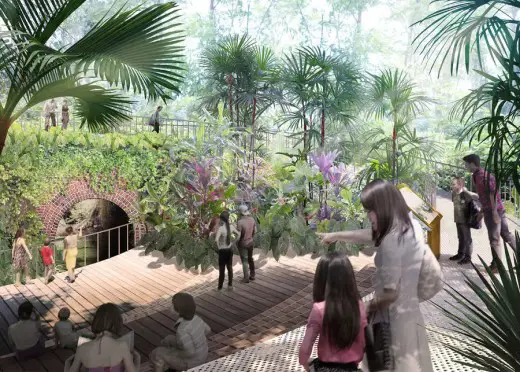 The High Line Park in Manhattan is known around the world as one of the finest examples of urban renewal to date and has spawned numerous projects seeking to emulate its social and economic success. The latest plan comes from Japanese firm Nikken Sekkei, which has secured a major commission with its vision for a vast new park stretching across the island of Singapore, reports architizer.com.
Like Manhattan's High Line, the new public space — entitled "Lines of Life" — will regenerate a disused railway line, transforming it from a derelict piece of infrastructure into a multifunctional recreation space. However, Nikken Sekkei's proposal dwarfs New York's famous elevated park, stretching a massive 15 miles (24 kilometers) from Tanjong Pagar railway station in the south to Woodlands Checkpoint in the north.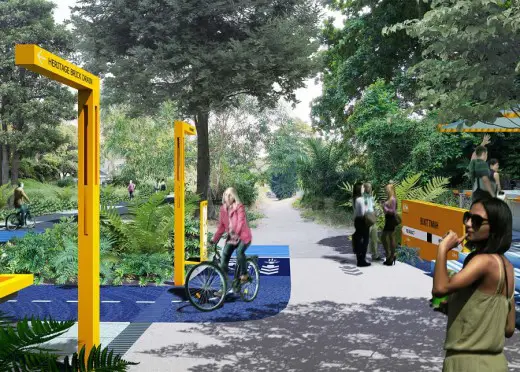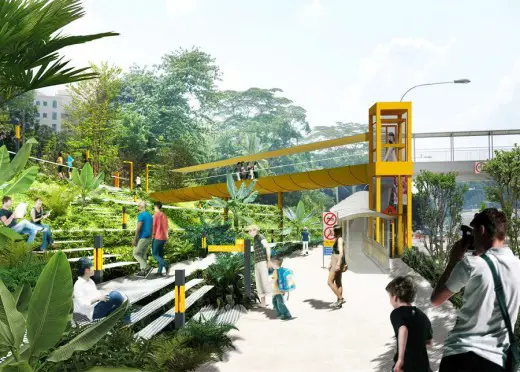 The proposal includes a host of programmatic insertions to help activate the region, including cycle paths, climbing walls and nature reserves, together with a plethora of seating areas and water features.
"We captured this design opportunity, not merely as a landscape design assignment, but more as [a] public space design project," said Wataru Tanaka, director of integrated public design at Nikken Sekkei. "We took the design approach to integrate the communities the rail corridor touches into the design itself to make a truly meaningful public asset within a broader urban context."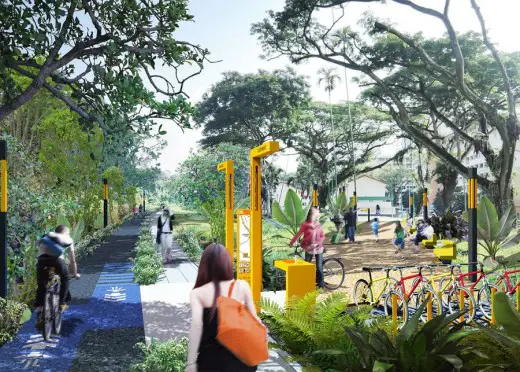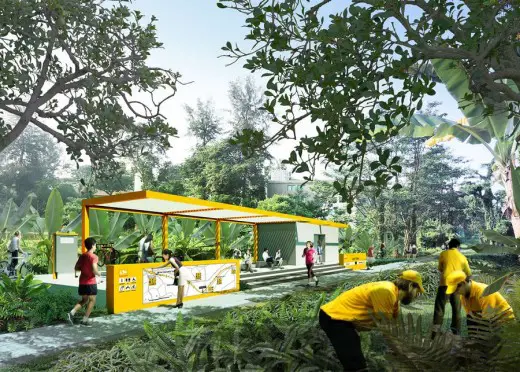 Nikken Sekkei's proposal was selected by the Urban Redevelopment Authority as the winner in the Singapore Rail Corridor competition at the end of 2015. The firm's comprehensive strategy includes 122 access points and a unique design approach to 10 key nodes along the route, with a continuous cycle path running along all 15 miles of the park.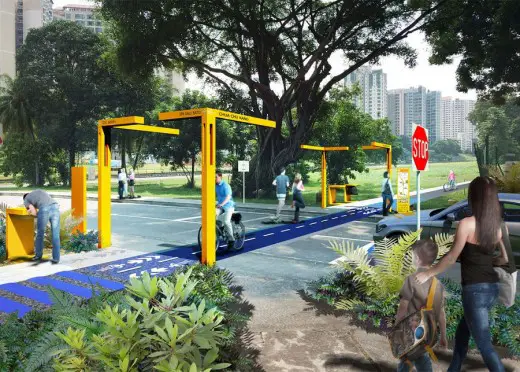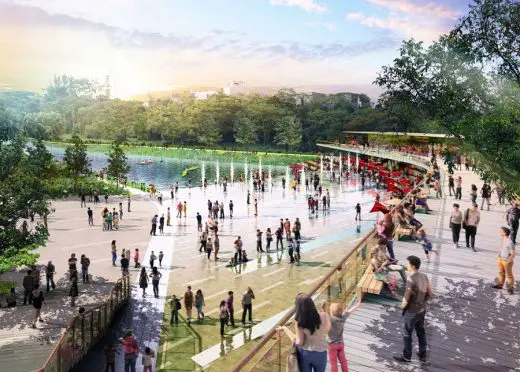 "It presents visionary ideas for the former train line to be planned and integrated seamlessly with its diverse surroundings, over many years," said University of Freiburg professor Wulf Daseking, a member of the judging panel. "The plan is a wise guide with brilliant ideas that is also flexible in terms of implementation. Green areas, footpaths and bicycle paths as well as surrounding developments along the Rail Corridor are woven together in a very convincing way."
Nikken Sekkei Architects, Japan
24 Nov 2017
Singapore High Line Park
Signage and Wayfinding Consultants: The Buchan Group, Brisbane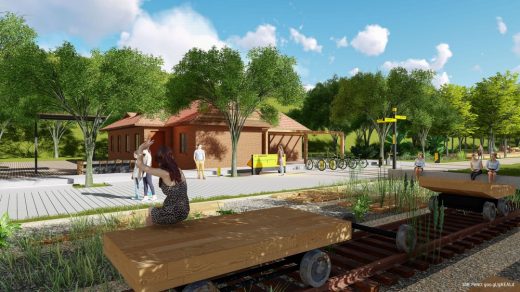 image courtesy of architects
Singapore High Line Park
Location: Singapore
Architecture in Singapore
Singapore Architectural Projects
Singapore Architectural Designs – chronological list
Singapore Buildings
The Interlace Singapore Residential Development
Design: Ole Scheeren of OMA
The Interlace Singapore Complex
The Boutiq Singapore
Design: Broadway Malyan
The Boutiq Singapore
Comments / photos for Lines of Life Singapore Park page welcome