AllesWirdGut Architektur Wien, Architects Austria, Building, News, Austrian Design Office
AllesWirdGut Architektur : Austrian Architects
Contemporary Austrian Architect Practice – design studios in Vienna
post updated 27 Feb 2021
AllesWirdGut Architektur News
Architecture News – latest additions to this page, arranged chronologically:
8 Sep 2020
KAP – The Kapellenhof Estate (1220 Vienna) – 450 Living Units, Kapellenweg, Vienna, Austria
Architects: ARGE AllesWirdGut | feld72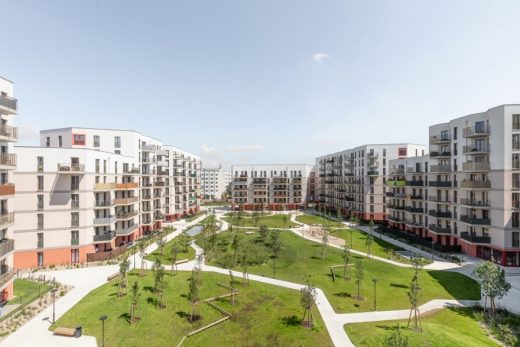 image courtesy of architects office
Kapellenhof Estate Vienna housing
Uniquely situated around a spacious urban grove on Kapellenweg in Vienna's 22nd district is a residential estate which, conceptually and aesthetically, is modeled on the municipal housing of the traditional Viennese Gemeindebau. Conceived as a large courtyard estate, a clear and self-confident ensemble emerges: the Kapellenhof.
2 July 2020
Northern Railway Station, Vienna, Austria
Architects: AllesWirdGut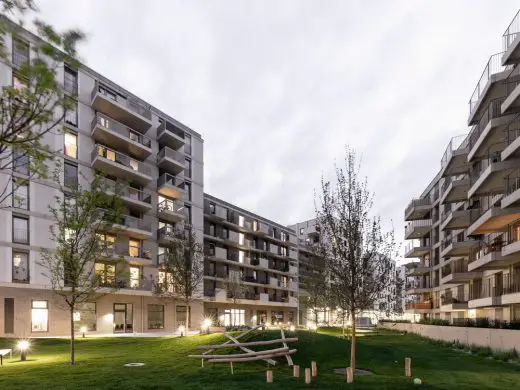 photo : tschinkersten Fotografie
Northern Railway Station Vienna
A residential and business project on the premises of the former Northern Railway Station, in one of Vienna's most exciting urban development areas.
16 Oct 2019
Hanhoopsfeld School, Hamburg, Germany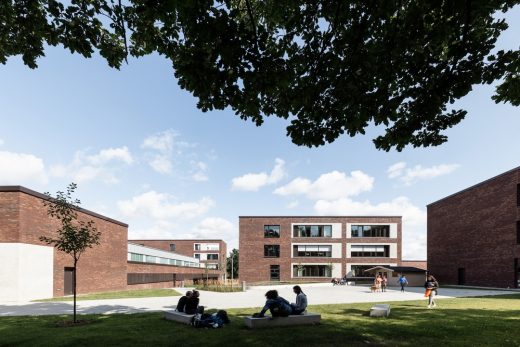 photo : tschinkersten Fotografie
Städt. Schule Hanhoopsfeld Hamburg
Two schools, one typology, infinite possibilities. For the Lessing Hanhoopsfeld School and the Alexander von Humboldt Grammar School, AllesWirdGut and DnD Landschaftsplanung laid out a generous extensive park landscape with free-standing, well-proportioned solitaire buildings.
7 Jun 2018
Nordbahnhof High-rise Building, Vienna, Austria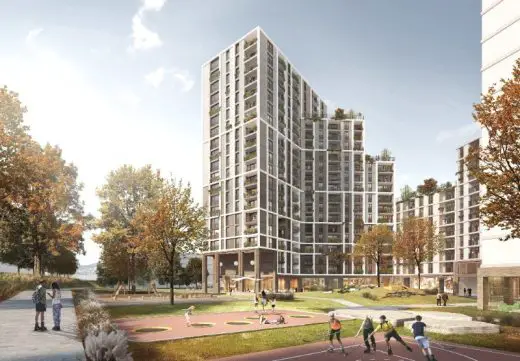 Rendering: spiritpixel – Simonicek / AllesWirdGut
Nordbahnhof High-rise Building
The structure of the new building concentrates on the edge around a freespace in the middle, in accordance with the urban planning concept, which results in a correspondingly high density with a high building mass.
12 Sep 2017
Woosung Residential Complex, Seoul, South Korea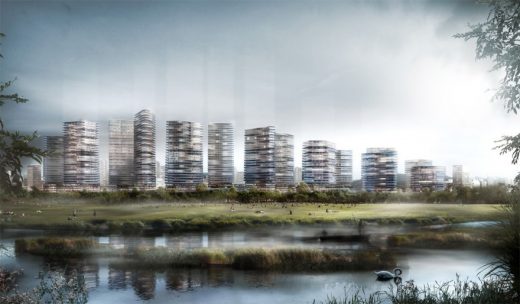 image from architects office
Woosung Residential Complex by AllesWirdGut
For an invited architectural competition, AllesWirdGut developed a design for a 3,000-unit residential quarter in the South-Korean capital city of Seoul.
7 Dec 2016
VCS – Unesco Visitor Center Sesto/Sexten, Dolomites, South Tyrol, northern Italy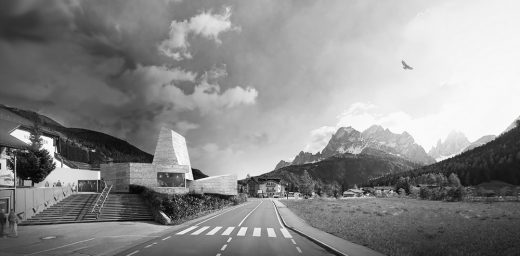 image from architects office
VCS – Unesco Visitor Center Sexten
Three edgy structures provide the new iconic entrance to the UNESCO World Heritage Site of the Dolomites.
Taichung City Cultural Center Project, Taiwan – 26 Jun 2013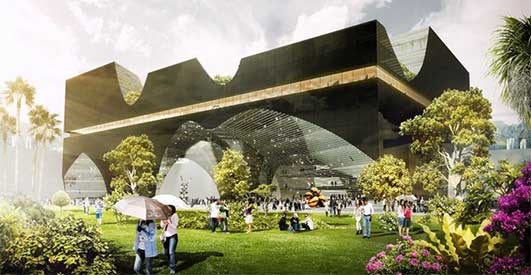 image from architect
For Taiwan's third largest city, Taichung, the Austrian architectural office submitted together with the Taiwanese partner keyStone architect this spectacular design proposal for a new City Cultural Center in an international competition. The projected building takes up characteristics of the surrounding landscape to define different usage areas.
WAZ Media Office, Essen, Germany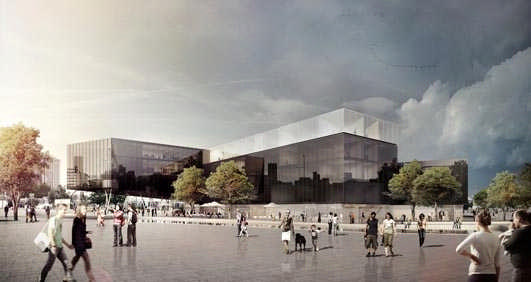 image © AllesWirdGut Architektur
WAZ Media Office Essen – 18 Jan 2013
The Austrian architectural office AllesWirdGut starts the new year in a big way: AllesWirdGut were commissioned to build the corporate headquarters of the international WAZ Media Group—best known in Austria a the co-owner of the leading local tabloid "Kronenzeitung"—at their corporate home base in Essen, Germany.
10 Jul 2012
AllesWirdGut Architektur Awards News
AllesWirdGut won competition for a municipal building in Germany
In recent days, three important competitions were decided and AllesWirdGut receives a first, second and third prize. The winning project is the construction of a new district office in the German city of Erlangen. The project – among 30 submissions (from 400 applications) – was unanimously selected by the jury.
The Projects:
1. Prize: District Office in Erlangen, Germany


image : AllesWirdGut Architektur
With this significant building AllesWirdGut marks the structural upgrading of this part of the inner city of Erlangen in Bavaria. Several finger-like structures gather around an atrium and resemble a four-leaf clover. In favour of a generous forecourt AllesWirdGut moves the building from its immediate property lines, underscoring an airy architecture and the unconventional use of the site.
The glass base of the ground floor is open to the public on all sides and features a cafeteria with seating, both indoors and outdoors. A generously open staircase leads to the upper floors, where offices are designed for different purposes. The smooth glass facade is complemented by aluminum fins. They protect from sunlight and lend the facade both movement and depth.
The clover leaf – an urban solitaire that adds various possibilities to the city life of Erlangen – will be the first building of AllesWirdGut in Germany. Start of construction is planned for 2013.
2. Prize: Residence in Salzburg, Austria
3. Prize: Company headquarter in Hamburg's HafenCity, Germany
27 Jun 2012
AllesWirdGut won the "Builders Award" in Luxembourg
LUX – Place de l'Académie, Esch-sur-Alzettet, Luxembourg



photograph : Roger Wagner
AllesWirdGut Architektur – Landscape Project
The atmosphere of the abandoned industrial site was characterized by width and roughness, and by plants such as mosses and birch. The redesign by AllesWirdGut is very gentle with this legacy, leaving the hidden qualities of the former site shine through to the present. Aging-capable materials such as concrete, wood and untreated steel were combined with an industrial building-like architecture.
12 Apr 2012
Esterházy Domain Private Foundation Competition, Austria
AllesWirdGut won the first prize of the Esterházy Domain Private Foundation competition for the conversion of a Burgenland Meierhof in a multifunctional complex.
Esterházy Meierhof in Trausdorf:






images : AllesWirdGut, expressiv.at
The specific nature of the project results from the partially worth protecting historic buildings. The design of AllesWirdGut strengthens existing qualities, but combines the old architecture with contemporary enhancements. An hour away from Vienna, a multifaceted system of a restaurant, offices and homes is about to be created.
When converting a territory, architects always face the challenge of preserving substance and simultaneously to attempt a transfer to the present.
Today the Meierhof itself only exists in its building and settlement typologies. The value of land consists in the location´s history and the nature of its relicts. Therefore the new concept will focus on both values and intergrate them equally. With best possible preservance of the existing historical construction, a harmonic composition of contemporary typology and modern architecture will be implemented.
Significant parts of the Meierhof will remain or will serve as templates for the reconstruction of the settlement´s character (APARTMENTS). The proportions will be constrained and will function as base elements for the additional components afterwards. Even traditional facade openings as well as external walls remain in place.
Roofs and internal walls fall into the renovation concept though the roof outline can be adapted to future purposes. Depending on the existing premises, the new construction will fulfill different functions: Wether it is used as an attic (ADMINISTRATION), as a singleroom (DEPOT) or as furniture itself (RESTAURANT).
9 Apr + 8 Mar 2012
AllesWirdGut Architektur Exhibition News
Architektur Galerie Berlin, Germany


image from architects
Talk with Christian Waldner, architect of AllesWirdGut Apr 26, 7 pm at the gallery
The exhibition picks up the aspect of path arrangements and examines potential sequences from two seemingly similar project of AlllesWirdGut: Austria's largest passiv office building in Krems and the study for the edifice Wimmer Medien in Linz. The sequence of spaces is the focus, when one walks in and between publicly accessible areas via various paths. The analysis is made with the help of juxtaposing positive and negative models, also known as weg partitur or scripted diagramms, and perspectives resembling storyboards. This potential can be actively perceived as sequences when waliking through the exhibition.
The Austrian Architects AllesWirdGut opened an exhibition at Architektur Galerie Berlin on Mar 15.
Opening: Ulrich Müller / Introduction: Tex Rubinowitz
Mar 16 – Apr 28, 2012
Architektur Galerie Berlin, Karl-Marx-Allee 96D – 10243 Berlin
In this exhibition AllesWirdGut focuses on the space between buildings: allies, streets, the public space. Architectural models show the positive- and negative forms, storyboard-like perspectives and "path scripts" of two projects design by AllesWirdGut. The architects analyse the potential of common places and create a poetic study for the gallery space.
Recent AllesWirdGut Architektur Designs
Technikzentrum St.Pölten, Austria
2011-



image : expressiv.at
St. Pölten Technology Center
This building will accommodate two functions: the training workshops of WIFI Lower Austria and the New Design University, St. Pölten. The central idea that informs our proposal is to bring together these two main functions in one building.
LUX – Stahlhof Belval Ouest, Esch-sur-Alzette, Luxemburg
2011



photograph : Roger Wagner
LUX – Stahlhof Belval Ouest
Between forward-facing high-rise buildings and blast furnaces of the past the new Steelyard square forms the center of Belval Ouest, a city development project which is currently constructed in Luxembourg on the grounds of a former steel mill. The disused industrial site´s atmosphere was characterized by wideness and roughness as well as pioneer plants such as mosses and birch.
AllesWirdGut Architektur – Key Projects
Featured Buildings by AllesWirdGut Architektur, alphabetical:
LTeins, St. Pölten, Austria
2011-
Design : AllesWirdGut Architektur ZT GmbH, Wien



image : expressiv.at
LTeins St. Pölten
Maria-Theresian-Straße, Innsbruck, Austria
2011
Design : AllesWirdGut Architektur ZT GmbH, Wien



photo © Hertha Hurnaus
Maria-Theresian-Straße Innsbruck
Embelgasse School, Vienna, Austria
2011-
Design : AllesWirdGut Architektur ZT GmbH, Wien



image : expressiv.at
Embelgasse School
Passive Office Building, Lower Austria
2011
AllesWirdGut + feld72 + FCP



photo © Rupert Steiner
Passive Office Building
More AllesWirdGut Architektur projects online soon
Location: Vienna, Austria
Wien Architektur Practice Information
AllesWirdGut Architektur offices located in Vienna
Austrian Architect Studios : contact details
AllesWirdGut Architektur : Austrian Architects
Comments / photos for the AllesWirdGut Architektur – Architect Studio Austria page welcome
Website -: www.alleswirdgut.cc