Main Stay House Bouldin Creek, New Austin Residence, Residential Texas Property, Architecture in USA
Main Stay House in Austin
Contemporary Home in Bouldin Creek, Texas, USA – design by Matt Fajkus Architecture
post updated Nov 8, 2018 ; May 30, 2016
Main Stay House in Bouldin Creek, Austin
Design: Matt Fajkus Architecture
Location: Bouldin Creek, Austin, Texas, USA
Main Stay House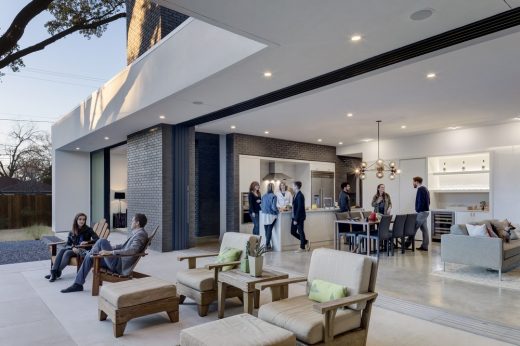 Austin's Bouldin Creek neighborhood provides a unique and ever-changing context to the Main Stay House. The challenges were both cultural and site-specific. The Main Stay House exists as a simple and straightforward proposal – an architectural experiment on domesticity – enabling lifestyle flexibility through clean forms, relatable materiality, and an urban infill living space that blurs the lines between inside and outside.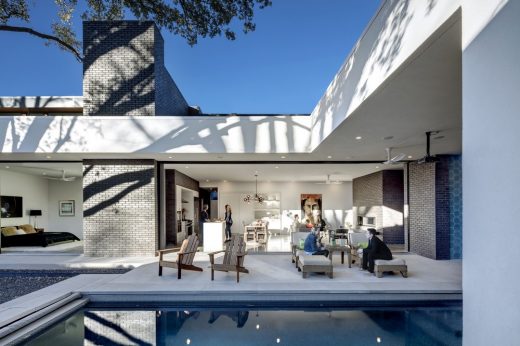 Paring down the components of a house to a minimal amount of planes and openings, the scheme is anchored by an obscured entry sequence and a staircase volume, both clad in iron spot masonry. These plans act as thresholds between the respective realms of public, common and private, by minimal means. The service core is consolidated along the east facade, allowing the structure to fully open up the living zone to the yard. The masonry also contrasts an otherwise muted interior atmosphere of smooth, desaturated surfaces.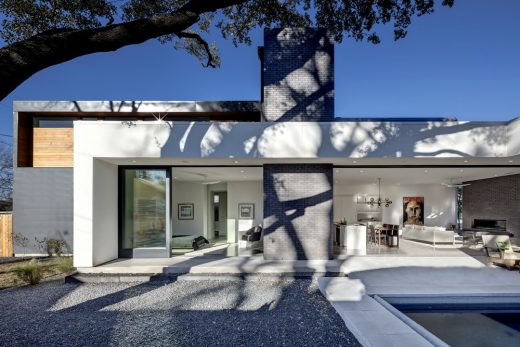 The entry sequence is a twist upon the conventional domestic front door, front facade, and fence. The front masonry wall replaces the typical residential fence and frames an indirect access to the front door, functioning as a privacy barrier while revealing slices of the interior to the public street.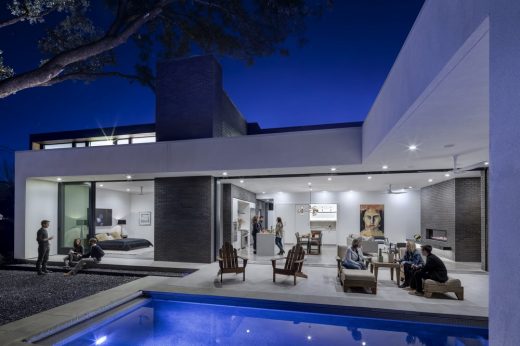 The staircase bifurcates the layout to provide a clear division between the common and private zones of the house, while clearly reading as a mass from all outside view. Brick and glass become portals between common and private zones.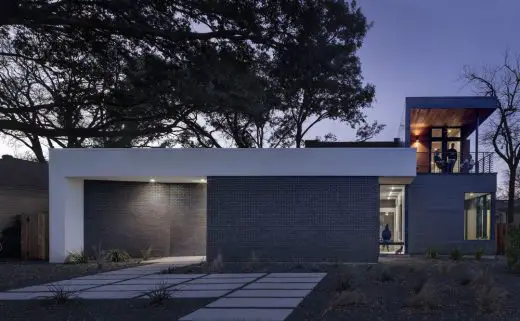 The house is built to endure the hot climate of central Texas, from orientation to framing to airtightness to thermal-bridge free connections. Simple and yet clever design moves enable a free-flowing plan and section which allow an abundance of natural light without overheating during the hot summer days. The Pool Court capitalizes on the dappled light from the tree, roof overhang, natural breeze and water.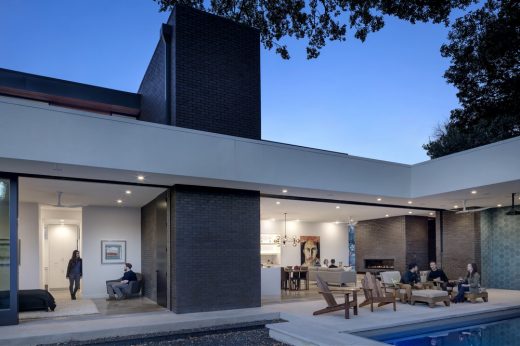 Various openings are carefully considered in each interior space to withstand the harsh west sun, providing a balance of daylight and shading while reducing reliance to artificial lighting. Operable windows with double glazing and low E coatings to provide cross ventilation. A more robust framing method (2×6) is used with advanced insulation. The inside of the house is cool enough to live without a functioning a/c even in the hottest months. All wood products use formaldehyde free binders, and only low VOC paint was specified.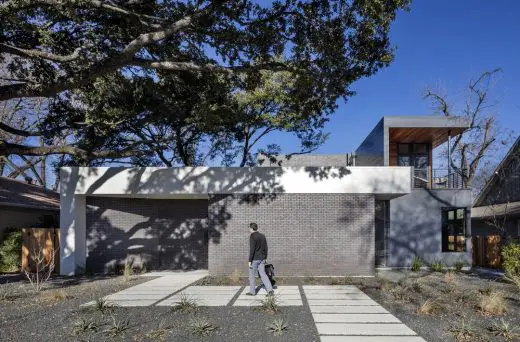 Although the newly constructed home is sleek and distinguished in its looks, the construction cost is at only 250 dollars per square foot. The house isn't about over-the-top opulence, but style, creativity, and substance. Materials, finishes and surfaces are carefully considered, cleverly composed and crisply detailed. While pushing the limits of architecture in the Bouldin Creek neighborhood and Austin to a larger scale, the Main Stay House has stayed true to the rather modest and laid-back tradition, offering a distinctly Austin experience, to both residents and visitors alike.
Main Stay House – Building Information
Project Name: Main Stay House
Architect: Matt Fajkus Architecture
Project Manager: Sarah Johnson
Design Team: Matt Fajkus, AIA; Sarah Johnson; David Birt
Graphic Support: Brandon Hubbard; Jose Gallegos
General Contractor: Brodie Builders
Structural Engineer: Smith Structural Engineers
Interior Designer: Joel Mozersky Design
Landscape Designer: Open Envelope Studio
Location: Austin, Texas, USA
Area: 3271 sqft / 304 sqm
Completed: 2015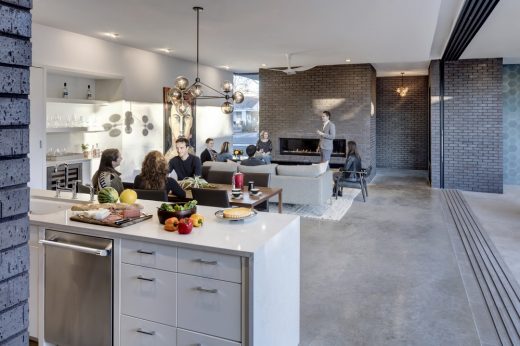 Photography: Charles Davis Smith
About Matt Fajkus Architecture
Matt Fajkus Architecture (MF Architecture) is an award-winning and licensed architecture office that welcomes residential and commercial projects of various scales and budgets. The practice offers competitive design fees without compromising design quality and the body of work seeks simple and holistic solutions to complex problems by blending expertise and experimentation.
Full-service Practice + Academic Think Tank. MF Architecture is led by Matt Fajkus, AIA, who is also a Tenure-Track Professor at the University of Texas at Austin School of Architecture. As a young and energetic collaborative, the firm is simultaneously an academic think tank, directly connected to theoretical and technological research at UT, while practicing as an office deeply focused on realizing exceptional buildings.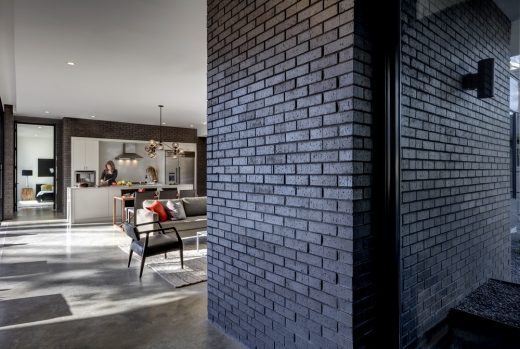 Nature, People and Buildings Cohabitation. The design work of MF Architecture is based on the belief that each project is unique, as it should be driven by the client, the site and its surroundings, satisfying the rights of all inhabitants while fulfilling functional requirements with individuality, rather than being a singular, preconceived aesthetic.
Adaptable Spaces with Sustainable Strategies. The firm possesses advanced knowledge in sustainable design principles, and the office is driven by the optimism that we live in an ideal time to affect positive change locally and globally, all accomplished through intelligent design. Adaptable spaces accommodating the present and the future are achieved by flexible plan layouts, indoor and outdoor flows, and energy-efficient methods including passive daylighting, natural ventilation, and intelligent material choices, compositions and detailing.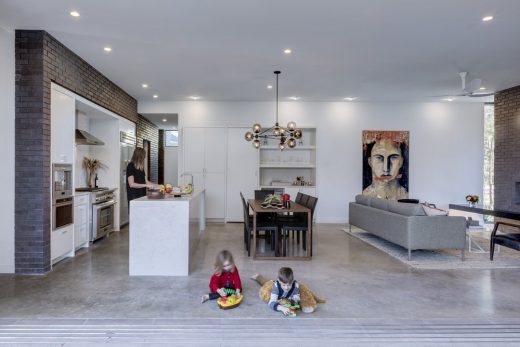 Unexpected Elements from Everyday Objects. The team has a passion rooted in expanding the conventional reach and impact of architecture among the general public and within popular culture. Everyday objects are often taken as inspiration for their simplicity but unlimited potentials and relevance to create extraordinary and functional architectural elements.
Open and Collaborative Design Process. MF Architecture promotes a transparent design process including a direct collaboration with client and builder. Likewise, the office fosters honesty and functionality in design itself, with a belief in balancing restraint and expression in broad design moves as well as details. The team enthusiastically takes on the unique challenges presented by each project to inspire highly creative, cost-effective solutions meant to enhance building performance and daily life as a whole.
Bouldin Creek House in Austin information / images from Matt Fajkus Architecture
Website: Matt Fajkus Architecture
Location: Bouldin Creek, Austin, TX, USA
Architecture in Texas
Austin Houses
Tree House in Austin
Design: Matt Fajkus Architecture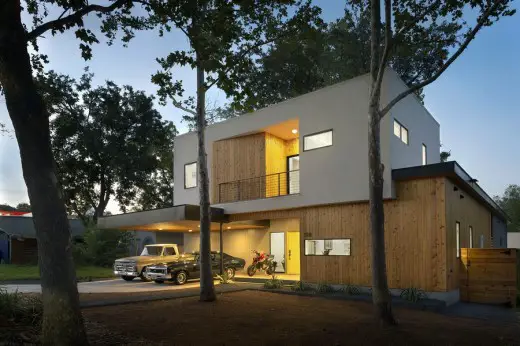 photos from Brian Mihealsick, Bryant Hill, Twist Tours
West Lake Hills Residence – Austin Home
Design: Specht Harpman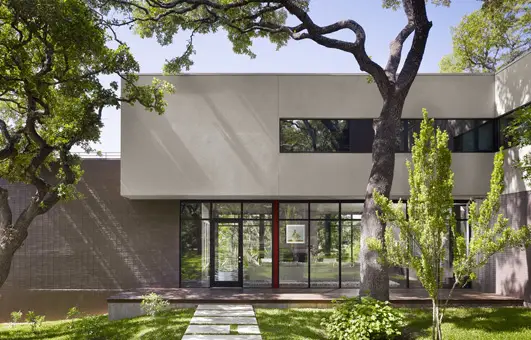 photo : Casey Dunn
Carved Cube House in West Austin
Design: Bercy Chen Studio, Architects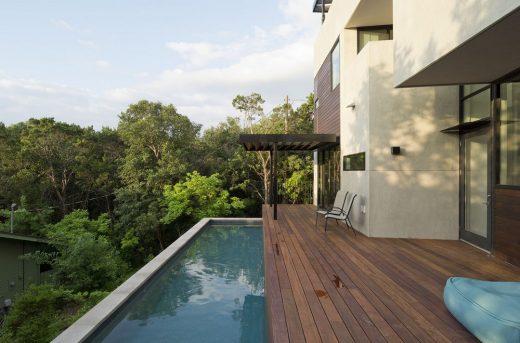 photo : Paul Bardagjy
Cliff Dwelling in Austin
Design: Specht Harpman architects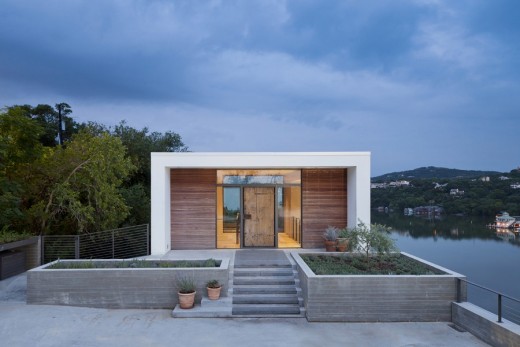 photo from architects
Winflo Pool and Cabana in Austin
Design: Chioco Design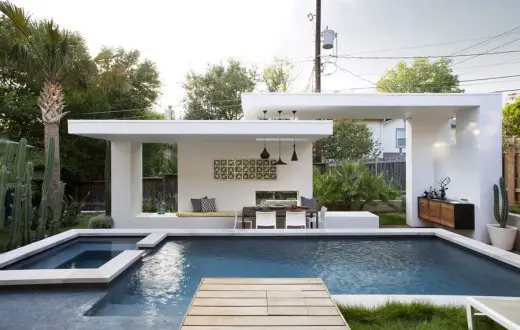 photo : Ryann Ford
Another Austin building by Matt Fajkus Architecture on e-architect:
Look + See Vision Care in Austin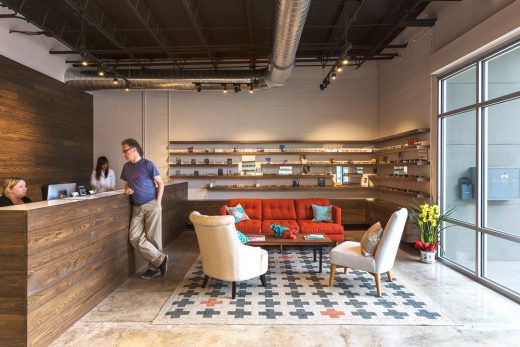 photograph : Leonid Furmansky
American Architecture Design – chronological list
Comments / photos for the Main Stay House in Austin Architecture page welcome
Austin, Texas, USA