Hill Country House Wimberley, Texas Residential Property, US Home Images
Hill Country House, Wimberley
Contemporary Home in Texas design by Miró Rivera Architects, USA
Dec 12, 2018
Hill Country House in Wimberley, Texas
Design: Miró Rivera Architects
Location: Wimberley, Hays County, Texas, United States of America
Hill Country House – Wimberley Property, Texas
Conceived as a prototype for a sustainable rural community, the Hill Country House serves as a beacon to show what could be: a self-sustaining home in a rural setting, virtually independent of municipal water and energy.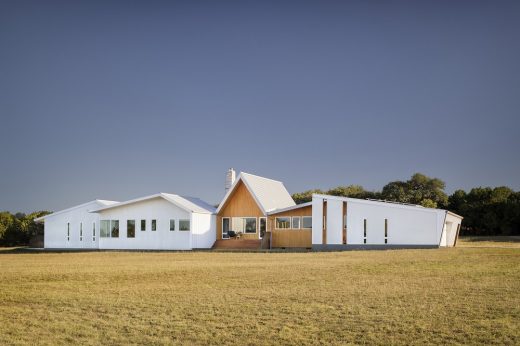 Photos by Paul Finkel, Piston Design
Situated on a sweeping Texas Hill Country meadow, this private residence is defined by a series of jagged roof peaks inspired by the rise and fall of the surrounding hills. Lovingly referred to as "The Sanctuary" by its owners, an active retired couple, this modern take on the farmhouse vernacular is a place to bring people together and find spiritual renewal in a responsible, sustainable setting.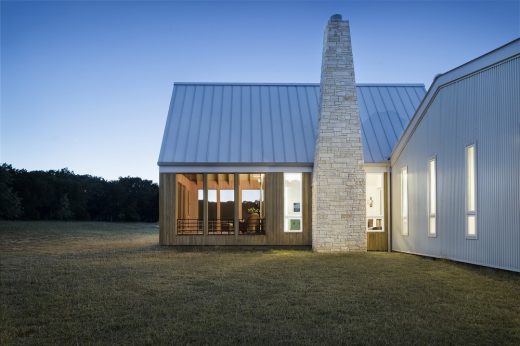 The exterior of the home is defined by clean lines, a sculptural gable roof, and a contrasting material palette of corrugated metal panels and warm, locallysourced cypress—all of which evoke the residence's rural setting. A tapering limestone chimney was inspired by an existing shed on the 47-acre property made of dry-stacked local stone.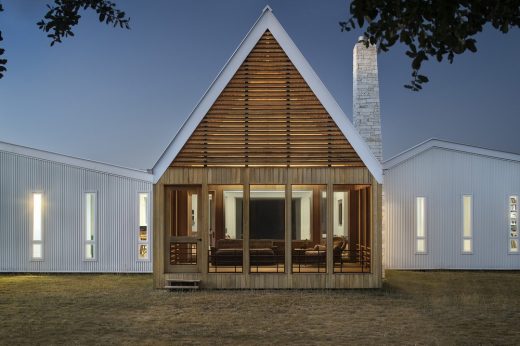 Throughout the interior, white walls and ceilings are offset by carefully-considered embellishments such as a limestone hearth in the living room and soapstone counters in the kitchen. Pecan floors, chosen for their distinctive grain, are a nod to the home's rustic surroundings.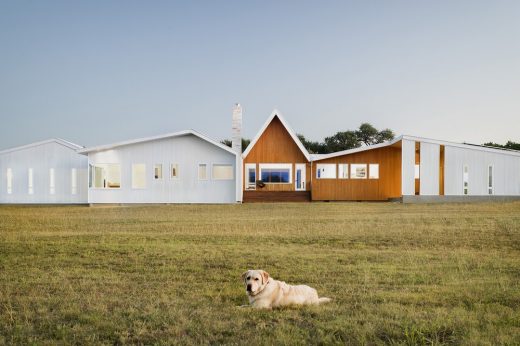 In plan, a collection of volumes is arranged along a central spine reminiscent of vernacular "shotgun" cabins, with the public and private spaces of the home situated on opposite ends. The main corridor, which doubles as a gallery, is differentiated by thin vertical windows that balance the requirement for natural light with the need to provide space for hanging artwork.
In every room, windows provide abundant natural light and frame views of the surrounding landscape. In the meditation room, floor-to-ceiling windows frame one of the clients' favorite views toward a nearby hilltop, and the grassy landscape seems to flow right into the house. A large picture window located next to the master bathtub transforms an ordinary daily routine into an opportunity for reflection and rejuvenation.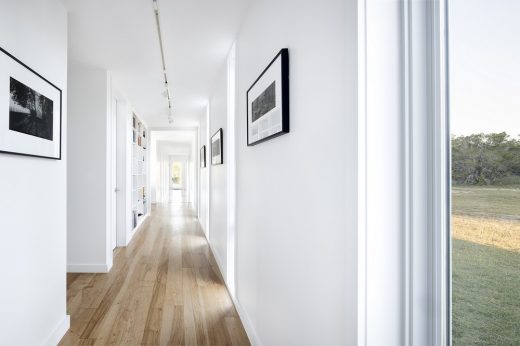 Particular attention was paid to creating spaces that would enable hosting large groups of friends and family, blurring the line between indoor and outdoor space. The stark white metal cladding is broken at various intervals by warm cypress siding that defines a series of rooms outside the house, including a temple-like screen porch that extends from the volume containing the main living spaces.
The porch's distinctive 30-foot peak is discernible from a great distance, and its rhythmic horizontal cypress slats are a contemporary interpretation of traditional vented gables. Connected to the garage via sliding barn doors and elevated a few feet above grade, a shaded outdoor sculpture studio doubles as a stage for casual summer concerts hosted 3-4 times a year. During these events, the garage acts as additional "backstage" space.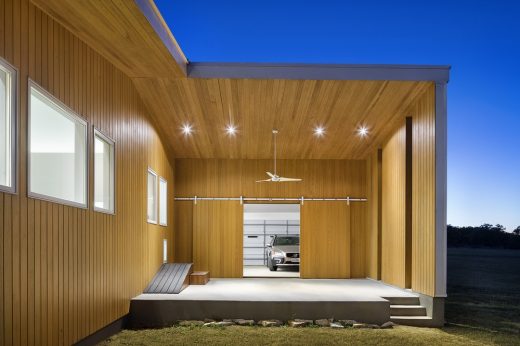 Sustainability
The design of the Hill Country House is both spiritually and environmentally sensitive, earning a 4-star rating from Austin Energy Green Building, the nation's first green building program and the model for the LEED certification system. An 8-kiloWatt solar array supplies 80% of annual energy usage, generating approximately 40kW hours of electricity per day.
Mechanical heating and cooling is made possible by a 5-ton geothermal system consisting of a loop field of six wells drilled 250 feet into the ground. A 30,000-gallon rainwater collection system, designed to provide 200 gallons per day (enough for four full-time residents), meets all of the owner's annual water needs, utilizing both charcoal and UV filters to purify rainwater collected from 5,300 square feet of roof area.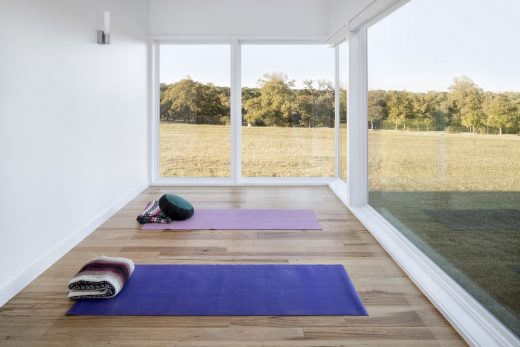 The home's pier-and-beam construction minimizes the structure's footprint on the prairieland setting, which has been kept in its native state. The foundation also elevates the house above the terrain, giving the impression that the home is hovering just above the ground.
The design utilizes durable and long-lasting materials not only to extend the life of the structure, but also to minimize maintenance. Corrugated metal siding and a standing-seam metal roof provide easily-cleaned, weather-resistant surfaces that should not require any sort of re-finishing, replacement, or treatment. Aluminum windows provide ample daylight without sacrificing durability and longevity.
This daylighting in-turn minimizes the need for and maintenance of electrical lighting, increasing the lifetime of light fixtures. Locally-sourced materials such as limestone, cypress, and pecan relate to the immediate context and natural landscape, and minimize the consumed embodied energy. By considering these materials from the outset, the architects were able to make them a pivotal component in the aesthetics of the home.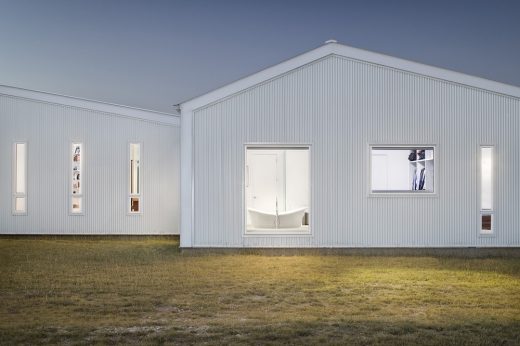 The designers' approach to materials, construction, and maintenance drastically reduced not only upfront construction cost and waste, but also the expected life cycle costs and impacts. Through careful planning of the construction timeline, and thoughtful material selections, typical construction waste was either minimized, mitigated, or completely eliminated.
During construction, the architects and contractor developed a waste-management plan to address the disposal of unused materials as well as any waste produced on site. All recyclable materials were processed by IESI, with documentation acquired denoting the percentage of each load that was recycled.
Materials were carefully portioned to prevent excess scrap, or in the case of cementitious materials, excess mixing that leads to overburden of set-up materials. 90% of excess lumber and wood materials were either recycled or re-purposed as mulch; 100% of unused sheetrock was ground up and spread across the site as soil; and 100% of unused metal from roofing and siding was recycled in a separate recycling facility if not sent to IESI.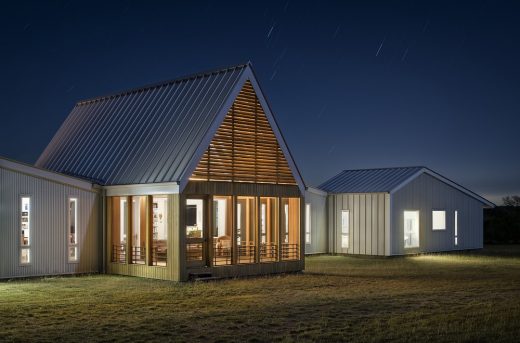 Measures were taken to ensure that no hazardous materials were used in constructing the residence: all paint and exterior coatings are water-based and contain zero volatile organic compounds (VOCs); none of the materials contain formaldehyde or PCBs; and all plasters and mortars are cement-based, ensuring that no EIFS or polymers were used. Additionally, the solar photovoltaic system used is dry in order to prevent chemical leaks if a collector is shattered or damaged. In addition to disciplined recycling, the owners use only organic and natural cleaning products, including for pest management.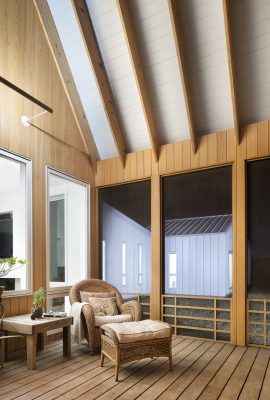 The Hill Country House plays several significant roles on the scale of the surrounding community. The property is a designated Wildlife Management area; the land provides the environment necessary for migrating song birds, and the owners maintain a census of the birds migrating through.
In addition, the owners have worked closely with community officials to garner support for creating a series of developments—with this home as the prototype—in which residents would share public spaces, site paths, and other resources. The owners have taken it upon themselves to promote their residence as a model for future off-thegrid development, building relationships with the community by hosting folk and Americana concerts on their covered outdoor stage.
Hill Country House Wimberley – Building Information
Project: Hill Country House
Location: Wimberley, Texas
Client: Withheld at Owner's Request
Architecture Firm: Miró Rivera Architects, 505 Powell Street Austin, TX 78703 512.477.7016 www.mirorivera.com
Design Team
Design Partners: Juan Miró, FAIA LEED AP Miguel Rivera, FAIA LEED AP
Project Architect/Manager: Matthew Sturich, RA
Team Members: Spencer Cook, Sarah Hafley, Matthew Helveston, Edward Richardson
Size
Site Area 46.7 acres (2,032,460 sf)
Conditioned Area 3,140 sf
Unconditioned Area 1,340 sf Terraces, Patios, Pools, etc. 620 sf
Total Area 5,100 sf # of Floors 1
Total Height 30′-0″
Green Building Certification: 4 Stars (Austin Energy Green Building)
Photographer: Paul Finkel, Piston Design
Hill Country House, Wimberley, Texas information / images received 121218 from Miró Rivera Architects
Location: Wimberley, Texas, USA
Architecture in Texas
Contemporary Texan Houses
Cliff Dwelling in Austin
Design: Specht Harpman, architects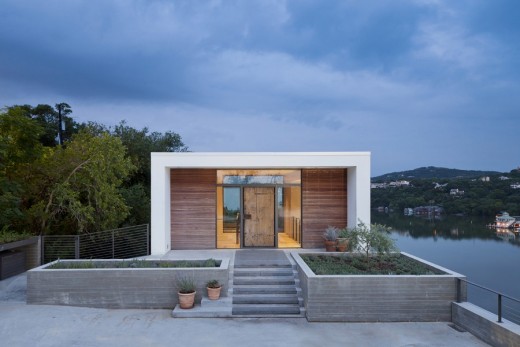 photo from architects
Carved Cube House in Austin
Design: Bercy Chen Studio, Architects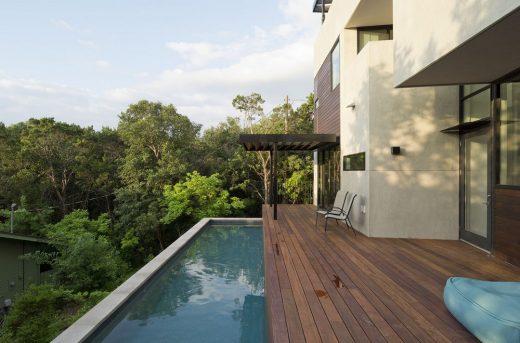 photograph : Paul Bardagjy
American Architecture Design – chronological list
Main Stay House in Austin
Design: Matt Fajkus Architecture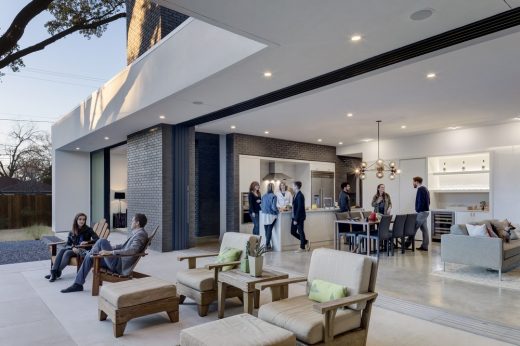 photograph : Charles Davis Smith
West Lake Hills Residence – Austin Home
Design: Specht Harpman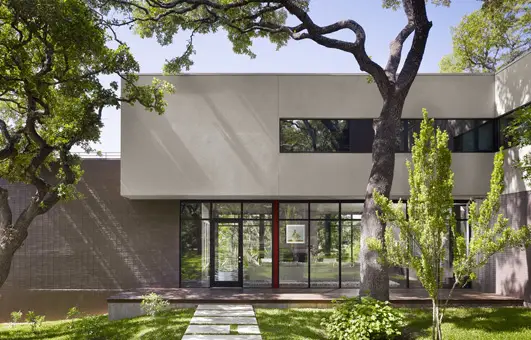 photo : Casey Dunn
Website: Austin, Texas
Comments / photos for the Hill Country House, Wimberley, Texas Architecture page welcome
Website: Wimberley, Texas