Graduate Design Students at Iowa State University Buildings, ISU Afghanistan Project Images
Shelters for US Soldiers fighting in Afghanistan
Combat Outpost Shelters for US Soldiers by Graduate Design Students at Iowa State University, USA
Apr 15, 2016
Shelters for US Soldiers by Iowa State University Graduate Design Students
Iowa graduate students design military shelters for combat zones to help soldiers feel safer.
Shelters for US Soldiers by Graduate Design Students at Iowa State University
Graduate design students at Iowa State University have created conceptual schemes for shelters that would house US soldiers fighting in Afghanistan and help give them a sense of safety, reports Dezeen.
The schemes were produced as part of a new studio called In Harm's Way, led by Lee Cagley, a professor and chair of the school's interior design department.
combat outpost (COP) design by student Zhenru Zhang: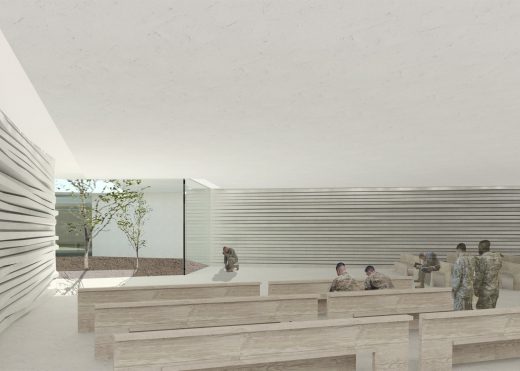 Cagley asked students to conceive combat outposts, or COPs, for soldiers based in Afghanistan in the near future. The year proposed was 2022.
"I've been working on this for several years, since watching a TV feature on PTSD (post-traumatic stress disorder)," said Cagley on the university's website.
"Soldiers returning from Iraq and Afghanistan spoke eloquently about the fact that they were never able to relax; the outpost tents never felt really safe."
"It struck me that what they were talking about was fundamentally an interior design problem – the combat outpost environment wasn't supporting the troops emotionally," Cagley added.
Constructed in a hurry, combat outposts are typically made of materials that are immediately available. Sometimes soldiers will occupy an abandoned building rather than build a new COP.
Students were charged with designing shelters that would provide greater physical and emotional comfort.
The buildings needed to include lodging, dining, laundry and medical facilities, and the entire complex needed to accommodate about 120 soldiers. An American military company typically consists of 80 to 250 soldiers.
"The location we settled on was near Delaram, in Afghanistan, at the junction of several arterial roads and a riverbed from the mountains to the immediate north," Cagley said.
combat outpost (COP) design by student Zhenru Zhang: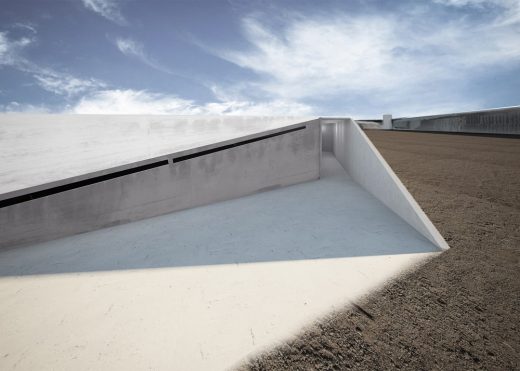 The student's schemes, of which there are seven in total, vary widely in terms of form, layout and materials.
Student Zhenru Zhang conceived a series of hexagonal structures made of shock-absorbing reinforced concrete. The complex would contain an underground zen centre, with space for prayer and meditation.
combat outpost (COP) design by student Yongyeon Cho: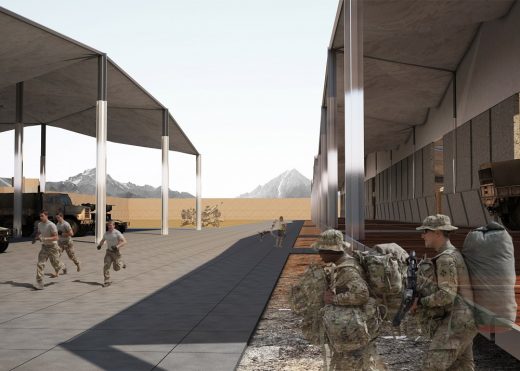 Student Yongyeon Cho envisioned an airy structure with an expansive, faceted canopy. Triangular skylights would bring in natural light while also providing views of the starry sky.
combat outpost (COP) design by student Josh Kassing: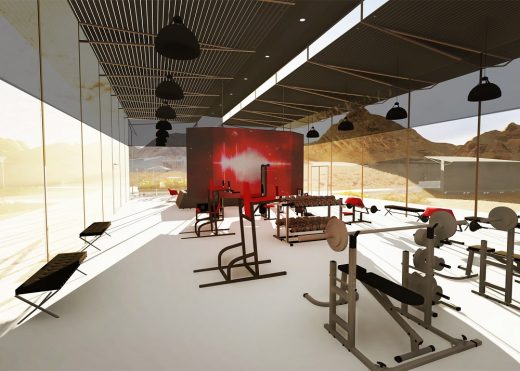 Student Josh Kassing designed a complex with a rooftop that resembles a mountainous terrain. Translucent wall panels would be made of aluminum oxinitride and provide "a sense of openness while able to easily withstand a direct hit from a .50-caliber round".
combat outpost (COP) design by student Josh Kassing: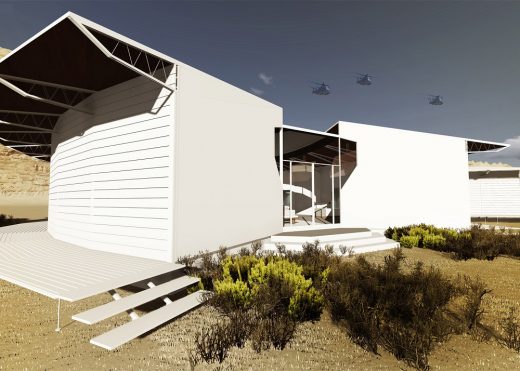 The school hopes to secure a grant from the US Department of Defense to fund the design and construction of several full-scale prototypes. The prototypes would be built at Camp Dodge in the spring of 2017.
Iowa State University of Science and Technology, more commonly known as Iowa State University, Iowa State, or ISU, is a public land-grant and space-grant research university located in Ames, Iowa, United States.
Address: Ames, IA 50011, United States
Mascot: Cy the Cardinal
Location: Iowa State University of Science and Technology, IA, United States of America
Iowa Architecture
Iowa Buildings



photo © Farshid Assassi
University of Iowa School for Art & Art History
Design: Steven Holl Architects
University of Iowa Arts Campus Arts Building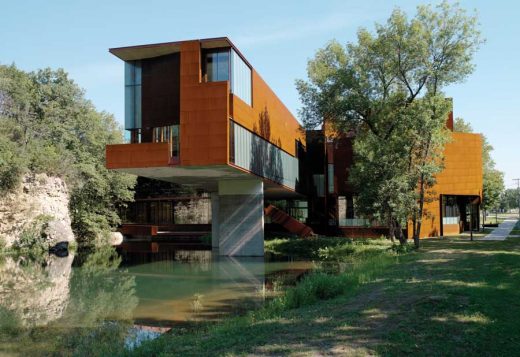 photo © Andy Ryans from Steven Holl Architects
Website: Iowa State University of Science and Technology
American University Buildings – Selection
University of California Housing, San Diego
Carrier Johnson + CULTURE


image from architect
University of California Housing
University Medical Center Princeton Hospital, New Jersey
RMJM Hillier / HOK



image : RMJM HillierHOK
University Medical Center Princeton Hospital
University of Iowa Visual Arts Building : current info
Comments / photos for the Shelters for US Soldiers fighting in Afghanistan page welcome