Gola Forest Buildings, Article 25 Africa, Project, Photos, News, Design, Property
Gola Forest Project, Sierra Leone, Africa : Article 25 Buildings
Territory and Design issues in eastern Sierra Leone
26 Oct 2010
Gola Forest Sierra Leone
Whose Land is it Anyway?
Thoughts on Territory and Design Challenges for Article 25 Architects
'Article 25: the built environment's charity'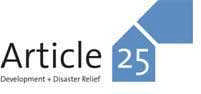 Author: Sarah Khalaf, Article 25 volunteer
Man's obsession with marking out his land is not new. Even the World Bank currently has a program dedicated to assigning land tenures to vulnerable populations. When it comes to addressing issues of territorial division, site boundary markers and security, what are some of the challenges being faced by built environment professionals working in an international development context today? How have these challenges steered design solutions for Article 25 projects? The following explores the organisation's experiences in the field.
On site: there's more than first meets the eye
Partnering with the Conservation Society of Sierra Leone and the RSPB, Article 25 are currently working on a masterplan and conservation headquarters for the Gola National Park. The project's go-ahead required an extension of the National Park boundary and consequently the sale of a portion of neighbouring Gola Forest land owned by two neighbouring Lahelun villages. Land in Sierra Leone traditionally holds more value in its intrinsic agricultural potential than immediate financial worth, so the transfer of ownership would have been counterintuitive for the farming community of Lahelun.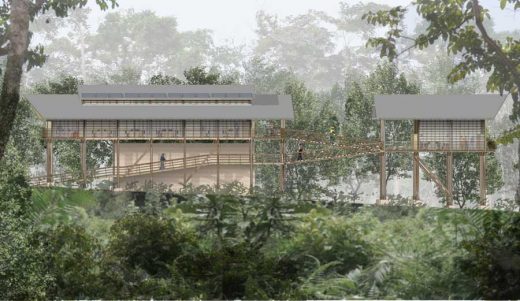 Gola Project Masterplan image © Article 25
What convinced them to hand over their land and what was the impact of these shifting boundaries on the masterplan? It was important the external investment was not perceived as a marginalising threat and that the villagers collectively foresaw the potential benefits to the community were contingent on actually relinquishing their land. Crucially, a decade of civil war (1992-2002) had left Sierra Leone in poverty. To this end, a sustainable architectural program had to not only promote ecotourism and protection of the park but also bring jobs, trade and investment to the area. Article 25's current masterplan responsibly integrates a school, clinic and informal marketplace.
And the ramifications of the masterplan? Already in 2010 there is burgeoning activity in the area and the Lahelun villages are creeping up to the new park boundary. Moreover the villagers are actively putting forward more of their land to promote the building of additional facilities. But the fence currently surrounding the National Park is merely a symbolic gesture. Locals are able to wander through freely, so the idea of land accessibility is not tied up exclusively with ownership:


National Park Boundary Photo © Article 25
Once development begins on the park side of the fence, we could expect to witness raised tensions and perhaps more resistance to the project.
Not that all the bought land was 'fair game' for the architects. At first glance a seemingly inconsequential circle of stones at ground level on site actually demarcated the presence of an ancient Gola burial ground, with bodies buried vertically below:


Gola Burial Ground Photo © Article 25
Lesson learnt: beware of subtle and sometimes invisible site boundary lines. Only through the active involvement of the local community from an early stage, in participatory workshops, could this information be known.
How did such a relatively small patch of land become of international concern so as to warrant investment from the RSPB in the first instance? The National Park is a migratory zone for several species of birds. It is these birds, being international citizens of no fixed location, which have brought the conservation of the park onto the international agenda, and make the Gola Project a division of territories that transcends boundaries and cuts across local, national and international scales.
Where's security?
Among the Gola Project design features taking their cue from the local vernacular, one is particularly intriguing; the park headquarters building sits on stilts:



Local Building and Headquarters Design images © Article 25
The reason is twofold: to assist passive ventilation and a as security measure to prevent unauthorised access and break-ins. This design strategy of actively raising the building off the ground is an alternative to more traditional modes of (Western) construction wherein land is scraped, barricaded and marked out directly so as to indicate possession. Setting up such vertical as opposed to horizontal boundaries is an insightful technique employed to promote a passive form of defence that eliminates the need for expensive solid and glass walling (the current design is for timber louvres), security fencing or guards.
Security and land tenure is a great source of debate within international development. One of the main challenges for architects working within an international development context is that they are often designing for vulnerable populations post-conflict or post-disaster. In such unstable political or social climates marking territory and defensive strategies often become inextricably interlinked and the issue of security is central.
Consider a current Article 25 project in Lalibela, Ethiopia, where working with Link Ethiopia we are designing sanitation amenities to accompany sports facilities for the local community and are provisionally looking into a school rebuilding program. During community consultations about the school, the locals requested the NGO fund and provide a barbed wire fence to surround the school complex. Why would such a fence be needed in such a remote, rural area? No boundary currently exists, so it seems at odds that the community identified this as a need. It would appear that the fence was intended to send an assertive defence message to outsiders on the road adjacent rather than as a purely territorial boundary marker. Questions need to be asked as to why that message was important to them. Alternatively, in this case, the request may simply be symptomatic of the NGO hand-out culture.



Lalibela Potential Project Site images © Article 25
So what's in a fence?
Agreed, in making a building the land ceases to be just a place and becomes a territory, something which we can define as our property and therefore must defend against intrusion. But as soon as we surround this territory with a fence or a boundary-line, at what point does the fence cease to be a marker of ownership and become perceived as an aggressively defensive act? What conflicts are created when land is cordoned off? The answers lies with the architect who must reconcile the explicit or implicit psychological associations of the fence design- materiality, size and so on- with their ultimate intentions for the space.
In particular, the designer needs to question the function of the fence: to keep something in or out, to protect, contain, close off, expose or enclose, to retain control, keep (semi)-private, or simply to designate a change in ownership? This should in turn be reflected in the design details. Is the fencing solid, permeable, gated, transparent? Continuous, isolated, precisely defined, permanent, fixed or temporary? An envelope, a perimeter fence or an internal divide?
There is, of course, a material vernacular specific to each culture and location, an implicitly understood language of spatial indicators. The Japanese employ stylistically classified bamboo fences. The Takesaku Kekkai, for example, is a simple barrier used to separate a place from the outside world for ascetic Buddhist training:


Kekkai Fence photo @ sarugakyo-onsen.jp
In rural Pakistan, wooden tethering posts for livestock are a ubiquitous tool for demarcating land. In Sierra Leone, rocks and stones are the material of choice to designate territory divides with land registry details displayed on the large stones distributed across towns. Where once afrocentric woven details were used purely for decorative purposes, their semi-transparent appearance could now be applied back at the Gola Park headquarters in a design where the boundaries between public and private, interior and exterior are broken down and delineated by a series of layered transparent and solid walls:




Gola Weaving Techniques images © Article 25
When a divided space means something much more
Space can also be manipulated to be socially divisory: a pertinent issue when designing a building for a population that is marginalised or attached to a social stigma. This challenge was faced by Article 25 while designing a Child Counselling Unit for abused and maltreated children in Mazeno, Lesotho and a new football pitch with HIV Awareness Facilities in Maseru, Lesotho.
How could the design solutions balance freedom of access and being inviting and child-friendly, with the need to protect and provide privacy to their vulnerable inhabitants? What is psycholgically implicit when crossing over the boundary line into either development, and how can we avoid this crossing from marking out an individual as having HIV or being a victim of child rape, both of which are locally stigmatised? Here the additional challenge was to create a protective, positive retreat for both sets of building inhabitants, as opposed to a predominately defensive design used to keep others out. Done well, these projects have the potential to promote spatial equality and provide a spatial model for social inclusion.



Child Counselling Unit, Mazeno and Existing Football Pitch, Maseru images © Article 25
The division of territories does not necessarily require the erection of a physical divide to separate spaces. The design for a vocational training centre in Patango, Uganda had to be sensitive to the needs of a local community that required the new building to be multifunctional even outside of school hours.  Spatially configuring the areas of the school according to their usage (occupant, activity, times of day etc.) enables sections of the building to be securely locked when not in use, effectively setting up a series of spatially overlapping but temporally distinct territories within the same building:



Mapping Multiuse Patterns and Patango School Plan images © Article 25
Conclusions
What is clear from Article 25's work in the field is that design standards should not slip just because the work is in an international development context. Rather, in the realm of territorial relations, innovative design has an even more complex and vital role to play in bringing about social change, and architects therefore have a crucial role to play.
They must understand the complexities behind the question which must always be asked: 'Whose land is it anyway?' What is the profile of the people who use the land and how do they mark out this usage? This question and task will be paramount for the current post-flooding reconstruction of Pakistan where both the land divisions and the land registry documents have literally been washed away and some 23 million people are estimated to be displaced.
Previously:
Articles 25 in Gola Rainforest
Monthly Report by Robin Cross, Director of Projects for Article 25
Written for www.e-architect.com
Gola Rainforest



photo © Article 25
Gola Rainforest Building



photo © Article 25
Location: Sierra Leone, Africa
Gola Forest Photos © Article 25
Monthly Reports by Article 25
Democratic Republic of Congo Schools
Article 25 were recruiting more architects to the team on an interesting project in Africa:
Sierra Leone Architect
African Architecture



photo © Article 25
Comments / photos for the Gola Rainforest Architecture page welcome
Website: Sierra Leone