Corcoran School of the Arts & Design at GW in Washington, D.C., Property, Architecture Images
Corcoran School of the Arts and Design, George Washington University
Beaux-Arts Flagg Building at GW, District of Columbia design by LEO A DALY, United States of America
Sep 3, 2019
Corcoran School of the Arts & Design at GW, Washington, D.C.
Design: LEO A DALY, Architects
Location: 500 17th St NW, Washington, D.C., USA
The 19th Century Beaux-Arts Flagg Building is now a state-of-the-art environment for arts education and exhibition
LEO A DALY's Corcoran School renovation reimagines a landmark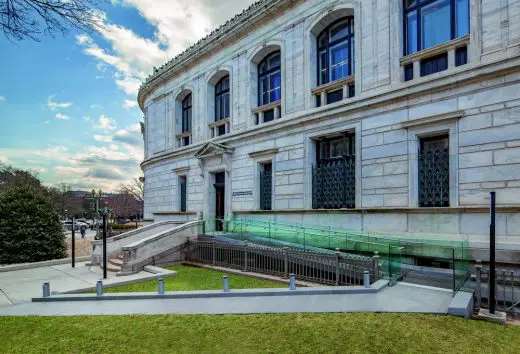 WASHINGTON – LEO A DALY has completed phase one renovations of George Washington University's Corcoran School of the Arts & Design, the most significant update of the Beaux-Arts landmark in 90 years. The historically sensitive renovation reimagines the 1897 gallery as a modern arts education and exhibition environment, complete with four floors of classroom, studio, administration, fabrication and exhibition space; modernized fire-suppression systems; mechanical, electrical and plumbing upgrades; and accessible ramps, restrooms and elevators.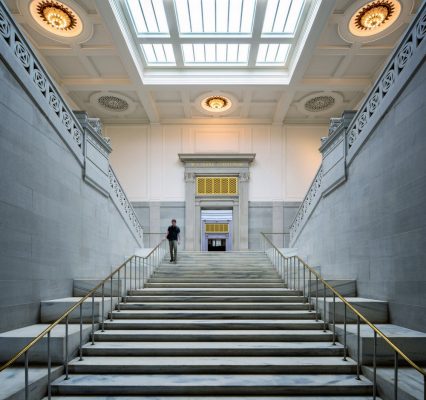 The multi-phased project, led by architecture firm LEO A DALY with construction management by Whiting-Turner, has been ongoing since May 2016. Future phases will restore the building's stone façade, lay lights and skylight system.
Consultants included Mueller Associates (MEP), Silman (structural), Davis Buckley Architects and Planners (historic preservation), GHD (life safety and fire protection), Meridian 3D (laser survey), WPD & Associates (building envelope assessment) and Loring (computational fluid dynamics studies).
Leo A. Daly III, FAIA, RIBA, RAIA, CEO and Chairman of LEO A DALY, who played an active role in the Corcoran's revitalization, said, "I applaud GW for their commitment to reimagining such an iconic Beaux-Arts building with its classic gallery space into a world-class arts education environment. A project like this is an extraordinary challenge but also an architect's dream. I greatly look forward to the Corcoran School's renaissance."
Designed for a new era of the Corcoran
The redesign marks a new era for the Corcoran School of the Arts & Design, a revered arts institution that was absorbed by the George Washington University in 2014, merging with the university's existing arts and design school. The project preserves an important piece of Washington's architectural and cultural fabric, allowing the Corcoran to continue its legacy as a training ground for fine artists and designers while gaining a platform for engagement within a comprehensive university.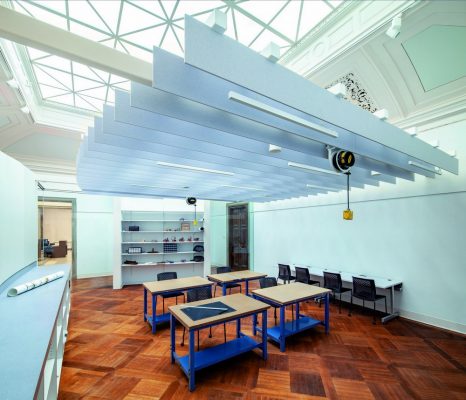 The Corcoran is widely considered to be an architectural masterpiece, originally designed by Ernest Flagg. To meet the needs of 21st century education, functions that were previously housed in the basement and sub-basement are now elevated. Every level now features a mix of social, learning, and studio spaces.
"Our design centers on making the Corcoran a home for active pedagogy. It's an amazing transformation, reimagining this storied and inspiring architectural setting in a way that enlivens creativity and encourages cross-pollination of ideas," said Pierre Gendreau, RA, LEED AP, senior project manager with LEO A DALY.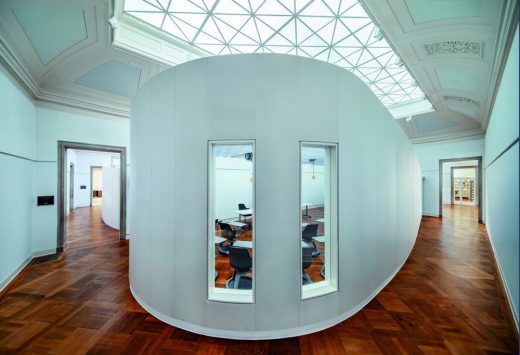 The heart of the building is the Colonnade, a stately, daylit atrium that serves as a display site for exhibitions and a central gathering point for the Corcoran community.
On the second floor, several historic galleries have been reimagined as active learning spaces, with classroom seating, storage cabinets, power drops for technology and other learning-focused additions. Specialized studio environments include a new electronics fabrication lab, sculpture, drawing, and painting studios, performance spaces and a media lab. On the first floor, former director's suites have been converted into seminar classrooms, and the former bookstore into a computer lab.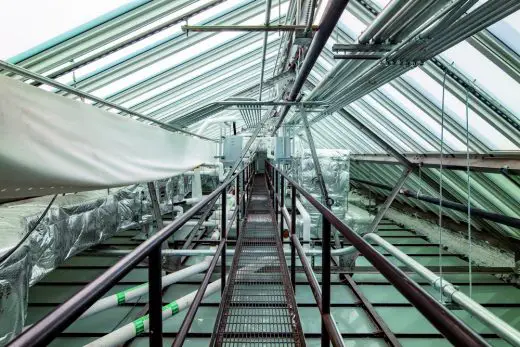 Working and learning among artworks by the great masters will continue to be an important part of academic life at the Corcoran. Selected gallery space on the second floor has been preserved, and portions of the Corcoran's $2.4 billion collection, which was donated to the National Gallery of Art (NGA) upon the Corcoran's dissolution in 2014, will return to the building. Significant upgrades to the building's mechanical and architectural systems allow it to meet NGA's rigorous environmental standards for art conservation.
A sub-basement houses the school's metal shop and wood shop, which are now wheelchair accessible with appropriate ventilation and life safety systems. The basement retains updated studio and seminar areas outfitted for both general use and specialized uses such as printmaking and ceramics.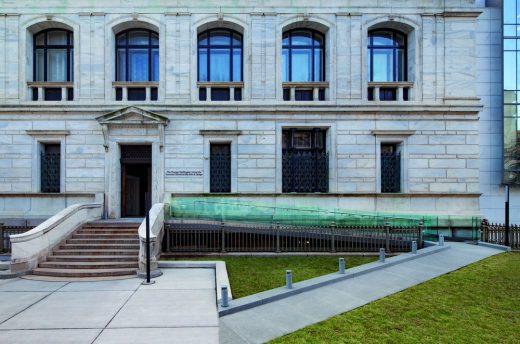 A delicate touch in repurposing protected interiors
Designers used a delicate touch in preserving historic interior finishes of the Flagg Building while transforming many of its functional parameters. The building was placed on the National Register of Historic Places in 1971, and many of its interior spaces were landmarked in 2015, meaning that they could not be significantly altered from the original design intent.
The needs of the Corcoran School in training emerging 21st century artists bear little in common with the needs of 19th century art exhibitions. Our challenge was to reimagine these epic-scale exhibition spaces as intimate learning environments without altering the historic fabric," said Jess Kim, RA, RID, NCIDQ, LEED AP, senior project architect with LEO A DALY.
The building's use of diffused natural light, large open spaces, classical proportions, and sumptuous materials put the Flagg Building on par with the best galleries in Europe when it opened in 1897. Its galleries were designed to exhibit large-scale works that could be viewed from a distance, and rooms were arranged in sequence, with very few corridors.
Corcoran School of the Arts & Design BIM model: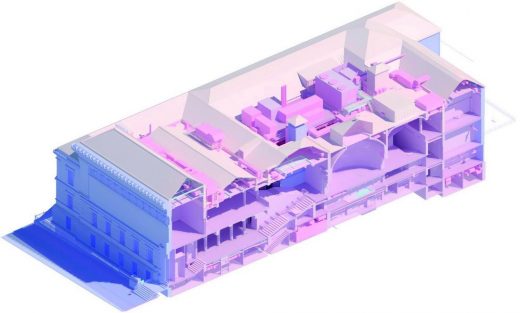 "How do you add classrooms and code-required ingress and egress routes to a series of large galleries without making any permanent changes to the historic fabric?" asked Tim Duffy, AIA, CSI, LEED AP, vice president and director of technical services with LEO A DALY. "Our solution was to imagine the classrooms as objects within the landscape of the galleries. The classrooms function as pockets of creativity within a carefully preserved historic context. This approach allows the galleries remain essentially themselves while providing adequate life-safety protection."
To protect the interior finishes, classroom walls are designed to stop short of the ceiling, and their construction is easily reversible with minimal impact. Where needed, acoustic baffles and other acoustical treatments have been added to create an appropriate acoustical environment for education while limiting sound transmission to surrounding areas.
Much of the work is out of sight, or nearly so, to the public. New mechanical and electrical systems are tucked away in the courtyard, attic and sub-basement. A new fire-suppression system, required by building code, was surgically crafted to minimize visual impact. Rather than attempt removal of the 120-year-old ornamental plaster ceiling (a costly and potentially damaging prospect), pipes follow the curves of coves and moldings, carefully blending into the architecture. Many plumbing fixtures were added to meet student demand without significantly reducing usable space.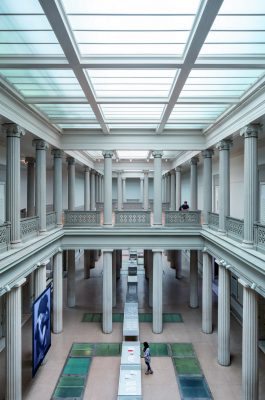 A high-tech approach to low-impact design
The design team faced a challenge early on with the discovery that, sometime during the Corcoran's 120-year history, nearly all building plans documenting its architecture, structural, mechanical, electrical, and plumbing systems had disappeared. What limited drawings could be found were faded, tattered and unreadable.
Complicating matters, numerous renovations over the years had resulted in building systems that were a maze of used and disused pipe, conduit, wires, and ductwork, usually not labeled or labeled incorrectly. The information needed to make sense of these layers was buried inside the walls, which could not be documented using typical means for the damage it would cause.
The inner structure of the floors was also obscured due to their Metropolitan-slab construction. The now-obsolete structural system used thin wire to add tensile strength to a gypsum and wood chip matrix, and is easily degraded by moisture. Understanding this assembly was critical to designing fire-and-life-safety systems, determining acceptable loads, and locating and designing wet areas.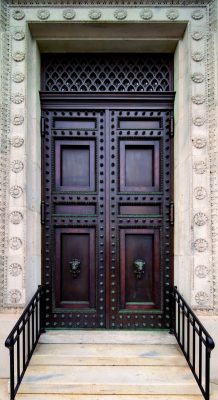 Designers used a range of cutting-edge technology to scan the building and create a highly detailed digital model. A combination of laser scanning, ground-penetrating radar, and CCT pipe-camera surveying created a 3D scan of the walls and their embedded systems. This data was fed into a digital model, creating a detailed picture of nearly every cubic inch of the facility.
Decades of deterioration also complicated efforts to design mechanical and wall-system improvements to meet the NGA's environmental standards. Over the years, the building's skylight system had sprung multiple leaks, and much of the uninsulated exterior stone walls allowed excessive air and moisture infiltration and exfiltration with inadequate thermal control. Where leaks were not coming from the exterior, they were coming from unidentified pipes and ducts.
The team used hygrothermal wall analysis to forensically analyze the building's envelope for air leakage, moisture ingress and degradation of the building envelope.  Then, computational fluid dynamics modeling was used to determine whether mechanical and architectural design solutions would achieve NGA criteria. This iterative process continued until NGA was satisfied by the model's performance.
The information collected was combined into what designers call a "data ecosystem" using Revit, a program for building information modeling. The process captured the intricate ornamentation of the stone work on the exterior and the ornamental plaster and wood paneling of the interiors. As design progressed, the 3D model was updated to reflect improvements. The result is a comprehensive, historically layered picture of the 120-year-old building.
"We were able to turn all of the model data over to GW for use in their facilities management system. This will make the building easier for them to maintain, and safeguard this architectural treasure well into the future," said Andrew Graham, AIA, NCARB, senior architect with LEO A DALY.
Photographs by Ron Blunt
Images © LEO A DALY
Corcoran School of the Arts and Design, George Washington University, Washington, D.C. images / information courtesy of LEO A DALY
Founder: William Wilson Corcoran
Founded: 1869
Address: 500 17th St NW, Washington, DC 20006, USA
Phone: +1 202-994-1700
Washington DC Buildings
Washington DC Architecture
Washington DC Architecture Designs – chronological list
Washington, D.C. Architecture Walking Tours by e-architect
Coach House
Design: Gardner Architects LLC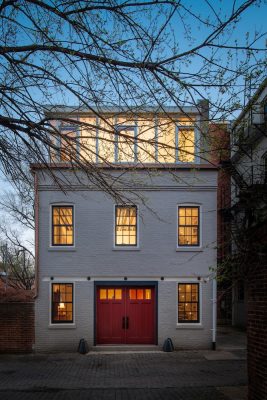 photograph : John Cole
Coach House in Washington, D.C.
Apple Retail Store, Carnegie Library
Design: Foster + Partners Architects



image Courtesy of architects
Carnegie Library Apple Store Building
Ontario Residence, Washington, D.C.
Design: David Jameson Architects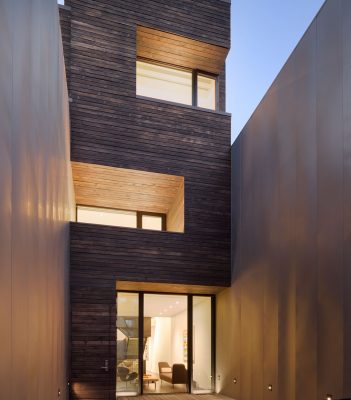 photo : Paul Warchol
Ontario Residence, Washington, D.C.
Gallaudet University International Design Competition Winner
Design: Hall McKnight, architects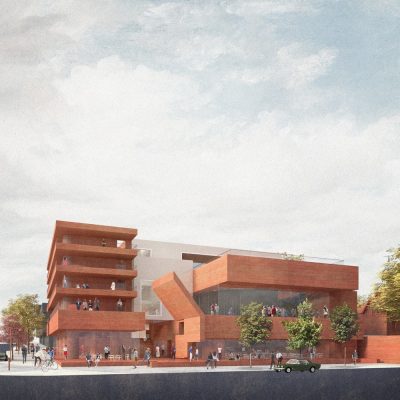 image © Gallaudet University / Malcolm Reading Consultants/ Hall McKnight
Gallaudet University International Design Competition
Website: Washington, D.C.
Comments / photos for the Corcoran School of the Arts and Design, George Washington University Washington DC page welcome
Website: Corcoran School of the Arts and Design, George Washington University