LEO A DALY Architects, Building Photo, US Projects News, Abu Dhabi Design Office, Images
LEO A DALY Architects
International architecture, planning, engineering, interior design & program management firm
post updated 7 August 2021
LEO A DALY News
LEO A DALY Architects News
July 10, 2020
The new guest journey white paper
Hospitality is the art of curating guest emotion. Its foundation is trust, earned by brands and reinforced through design. The global pandemic has compromised this trust relationship, making travelers uneasy in public spaces and suspicious in private ones. It has challenged the traditional model of hospitality amenities and the sequence of events in the guest experience.
The new guest journey white paper
Sep 10, 2019
Carson Headquarters, Omaha, Nebraska, USA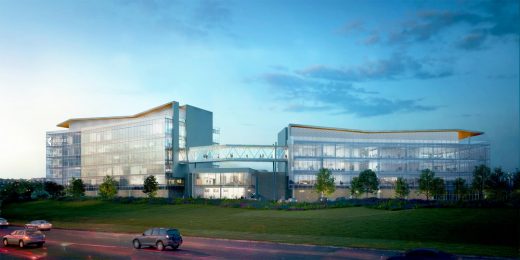 images courtesy of architects
Carson Headquarters Omaha Building in Nebraska
LEO A DALY has completed conceptual design for the new Omaha headquarters of Carson, one of the fastest growing financial services firms in the United States. The 200,000 square foot office campus is being developed by Goldenrod Capital Partners and Tetrad Property Group.
Feb 7, 2018
Sanford Underground Research Facility, South Dakota, United States of America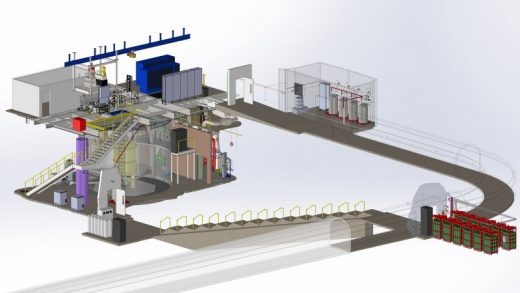 image courtesy of architects
Sanford Underground Research Facility
Construction has begun on renovations to the Davis Cavern at Sanford Underground Research Facility (SURF). The project makes way for the LUX-ZEPLIN (LZ) experiment to take place in the former Homestake gold mine, where, shielded from cosmic background radiation by nearly a mile of rock, scientists hope to make the next breakthrough in the search for dark matter.
Jan 2, 2018
Education Village begins construction at Winona State University, Minnesota, United States
LEO A DALY transforms three former school buildings into a state-of-the-art mini-campus for teacher training
Winona, MN – Construction is underway on Education Village, a state-of-the-art mini-campus for teacher education at Winona State University in Winona, Minnesota. The $25.2 million project repurposes three former school buildings, creating a new section of campus and home of the College of Education.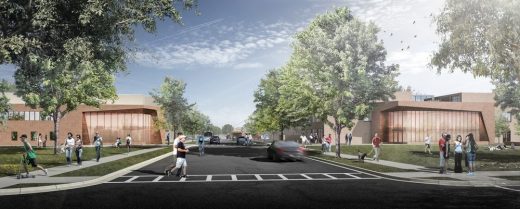 Designed by LEO A DALY, Education Village carves a cohesive identity out of three school buildings from different eras, retrofitting them with cutting-edge learning spaces while retaining their historic integrity. The 100,000 square-foot project will allow future teachers to train in the internationally recognized Winona Model, which focuses on early clinical experiences in real-world situations.
The design creates a spectrum of learning environments that embody the history of American education, ranging from fully historic classrooms with blackboards, to the most advanced, technology-enabled active-learning classrooms, STEM labs, maker spaces, and special-education classrooms.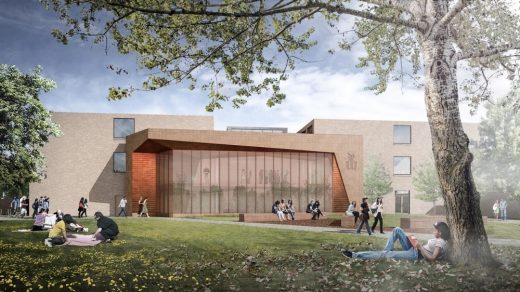 "Education Village is a place for birth-to-100 learning, where history, technology, and real-world experience come together to develop innovative teachers," said Joe Bower, senior architect in LEO A DALY's Minneapolis office. "By placing a diversity of learning environments into a range of different building contexts, the design helps prepare future teachers for anything they will encounter in professional life."
"Education Village is a leap forward for teacher education in the state of Minnesota. It will empower pedagogy change agents, and create a corps of new teachers who will help school districts innovate and face the educational needs of tomorrow," said Dr. Tarrell Portman, Dean of the College of Education.
Wabasha Hall, the new main hub of Education Village, will function as a learning lab and gathering place, with a large atrium addition, as well as experimental classrooms, a child-care center, counselor-education facilities, and breakout spaces for group work. Wabasha Rec, a former gym, will house physical-education and adaptive-sports teaching programs. Cathedral School, a historic schoolhouse built in 1929, will preserve low-tech classrooms relevant to the current spectrum of American schools, and house post-graduate teacher-development functions, administrative offices, and the dean's suite.
Construction by general contractor Kraus-Anderson is expected to complete in time for the Fall 2019 school semester.
Founded in 1858, Winona State University is a comprehensive, regional public university with approximately 8,000 students on campuses in Winona and Rochester. The oldest member of the Minnesota State system, WSU offers more than 80 undergraduate, pre-professional, licensure, graduate and doctorate programs in five colleges: Business, Education, Liberal Arts, Nursing & Health Sciences, and Science & Engineering.
Nov 13, 2017
Intelligence Community Campus-Bethesda, Columbia, MD, USA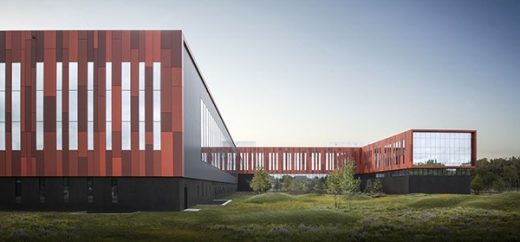 image courtesy of architects
Intelligence Community Campus-Bethesda in Maryland
The Intelligence Community Campus (ICC-B) in Bethesda is the recipient of a 2017 Design-Build Merit Award, given by the Design-Build Institute of America (DBIA).
Aug 1, 2017
Omaha Marriott Downtown Hotel Building, Nebraska, USA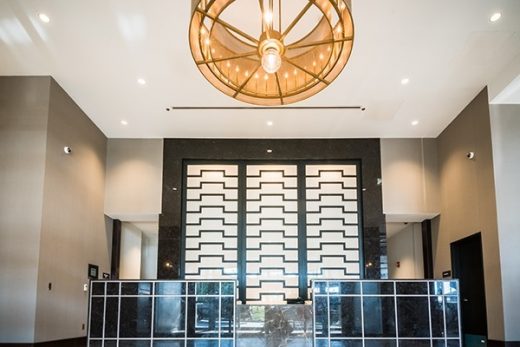 photo : Business Wire
Omaha Marriott Downtown Hotel Building in Nebraska
Jun 14, 2017
Intelligence Community Campus-Bethesda, Merriweather Park, Symphony Woods, Columbia, MD, USA
Building Design + Construction has awarded LEO A DALY a Building Team Award (Bronze) for Intelligence Community Campus – Bethesda, a new, collaborative campus for the United States intelligence community in Bethesda, MD.
11 Jul 2016
LEO A DALY appoints Doug Williams director of digital practice
Doug Williams, CDT, LEED AP BD+C, has been appointed as director of digital practice for LEO A DALY. Joining as senior associate, Williams will guide the vision, strategy, resources, and direction for the use of technologies that support the interdisciplinary design practice of the global architecture firm.
Since completing his architecture training in 1997, Williams has spent a 20-year career developing and implementing technological innovations in the architecture and engineering industry. He joins LEO A DALY from Perkins + Will, where he was senior associate, digital practice manager.
LEO A DALY appoints Doug Williams director of digital practice
Williams is an internationally recognized expert and frequent speaker on the subject of digital practice. He spent 20 years as a U.S. Army Reservist (retired 2007) and received his Bachelor of Science in Architecture from Southern Polytechnic State University in 1993.
"Doug is a champion of innovation and the perfect person to lead our digital practice into the next century. As we enter into the firm's 101st year, we are determined not to rest in our pursuit of design that enhances and enriches the human experience. Doug's passion for design and thought leadership is infectious, and we're thrilled to have him aboard," said John Kraskiewicz, AIA, chief operations officer of LEO A DALY.
14 Jun 2016
LEO A DALY Appoints Global Education Practice Leader
Stephen Wright, AIA, vice president, appointed to lead LEO A DALY's global Education design practice.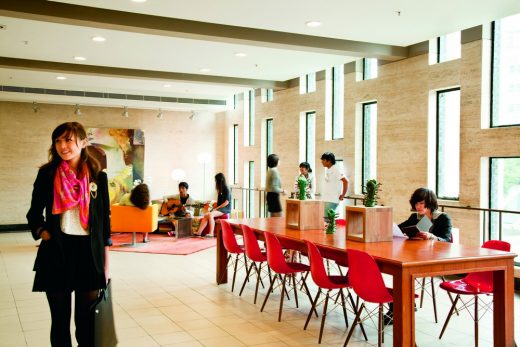 More details in the link below:
LEO A DALY Architects – Practice News
Dec 16, 2015
LEO A DALY Architects News
Irena Savakova joins the practice: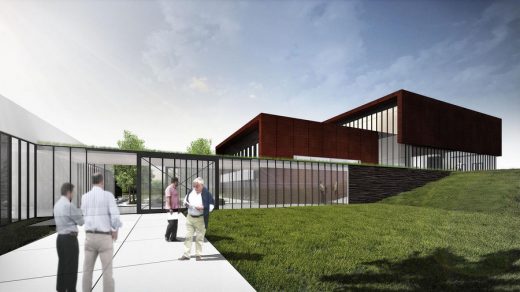 image from architects
Sep 18, 2013
Toro Headquarters Building, Bloomington, Minnesota, USA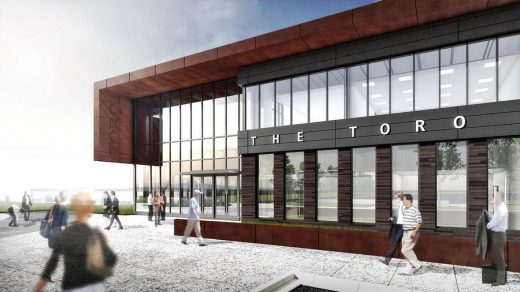 image from architects
Toro Headquarters Building
The Toro Company, a leading worldwide provider of innovative turf, landscape, rental and construction equipment, and irrigation and outdoor lighting solutions, selected international architecture/engineering firm LEO A DALY as design architect to expand its headquarters in Bloomington. The 75,000 sqft expansion, which officially broke ground on Sept. 5, will begin the process of expanding the company's research, development and testing operations required for Toro's state-of-the-art equipment. The project is scheduled for completion in summer 2014.
24 Aug 2013
Zayed Military Hospital, Abu Dhabi, UAE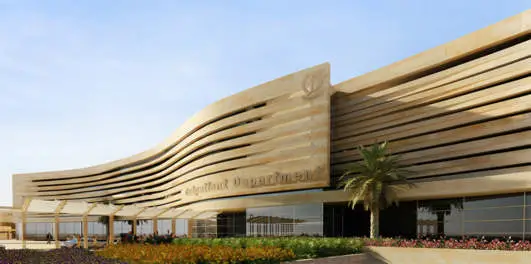 image from architects
Zayed Military Hospital
The Abu Dhabi Command of Military Works selected international architecture and engineering firm LEO A DALY to design its new 300-bed, 117,000 sqm (1.25 m sqft) Zayed Military Hospital campus that will serve all branches of the United Arab Emirates Armed Forces. The design includes a 260-bed medical/surgical hospital, a 40-bed psychiatric hospital, a women's services building, security facilities, a mosque and a utility plant.
Jul 24, 2013
KETV, former Burlington Station, Omaha, USA
Design: LEO A DALY



image © LEO A DALY
KETV Nebraska Building
KETV, Omaha's top-rated television station, recently purchased this 48,000 square-foot, two-story facility to house its growing broadcast operations. To transform it into a 21st century multimedia outlet, KETV chose the international architecture/engineering firm LEO A DALY.
Minnesota Fallen Firefighter Memorial, USA
Families of Firefighters who died in the Line of Duty Break Ground for the Minnesota Fallen Firefighter Memorial.
MINNEAPOLIS – July, 2012 — Families of Minnesota firefighters who died in the line of duty, statewide fire officials, legislators and representatives from memorial designer LEO A DALY broke ground for the Minnesota Fallen Firefighter Memorial in a solemn ceremony at the State Capitol on July 13. Construction will continue throughout the summer, with a dedication ceremony to unveil the new memorial scheduled for Sept. 30, 2012, Minnesota's newly designated Fallen Firefighters Memorial Day.


image © LEO A DALY
Minnesota Commissioner of Public Safety Mona Dohman joined family members at the event, including:
• Kristi McCormick, a Hibbing fire equipment operator/paramedic and the granddaughter of Chauncey Pettinelli (from Virginia, Minn.), who died June 16, 1958;
• Brandon Hollingsworth, a Brooklyn Park firefighter and son of Thomas K. Hollingsworth (from Robbinsdale), who died Jan. 17, 1984
• Jack Zilliox, a retired Saint Paul Fire Captain and son of John Zilliox (from Saint Paul), who died Nov. 25, 1973;
• Linda Delude, widow of Barry Delude (from Minneapolis), who died Feb. 13, 2007; and
• Juanita Rosa, granddaughter of John Harmon (from Renville), who died May 22, 1921.
Since 1881, 208 Minnesota firefighters have died in the line of duty. In 2011, the Minnesota Fire Service Foundation launched an initiative to create a larger, more accessible and interactive memorial on the grounds of the State Capitol to give families, friends, co-workers and community members a permanent location to pay tribute to these men and women who made the ultimate sacrifice.
LEO A DALY is providing design, project management and cost estimation services to create the new memorial while Westwood Professional Services is responsible for survey and civil engineering. The firms are partnering on a pro-bono basis with the Minnesota Fire Service Foundation.
To pay for some additional construction costs and minor expenses for the Sept. 30 dedication ceremony, the Minnesota Fire Service Foundation is working to raise the final $80,000 over the next few months. There is still time to contribute to the cause: Financial contributions to the Minnesota State Firefighter Memorial fundraising effort can be sent to: Minnesota Fire Service Foundation c/o Flagship Bank, 7525 Office Ridge Road, Eden Prairie, MN 55344-3644.
Online contributions can be made at: www.mnfireservicefoundation.org. All contributions are tax deductible. Donations exceeding the goal will fund educational scholarships for children of active, retired or deceased firefighters, and for spouses of deceased firefighters.
"This has been a joint effort between firefighters, the business community and the public," said Martin Scheerer, Past President of the Minnesota State Fire Chiefs Association. "We've seen support pour in from all across Minnesota, and we're particularly proud of the way many of the fire departments across the state have contributed to this important effort.
LEO A DALY News in 2012
Jun 12, 2012
SAC Federal Credit Union Corporate Headquarters, Papillion, Nebraska, USA



image © LEO A DALY
SAC FCU Headquarters
The largest credit union in Nebraska, selected international architecture, planning, engineering, interior design and program management firm LEO A DALY to provide design and engineering services for its new corporate headquarters campus in Papillion, Nebraska. LEO A DALY also provided site selection, programming and master planning services for the project over the past year.
Apr 25, 2012
China Mobile International Headquarters Campus, Beijing, China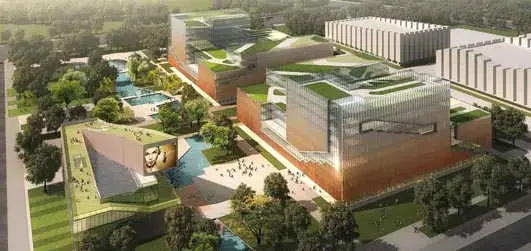 picture : WDCE
China Mobile Beijing
The new international headquarters, which will be built in several phases in an area of 1.3 million square meters, consists of a campus of 26 specialized buildings to accommodate a variety of functions, including information collection, research and innovation, information services, international cooperation and exchange and display functions.
LEO A DALY Practice News in 2012
State of Minnesota Selects LEO A DALY to Design New Minnesota Fallen Firefighters Memorial
(MINNEAPOLIS – March 06, 2012) The state of Minnesota has selected international architecture, planning, engineering, interior design and program management firm LEO A DALY to design the new Minnesota Fallen Firefighters Memorial on the State Capitol grounds to honor the sacrifice of Minnesota firefighters killed in the line of duty.


image courtesy of LEO A DALY
"We are proud to collaborate with the Minnesota Fire Service Foundation to design a memorial that pays homage to our firefighters and recognizes their extraordinary sacrifice to our community," said LEO A DALY Minneapolis Managing Principal Ted Redmond, AIA.
The approximately 6,000-square-foot memorial incorporates several distinctive design features within a landscaped garden and paved assembly area. The main focal point is a large monolith supported by a grid of steel columns that houses the Minnesota Fire Service Memorial Statue. This bronze, figurative sculpture of a firefighter rescuing a child, which is currently on display at the Minneapolis/St. Paul International Airport, is lit by natural light through a circular void in the monolith.
The monolith is made of weathering steel, which over time rusts to form a protective coating – a process analogous to the oxidation of fire. The organizing grid of 100 potential pavilion columns embodies a repeating century of years – 10 decades by 10 years per decade. Currently, an incomplete constellation of 83 columns are mapped on the grid, recording the years in which Minnesota firefighters have died in the line of duty. The names of each of Minnesota's fallen firefighters are inscribed on the columns. The design allows for new columns to be added onto the grid for additional inscriptions in the future.
Also, the memorial ground rises to present approaching visitors with a wall inscribed with names of the 791 fire departments throughout the state. The site's landscaped garden and paved area provides a space for quiet reflection and contemplation, and also serves as the ceremonial location for large annual memorial services.
"We want to provide a meaningful experience to family, friends and community members who visit to pay their tributes," said Glenn Waguespack, LEO A DALY's lead designer on the project. "So the design incorporates evocative symbols of firefighters in every aspect of the memorial."
Construction of the $500,000 memorial, which was completely funded by Minnesota's firefighters, will begin in May 2012 and completed by September 2012.
LEO A DALY Opens New Office in Riyadh, Saudi Arabia
Jay N. Kline, Regional Manager – Saudi Arabia, To Lead Office
(WASHINGTON – March 06, 2012) International architecture, planning, engineering, interior design and program management firm LEO A DALY opens a new office in Riyadh, Saudi Arabia. The new office, which is the second office opened by the firm in the Middle East in recent years, will focus on infrastructure, housing, healthcare and education markets.
"Saudi Arabia is a fast-growing economy and is investing in its infrastructure, hospitals and universities," said LEO A DALY executive vice president Charles Dalluge. "We have worked with Saudi clients on a diverse portfolio of large-scale projects since the 1970s, and we believe opening this regional office will help us play a significant role in fulfilling the country's needs."
Jay N. Kline, regional manager – Saudi Arabia, will lead the office in close collaboration with Ross Ensor, the firm's corporate international director, to build prospective and existing client relationships, identify new project opportunities, and coordinate the firm's projects in the country. Since joining LEO A DALY in 2008, Kline has primarily focused on the firm's federal projects, serving clients such as the Department of Defense, Department of Veterans Affairs, Department of Homeland Security and the General Services Administration.
His responsibilities included managing clients, developing pursuit strategies, overseeing proposal writing processes and preparing project interviews. Prior to joining LEO A DALY, Kline worked in a variety of sales and marketing positions within a wide range of industries, including fine jewelry, real estate and entertainment.
"Representing the firm in Saudi Arabia is an honor and I am looking forward to this challenge," said Kline. "I lived in the Middle East as a youth and am therefore familiar and comfortable with the Arab people and culture. I will be striving to build strong and sustainable relationships with our clients in the next few years."
Kline studied international studies with a specialization in international business and management at the University of Nebraska at Omaha (UNO). During his studies, he was awarded the Nene Field Ambassador Scholarship which sent him to the University Of Helsinki School Of Economics in Mikkeli, Finland to represent UNO's international studies program. Recently, he received the Young Member Medal award from the Society of American Military Engineers, Omaha Post, for his work as the co-chair of its programs committee.
The opening of the Riyadh office marks the eighth international location for LEO A DALY, which also has offices in Abu Dhabi, United Arab Emirates; Beijing; Hong Kong; Benghazi, Libya; Istanbul, Turkey; Moscow; and Tripoli, Libya. The Riyadh office is located at 602 Akaria III – Olaya, P.O. Box 300726.
USA Architects Practice News
LEO A DALY Architects – Practice Developments



image Courtesy of LEO A DALY
LEO A DALY Architects
Recent LEO A DALY Designs
Aug 9, 2011
FAU College of Engineering and Computer Science Building
LEO A DALY Architects



photo : Island Studios Photography (Stuart Gobey)
Florida Atlantic University Building
The U.S. Green Building Council awarded the Leadership in Energy and Environmental Design (LEED)® Platinum certification to the recently completed Florida Atlantic University (FAU) College of Engineering and Computer Science Building in Boca Raton, Fla. LEED is the nation's preeminent program for the design, construction and operation of high performance green buildings. Designed by international architecture, planning, engineering, interior design and program management firm LEO A DALY, FAU's facility is the first academic building in southeast Florida to achieve this status.
Jul 20, 2011
Aegean Breeze at Alaçati, west Turkey



image from architects
Aegean Breeze at Alaçati : Turkish Resort Design
LEO A DALY is providing the master plan and concept design for Aegean Breeze at Alaçati, a five-star, contemporary beach destination resort that will break ground on the western coast of Turkey this year, with a grand opening planned in summer 2012.
LEO A DALY – Key Projects
Excellence Huanggang Century Center, Shenzhen, China
–



image from LEO A DALY Architects
Excellence Huanggang Century Center
Huijin International Center, Xiamen, China
–



image from LEO A DALY Architects
Huijin International Center
Baqiao District Housing, Xi'an, Shaanxi Provence, China
–



image from LEO A DALY Architects
Baqiao District Housing : Master Plan and Concept Design
Abu Dhabi New England Center for Children, United Arab Emirates
–



image from LEO A DALY Architects
Abu Dhabi New England Center for Children
Bat'umi Resort and Master Plan, Georgia
–



image from LEO A DALY Architects
Bat'umi Resort
More designs by LEO A DALY online soon
Location: Bainuna Street 34 Al Bateen, Abu Dhabi, United Arab Emirates
Architects Practice Information
LEO A DALY have offices across the globe inluding studios in Abu Dhabi (UAE), Beijing (China) and Hong Kong (China).
Established in 1915, LEO A DALY is an internationally renowned architecture, planning, engineering, interior design and program management firm. The company's portfolio includes award-winning projects in 70 countries, all 50 states and the District of Columbia.
LEO A DALY currently employs more than 1,100 architects, planners, engineers and interior designers in 30 offices worldwide. LEO A DALY consistently ranks in the top 10 largest architecture, engineering and interior design firms in the U.S., and is listed in BD World Architecture's top 30 global practices.
LEO A DALY's involvement in overseas commissions started in the 1960s with work in Brazil and Vietnam. The firm's first permanent overseas office was established in Hong Kong where it has had a presence for more than 40 years. LEO A DALY has international offices based in Beijing, Tianjin, Abu Dhabi, Hong Kong, Istanbul and Moscow.
Comments / photos for the LEO A DALY Architecture page welcome
Website: www.leoadaly.com