Taipei Performing Arts Center, Development, Taiwan, TPAC Building, Images, Design
Taipei Performing Arts Centre : TPAC, Taiwan
TPAC Building Taipei – design by OMA, with Artech Architects
16 Feb 2012
Taipei Performing Arts Centre News
Design: OMA with Artech Architects
Taipei Performing Arts Center breaks ground today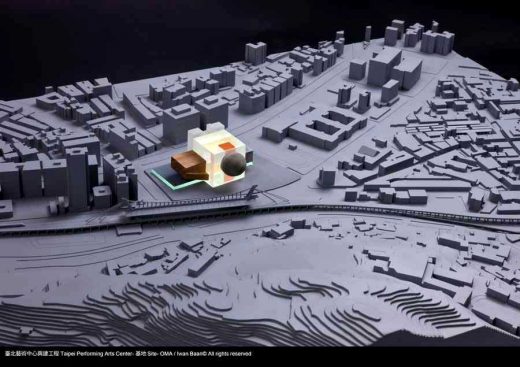 Hong Kong, 16 February 2012 – Construction begins today on the OMA-designed Taipei Performing Arts Center in Taipei, Taiwan. President Ma Ying-jeou, together with Mayor Hau Lung-pin, representatives from the Taipei City Government, OMA, and local design partner Artech Architects will take part in the groundbreaking ceremony. For a city passionate about theatre, TPAC is a new kind of venue – adaptable, efficient, and intimately connected with the urban fabric.
The design of TPAC, comprising a 1,500-seat theatre and two 800-seat theatres, is the result of investigation into the internal workings of theatre. Plugged into a central cube clad in corrugated glass, each theatre shares backstage space and mechanical facilities. Two of the three theatres can be combined into a Super Theatre with a 60-metre long stage for experimental new forms of theatre.
Lifted from the ground, the central cube allows the street to extend both under and up into the building, drawing people into a public loop where backstage workings that are normally hidden from view – rehearsals, technical spaces – are made visible. TPAC aims to let the audience experience new elements of theatrical production at the same time as inviting a broader public to engage with the performing arts.

OMA's Partners-in-charge of the project, Rem Koolhaas and David Gianotten, will be present at the groundbreaking together with Managing Partner Victor van der Chijs. The entire TPAC team, led by Associate-in-charge Adam Frampton, will also be at the ceremony, joined by Artech Architects Founder – Architect Kris Yao, Senior Partner – Architect Willy Yu, and the Artech team.
Rem Koolhaas comments: "The flexible configurations of the theatres allow unimagined scenarios, incessantly stimulating theatrical experiments."
David Gianotten remarks: "TPAC engages a wide public not only by providing spaces for performances, but also through exposing parts of the backstage to the public. The general public will have a glimpse of performing arts production and a new theatrical experience."
Associate-in-charge Adam Frampton notes: "The premise of the design is to combine three theatres into more than the sum of their parts. Similarly, the collaboration between the Taipei City Government, international and local architects, engineers, and specialists has yielded a collective result exceeding individual potential."
OMA won the competition for Taipei Performing Arts Center in January 2009 after beating 135 entries from 24 countries. Completion of the project is expected in 2015 with an estimated construction budget of 5.4 billion Taiwan dollars (about €140 million).
Currently, OMA's offices in Hong Kong and Beijing are also overseeing the completion this year of CCTV's new headquarters in Beijing and the Shenzhen Stock Exchange; Chu Hai College of Higher Education in Hong Kong will be completed in 2013.
Taipei Performing Arts Centre – Building Information
Project: Taipei Performing Arts Center
Status: Competition: 2008-09. Construction begins: 2012. Scheduled completion: 2015
Client: Department of Cultural Affairs, Taipei City Government
Budget: Estimated: 5.4 billion Taiwan Dollars (around €140 million)
Program: Total 50,000m2. One 1,500-seat theatre and two 800-seat theatres
Height: 63m
Partners-in-charge: Rem Koolhaas, David Gianotten
Associate-in-charge: Adam Frampton
Design team: Ibrahim Elhayawan with: Yannis Chan, Hin-Yeung Cheung, Jim Dodson, Inge Goudsmit, Alasdair Graham, Vincent Kersten, Chiaju Lin, Vivien Liu, Kai Sun Luk, Kevin Mak, Slobodan Radoman, Roberto Requejo, Saul Smeding, Elaine Tsui, Viviano Villarreal, Casey Wang, Leonie Wenz
Competition team: partners / designers: Rem Koolhaas, David Gianotten, Ole Scheeren, and senior architects: André Schmidt, Mariano Sagasta and Adam Frampton, with: Erik Amir, Josh Beck, Jean-Baptiste Bruderer, David Brown, Andrew Bryant, Steven Chen, Dan Cheong, Ryan Choe, Antoine Decourt, Mitesh Dixit, Pingchuan Fu, Alexander Giarlis, Richard Hollington, Shabnam Hosseini, Sean Hoo, Takuya Hosokai, Miguel Huelga, Nicola Knop, Chiaju Lin, Sandra Mayritsch, Vincent McIlduff, Alexander Menke, Ippolito Pestellini, Gabriele Pitacco, Shiyun Qian, Joseph Tang, Agustin Perez-Torres, Xinyuan Wang, Ali Yildirim, Patrizia Zobernig
COLLABORATORS
Local architect: Artech Architects
Theatre consultant: dUCKS scéno, CSI
Interior designer: Inside Outside
Landscape designer: Inside Outside
Acoustic consultant: DHV
Structural engineer: Arup Structure, Evergreen
MEP engineer: Arup MEP, Heng Kai, IS Lin
Fire engineer: Arup Fire, TFSC
Lighting consultant: Chroma 33
Facade engineer: ABT, CDC
Sustainability consultant: Arup Building Physics, Segreene
Geotechnical engineer: Sino Geotech
Traffic consultant: EECI Traffic
Model: Vincent de Rijk, RJ Models
Photography: Frans Parthesius, Iwan Baan
Animation: Artefactory
TPAC Taiwan
Taipei Performing Arts Center – Text
Why have the most exciting theatrical events of the past 100 years taken place outside the spaces formally designed for them? Can architecture transcend its own dirty secret, the inevitability of imposing limits on what is possible?
In recent years, the world has seen a proliferation of performance centres that, according to a mysterious consensus, consist of more or less an identical combination: a 2,000-seat auditorium, a 1,500-seat theatre, and a black box. Overtly iconic external forms disguise conservative internal workings based on 19th century practice (and symbolism: balconies as evidence of social stratification).
Although the essential elements of theatre– stage, proscenium, and auditorium– are more than 3,000 years old, there is no excuse for contemporary stagnation. TPAC takes the opposite approach: experimentation in the internal workings of the theatre, producing (without being conceived as such) the external presence of an icon.
TPAC consists of three theatres, each of which can function autonomously. The theatres plug into a central cube, which consolidates the stages, backstages and support spaces into a single and efficient whole. This arrangement allows the stages to be modified or merged for unsuspected scenarios and uses. The design offers the advantages of specificity with the freedoms of the undefined.
Performance centres typically have a front and a back side. Through its compactness, TPAC has many different "faces," defined by the individual auditoria that protrude outward and float above this dense and vibrant part of the city. The auditoria read like mysterious, dark elements against the illuminated, animated cube that is clad in corrugated glass. The cube is lifted from the ground and the street extends into the building, gradually separating into different theatres.
The Proscenium Playhouse resembles a suspended planet docking with the cube. The audience circulates between an inner and outer shell to access the auditorium. Inside the auditorium, the intersection of the inner shell and the cube forms a unique proscenium that creates any frame imaginable.
The Grand Theatre is a contemporary evolution of the large theatre spaces of the 20th century. Resisting the standard shoebox, its shape is slightly asymmetrical. The stage level, parterre, and balcony are unified into a folded plane. Opposite the Grand Theatre on the same level, the Multiform Theatre is a flexible space to accommodate the most experimental performances.
The Super Theatre is a massive, factory-like environment formed by coupling the Grand Theatre and Multiform Theatre. It can accommodate the previously impossible ambitions of productions like B.A. Zimmermann's opera Die Soldaten (1958), which demands a 100-metre-long stage. Existing conventional works can be re-imagined on a monumental scale, and new, as yet unimagined forms of theatre will flourish in the Super Theatre.
The general public—even those without a theatre ticket—are also encouraged to enter TPAC. The Public Loop is trajectory through the theatre infrastructure and spaces of production, typically hidden, but equally impressive and choreographed as the "visible" performance. The Public Loop not only enables the audience to experience theatre production more fully, but also allows the theatre to engage a broader public.
Taipei Performing Arts Centre images / information from OMA
Previously:
Taipei Performing Arts Centre
OMA to build Taipei Performing Arts Centre
Rotterdam/Beijing, 27 January 2009 – The Office for Metropolitan Architecture (OMA) has been awarded the first prize in the design competition to build the Taipei Performing Arts Centre. The design, led by OMA partners Rem Koolhaas and Ole Scheeren, was selected from over 135 entries from 24 countries by an international jury.
The scheme includes a 1,500 seat theatre and two 800 seat theatres which plug into a central cube, clad in corrugated glass, that combines the stage accommodations of the three theatres in a single whole. Each theatre can be used independently or in combination with the other theatres.
Connecting the different theatres offers new and experimental theatrical possibilities. A public trajectory inside the cube exposes parts of the backstage areas otherwise hidden in typical theatres. The cube is placed on a socle preserving the existing lively local food market.
OMA will collaborate with local architect Artech Inc. to build the 40,000m2 theater complex. The stage design is being developed with Ducks Sceno and the engineering is being provided by Arup. The centre is scheduled to be completed in 2013 with a budget of 3.8 billion Taiwan dollars (90 million Euro). The Taipei city council expects the centre to further facilitate the development of local performing groups and add to Taipei's image as an international cultural hub.
The project is led by OMA partners Rem Koolhaas and Ole Scheeren. The competition team included associate André Schmidt and architects Adam Frampton and Mariano Sagasta, amongst many others. Koolhaas's and Scheeren's previous collaborations include the CCTV Headquarters and TVCC Cultural Centre in Beijing, as well as Prada Epicentre Stores in New York and Los Angeles.
Taipei Performing Arts Centre information / images from OMA 270109
Location: Taipei, Taiwan
New Taiwan Architecture
Contemporary Taiwan Architectural Projects, chronological:
Taiwan Architecture Designs – chronological list
Taiwan Buildings – Selection
Taiwan Architecture Competition : Pop Music Center
Office for Metropolitan Architecture
Performing Arts Centre Taipei Design Competition : Studio Nicoletti Associates entry
Taipei Performing Arts Center Design by Abalos + Sentkiewicz Arquitectos
Taipei Performing Arts Centre Entry by NL Architects
Taipei Performing Arts Centre Proposal by Morphosis
Taiwan Building : Kaohsiung Arts Cente
Buildings / photos for the Performing Arts Centre Taipei development page welcome