Silent Garden Taipei Project, Taiwan Building, Design
Silent Garden Taipei, Taiwan
Taiwanese Architecture – design by Patricia Meneses
25 Nov 2011
Silent Garden Taipei
Taipei City, Taiwan
Design: Patricia Meneses / studio patricia meneses
The video from Silent Garden:

Captured nymph from studio patricia meneses
Nothing ever got me,
Nothing ever took me,
But the strings of the violin while the worm knitted
its refuge to metamorphose.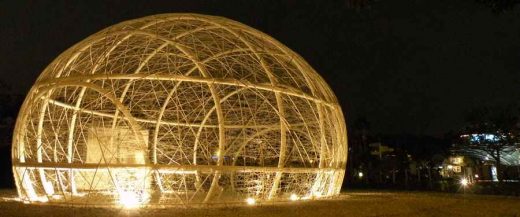 The project is based on extracting the essence of poetry kept in nature. nature poems.
The silk worm, an insect capable to create its own space to become a butterfly, Through its own fluids, building a perfect organic refuge to live its metamorphosis.




pictures from studio patricia menses
A white path to get lost stepping on crystalline minerals, hearing its sound, its brilliance to discover an undefined volume behind the mist.
The project consists on the creation of a space that invites to be penetrated. A silk garden, emerges from the earth as a chrysalis, a white luminous vault creates an inner space surrounded by nature.
A refuge for living creatures, space of light, nature sounds, echoes that empty the space, while the individual approaches, finding himself in this inner-inside space.
Facing himself with basic elements of nature, water, minerals, housed by a silk skin, where flying creatures live.
The confrontation of man with nature, too close but too far.
The project reflects about the relations of the individual with his utopian space, His relation with nature and his natural and built environment.
The historic search of man to find a refuge to exist, multiple layers of silk thread, an epidermis made by an insect, a material with a strong symbolism, a natural source as important part of eastern culture, its origin, layers that hide, expose and reveal multiple reflections of the human interior.
Macro and Micro cosmos, participating on the same poetic, sound, visual and literary architectures, proposing to open new ways to establish a dialogue between human and nature through space.
As an analogy of life, the chrysalis works as a space to metamorphose.





pictures from studio patricia menses
a project made by Patricia Meneses
developed by studio patricia meneses ©
with the collaboration of Francisco Giménez, Carbó Manuel, Rocha Iturbide, Jeanne de Bussac, Gosia Kierzerk, Salomé Ayuso
Sound piece Semi No Koe by Manuel Rocha Iturbide.
Photographs: Francisco Giménez Carbó, Jason Kao, Patricia Meneses
Special thanks to all the people that worked and believed in this project: Jason Kao, Yien Kwan Tzan, Hsin-Hone Pan, Yi-Wei Huang, Grace Tsao, Wan-TingTsai, Sophie Lai, Nina Lu, Tingliang Lo, Marisol Riesco, Phyllis, Lucas Kao, Mr. Wang, Mr. Lee, among all the rest of the persons that worked to build this project.
Semi No Koe
for flute and digital tape
Japan, Mexico 2001
by Manuel Rocha Iturbide, musician



pictures from studio patricia menses
This composition was conceived and almost entirely produced in Tokyo, Japan. The artist arrived to this country in the month of august 2000, on plain summer, a station where the cicadas sing frenetically, after years of being under the earth in the form of embryo, they finally come out for only two or three weeks, in order to fly and sing without pause before perishing.
The impression of this phenomena drove to write a work for flute and two digital tracks where the timbers of the flute would emulate the birth of the cicadas. This piece is structured following the Haiku formula, a small Japanese poem form, invented by Basho in the XVII century. These poems are constructed by 17 syllables, in the order 5, 7, 5.
The haiku's written by Basho and by other early Japanese poet's talk constantly about sounds produced by insects and other animals, and about how they break with silence.
These types of poems have a strong influence of ZEN philosophy.
A poem written by Basho about Cicadas, draws imaginary images, contrasting rhythm and structure:
Shizuakasa ya
Iwa Ni Shimiiru
Semi No Koe
The stillness
Soaking into stones
Cicada's cry
"Semi no Koe" could be though of as a programmatic work, although the decisions regarding the different formal aspects of the piece were defined starting from the fractal proportions of the ratio 5:7:5. In this way, the work is carefully structured in a fractal way, but it also try's to emulate through the acoustic and electroacustic sounds of the flute and the cicadas, the abstract complexity of nature.
Website: www.patriciameneses.com
Silent Garden Taiwan images / information from Patricia Meneses
Location: Taipei City
New Taiwan Architecture
Contemporary Taiwan Architectural Projects, chronological:
Taiwan Architecture Designs – chronological list
Taiwan Buildings – Selection
Commercial Bank Headquarters Taichung – architecture award news
Design: Aedas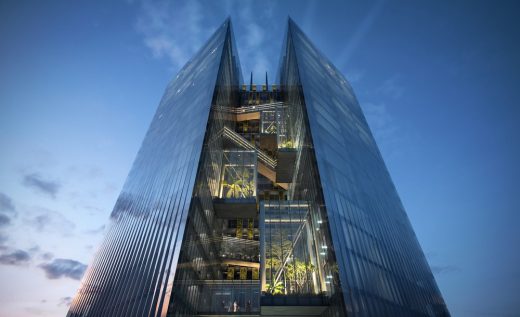 picture from architecture practice
Commercial Bank Headquarters Taichung Building
Game Apartment, Taipei
Architects: Wei Yi International Design Associates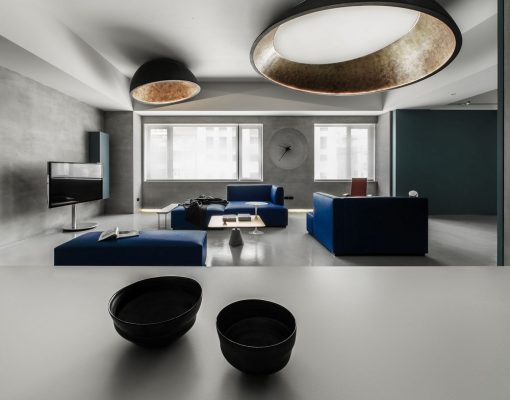 photo : JMS
Game Apartment in Taipei
Designs by Patricia Meneses
Black Box, Barcelona – Temporary Pavilion, Spain
Black box
Inner Labyrinth, Castellón, Valencia, Spain
Inner Labyrinth
Taiwan Designs + Installations
Taipei Performing Arts Centre : Winning design by OMA
Flora Building, Taipei City
Budi Pradono Architects
Flora Building
Ching Fu Headquarters
Rogers Stirk Harbour & Partners
Ching Fu HQ
Comments / photos for the Silent Garden Taipei – Taiwan Architecture page welcome
Silent Garden Taipei Project