Treasure Hill, Taiwan Building, Taipei City Project, Photo, Design, Image
Treasure Hill Taiwan : Taipei City
Community of urban farmers in Asia project by C-Lab
23 Apr 2009
Treasure Hill
Urban ecological restoration, Taipei City, Taiwan
Date: 2003 –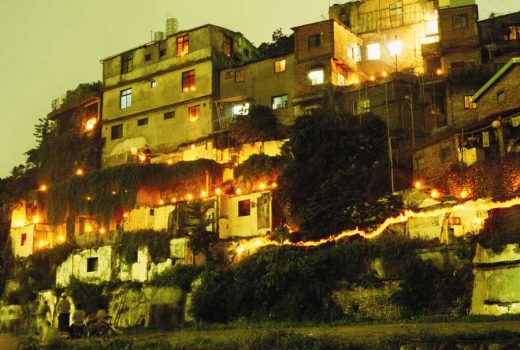 C-Laboratory in co-operation with GAPP, Tamkang University and National Taiwan University.
Commissioned by the Taipei City Government.
In 2002 I wrote to the Taipei City Government that they will die. This was mainly because of ecological reasons. When the modern man loses his connection to the nature, he will die. You will die, Dear Brother Sir. And so on.
They replied to me after one year and I was invited to Taipei by this city government to do some sort of alternative ecological urban planning, in order to avoid them from dying.
I got a lot of data from the authorities, with which I could do nothing. The Taipei on the streets was very different to this official information. Actually the data was not worth saving at all, on the contrary – it should die.
The people on the streets were very humane, alive and active. They seemed to keep the industrial machine of the city alive – they were ruining it and balancing the official pollution.
I was taken to Treasure Hill, which was under a process of demolition by the same city government that had invited me to Taipei. The first three levels of the terraced houses were already bulldozed away. All the gardens had been destroyed from the way of a public park to become. Treasure Hill was an illegal high density settlement of urban farmers – old KMT veterans from the Mainland China.
What seemed to me pretty striking was the fact that this illegal settlement had many of the values, that the official city had commissioned me to introduce for the modern Taipei: the urban farmers were filtering their grey waters, they were cultivating passive solar houses like their gardens on the hill side, they composted their organic waste and used a minimal amount of electricity – no TVs but a collective small cinema. No cars. The urban nomads produced their own food and harvested the surrounding city from what it called waste.
I changed my program so, that I stopped the demolition process of Treasure Hill and actually started to rebuild the distroyed connections and restored their farms. Treasure Hill was changed into a laboratory of environmentally sustainable urban living in Taipei. Officially the settlement is legalized as part of a public environmental art work.
What is an interesting question is, why the same city government that was destroying the illegal settlement of Treasure Hill a couple of weeks later high-lighted the area as a must-see location in Taiwan and as and example of urban future…
Treasure Hill is an earth-cultivating matriarchal community, while as the surrounding Taipei is officially patriarchal. Treasure Hill is ruled by Missis Chen, an 80+ grandmother. Treasure Hill is an ultra-ruin. People and jungle are sharing the same space of built human environment already become a part of nature. This is the Third Generation City.
Marco Casagrande 23.04.2009
Location: Taipei, Taiwan, eastern Asia
New Taiwan Architecture
Contemporary Taiwan Architectural Projects, chronological:
Taiwan Architecture Designs – chronological list
C-LAB
C-Laboratory is a Finland-based research – design & build co-operative of architects, artists and social scientists working freely in-between architecture and other disciplines of art and science within then general framework of built human environment. We realize ultra-ruins, cross-over architecture and finally the Third Generation City.
Also by C-Laboratory in Taiwan:
Taipei Performing Arts Centre : Winning design by OMA
Taiwan Building : Kaohsiung Arts Cente
Comments / photos for the Treasure Hill Taiwan Architecture page welcome