Sofitel Vienna Stephansdom, Austrian Jean Nouvel Building, Viennese Hotel Development
Sofitel Vienna Stephansdom : Austrian Hotel Building
Viennese Hotel Accommodation design by Ateliers Jean Nouvel, Paris, France
25 Nov 2011
Sofitel Vienna Stephansdom – Award
Design: Ateliers Jean Nouvel
European Hotel Design Award 2011
25 November 2011 – Sofitel Vienna Stephansdom has won The European Hotel Design Award 2011 under the category of "New Build Hotel". The awards which celebrate outstanding innovations in the hospitality industry and hotel design in Europe, were announced on 23 November 2011 at a ceremony in London.
Sofitel Vienna Stephansdom Exterior:






images : Philippe Ruault
The European Hotel Design Awards recognise the exceptional standards of recently completed hotel projects from around Europe. This year's judging panel included Gregoir Chikaher – Director and Global Hotels & Leisure Sector Leader, Matt Turner – Editor of Sleeper Magazine, and Eugene Staal – Rezidor Hotel Group, who were unanimously impressed by the purist esthetic of Sofitel Vienna Stephansdom's architecture and artwork.
William Haandrikman, General Manager of Sofitel Vienna Stephansdom commented: "We are thrilled to have won the European Hotel Design Award for 'New Build Hotel', The Sofitel Vienna Stephansdom staff and our partners have worked hard to create a novel and dramatic setting for our guests, offering not only a spectacular view over the Vienna skyline, but also a inspirational and creative setting for business and leisure. We are committed to ensuring that our guests' stay in our artistic hotel is relaxing, comfortable and luxurious".
The European Hotel Design Awards recognize the ambitious work of architects, designers, developers and hotel owners across 18 different categories. Judged by an international panel of leading hospitality experts and journalists, the European Hotel Design Awards are one of the most renowned events in the lifestyle travel industry across the globe.
Sofitel Vienna Stephansdom
Design: Ateliers Jean Nouvel
English text (scroll down for French):
Chance and intention
Architecture is the art of taming constraints ; of poetizing contradictions ; of looking differently at common and trivial things in order to reveal their singularity. Architecture is an opportunity, in a city marked by history, to continue games begun by others years or centuries ago. It is a clever game of chance and intention ; an occasion to modify, to deepen, or to change the meaning of a context. Architecture is about making apparitions.
Sofitel Vienna Stephansdom Restaurant:






images : Philippe Ruault
In Vienna architecture is all that, but here the resonance is particularly savory and dangerous, so great is the temptation to invent and to pervert what is so elegant.
So just imagine that starting with these curious constructible prisms, their planes begin to slide ; intersections are created ; one plane begins to tilt under the magnetic deviance of HH while another decides to light the city from a ceiling made of furtive images. Imagine that the other planes begin to vibrate with a thousand lines of variable orientation and reflectivity, that gray sometimes melts into gray squares on a gray background.
It is not surprising then to find that the oblique plan of the roof becomes hatched, weaving a tight, random pattern of parallelograms and lozenges, that the planes to the North take the form of granited glass for transparence ; that the planes to the West cloak themselves in variations of black to display their shadows. At the limit between building and sky there is another, flat plane that reveals the appearance-disappearance of changing faces, an evocation of the multiple faces forever linked to the depth of imagery born of this city.
Jean Nouvel
Hasards et volontés
L'architecture est l'art d'apprivoiser les contraintes. De poétiser les contradictions. De poser un autre regard sur les banalités et les trivialités pour les singulariser. L'architecture est l'occasion, dans une ville marquée par l'histoire, de continuer des jeux commencés par d'autres il y a quelques siècles ou quelques années… L'architecture est le jeu savant des hasards et des volontés… L'architecture c'est l'occasion d'une modification, d'approfondir ou de changer le sens d'un contexte… L'architecture c'est la fabrication de l'apparition.
Sofitel Vienna Stephansdom Belvedere:






images : Philippe Ruault
À Vienne aussi l'architecture c'est tout cela… mais la résonance y est aussi savoureuse que dangereuse… tant est grande la tentation des inventions et la perversion des élégances.
Alors étonnez-vous qu'à partir des prismes constructibles inattendus, les plans de ces prismes aient glissé, qu'ils aient fabriqué des intersections, que sous le magnétisme des déviances de H H l'un deux ait fini par s'incliner, un autre se soit décidé à éclairer la ville d'un plafond aux images furtives. Imaginez que d'autres plans se soient mis à vibrer de mille lignes à orientations et réflexions variables, que le gris se noie de temps en temps dans des carrés gris sur fond gris.
Rien de plus normal dans ce cas qu'un plan oblique de toiture se soit hachuré pour tisser une trame aléatoire trop serrée de parallélogrammes et de losanges, que les plans du Nord déclinent le verre granité pour construire un peu leur transparence pendant que les plans Ouest se cachent dans de noires variations pour illustrer leurs ombres. À la limite du ciel un plan plane pour révéler l'apparition-disparition de visages mutants, évocation de multiples visages à jamais attaché à la profondeur des images nées de cette ville. Jean Nouvel, Mars 2005.
Sofitel Vienna Stephansdom Bedrooms:



images : Philippe Ruault
Sofitel Vienna Stephansdom images / information from Ateliers Jean Nouvel
Location: Stephansdom, Vienna, Austria
New Vienna Architecture
Contemporary Viennese Architecture
Vienna Architecture Design – chronological list
Vienna Architecture Tours by e-architect
Telegraf 7 Building, Lehargasse
Design: BEHF Architects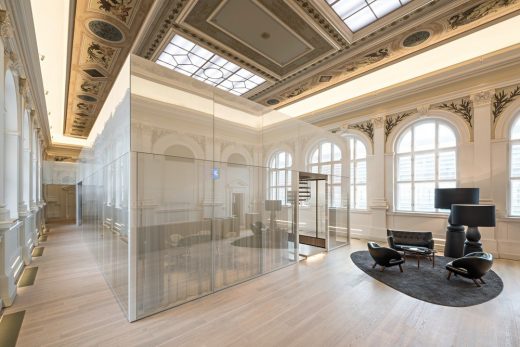 photograph : Hertha Hurnaus
Telegraf 7 Building in Vienna
Therme Wien
4a Architekten
Therme Wien
Comments / photos for the Sofitel Vienna Stephansdom Building page welcome