Witikon Stadtvillen, Swiss housing, Photo, Architect, Design, Homes, Image
Witikon Development : Town Villas, Switzerland
Contemporary Building in Switzerland – design by Burkhalter Sumi Architekten
11 Jul 2008
Town Villas Witikon
Location: Zurich, Switzerland
Date built: 2000-02
Design: Burkhalter Sumi Architekten
Photographs: Gaston Wicky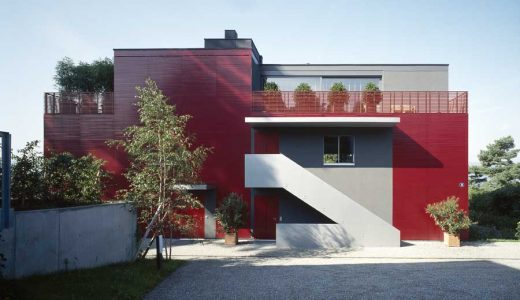 English text (scroll down for German):
The typology of Town Villas Witikon is related to the two houses by Alfred Roth and Marcel Breuer in the Doldertal (1936) and to the concept of the palazzine as, for example, developed in Rome by Adalberto Libera and Luigi Moretti from the mid-1930s onwards to provide a sensible size and typology for higher-quality, urban housing. We have developed the concept of the town villas and town houses in other projects, including our proposals for Beijing.
In the form of a loose development the building volumes parallel and at right angles to the slope "occupy" the former garden of the existing villa, built by city architect A.H. Steiner (see test planning Schwamendingen). One of the common characteristics of the villa developments on this area is the views between the buildings and the unobstructed view of the lake. By means of the gardens of the ground-floor apartments, framed by cut hedges and the existing trees, a cultivated park landscape is created with an urban density typical of this place. The projecting loggias on the upper floors engage in a relationship with the little allotment garden houses on the slope.
The building circulation by means of external staircases on the north faÁade allows maximum utilization of the sellable living area. In buildings nos. 6 and 10 there is a single-storey apartment and a duplex apartment both with direct access to the garden, and a duplex apartment with attic level; in building no. 8 there are four single-storey apartments whereby the ground-floor apartments are halved along the length of the building. All ground floor apartments also profit from the location on the slope (split level) allowing taller, south-facing living rooms to be made.
The facade consists of industrially produced red-painted wooden shutters that are back-ventilated and rolling where necessary. Continuous frameless bands of glazing offer residents the entire panorama of the Albis range of mountains, while full-height French windows open onto the "outdoor rooms" – the loggias and the gardens.
Town Villas Witikon Team
client: private, Zürich / architecture: burkhalter sumi architekten gmbh, Zürich / staff: Yves Schihin, Michael Mettler, Elena Fernandez, Jürg Schmid Benedikt Sunder-Plassmann / general contractor: Halter GU, Zürich / construction management: ARGE Eckert + Lanz Bauleitungen, Zürich / engineering: Hauser und Gebert, Fällanden / landscape architecture: Vogt Landschaftsarchitekten AG, Zürich / photo: Heinrich Helfenstein, Zürich / Gaston Wicky, Zürich / address: Wehrenbachhalde 6, 8 and 10, 8053 Zürich-Witikon
Witikon Stadtvillen – Building Information
competition: 1998, 1st prize / apartments: 10 / parking: 21 / land area: 3'653 m2 / index of land area: 0.6 / construction costs (BKP 1-5): Fr. 10'000'000.- / cubature: 12'032 m3 / effective area HNF (SIA 416): 2'156m2 / construction costs/m3 (BKP 2): Fr. 665.- / construction costs/m2 (BKP 2) HNF: Fr. 3'710.-
German text:
Stadtvillen in Witikon, Zürich
Die Typologie dieser Stadtvillen bezieht sich auf die beiden Häuser von Alfred Roth und Marcel Breuer im Doldertal (1936) und auf das Konzept der Pallazzine, wie sie u.a. in Rom von Libera und Moretti ab Mitte der dreissiger Jahre entstanden sind, als eine sinnvolle Grösse und Typologie für den gehobenen, städtischen Wohnungsbau. Das Konzept der Stadtvillen und Stadthäuser haben wir für verschiedene andere Projekte weiterentwickelt, unter anderem auch für Beijing.
Als lockere Bebauung ²besetzen" die längs und quer zum Hang orientierten Baukörper den ehemaligen Garten der bestehenden Villa, erbaut vom Stadtbaumeister AH Steiner (siehe Testplanung Schwammendingen). Als eines der Merkmale der Villenbebauung am Zürichberg ergeben sich immer wieder neue Durchblicke und freie Sicht auf den See. Mit den ²schwimmenden" Gartenzimmern der Erdgeschosswohnungen, gerahmt durch geschnittene Hecken und dem Baumbestand entsteht eine gepflegte Parklandschaft mit einer für den Ort spezifischen städtischen Dichte. Die auskragenden Loggien der Obergeschosse treten mit den am Hang liegenden Schrebergartenhäuschen in Beziehung.
Die Erschliessung der Häuser mit aussenliegender Treppe in der Nordfassade ermöglicht eine maximale Ausnützung der verkaufbaren Wohnfläche. In Haus 6 und 10 sind eine Etagen- und eine Duplexwohnuung mit Gartenzimmer und eine Duplexwohnung mit Attika angeordnet, in Haus 8 vier Etagenwohnungen, wobei die Erdgeschosswohnungen in der Länge des Hauses halbiert sind. Alle Erdgeschosswohnungen profitieren zudem von der Hanglage (Splitlevel), sodass der gegen Süden gelegene Wohnraum überhoch wird.
Die Fassade besteht aus industriell gefertigten rot gestrichenen Holzrollladen, welche abgerollt und hinterlüftet befestigt sind. Durchgehende rahmenlose Fensterbänder bieten den Bewohnern das ganze Panorama auf die Albiskette, während raumhohe Fenstertüren sich zu den ²Aussenzimmern" – den Loggien und Gärten – öffnen.
Town Villas Witikon Photographs : Heinrich Helfenstein
TEAM
Bauherrschaft: privat, Zürich / Bauherrenvertretung: Immopro, Zürich / Architekten: burkhalter sumi architekten gmbh, Zürich / Mitarbeit: Yves Schihin, Michael Mettler, Elena Fernandez, Jürg Schmid, Benedikt Sunder-Plassmann / Generalunternehmer: Halter GU, Zürich / Bauleitung: ARGE Eckert + Lanz Bauleitungen, Zürich / Ingenieur: Hauser und Gebert, Fällanden / Umgebungsgestaltung: Vogt Landschaftsarchitekten AG, Zürich / Fotos: Heinrich Helfenstein, Zürich / Gaston Wicky, Zürich / Addresse: Wehrenbachhalde 6, 8 und 10, 8053 Zürich-Witikon
KENNZAHLEN
Wettbewerb: 1998, 1. Preis / Geschosse: 2 Vollgeschosse + 1 Attikageschoss / Wohnungen: 10, Stockwerkeigentum / Parkplätze: 21 / Grundstücksfläche: 3653 m2 / Ausnützung: 0.65 / Erstellungskosten (BKP 1-5): Fr. 10'000'000.- / Kubatur (SIA 116): 12'032 m3 / Hauptnutzfläche HNF (SIA 416): 2'126 m2 / Erstellungskosten/m3 (BKP 2): Fr. 665.- / Erstellungskosten/m2 (BKP 2) HNF: Fr. 3'710.-
Witikon Stadtvillen images / information from Burkhalter Sumi Architekten Jul 2008
Location: Wehrenbachhalde 6, 8053 Zürich-Witikon, Switzerland
Architecture in Switzerland
Swiss Architecture Designs – chronological list
Architecture Walking Tours by e-architect
Swiss Buildings – Selection
Erlenbach House
Burkhalter Sumi Architekten
Erlenbach House
Han Bit Housing
Burkhalter Sumi Architekten
Swiss housing development
Rossinelli House, Lugano
Nicola Probst
Rossinelli House
Comments / photos for this Witikon Stadtvillen Architecture page welcome