Inturotel Cala Esmeralda Cala d'Or, Majorca Accommodation, Balearic Islands Building Design
Cala Esmeralda, Mallorca
Hotel in Mallorca, Balearic Islands Accommodation, Spain: New Swim-up Suites
page updated 3 Jan 2017 with new photos ; 21 Jul 2015
Inturotel Cala Esmeralda, Cala d'Or
Balearic Islands Hotel Building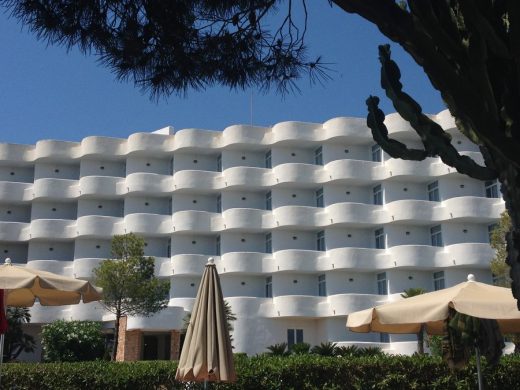 Cala d'Or is a beautiful East-coast Majorca resort distinguished by its Ibiza style architecture.
The four to five-storey main building facing the sea is apparently around forty years old, we have yet to trace the original architect but it feels inspired by early Le Corbusier buildings. The original architect was from Ibiza.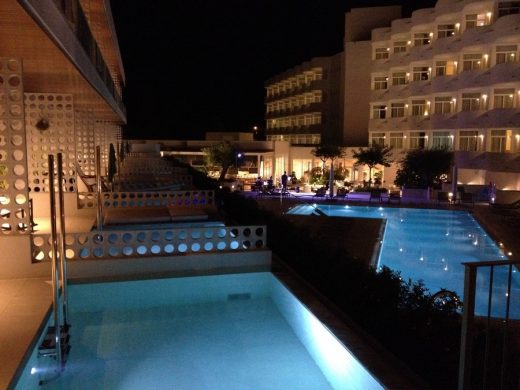 In May 2015 a new three-storey building (Emerald Suites) was completed at the back (west) of the Cala Esmeralda site, looking out over the communal pool and entertainment areas: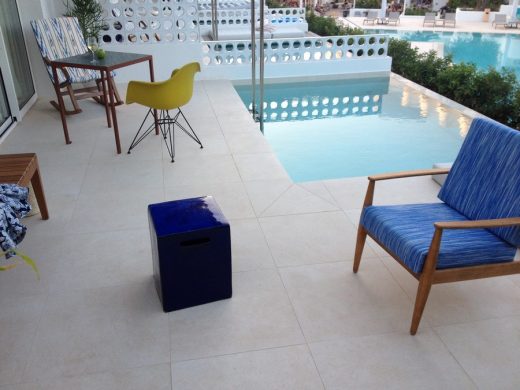 The dominant feature of the Corbusian building is the rippling facade that uses a clever smoothing device to create waves from a sawtooth plan (the block is double-loaded ie from a central corridor).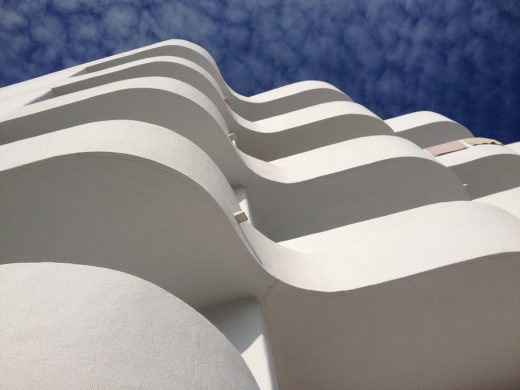 Of the 151 rooms the majority are in the original block, with 20 in the Emerald Suites. The lower floor of this latter block is raised about 2m above the pool deck which is in turn about 1m above the restaurant/bar level.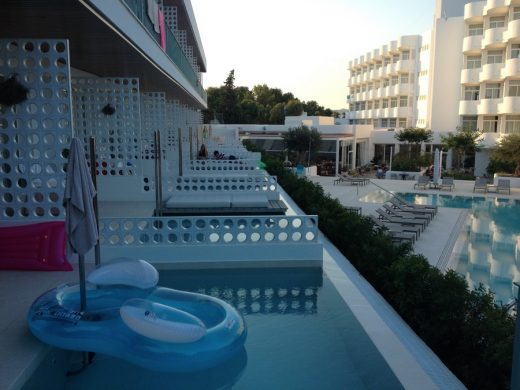 This in turn sits about 1m above reception level. The lower floor of the Emerald Suites. contains 10 swim-up suites, each with a pool of 2.0 x 4.0m in size.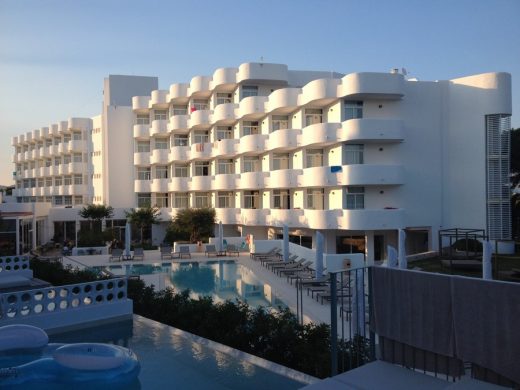 Occupants we met were raving about them: they are spacious and cleanly designed (architect as yet unknown, tbc). Modern designed furniture and clever sensor-lights delight, and the semi-private pools provide a cooling feature and focus. Each suite is separated by a low wall providing little privacy but designed to not shade too much, a fine balance: we feel the architects got it right but it is subjective.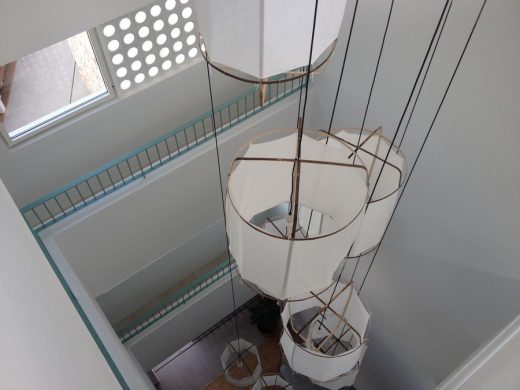 A theme of perforated screens permeates this three-storey block – lovely white grids of glazed, holed, tiles. The upper suites are over two floors, the third floor being a semi-shaded terrace.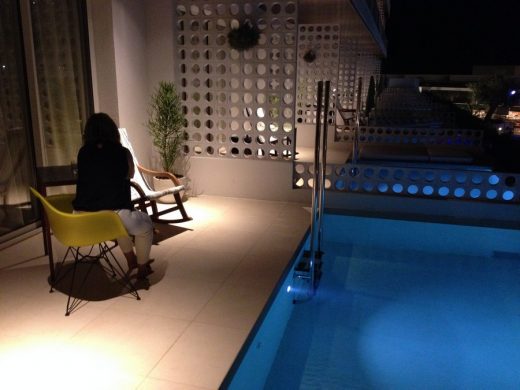 The hotel is run by Inturotel, a local company that owns 7 or 8 apartment hotels dotted around Cala d'Or. The population of this Majorcan town is just 3,800 but this increases in Summer with foreign visitors.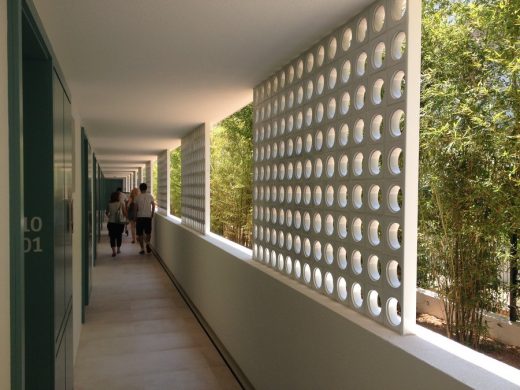 The feel of the town is pleasant, plenty of pedestrian streets and a mix of luxury villas and hotels that gather around a series of narrow bays.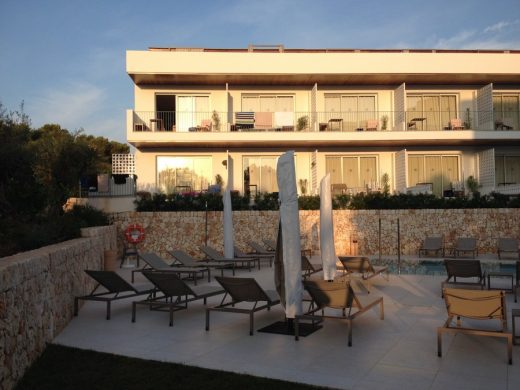 Cala d'Or manages to conceal a large amount of rooms within its gently hilly terrain screened by Corsican pines and punctuated by the long sea inlets and beaches.
Cala d'Or Buildings – more Balearic Islands architecture photos by e-architect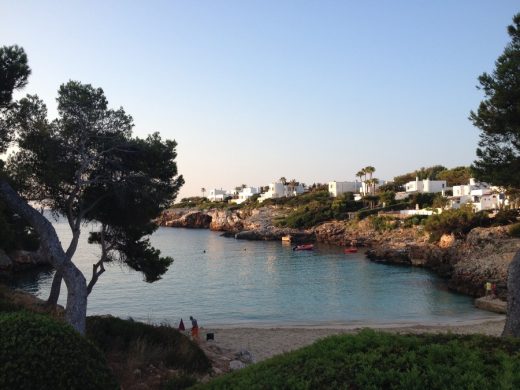 As architects we enjoyed the Ibiza-style buildings and more traditional Moorish motifs in the waterfront houses, but the highlight without any bias having walked around the town is the Cala Esmeralda hotel, clearly designed and renovated with great attention to detail by designers with a good eye.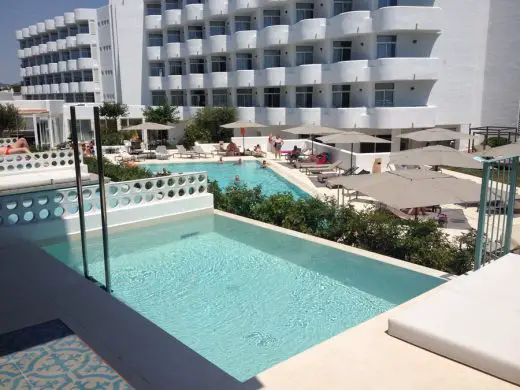 Information from Inturotel for now:
"Now couples and guests who come to our hotel can enjoy an "Adult Only" hotel (+16 years). Cala Esmeralda hotel sets itself apart with its impressive location on the idyllic Cala Esmeralda beach, which makes it the ideal place to spend an unforgettable holiday in Majorca, right on the seafront, with your partner, friends or by yourself. Do it your way.
Frontage of the original building, facing the beach to the east: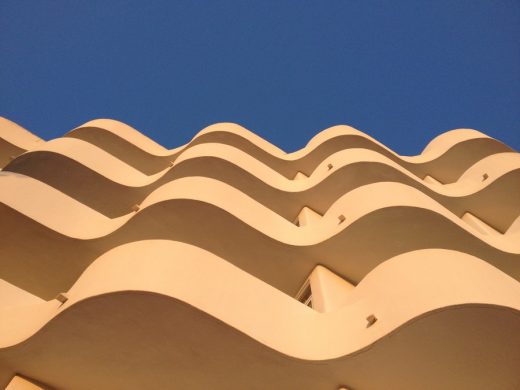 The atmosphere here is relaxed, which combines perfectly with the Ibizan architecture in Cala d'Or and service which tends to every last detail.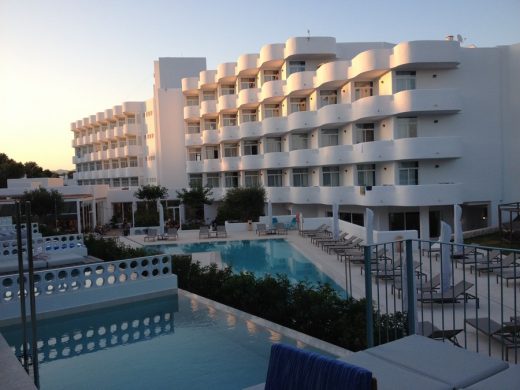 Relax at our Sa Cala beach club with a restaurant bar, swimming pool and deckchairs on the sand beneath the shade of the pine trees.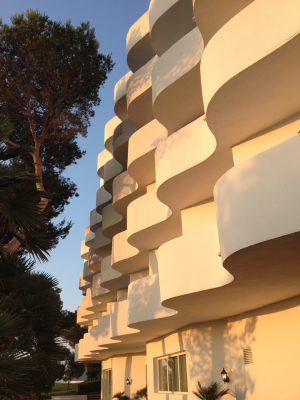 Emerald Suites by Cala Esmeralda
The new Junior Suites Premium terrace or Junior Suite Swim-Up, are the most exclusive guest rooms, they have pool view or garden view and feature a bedroom with queen size bed and sitting area.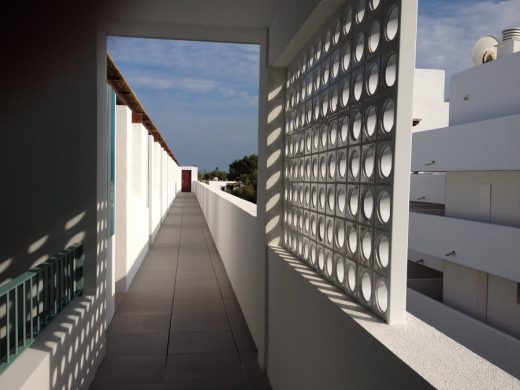 Emerald Junior Suite Premium Terrace:
Emerald Suites by Cala Esmeralda
The new 40 sqm Junior Suites Premium terrace, the most exclusive guest rooms, are located in an new 2 story building.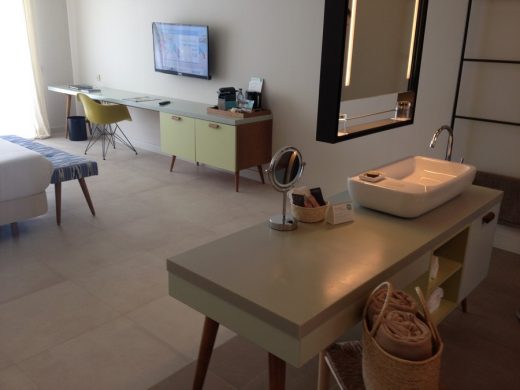 They have pool view and feature a bedroom with queen size bed and sitting area, self-control air conditioning, minibar (extra charge), included safety deposit box, telephone, free WIFI, design bathroom with hair dryer, make-up mirror and bathrobes.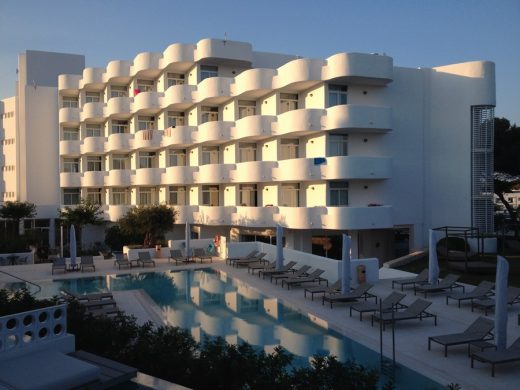 These junior suites which are located on the top floor feature an 8 sqm private balcony with 2 chairs and a table.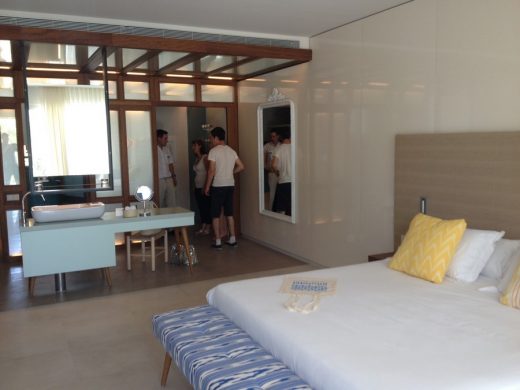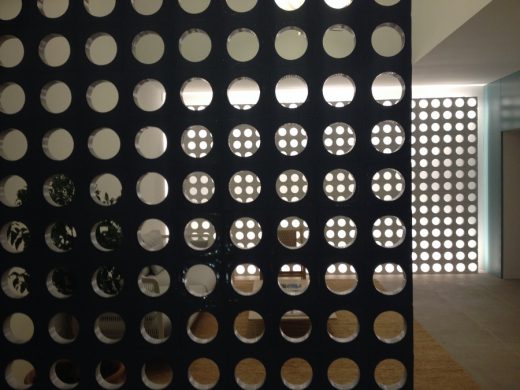 In addition they have a private 40 sqm roof terrace which can be reached from the outside of the room with lift or stairs furnished with 2 chairs and 1 table, 2 sun loungers and a rain-shower for your exclusive use."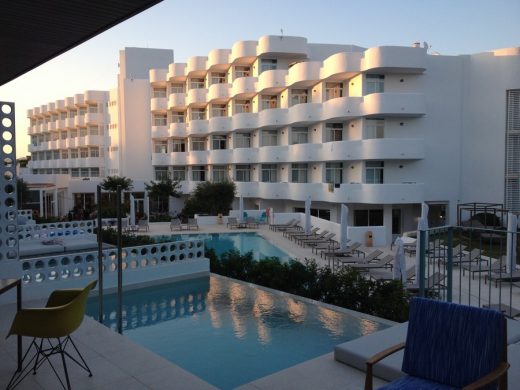 Inturotel Cala Esmeralda Cala d'Or, Mallorca images / information from hotel and by e-architect
Address: Calle Cala Esmeralda, s/n, 07660 Cala D'or, Mallorca, Illes Balears, Spain
Phone: +34 971 65 71 11
Spanish Buildings
Contemporary Spanish Architectural Projects
Spanish Architectural Designs – chronological list
Spanish Architectural News on e-architect
Spanish Architectural Practices
Contemporary Spanish Properties
Majorca Hotel Building
Hotel Castell dels Hams, Porto Cristo
Architect: A2arquitectos
Mallorca Hotel
Spanish Hotels – Selection
Hotel Ushuaïa Ibiza, Balearic Islands
architects Estudio Vila 13
Balearic Islands Beach Hotel
Hotel hospes en haro La Rioja, north east Spain
Architects: LABB Arquitectura
Hotel hospes en haro La Rioja
Mallorca Buildings – Selection
Villa Zamora + Villa Bonanova, Mallorca
Design: CMV Architects
Villas Isla de Mallorca
Casa Mallorca
Design: herrerosarquitectos
8×8 House, Estany des Peix, Formentera
Design: marià castelló arquitecte
8×8 House
New Building in Eastern Majorca
Bar at Cuevas del Drach
Architect: A2arquitectos
Eastern Majorca Building – bar at the great natural entrance to the Caves of Hams in Porto Cristo, east Mallorca.
Comments / photos for the Inturotel Cala Esmeralda Cala d'Or – Majorca Accommodation page welcome