Hotel hospes en haro, La Rioja Building, Spanish Conference Centre Project, Design, Image
Hotel hospes en haro, La Rioja
La Rioja Development, Spain Hotel + Convention Center design by LABB Arquitectura
11 Mar 2010
Architects: LABB Arquitectura
Location: north east Spain
Title: Hotel hospes en haro, La Rioja
Competition: First Prize
5* Hotel-Convention Center with Spa-Winetherapy in La Rioja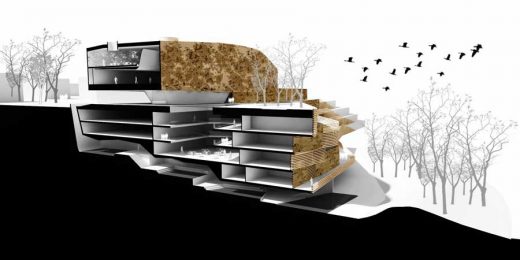 Hotel hospes en haro La Rioja
English text:
We have a HOSPES experience for every moment, for every place, for you. If you wish, we can help you find it. Have you thought about sleeping between barrels and bottles? In La Rioja you can discover the pleasure of staying in the winery itself or in hotels with complete programs to learn about the wine culture and enjoy wine tourism.
Catalan text:
Tenemos una experiecia HOSPES para cada momento, para cada lugar, para ti. Si lo deseas te ayudamos a encontrarla. ¿Has pensado en dormir entre barricas y botellas? En La Rioja puedes descubrir el placer de alojarte en la propia bodega o en hoteles con completos programas para conocer la cultura del vino y disfrutar del enoturismo.
English text:
The new luxury hotel, of scenic, architectural and cultural value, must show the characteristic personality of being located in a landscape of vineyards, at the same time as being integrated into the landscape, in a bordering place of the new urbanization, a place of transition between the city and the golf course.
Hospes Hoteles SL begins a new stage with the creation of new hotels. By their very condition, these future establishments will lack the historical-cultural value and the ancestry that characterize most of the hotels in the chain, which, up to now, have been mainly dedicated to the remodeling and expansion of historic buildings of a sensorial nature in historic centers of cities with great cultural heritage.
This charm of the remodeled hotels that resides in the conjugation of the cultural and architectural heritage of cities with contemporary comfort and aesthetics will have to be parallel to the charm that new-plant hotels should generate based on the physical environment and the local theme where are emplaced.
Catalan text:
El nuevo hotel de lujo, de valor paisajístico, arquitectónico y cultural, deberá mostrar la personalidad característica de estar emplazado en un paisaje de viñas, al mismo tiempo que integrarse en el paisaje, en un lugar limítrofe de la nueva urbanización, un lugar de transición entre la ciudad y el campo de golf.
Hospes Hoteles SL inicia una nueva etapa con la creación de hoteles de nueva planta. Por su propia condición, estos futuros establecimientos carecerán del valor histórico-cultural y del abolengo que caracterizan a la mayoría de hoteles de la cadena que, hasta el momento, se ha dedicado principalmente a la remodelación y ampliación de edifi cios históricos de carácter sensorial en centros históricos de ciudades con gran patrimonio cultural.
Ese encanto de los hoteles remodelados que reside en la conjugación del patrimonio cultural y arquitectónico de las ciudades con el confort y la estética contemporáneas tendrá que ser paralelo al encanto que deberán generar los hoteles de nueva planta basados en el entorno físico y la temática local donde se emplacen.
English text:
Wine is a demanding pleasure. It requires our sensory concentration where we try to reveal the secrets that a glass of wine contains, putting almost all the senses to the test. Wine begins to speak almost as soon as we see it for the first time, with the colors of its label, the shape of the bottle … It continues to speak when we uncork and decant it.
But the most beautiful thing about his speech begins when we serve it in the glass. When in the sunlight it reveals its most varied nuances and we appreciate its aroma. When it finally comes into contact with our language and we perceive all its components. When at the end it leaves its trace in our mouth, and if it has been really good, in the soul.
Catalan text:
El vino es un placer exigente. Requiere de nuestra concentración sensorial donde se intenta revelar los secretos que encierra una copa de vino, poniendo a prueba casi todos los sentidos. El vino comienza a hablar casi desde que lo vemos por primera vez, con los colores de su etiqueta, la forma de la botella… Sigue hablando cuando lo descorchamos y lo decantamos.
Pero lo más bello de su discurso comienza cuando lo servimos en la copa. Cuando a la luz del sol nos desvela sus más variados matices y apreciamos su aroma. Cuando fi nalmente entra en contacto con nuestra lengua y percibimos todos sus componentes. Cuando al fi nal deja su rastro en nuestra boca, y si ha sido realmente bueno, en el alma.
English text:
In wine tasting, not only the palate is used to taste, but also the smell and sight. The order in the tasting is: sight, smell and taste. The glass is taken from the stem and raised to eye level, to first see the wine against the light and appreciate its color, shine and cleanliness. The glass is moved around its axis, in order to appreciate "the tears" or "legs" that the wine leaves in the glass.
In the olfactory phase, the glass is tilted towards one, introducing the nose into the glass to inhale the "primary" aromas, coming from the grape variety and "secondary", coming from the fermentation and finally the "tertiary" aromas, which come from the storage of the wine. Finally the wine is tasted with a small sip, moving it from one side of the mouth to the other with the tongue to appreciate the four basic flavors: sweet, salty, sour and bitter.
Catalan text:
En la cata de vinos no sólo se utiliza el paladar para degustar, sino el olfato y la vista. El orden en la cata es: vista, olfato y gusto. La copa se toma del pie y se eleva a la altura de los ojos, para ver primeramente, el vino a contraluz y apreciar su color, brillo y limpieza. Se mueve la copa en torno a su eje, para así apreciar "las lagrimas" o "piernas" que deja el vino en la copa.
En la fase olfativa, se inclina la copa hacia uno, introduciendo la nariz en la copa para inhalar los aromas "primarios", provenientes de la variedad de uva y "secundarios", procedentes de la fermentación y por último los "terciarios", que proceden de la guarda del vino. Finalmente se prueba el vino con un pequeño sorbo,moviéndolo de un lado a otro de la boca con la lengua para apreciar los cuatro sabores básicos: dulce, salado, ácido y amargo.
La Rioja hotel images / information from LABB Arquitectura
Location: La Rioja, Spain, southwestern Europe
Spanish Buildings
Contemporary Spanish Architectural Projects
Spanish Architectural Designs – chronological list
Spanish Architectural Practices
LABB Arquitectura worked withMecanoo architecten on the La Llotja theatre and congress centre, Lleida, Spain.
Contemporary Spanish Buildings – Selection
Beronia Winery in Ollauri, La Rioja, Northeast Spain
Design: IDOM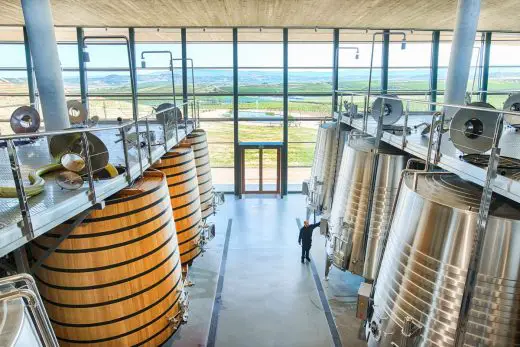 photograph : Gunnar Knechtel
Beronia Winery Ollauri Building, La Rioja
Logroño Montecorvo Eco City, Rioja
Design: MVRDV & GRAS
Eco City Rioja
Faustino Winery, Ribera del Duero
Design: Foster + Partners
Spanish Winery Building
Bodegas Protos, Peñafiel, Valladolid
Design: Rogers Stirk Harbour Partners
Bodegas Protos Spain
Comments / photos for the Hotel hospes en haro La Rioja Spanish Architecture page welcome