Ushuaïa Ibiza Beach Hotel, Ibiza resort photos, Balearic Islands accommodation building design, Property images
Ushuaïa Ibiza Beach Hotel, Spain
Ibiza Beach Hotel, Balearic Islands, Spain design by architects Estudio Vila 13
9 Dec 2013
Location: Balearic Islands, Spain
Estudio Vila 13 wins the Architecture of the Year Prize for their conversion work at Ushuaïa Ibiza Beach Hotel
The jury of the biggest European architecture award considers Ushuaïa Ibiza Beach Hotel architects "had shown great vision in pulling various dated buildings together into a grand masterplan of entertainment"
It is the first time a firm from Ibiza is acknowledged with this prize only a few firms in Spain have won.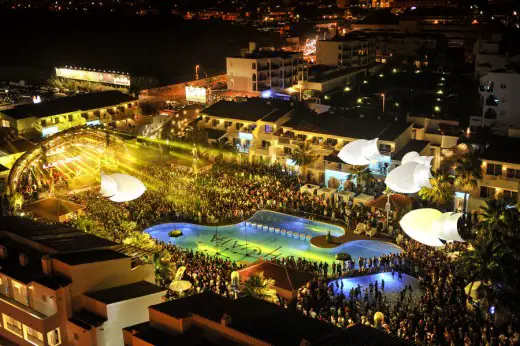 Ushuaïa Beach Hotel Ibiza
Ibiza, December 9th (Toga Media).- Architecture, Engineering and Design office from Ibiza, Estudio Vila 13, won the Architecture prize at the European Hotel Design Awards for their reconversion project of the leading Ushuaïa Ibiza Beach Hotel. This hotel complex has perfectly integrated two obsolete buildings to create Ushuaïa Club and Ushuaïa Tower. This "magic place is run under a unique and surprising philosophy that has merged with a fantastic open-air entertainment area while offering extremely sophisticated rooms", according to project director Jordi Carreño.
The judges of this prestigious architecture award said the architects' "had a great vision in pulling various dated buildings together into a grand masterplan of entertainment". Also, they highlighted that "the risk taking and daring concept has resulted in a property that is said to have changed the landscape of Ibiza forever, with an amazing poolside stage, and the soaring Ushuaïa Tower offering panoramic views of the coastline".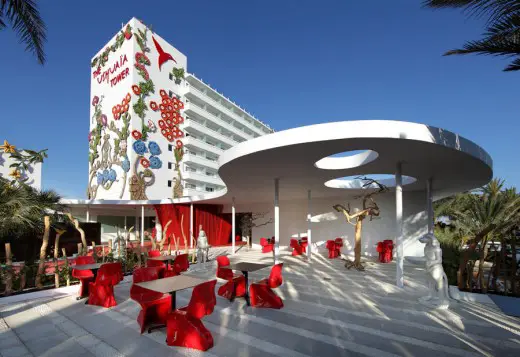 Located in Ibiza, the hotel designed by the Ibizan architecture office, welcomes its guests at the entrance displaying an impressive red carpet that leads them straight to the hotel's main attraction: the swimming pool. The elements that trigger surprise and focus on the unexpected are essential to this complex; whether it is a flock of birds crossing a corridor, an ants invasion in the hall or enjoying a concert from your room's jacuzzi.
"When we sat down to plan what this hotel would be like we wanted to show our love for the island and its nature through the carpets, corridors and even the elements separating the bedroom area from the bathroom, for example. Balconies, terraces and swimming pools are full with lush nature and its curved shape provides the organic touch we were looking for", says Carreño.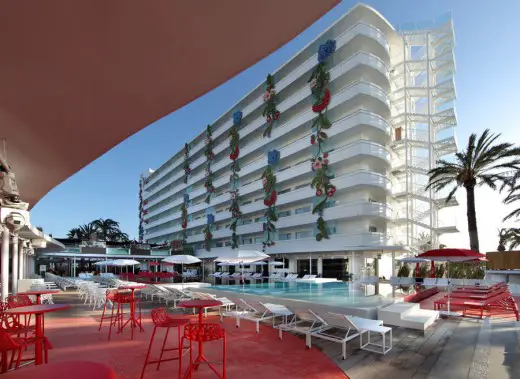 The hotel boasts a spectacular stage in the pool area where guests can enjoy live music performances. "We wanted to play with the island's famous white tones and with the concept of this hotel becoming a colony. That is why we decided to mix flamingos and ants sculptures and decorations within an eclectic and cosmopolitan hotel that perfectly merges with the island vibes, its sea and its breathtaking sunsets with music right at the centre of this experience".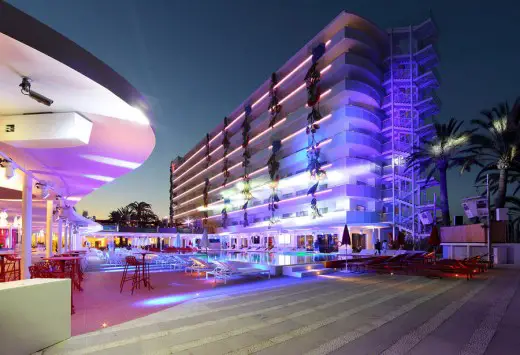 This is the first time a firm from Ibiza wins this coveted award, that only a few architecture offices in Spain have won so far, which acknowledges the work of the studio who brought to life the original idea by Grupo Empresas Matutes to create one of the world's leading hotels.
Ushuaïa Beach Hotel Ibiza lobby & lounge areas:

ESTUDIO VILA 13
Estudio Vila 13 is currently working in the upcoming Parador de Turismo, located in the fortified city of Ibiza and the restoration of Teatro Pereira, amongst other projects. This architecture, engineering and design studio opened in April 2009. Besides from Jordi Carreño -Main Architect, Project Manager and Designer- the team is completed by Leticia Calvo -Engineer and Project Manager-; Mónica Fullana -Senior Architect and Designer- and Rafael Segui -Senior Architect and Designer-.
www.estudiovila13.com
Ushuaïa Beach Hotel Ibiza restaurant:

Ushuaïa Beach Hotel Ibiza Resort
Ushuaïa Beach is a hotel with its own philosophy. Starts of a new concept of hotel, is a hotel-disco where besides to sleep, client can listen the best Dj of the world in live. In Ibiza, reference in the world of tecno music and paradise beaches, a mixture of turquoise colors, beautiful sunsets and the best parties.
The hotel counts with an stage in the zone of the swimming pool, having a cocktail, the client can enjoy live music. All it is mixed in a hotel that tries to go agreed with the life in the island, sea, pretty girls and handsome boys, sunsets and music, much music. Clients walk on the great red carpet that takes to them from the entrance to the swimming pool, everything what the red carpet touches changes in red.
Ushuaïa Beach Hotel Ibiza suites:

The logic does not exist, the surprise and the unexpected thing moves the client. It is not a standardized hotel. An installation of birds can be found that cross the corridor, an invasion of ants in the lobby, jacuzzis to see a concert. Every year the hotel renews its clothes trying to surprise the client still more. The love of the island by the nature invades the hotel in form of flowers in fiber in the. The nature enters the hotel in carpets, decoration of corridors and separator bath-bedroom in the rooms. The client remembers the nature at any moment.
The patios, terraces and swimming pool are decorated with alive nature (aromatic plants, palms trees, plants that in the skylights, …). The right angle is broken taking place to the curve, to the organic form. The old hotel is invaded by the Ushuaïa concept. Wood, stone, plastic, Budhas, Shivas, colors, mix the styles of the island with more others exotic styles.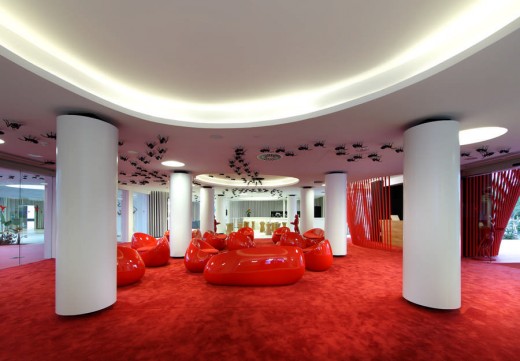 jordi rodríguez-carreño villangómez, arquitecto
Ushuaïa Ibiza Beach Hotel images / information received 091213
20 Jun 2012
Hotel Ushuaïa Ibiza
Ibiza, Balearics, Spain
The Ushuaïa Ibiza Beach Hotel : Styled for the summer with facades and features in DuPont™ Corian®
June 2012 – The Ushuaïa Ibiza Beach Hotel welcomed the famous island's season with a memorable opening party on the 26th of May – and participating dynamically in the celebrations was a new façade and design features made from DuPont™ Corian®. The high-tech solid surface was specified to revitalise several key areas of this popular young holiday venue. From the main façade to the club's cocktails bars and through to the poolside décor, DuPont™ Corian® stylishly refreshes the hotel's image by both day and night.
Ushuaïa Ibiza Beach Hotel main façade, made of backlit DuPont™ Corian® cubes:



photo : Fiesta Hotel Group, all rights reserved
Opened initially in the summer of 2011, the Ushuaïa Ibiza Beach Hotel represents a new holiday concept. Cool and contemporary thanks to its minimalist décor, it offers 24-hour VIP service and an vibrant outdoor area that hosts live performances featuring the world's top DJs.
Ushuaïa Ibiza Beach Hotel main façade, made of DuPont™ Corian® cubes:



photo : Fiesta Hotel Group, all rights reserved
The visitor's first impression of the revamped Ushuaïa Hotel is one of chic modernity. The façade of the main entrance is particularly effective as it is backlit to maximize the translucent characteristics of DuPont™ Corian®. For this application, architects Estudio Vila 13 needed a material that would stand the test of time with enduring elegance.
It was important that the chosen material was easy to maintain, would keep its colour and finish intact and also achieve an ethereal luminosity. DuPont™ Corian® was the answer to all those challenges. With the backlight cube effect made in the translucent Glacier Ice colour for Corian®, the effect achieved is impressively atmospheric.
Ushuaïa Ibiza Beach Hotel Main pool decorated with backlit cylinders of DuPont™ Corian®:



photo : Fiesta Hotel Group, all rights reserved
The extensive and exotic pool area is the centre of social activity at the Ushuaïa Ibiza Beach Hotel. Positioned directly in the water are podiums made of DuPont™ Corian®, elegant cylinders that during the daytime offer the perfect place to gather around and relax and which at night illuminate the bathing area to striking effect.
Ushuaïa Ibiza Beach Hotel main pool, decorated with DuPont™ Corian® backlit cylinders:



photo : Fiesta Hotel Group, all rights reserved
The Ushuaïa Ibiza Beach Hotel is renowned for hosting dynamic outdoor parties and events. With capacity for more than 5,000 people it holds live concerts and sessions with the hottest DJs of the summer season in Ibiza. And to keep revellers refreshed, there are two full-service cocktail bars also benefitting from the beauty, strength, versatility and easy maintenance of DuPont™ Corian®.
Ushuaïa Ibiza Beach Hotel aerial view:



photo : Fiesta Hotel Group, all rights reserved
Every element designed with DuPont™ Corian® was manufactured by Taller Solid Surface in Ibiza. The high-tech surface was chosen with the spirit of Ushuaïa Ibiza Beach Hotel in mind. Thanks to its flexibility and mechanical qualities, DuPont™ Corian® offers endless innovative design and shaping options and as such is ideally suited to multiple hotel sector applications. The beauty of DuPont™ Corian® has undoubtedly enhanced the distinctive image of the Ushuaïa Ibiza Beach Hotel.
Ushuaïa Ibiza Beach Hotel (www.ushuaiabeachhotel.com/es/) – Opened in the summer of 2011, this is a hotel with a unique style where the focus is fun outdoors with live sessions of the best DJ's. Elegant and contemporary, the unique spaces merge minimalist design elements together with the latest technologies to enjoy a memorable stay, enhanced by a spectacular gastronomic offer, VIP atmosphere and 24-hour service, located right by the beach.
Estudio Vila 13 (www.estudiovila13.com) – Estudio Vila 13, a multidisciplinary team of 4 people, Jordi Carreño, Leticia Calvo, Mónica Fullana y Rafael Segui, is dedicated to innovative architecture and engineering as well as design. From their headquarters in Dalt Vila, Ibiza, they undertake private projects, hotels, hospitals, public buildings and space redevelopment and restoration.
About DuPont™ Corian® (www.corian.com, www.corian.co.uk) – First marketed as a high-performance solution for kitchen and bathroom worktops, DuPont™ Corian® is now a leading global brand in superior quality surfacing materials for design, architecture and furnishing, a solution chosen worldwide by thousands of architects, designers and companies and by millions of consumers.
The continuous investment and creativity of DuPont in research and technology, product innovation and new applications have made DuPont™ Corian® a design tool offering exceptional versatility and almost limitless possibilities. From kitchens to lamps, from bathrooms to the skin of buildings, from seating to technical systems, from radiators to touch control surfaces, from tables to furnishing and fashion accessories…: DuPont™ Corian® can be found in an extremely wide variety of products, systems and objects.
DuPont™ Corian® (the whole range or specific types) has received important independent certification for its environmental performance (such as GreenGuard®, NAHB North American Builders Association, U.S. Green Building Council's LEED® Green Building Rating System, Scientific Certification Systems for the series with recycled content). Its hygienic performance has also been certified by prestigious independent institutions (for example, by NSF International, The Royal Institute of Public Health and LGA QualiTest).
For further commercial or technical information about DuPont™ Corian® in the UK: T: 0800 962 116 E:sales(at)corian.co.uk www.corian.co.uk
About DuPont – DuPont (NYSE: DD) has been bringing world-class science and engineering to the global marketplace in the form of innovative products, materials, and services since 1802. The company believes that by collaborating with customers, governments, non-governmental organizations, and thought leaders we can help find solutions to such global challenges as providing enough healthy food for people everywhere, decreasing dependence on fossil fuels, and protecting life and the environment. For additional information about DuPont and its commitment to inclusive innovation, please visit www.dupont.com
Ushuaïa Ibiza Beach Hotel images / information received 200612
Location: Platja d'en Bossa, Ibiza, Balearic Islands, Spain
Balearic Islands Buildings
Paradiso Ibiza Art Hotel, San Antonio Bay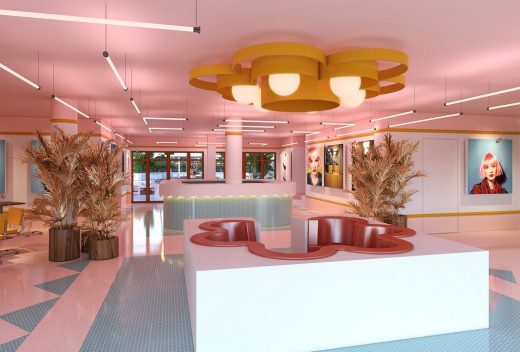 image courtesy of hotel
Paradiso Ibiza Art Hotel
Another Ibiza building on e-architect:
Country House, Morna Valley, Balearics
DeBlacam & Meagher
Ibiza House
Balearic Islands Architecture – Selection
Son Fogueró Retreat, Palma, Mallorca
Design: David Jofra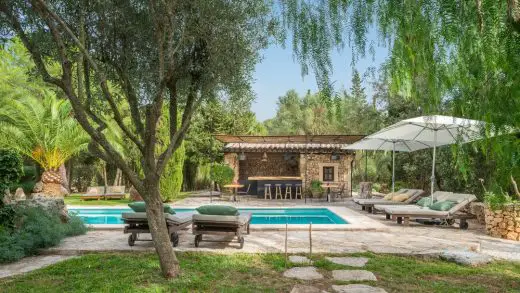 photo : Mauricio Fuertes
Son Fogueró Retreat, Mallorca
Virgin Limited Edition, Son Bunyola Estate, Tramuntana region, Mallorca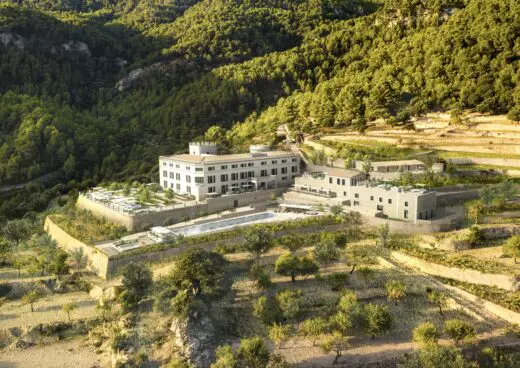 photo courtesy of article provider
Virgin Limited Edition Mallorca Son Bunyola Estate
Cala Mandia, Mallorca
CMV architects
Balearic Islands Residence
Villa London, Llucmajor, Mallorca
Architect: CMV architects
Villas in Mallorca
8×8 House, Estany des Peix, Formentera, Illes balears
marià castelló, arquitecte
8×8 House
Spa Hotel + Residential Retreat, Andalucia
Amin Taha Architects
Andalucia Spa Hotel
Hotel Puerta America
various interiors by famous architects
Spanish hotel building
Comments / photos for the Ushuaïa Ibiza Beach Hotel design by architects Estudio Vila 13 in the , Balearic Islands page welcome