House of el Portet, Moraira Property, Alicante Residential Building, Spanish Home, Architecture
Casa El Portet in Moraira
Contemporary Spanish Residence: New Home near Alicante – design by Ramon Esteve, architect
21 May 2019
House of el Portet
Design: Ramon Esteve, architects
The poetics of fragmentation
Location: Moraira, Teulada, Marina Alta comarca, 80 km north of Alicante, eastern Spain
The House of el Portet, is located on a narrow and elongated plot in a residential area of Moraira. It has distant sea views, through a wooded area. The dimensions of the house are visually enlarged by the addition of the space of the garden, which serves as a big background stage.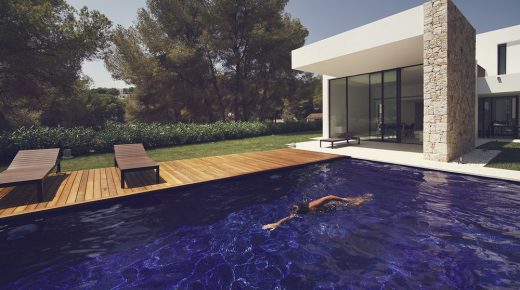 Photos © Alfonso Calza
The elongated shape of the plot determines directly the outline of the house, composed of a set of prisms in different sizes, attached and set back following the main direction of the plan so that it is closed to the adjacent houses and opens to its own garden.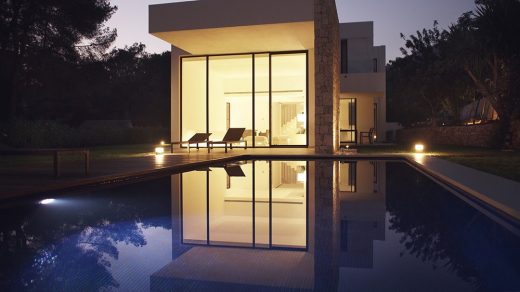 "Each volume slides on the next one to create a connection between interior and exterior in the interstices of each room, thus generating a richer space, with lighting and ventilation, and to mark the independence of the different spaces without losing continuity between them." Ramón Esteve.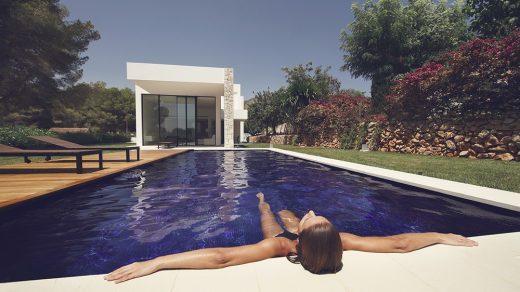 The smaller dimensions have only one floor and they hold the public functions of the home, such as the living room, the dining room or the kitchen, facing the garden and the pool, through a cantilevered veranda. The bigger dimensions have two floors, with private functions and nearby rooms, such as bedrooms, on the upper floor.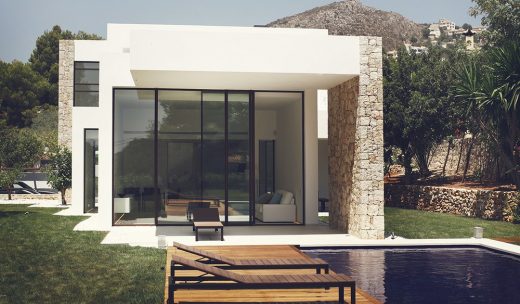 In the central area, a double height area encloses the entrance and the hall. It towers over the other prisms and marks the entrance through its materiality, a sturdy stone wall that gives access on a larger scale.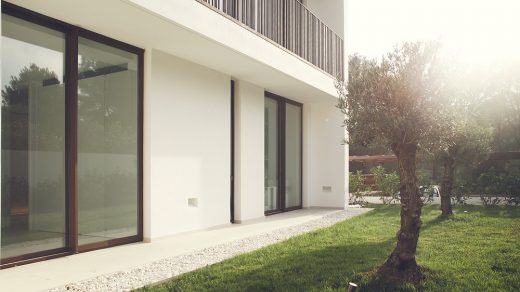 PERFECT MIMESIS The landscape design follows the same concept of the building configuration, so that the project connects the exterior garden stripes to the elements of the building, therefore blending the house and the landscape.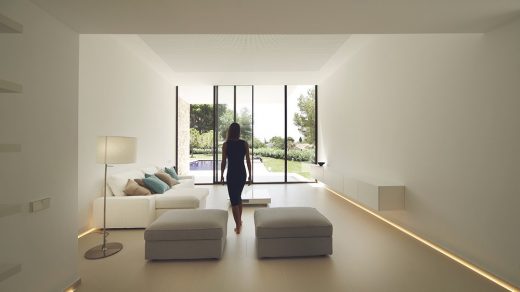 Casa El Portet in Moraira – Building Information
PORTET – HOUSE THE POETICS OF FRAGMENTATION
Location: Moraira (Alicante)
Area: 246,45 sqm
Architect: Ramon Esteve Collaborators Anna Boscá Victor Ruiz Estefanía Pérez María Martí
Collaborators: Tudi Soriano
Technical Architect: Emilio Pérez
Project: 2016
Constructor: NUAM Levante
Project Manager: Oscar Rivas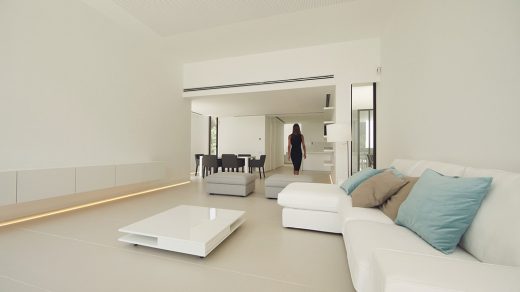 Spanish text:
Casa El Portet, Moraira
El Portet, se ubica en una parcela estrecha y alargada, en un área residential de Moraira. La vivienda cuenta con vistas lejanas al mar, a través de una zona boscosa. El gran escenario de fondo es el jardín, de cuyo espacio se apropia la casa, disparando su dimensión.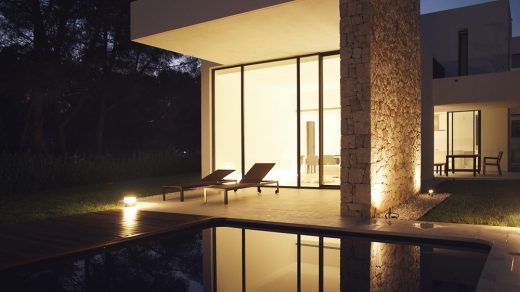 La linealidad de la parcela condiciona directamente la geometría del proyecto, compuesto por un conjunto de prismas de differentes dimensiones que se adosan desplazados, acompañando la direccionalidad de la parcela, de modo que se cierra a las viviendas colindantes y se abre a su propio jardín.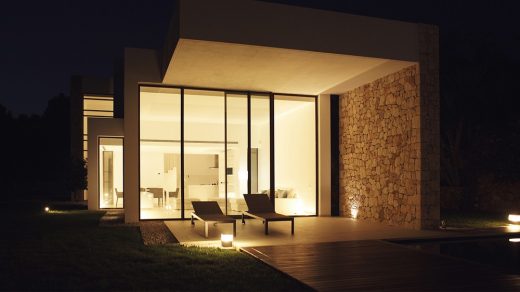 "Los differentes volúmenes se deslizan uno respecto a otro con la intención de crear la conexión entre interior y exterior en las separaciones, generando una mayor riqueza espacial, iluminación y ventilación, y para marcar la independencia entre los differentes usos sin perder la continuidad entre ellos" Ramón Esteve.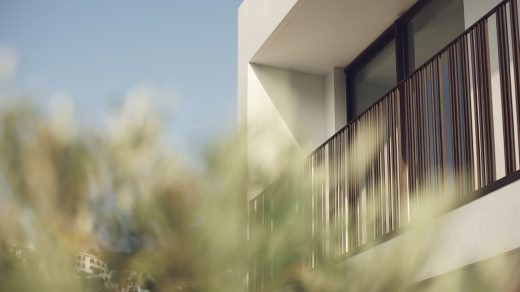 Las piezas más bajas tienen una única planta, y contienen los usos más públicos de la vivienda, como el salón, el comedor o la cocina, cuyas vistas vuelcan al jardín y a la piscina a través de un gran porche volado. Las piezas más altas tienen dos plantas, con usos privados y estancias más acotadas en el nivel superior, como las habitaciones.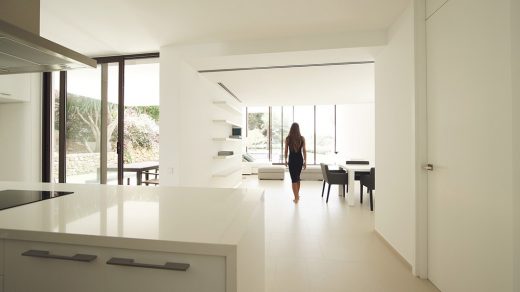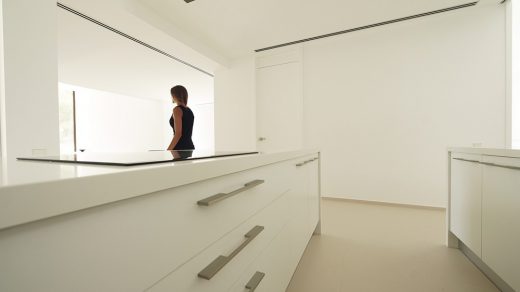 MÍMESIS PERFECTA Los espacios exteriores y la urbanización se configuran con el mismo planteamiento que los elementos construidos, de modo que el proyecto mezcla las bandas exteriores y la vegetación con las piezas de la vivienda, fundiéndose la vivienda con el paisaje inmediato.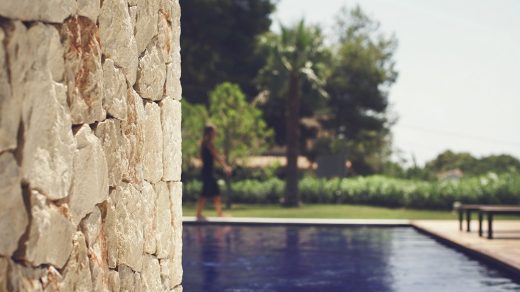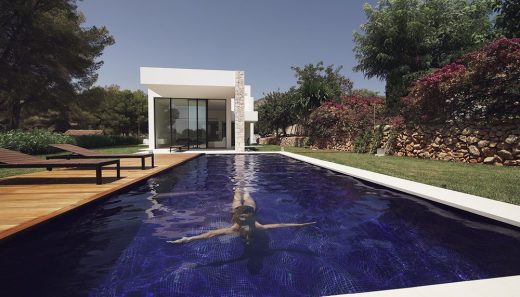 Casa El Portet, Moraira – Ficha técnica
CASA EL PORTET LA POÉTICA DE LA FRAGMENTACIÓN
Localización: Moraira (Alicante)
Año: 2016
Sup: 246,45 m2
Ground Floor: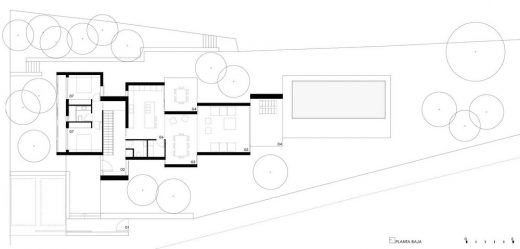 First Floor: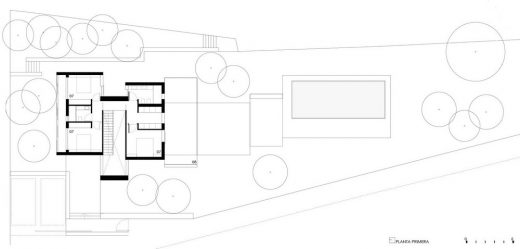 Arquitecto: Ramon Esteve Arquitectos – Colaborades Anna Boscá Victor Ruiz Estefanía Pérez María Martí
Colaboradores Tudi Soriano
Arquitecto Técnico: Emilio Pérez
Proyecto: 2016 Promotor NUAM Levante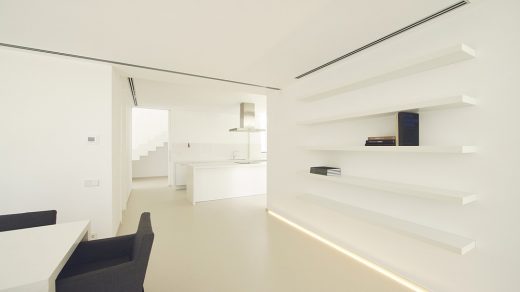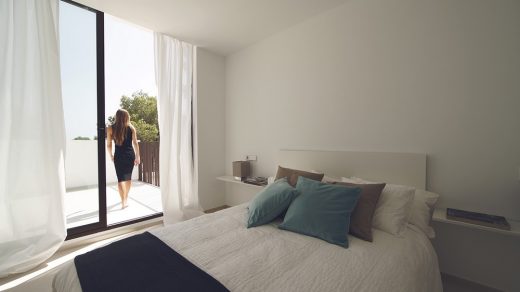 Casa El Portet, Moraira images / information from Ramon Esteve
Ramon Esteve Estudio Architects
Location: Moraira, Teulada, Spain
Spanish Buildings
Contemporary Spanish Architectural Projects
Spanish Architectural Designs – chronological list
Spanish Architectural News on e-architect
Spanish Architectural Practices
Contemporary Spanish Properties
'House in the Forest' – Casa El Bosque, Chiva, Valencia, Spain
Design: Ramon Esteve, architects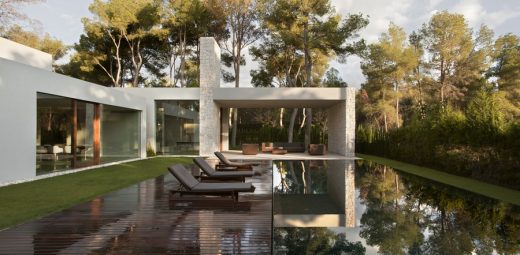 photograph © Mariela Apollonio
Casa El Bosque by Ramon Esteve Architects
New Houses – best contemporary properties from around the world
City of Arts and Science Valencia
Comments / photos for the Casa El Portet in Moraira – Spanish Property page welcome