Highland Housing Fair, Buildings, Architecture, Images, Properties, News, Architects
Highland Housing Expo
Inverness Residential Property Expo, northern Scotland, UK
13 Aug 2010
Scotland's Housing Expo – Photos
The Stone House – Nord
Stealth House – jmarchitects
The Healthy House – Andrew Black Design
The Skylight Home – Richard Murphy Architects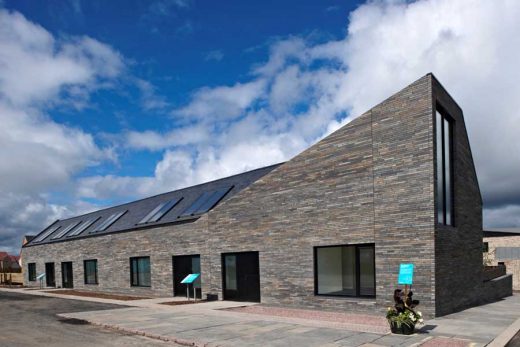 The Flower House – AJ Burridge
The Hardcore Soft House – StudioKAP
Lios Gorm A Green Place to Live – David Blaikie Architects
The Modular House – Bracewell Stirling





Passive House – HLM
The Apartment – Keppie Design (Inverness)
The Secret Garden – Rural Design
The Gem – Trevor Black Architects




The Skewed House – Oliver Chapman Architects
Three on Nine – Graham Mitchell Architects
Whole Life House – Brennan and Wilson Architects
The Timber House – John Gilbert Architects





Scotland's Housing Expo – more photos of the buildings. 16 Aug 2010



photo : Kirsty Ward
2 Aug 2010
Highland Housing Expo Houses
FIRST DAY EXPO VISITORS SET TO RETURN
Nearly 600 visitors braved the rain yesterday (1 August) to get the first look at the eco-friendly homes on show to the public at Scotland's Housing Expo, Milton of Leys, Inverness.
Organisers welcomed 568 adults and children on the first day of the event, which runs throughout the whole of August and showcases award-winning architecture to promote sustainable, 'green' living.
Members of the public were queuing at the ticket office before doors opened at 10am with the first visitors traveling from Thurso. Over the course of the day over 130 visitors exchanged their day tickets for season passes to revisit the event in order to watch the Expo landscape develop throughout the month and gain more inspiration for the house designs and interiors.
Peter Thomson, who visited the Expo with his partner and grandson said: "We came because we're both interested in house building and we're planning our own project. It has definitely given us inspiration and we'll come back when we have more time to look at the designs. There were things to do for kids, like the LEGO house, which made it worthwhile for children and so I think the people involved are making an effort."
Fiona Weaver and her husband came from Alness. Fiona said: "We thought it was very inspiring and we really enjoyed ourselves. It's promotes better architecture and we'll be interested to see if it changes the future of house building in the Highlands."
Chair of the board of Scotland's Housing Expo, Councillor Jean Urquhart said: "Everyone involved in the Expo worked incredibly hard to get this far and it's great to see so many people come to the event. It is an incredibly significant project for the Highlands and the future of house building and design in Scotland."
Scotland's Housing Expo images / information received 020810


Scotland's Housing Expo – Support
Agencies supporting the Expo are: Scottish Government, The Highland Council, Highland Housing Alliance, Forestry Commission Scotland, Greener Scotland, SUST, HIE, Event Scotland and Inverness Common Good Fund.
Sponsors for Scotland's Housing Expo include: Anta, Bridgemill Direct, Deeside Timber Frames, Dunfermline Building Society, Highland Solicitors Property Centre, National House Building Council, Registers of Scotland, and Scotframe.
Dunfermline Building Society is an official sponsor of Scotland's Housing Expo. Dunfermline Building Society is part of the Nationwide Group which has over 50 years experience in housing finance and a £9 billion commitment to the social housing sector. Our building society values made us the first choice for many housing providers and Registered Social Landlords. We share the same philosophy with our mutual status and corporate social responsibility.
Dunfermline is looking forward to continuing its support to social housing in Scotland with the backing of the World's largest building society.
EVENTS FOR ALL AGES
Every day there'll be something different to see and do over the month-long Expo. The event will feature workshops, performers, art and lots of fun indoor and outdoor activities in and around the homes and gardens on view.
SPECIAL EVENTS FOR TRADE AND INDUSTRY
In addition to the houses, gardens and interiors, events for trade and industry representatives are a key feature of Scotland's Housing Expo 2010. With an outline theme for each week's events, the trade and industry seminars will provide an opportunity for an in-depth look at matters relating to housing and house building in Scotland.
Issues addressed will include design frameworks and master planning at home and abroad focussing on city street design with case studies, for example, from Craigmillar. Lessons from Northern Europe offers an opportunity to discuss how other countries have tackled design, featuring examples from Malmo, Finland and links with Scotland's own Polnoon.
Considering energy and sustainability, a key theme behind Expo, will involve looking at funding, a study of the Passivhaus and the good, the bad and the ugly of energy supply! Indigenous materials is the focus for the final seminar week looking at the place of stone, timber and other materials for house designs of the future.
A special session will look at the Expo event itself, detailing the road to delivering the event and considering its future as part of the Scottish or UK calendar.
For up to date details of all events taking place during Scotland's Housing Expo visit www.scotlandshousingexpo.com – external link
Scotland's Housing Expo images / information received 020810
Highland Housing Expo – News Update
Scotland's first Housing Expo in Inverness is still on : The Expo aims to give a national focus to the design of our built environment and associated issues from the development of low Carbon design strategies to the complementary roles of design and sustainability within both public and private housing.
Scotland's Housing Expo – Not So Fair

News that the Highland Housing Fair will not go ahead as planned this year, unsurprising given the depressed state of the housing / property sectors in Scotland currently. Scotland's Housing Expo was a major initiative that the RIAS – under former leader Mary Wren – was involved in.
Highland Housing Fair – house images

Scotland's Housing Expo : The Highland Housing Fair – Exhibition
Until 9 Aug 2009
Exhibition at The Lighthouse, Glasgow
This exhibition showcases Scotland's first Housing Expo in Inverness through a series of models demonstrating how Scotland's housing could look in the future.
Highland Housing Fair – winners
A&J Burridge
aim design
Alan Holling THC
Andrew Black Design
Bracewell Stirling
Brennan & Wilson
David Blaikie Architects
David Somerville
Graeme Massie Architects: 2 plots
Graham Mitchell Architects
HLM architects: 2 plots
jm architects: 2 plots
John Gilbert Architects
Joseph Thurrott
Keppie: 2 plots
Locate Architects
Malcolm Fraser Architects: 2 plots
NJSR McLean Architects
NORD
Oliver Chapman Architects
Richard Murphy Architects
Rural Design
Studio KAP
Trevor Black Architects
Highland Housing Fair – News Update Nov 2007
Organisers of the UK's very first Housing Fair have now announced that it will take place in the Highlands of Scotland throughout the whole of August 2009.
The Highland Housing Fair will be based on a model found throughout mainland Europe, particularly Finland. Its purpose is to showcase the best in housing design and innovation, with sustainability being the key theme throughout. In Finland, where such fairs have been running for 40 years, 97% of the population are aware of the concept.
Scotland's first Housing Expo will be held on a site at Balvonie, on the outskirts of Inverness. Other important themes will be design, innovation, affordability and energy efficiency. Scotland's first Housing Expo is supported by a consortium of agencies, including the Scottish Government.
Scotland's first Housing Expo will comprise an exciting and diverse range of more than 50 architecturally-designed homes, which will all be available to purchase or rent. Of these, 40% will be affordable and 60% will be available on the free market.
Architects and developers that will create homes on the expo site were selected via a competition launched in January. Accredited by RIAS, the Scotland's Housing Expo competition invited architects and developers to compete for plots at the site. Successful designs that were chosen for the Fair include the The Timber House by John Gilbert Architects and The Stone House by NORD Architecture.
Fiona Porteous, Fair coordinator, said: "Having selected the winners from the Scotland's Housing Expo competition, we are thrilled to now be able to announce that the inaugural Highland Housing Fair will take place in Inverness during August 2009.
"As the organisation starts to gather momentum and the countdown to 2009 commences, we are starting to see the Scotland's Housing Expo project taking shape. The premise is to lead by example – we want to take a positive step towards changing the housing market for the better, instead of simply talking about it."


credit Cadell2: image received from RIAS 260307
Mar 2007
Highland Housing Fair Competition
Over 120 other architects/developers registered for the HHF Competition, confirming significant shared interest in competing on the basis of design to showcase innovative and sustainable house designs.
Highland Housing Alliance has considered all the registrations and has made plot allocations to all who responded. Each of the 27 plots has between 5 and 21 entrants in competition; the field of competitors is balanced within each housing type. Details of individual allocations, together with further briefing material and a CD with updated drawings and a comprehensive urban design framework document, including plot and sustainability codes, has been despatched to registrants.
Scotland's Housing Expo competition entries are due on 4 May. The RIAS Independent Assessor will be David Page of PagePark Architects. The jury will also include Raymond Young, Chairman of Architecture and Design Scotland. Further details of the jury and technical assessment panel are being finalised.
Judging will be conducted on a plot-by-plot basis. It is hoped to announce the judges' decisions on 1 June. A single digital image of each entry to the Scotland's Housing Expo competition (as chosen by the entrant) will be displayed anonymously at the SIX CITIES DESIGN FESTIVAL
The six cities of Scotland – Aberdeen, Dundee, Edinburgh, Glasgow, Inverness and Stirling – will host the country's first nationwide international design festival between 17 May and 3 June, promoting and celebrating Scottish design. (Further details at www.six-cities.com) Each city had its own theme. Inverness it is Home: Environment, focussing on sustainable design for our homes and lifestyles.
A major new exhibition Design for Life will look at sustainable housing design in Scotland, with part of the exhibition showcasing entries for the Highland Housing Fair. The exhibition will be held at Castle Wynd Inverness between the above dates. The exhibition is independent of the judging process.
Location: Inverness, Scotland, UK, north western Europe
Architecture in Scotland
Contemporary Architecture in Scotland
New Property in Ross-shire: Highlands House
Maggies Highlands : Maggies Inverness
Inverness Airport Business Park
Castle Stuart, Tornagrain: Inverness Community
Culloden Battlefield Visitors Centre: Inverness Area Building
Scottish Natural Heritage HQ Building
Whiteness Head, Ardersier: Highlands new town
Comments / photos for the Highland Housing Fair page welcome