Riverside Terrace Tatyshev Island, Krasnoyarsk Building, Siberia Architecture Design
Riverside Terrace on Tatyshev Island, Krasnoyarsk
Siberia Building Development, Russia design by OOO "ADM" Architects
10 Jan 2016
Riverside Terrace, Tatyshev Island
Design: OOO "ADM", Architects
Location: Tatyshev Island, Krasnoyarsk, Siberia, Russia
The riverside terrace on Tatyshev Island, Krasnoyarsk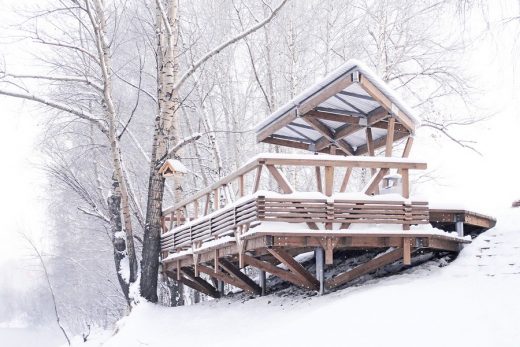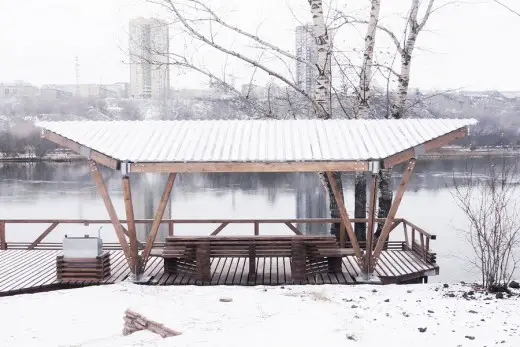 images by architects
Krasnoyarsk is a big industrial city in Siberia located in a place with an individual natural landscape formed by the Yenisei River, its tributaries, riversides shaped by spurs of the West Sayan Mountains and some islands. Tatyshev Island is the biggest one. It is a unique natural area, recreational and public space located in the centre of Krasnoyarsk.
We based our work on a development concept for the island-park spatially on a principle of growing an integral structure of recreational and public spaces within the city wherein Tatyshev Island is a very important part and ideologically on drawing people's attention to the power of primeval nature.
On the island we built a network of architectural and landscape objects creating a communication between people and nature within the philosophy of ecological interrelations understanding a man as a part of nature.
These objects were designed using integral modular stylistic unit "Moth" that was created especially for Tatyshev Island from our space structural building system "ADM".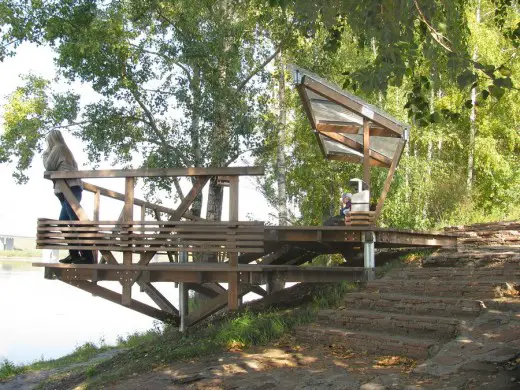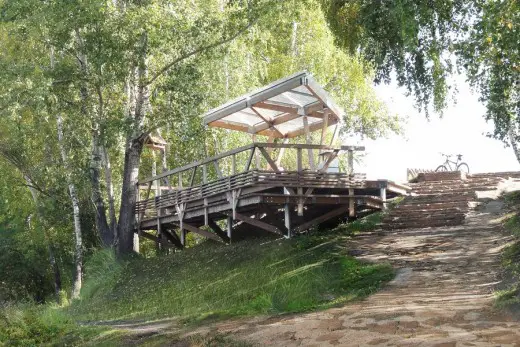 "ADM" network architectural structures stylistically integrate various landscapes and areas and become a connecting link between a capital urban architecture and nature. This system consists of universalized metal joints and wooden lacings. It allows to create architectural demountable objects of different size, shape and function from kiosks and informational stands to big pavilions and covered stages.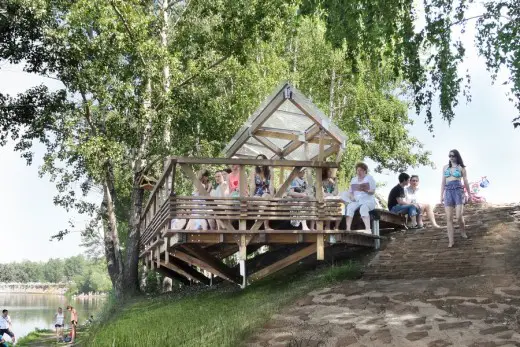 The creation of the "Moth" from "ADM" was inspired by images of Siberian nature embodied in the landscape of the island and the history of ethnic groups of the place. It is associated with a brutal archaic and modern constructional and technological style codes simultaneously.
The second shape-generating element we used for objects on Tatyshev Island was a naturally modeling structure made of simple nogs. It allows to create wood decks, terraces, benches, etc.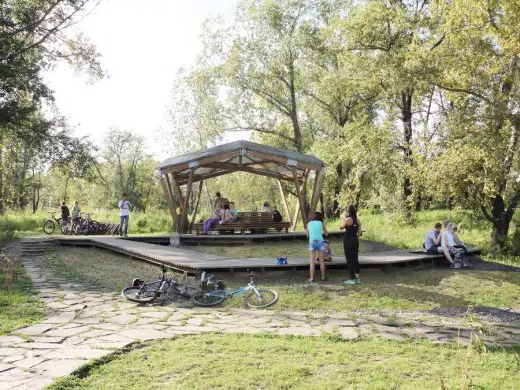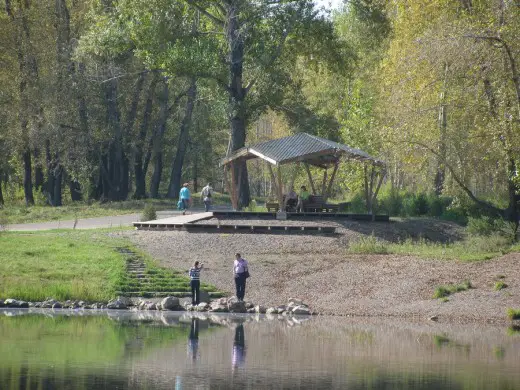 The riverside terrace on the north shore of the island (one of three planned terraces) is among objects designed using these two elements.
The terrace appeared in a place where three different types of roads go along the shore. The main wide asphalt road is divided into lanes for pedestrian and active sport traffic (bicycles, roller skates and skateboards) into two directions. Near there is a running track with a special covering. These roads are separated from the bank with a line of trees with some openings to the water. The third path lined with stone goes through one of the openings and comes down near the realized terrace located on an abrupt bank of the Yenisei. The path continues along the water connecting quiet coastal areas and three terraces where a person enters a tactile interaction with nature.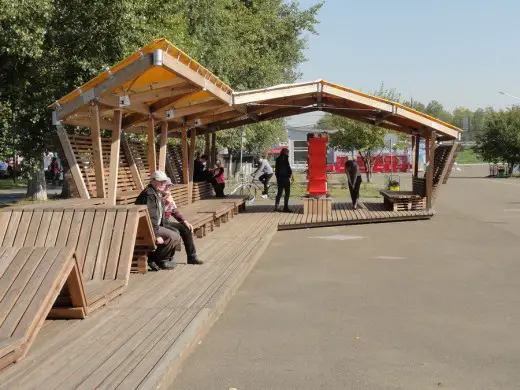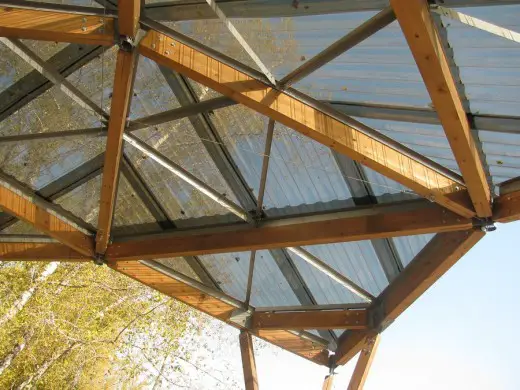 The terrace stands in the line of birches along the shore, coexists with two big poplars and consists of two levels of wood decks. On the top level there are a sunshade from structural unit "Moth" and a bench. The terrace is organized as cozy space convenient both for a quiet contemplation of nature, a dialogue with moving river flow and for comfortable placement of a lot of visitors in summer time on a drop from one level to another. The drop creates a small amphitheatre on the bank.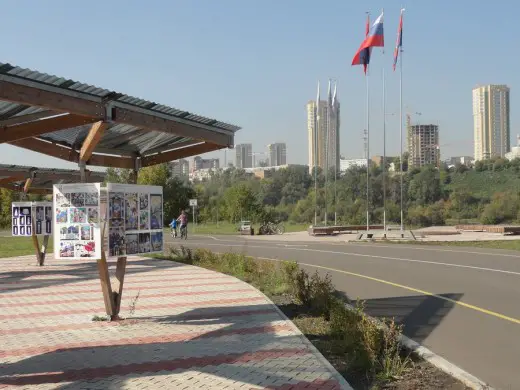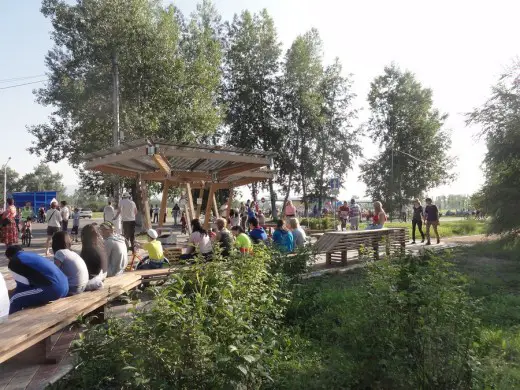 The complete architectural design of the riverside terrace delicately and tactfully complements the beauty of Siberian nature. The terrace with its vegetative generation of forms becomes a manmade part of natural landscape of the island.
Another object as close to nature as the terrace designed using modular stylistic unit "Moth" is the Rotunda at the lake, it was created as a tactful accent in a place of intersection of a wide asphalt road bridge, a lake shore and a wood.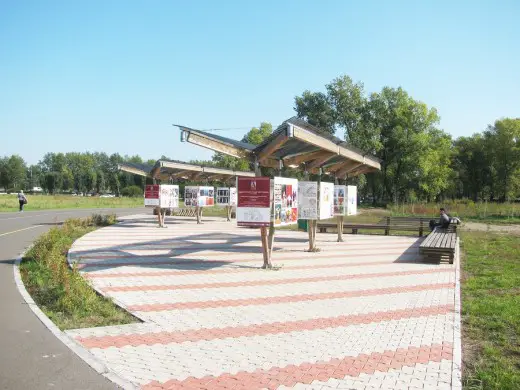 In the central public space of the island there is a street library created as a place for different types of communication between people. Also there are two different squares with informational and exhibition stands with long benches of different shape.
The use of a variation of space structural building system "ADM" allowed us to create a new various network of architectural objects within the Tatyshev Island.
Riverside Terrace on Tatyshev Island, Krasnoyarsk – Building Information
Title: The riverside terrace on Tatyshev Island, Krasnoyarsk
Architects: OOO "ADM"
Design architect: Aleksei Miakota
Project team: Elena Elizarova, Ekaterina Kalashnikova, Olga Loginova, Olga Zhukova
Location: Tatyshev Island, Krasnoyarsk, Russian Federation
Client: MAU Direktciia sportivno-massovykh meropriiatii
Project Year: 2013-2014
Photographs: Aleksei Miakota, Lidiia Gribakina
Web site: http://www.facebook.com/ADM.TechnologyFormingIdentity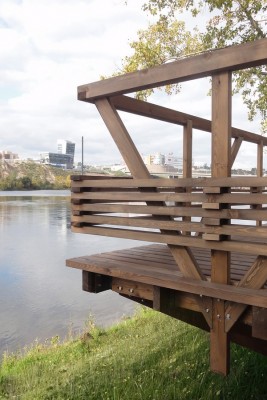 Tatyshev Island, Krasnoyarsk Building images / information from OOO "ADM"
Location: Tatyshev Island, Krasnoyarsk, Russia
New Architecture in Russia
Contemporary Russian Architecture
Russian Architecture Designs – chronological list
Architecture Walking Tours in Russia
Viewing platform with canopy and amphitheater in Divnogorsk, Siberia, Russian Federation
Design: OOO "ADM", Architects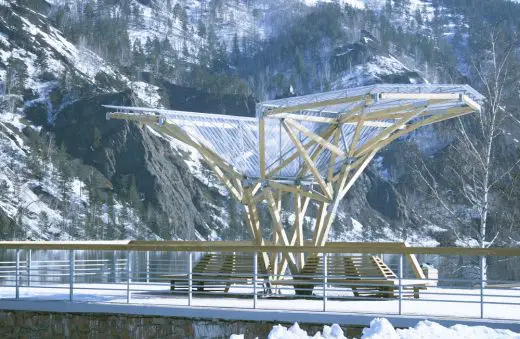 photo : Alexey Myakota
Viewing Platform in Divnogorsk, Siberia
Lake House


image by architects
Lake House St Petersburg
Moscovskaya Zastava Building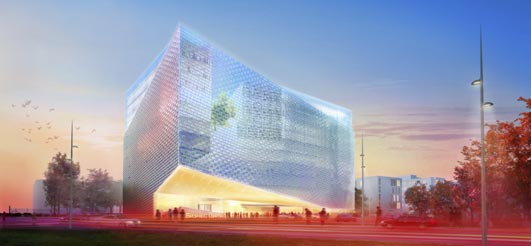 picture by architects
St Petersburg Architectural Tours
Photos for the Riverside Terrace on Tatyshev Island, Krasnoyarsk Building page welcome