Viewing Platform and Shelter, Latvian memorial park building, Folly architecture design, Architect photo
View Terrace and Pavilion in Latvia
Latvian Folly Project in memorial park, The Garden of Destiny design by Didzis Jaunzems
3 Mar 2014
Location: Memorial park 'The Garden of Destiny', Krievkalna Island, Koknese, Latvia
Design: Didzis Jaunzems
Viewing Platform and Shelter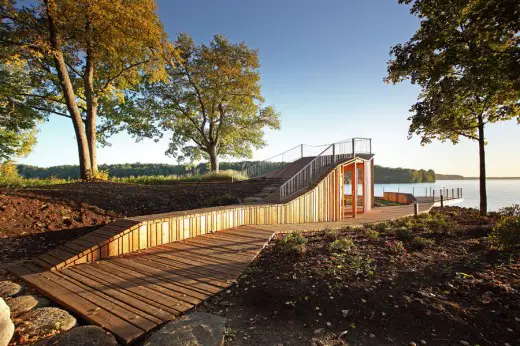 Photos by ML-STUDIO
View Terrace and Pavilion
View terrace and Pavilion are situated in memorial park "The Garden of Destiny", the area of Consolation which is the first zone of Future according to overall project of the island. The Garden of destiny is memorial place for all souls that have been lost to Latvia in last century and it will be completed as a gift to country on its 100th birthday in year 2018.
The View Terrace project started as an architectural competition and with a help of donations is now first realized permanent building in memorial park. View terrace received the Prize of the Year in Latvian Architecture Best Works Award.
View terrace and pavilion creates harmonious environment to discover special character of the site – spaciousness and faraway horizon over river Daugava. The tight bound between Latvian people and nature has been emphasized in the project. Nature is a source of inner energy, strength, peace and inspiration. Nature has been a priority in this project since it is the consolation for Latvians. The building has been designed considering site particularities and in harmony with nature:
– The main flows of people have been analyzed. The building is made in a way to not cover the view to river panorama when approaching the site;
– Stop points such as benches and covered space are situated in the places where view is the most stunning and emotional;
– The building has been shaped in a way to preserve most valuable trees on the site;
– Terrain level differences are used in the project design. The pavilion is partly sunken into the ground so it doesn't cover the view when approaching the building and to provide comfortable access from the lowest level of terrace.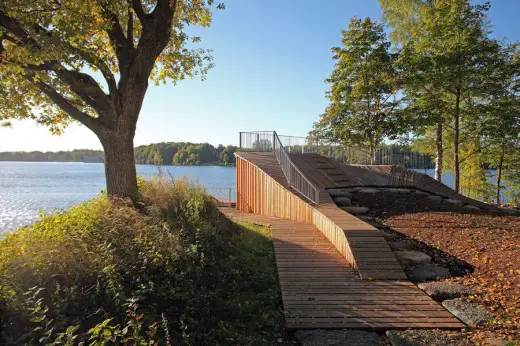 View terrace and pavilion has diversified levels of "openness". This gives an opportunity to use the building in all kind of weather conditions as well as lets visitors to choose the level which emotionally suits them the best. For example if it is raining or in case of strong wind people can enjoy the view from the part of pavilion that is covered with roof and protected with large glass. But if the weather is not an issue then exposed long benches can be used. Building can be seen as a platform for harmonious interaction between people and nature.
The main architectonic idea of the project is building volume that following people movement from a pathway and seats gradually grows into a building in this way exploring building location on the very coast of the river. Roof inclinations creates an exciting place where to play and relax. The main challenge of the project was its highly public significance – it is built for everybody and furthermore by donations of people. The building is very compact however its configuration and various possibilities of usage allow to coexist all parts of society. From this year on couples in Latvia can officially get married also outside the church and the view terrace unintentionally has become a very popular place for wedding ceremonies.
Pavilion and view terrace are made in wood – larch. The load bearing structure is larch frames. Finishing is larch planks that are processed in a special technique to avoid slippery surfaces on pathways and roof of the building.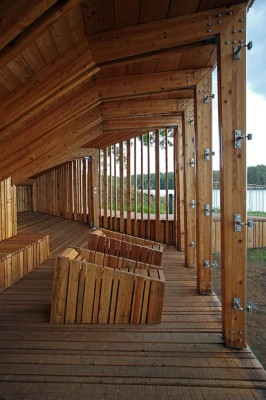 View Terrace and Pavilion in Latvia – Building Information
Project name: View Terrace and Pavilion
Project address: Memorial park "The Garden of Destiny", Krievkalna Island, Koknese, Latvia
Projects architects: Didzis Jaunzems, Laura Laudere in collaboration with architecture office Jaunromans and Abele
Year: 2013
Awards: Prize of the Year in Latvian Architecture Best Works Award.
Photos: ML-STUDIO
View Terrace and Pavilion in Latvia photos / information from Didzis Jaunzems
Location: Krievkalna Island, Koknese, Republic of Latvia, eastern Europe
Architecture in Latvia
Latvia Architecture
Abas Malas, Riga,
Design: Didzis Jaunzems Architecture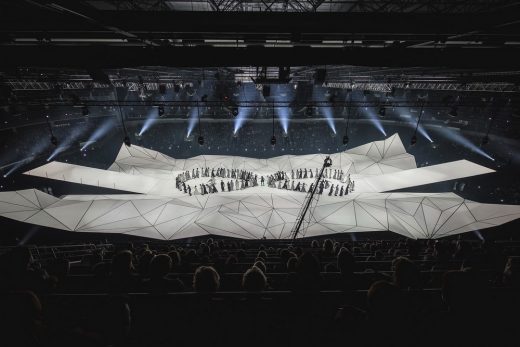 photograph : Uldis Lapiņš
Both Sides in Arena Riga
Latvian Museum of Contemporary Art, Riga, central Latvia
Rem Koolhaas / OMA
Latvian Museum of Contemporary Art
Villa Pinia, Jurmala
Ark-house Architects
Villa Pinia
airBaltic Terminal Design Competition, Riga
AirBaltic New Terminal
Latvian Architecture Competition – entry, Jurmala, central Latvia
Gareth Hoskins Architects
Latvia Building – Architecture Competition
Riga Urban Centre
Fletcher Priest
Riga Masterplan : Design Competition win
Comments / photos for the View Terrace and Pavilion in Latvia design by Didzis Jaunzems page welcome.