Latvian Building Contest, Jurmala Architecture, Masterplan, Architect, Image
Latvia Building – Jurmala Competition
Latvian Design Competition: Jurmala Yacht Club Architecture – design by Gareth Hoskins Architects
5 Jun 2006
Jurmala Design Competition
Yacht Club Images from Gareth Hoskins Architects
Success for The Paul Hogarth Company and Gareth Hoskins Architects in International Masterplan Competition
The Paul Hogarth Company has just returned from Latvia, where they were runners-up in an international Masterplan design competition. Whilst the competition was won by Danish Architects, Henning Larsens Tegnestue, the Belfast-based Urban Designers/Landscape Architects were placed, by the panel of international judges, above notable entrants such as Zaha Hadid Architects, S333 and Albert Speer & Partners.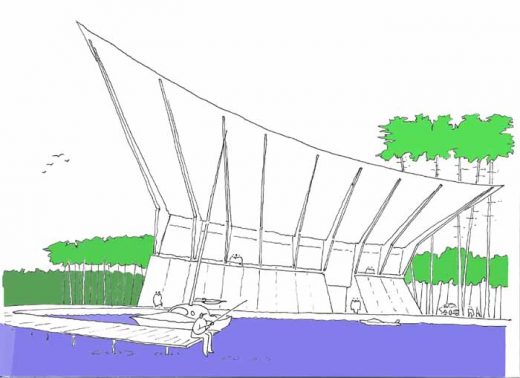 Andrew Haley from the Paul Hogarth Company was invited to lead a team of three, to compete on a head-to-head basis against seven other teams for this Latvia Building design contest. The three individuals, two from The Paul Hogarth Company and one from Glasgow-based Gareth Hoskins Architects, armed with computer hardware, software and a case-full of stationery equipment, spent four days in the City of Jurmala, on the Baltic coast to the west of Riga, the capital city of Latvia.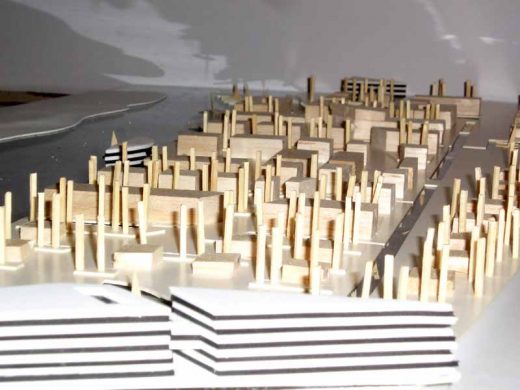 The developer who organised the Latvia Building competition spent the first day introducing the teams to the site – by foot, bus and boat – and through briefings provided by council officials and other key stakeholders. The following three days were spent preparing a design response and presenting it to the judging panel, the other competitors and the media.
The 23Ha site is at the tip of a peninsula, bounded by the dunes of the Baltic to the west and by the River Lielupe to the north and east. The large abandoned soviet fish factory that dominates the site, now offers significant opportunities for redevelopment. With nearby detached dwellings selling for the equivalent of £2 million, there is significant pressure to secure the most appropriate development mix whilst balancing that with the sensitivities of the environment and the Natura 2000 designations.
The response that The Paul Hogarth Company with Gareth Hoskins Architects presented was founded on an urban form synthesised with fingers of pine woodland penetrating from the west and fingers of water from the east. It proposed a luxury hotel and spa resort, an international yacht club, eco-centre, and residential properties ranging from the exclusive, complete with their own boathouses to more modest apartment dwellings. A central village square was proposed, along with market streets, promenades and nature trails.
The challenge of developing the design vision to presentational quality to compete with that of the other teams, was set within the context of having to work remotely from the office, with no human or physical resources to fall back on, with the exception of two local architecture students who were assigned to each team.
Whilst inevitably disappointed not have won the competition, the team were delighted to have secured the runners-up place ahead of high quality competition from internationally renowned architectural practices such as Zaha Hadid Architects of London, S333 from Amsterdam, and Albert Speer and Partners of Frankfurt. Having now caught up on sleep, the team reflect with great enthusiasm on the whole experience, which whilst commonplace in other European countries, was a first for both The Paul Hogarth Company and Gareth Hoskins Architects.
Jurmala Competition – Participants
The Paul Hogarth Company with Gareth Hoskins Architects (UK)
AKA birojs Ltd. (Latvia);
Didrihsons arhitekti Ltd. (Latvia);
Code Architectur AS (Norway);
Albert Speer & Partner GmbH (Germany);
Henning Larsens Tegnestue (Denmark);
Zaha Hadid Architects (UK)
S333 (Holland)
Latvia Design Competition images / information from Gareth Hoskins Architects
Location: Jurmala, Republic of Latvia
New Architecture in Latvia
Contemporary Latvian Architecture
Riga Architecture Designs – chronological list
Latvian Architecture Competition
Latvian architect : Gunnar Birkerts – Museum of Occupation, Riga, Latvia
Latvia Masterplan Competition winning architects : Henning Larsens Tegnestue
Latvia Museum building by Rem Koolhaas
Website: Visit Latvia
Comments / photos for the Latvia Buildings page welcome