Park Afyon Shopping Mall, Afyonkarahisar Building, Turkish Retail Architecture, Tyvek FireCurb Product
Park Afyon Shopping Mall in Afyonkarahisar
Turkish Retail Building Development – DuPont Tyvek FireCurb news
22 Mar 2016
Location: Afyonkarahisar, Turkey
DuPont™ Tyvek® FireCurb™ Housewrap enhances safety at the Park Afyon SM shopping mall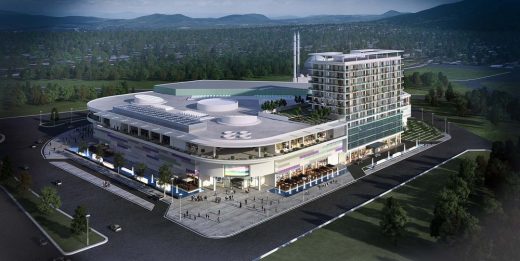 For the new Park Afyon SM Shopping Mall, DuPont™ Tyvek® FireCurb™ Housewrap, an advanced flame retardant membrane, has been specified to help build in greater safety while also offering optimal protection and breathability to the building envelope. Image by Park Afyon SM, all rights reserved.
Park Afyon Shopping Mall
The Park Afyon complex, which has been built to offer social housing together with shopping and community facilities in central Afyonkarahisar (the capital of western Turkey's Afyon Province) benefits from DuPont™ Tyvek® FireCurb™ Housewrap, an advanced breather membrane which protects the structure from wind and water for the long term, while also enhancing fire safety. DuPont™ Tyvek® FireCurb™ Housewrap has been applied to 7,000 square metres in the Park Afyon AVM building and creates an extra protective shield thanks to its non-toxic flame retardant capability.
Innovation that holds a "stop" sign to the spread of flames
By virture of the material's resistance to ignition and the propagation of flames, DuPont™ Tyvek® FireCurb™ Housewrap helps to prevent the spread of fire within a structure, thereby extending the time available to evacuate the building – an invalauble benefit for crowded public spaces.
DuPont™ Tyvek® FireCurb™ Housewrap also reinforces the airtightness, weather protection and thermal performance of the building as it is applied to the external side of insulation materials within the envelope and thus can be used within ventilated facades and timber structures, and roofs with primary watershedding rainscreens.
Patented and certified technology
DuPont™ Tyvek® FireCurb™ Housewrap is an advanced breather membrane with superior flame retardant properties, based on a special patented technology developed by DuPont. Successfully applied in many countries around the world, it offers an outstanding and enduring protective solution that can significantly enhance building safety. The membrane is suitable for use in all building types, from bungalows to tower blocks and can help slow or prevent the spread of flames. This technology not only improves evacuation time for occupants but can also help to increase the fire rating of the wall elements.
Rigorously tested, DuPont™ Tyvek® FireCurb™ Housewrap has CE marking and a fire rating of class B-s1,d0 according to EN13501-1. It also has been awarded an Agrément Certificate by the BBA as a fire-rated, high-density polyethylene breather membrane for use in timber-frame wall construction.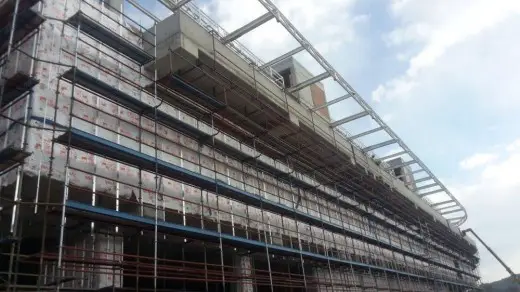 DuPont™ Tyvek® FireCurb™ Housewrap advanced breathable membrane with flame
retardant properties is based on a special DuPont technology. It has been installed at Park Afyon SM shopping mall, in Afyonkarahisar, Turkey. Photo DuPont™ Tyvek®, all rights reserved.
About DuPont™ Tyvek® Invented in the DuPont research and development laboratories, the DuPont™ Tyvek® family of advanced building membranes are distinctive in several key ways that make them ideal for today's construction projects. All the crucial requirements for a high-performance breather membrane are embodied in DuPont™ Tyvek® which is unique in the market because of its high-quality single layer construction.
DuPont™ Tyvek® is naturally vapour open but also wind and water-tight due to its composition of millions of micro fibres bonded together to make a "maze" that's impermeable to air and moisture but allows water vapour to pass through its natural pores. Lightweight yet robust, DuPont™ Tyvek® is easy to install to exterior walls and roofs and offers long term proven reliability and durability.
Designed to protect the building envelope against the effects of weather and moisture, the membranes also offer optimal air-tightness and can help to improve the thermal performance, energy-efficiency and interior climatic stability and comfort of a building. For more information about DuPont™ Tyvek® please visit www.tyvek.co.uk
Park Afyon Shopping Mall, Afyonkarahisar – DuPont™ Tyvek® FireCurb™ images / information received 220316
Location: Afyonkarahisar, Turkey, south eastern Europe
Turkish Building Designs
Turkish Architecture Design – chronological list
Turkish Architecture Designs – architectural selection below:
Studio Loft, Izmir, Turkey, south eastern Europe
Design: Yerce Architecture & ZAAS, Istanbul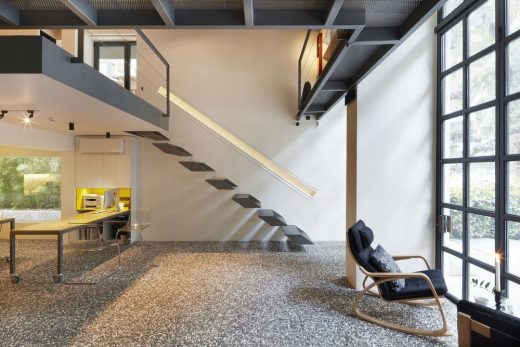 photograph : Yerce Art Photography – Emin Emrah Yerce
Studio Loft Izmir
Lisette, Kuzu Effect Mall, Ankara, central Turkey
Design: Neowe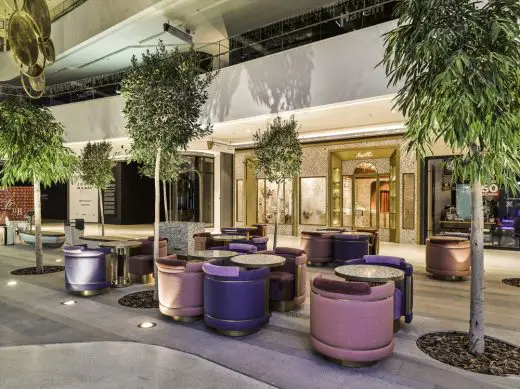 photograph : Ibrahim Ozbunar
Lisette Shop Interior in Kuzu Effect Mall, Ankara
DuPont Corian
DuPont Product Links – Selection
Brørup Sparekasse, Denmark
Corian Sphere, England
The Cineroleum, London
Architectural Products
Selection of Architectural Products featured on e-architect
Libeskind House : Daniel Libeskind
DuPont Building Innovations News
Comments / photos for the Park Afyon Shopping Mall, Afyonkarahisar, Turkey – DuPont Tyvek FireCurb page welcome