Floating City Apps, Developing World Education Provision, Dutch Recycled Shipping Container Design
Floating City Apps Netherlands
Development Project for Deprived Communities design by Waterstudio, Netherlands
4 Sep 2014
Developing World Education Project for Deprived Communities
A unique development project from the Netherlands for deprived communities: Floating or mobile "CityApps" fitted out in DuPont™ Corian®
Design: Waterstudio, NL
Floating City Apps Foundation
The Floating City Apps foundation has developed a revolutionary concept to enhance education provision in deprived areas of the developing world: mobile units in recycled shipping containerswhich can be located as needed, including on floating platforms for waterside slums threatened by rising sea levels or seasonal flooding. The interiors of the units have been designed to optimise the durability, flexibility, hygiene and easy-maintenance of DuPont™ Corian®, a high-tech material which can also be repaired if necessary.
An initiative of the Floating City Apps foundation for deprived areas of the Third World: the "CityApps",
mobile multi-functional units feature interior wall cladding and furnishing solutions made
with DuPont™ Corian® high-tech surface; design by Waterstudio.NL:


photo by Floating City Apps foundation; all rights reserved on design and photo
Flexible solution
The concept is inspired by the principle of apps that are created for installation on smartphones. "Imagine that the deprived area is the hardware," says Koen Olthuis from Waterstudio.NL, an architectural practice that is one of the originators of the project, "then you add functionality: the so-called CityApps, smart units that can act as a classroom or a data centre, fitted out with all the latest high tech facilities, such as tablets and internet access."
Ready-made units
Given the logistical restrictions likely in the target areas (for example, India, Bangladesh, and the Philippines, the planned location of the first prototype), the foundation opted for a completely mobile solution: ready-made interior units that are produced in the Netherlands. The units are designed to be a precise fit into standard shipping containers, which are then easily transported to their destination and which can be very quickly operational. The teaching materials are presented on tablets that can be programmed remotely.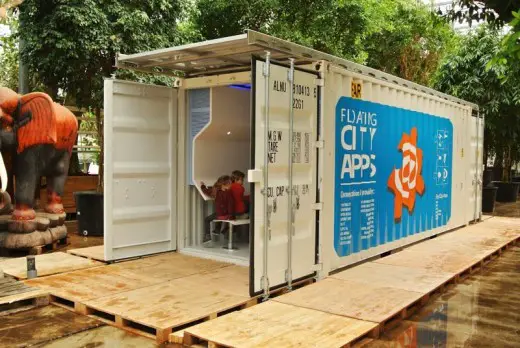 photo by Floating City Apps foundation; all rights reserved on design and photo
Maintenance-free and sustainable
The unit design had to satisfy strict criteria, including minimal maintenance, lasting value and sustainability. This made DuPont™ Corian® an automatic choice, according to Koen Olthuis. "The material is non- porous so very easy to clean," he explains.
DuPont™ Corian® can be seamlessly crafted into virtually any shape, making it the ideal design solution for the interiors. The individual tablets can be safely secured and properly protected when integrated into the practical wall panels. Appealing aesthetics were also a key consideration, demonstrating the respect the initiative has for its intended audience and the seriousness of this invitation to join the digital world.
An investment that retains its value
"What's nice is that we aren't just offering the inhabitants money, but rather a concrete project, for as long as it's needed," says Olthuis. "One CityApp isn't going to change a deprived area, but a few hundred could well make a difference. If, after a while, it appears that there is no longer a need for the CityApps, perhaps because the situation has changed, then the floating units can simply be transported to another region. In this way, the investment retains its value."
Lease construction
Several businesses have come on board to sponsor the Floating CityApps foundation and DuPont has enthusiastically supported the project with the supply of panels made from DuPont™Corian®. However, the Floating CityApps foundation remains commercially focussed. The flexible classrooms are made available to local organisations that provide education in deprived areas for a very modest fee in order to establish a sense of their value. Olthuis explains, "By acting as a leasing company, we enable local organisations to carry out their educational work more effectively."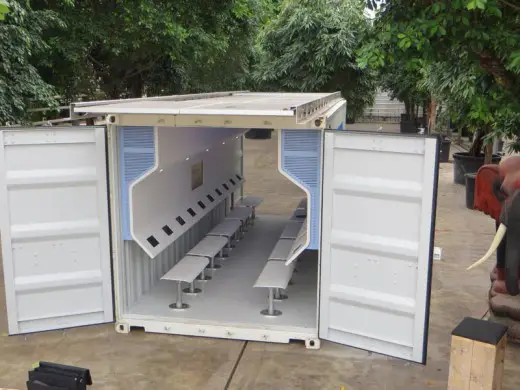 photo by Floating City Apps foundation; all rights reserved on design and photo
More information about the Floating City Apps foundation:
www.floatingcityapps.com
www.facebook.com/floatingcityapps
[email protected]
About DuPont™ Corian® (www.corian.co.uk) – First created as a high performance material for kitchen and bathroom worktops, DuPont™ Corian® is now – thanks to its unique combination of functionality, versatility and beauty – a leading global brand among surfacing materials for interior design and architecture. Over the years, DuPont have turned DuPont™ Corian® solid surface into an exceptional design tool for every application one can imagine. Kitchen, bathroom, lighting, furnishing, facades, seating, radiators, home automation, touch control surfaces: today, DuPont™ Corian® can be found almost everywhere in Commercial, Residential and Public Space applications.
DuPont™ Corian® has received important certifications for its environmental performance (such as GreenGuard®, NAHB North American Builders Association, US Green Building Council's LEED® Green Building Rating System, Scientific Certification Systems) and its superior hygienic performance has been certified by independent institutions (like NSF International, Royal Institute of Public Health, LGA QualiTest). Furthermore, DuPont Corian® is the most certified solid surface for building facades (for example it has been awarded the UK certificate CWCT 2012/050, Certification "Avis Technique" ATEC 2/11, Seismic certification by CSTB). All DuPont plants manufacturing DuPont™ Corian® have reduced their impact on landfill to zero by reducing, reusing and recycling, and their environmental management systems have been certified according to ISO 14001.
To know more, and stay in touch with DuPont™ Corian®
www.corian.com / www.endlessevolution.corian.com / Facebook.com/CorianDesign
Twitter.com/CorianDesign / Youtube.com/CorianDesign / Pinterest.com/CorianDesign
DuPont – DuPont has been bringing world-class science and engineering to the global marketplace in the form of innovative products, materials, and services since 1802. The company believes that by collaborating with customers, governments, NGOs, and thought leaders we can help find solutions to such global challenges as providing enough healthy food for people everywhere, decreasing dependence on fossil fuels, and protecting life and the environment. For additional information about DuPont and its commitment to inclusive innovation, please visit www.dupont.com.
Corian® DeepColour images / information received 301014
www.floatingcityapps.com – website offline on checking 22 May 2019
Waterstudio.nl B.V.
Address: Generaal Berenschotlaan 211, 2283 JM Rijswijk Zh, Netherlands
Phone: +31 6 55150092
DuPont Links
Corian Sphere, England
Selection of Architectural Products featured on e-architect
Libeskind House : Daniel Libeskind
Masterplan Marktkwartier, Amsterdam, North-Holland, The Netherlands
Architects: Mecanoo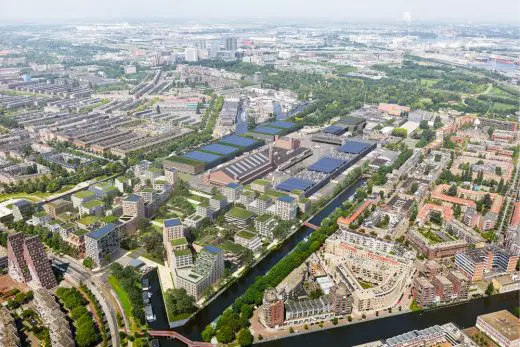 images : GVd Werff, Bank Amsterdam and Mecanoo
Masterplan Marktkwartier Amsterdam
Comments / photos for the Floating City Apps page welcome