Michael Graves Exhibition, NJ Architect Show, Hamilton, Grounds For Sculpture USA
Michael Graves Retrospective Exhibition
American Architects Practice Retrospective: US Architecture Office
Sep 4, 2014
Michael Graves Exhibition
Michael Graves Retrospective Exhibition
Denver Library, South Elevation, 1994: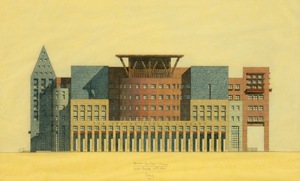 photo Courtesy of Michael Graves & Associates, photo: Ken Ek
Internationally Renowned Architect and Designer Michael Graves Honored with Retrospective Exhibition at Grounds For Sculpture
On view October 18, 2014 – April 5, 2015
Location: Hamilton, New Jersey, USA
Hamilton, NJ (September 3, 2014) – On October 18, 2014, Grounds For Sculpture will open its Fall/Winter exhibition season, headlined with a remarkable installation of work by internationally acclaimed artist and architect, Michael Graves. The exhibition, entitled Past as Prologue, will celebrate the 50th anniversary of Graves' design firm and its five decades of visionary work. The exhibition will feature a tour through seminal architecture and product design projects, and will display some of Graves' original works of art, including sculpture and paintings. It will reflect the evolution of Mr. Graves' core design principles and how the past influences the present, setting the stage for the future.
On view in the Museum, Domestic Arts Building, and Welcome Center, Past as Prologue will present projects ranging from rarely seen work from 1964 through current work "on the boards." Some of Graves' most influential architectural designs will be on display including the iconic Denver Central Library and the Team Disney Building in Burbank. Also featured will be everyday objects such as his celebrated ALESSI teakettle and a collection of bowls and vases for Steuben Glass.
Michael Graves, Model of Portland Building, 1982:


photo Courtesy of Michael Graves & Associates, photo: Ken Ek
The exhibition will reflect the breadth of his accomplishments at every scale. Visitors will also get a rare glimpse at the early Linear City project on which Graves collaborated with architect Peter Eisenman. The exhibition will give visitors the opportunity to see the progression of Graves' design philosophy and the core values he developed with his collaborators. Visitors will gain insight into how such a broad spectrum of work produced across five decades is inter-connected.
Central Zone, Resorts World Sentosa, 2012: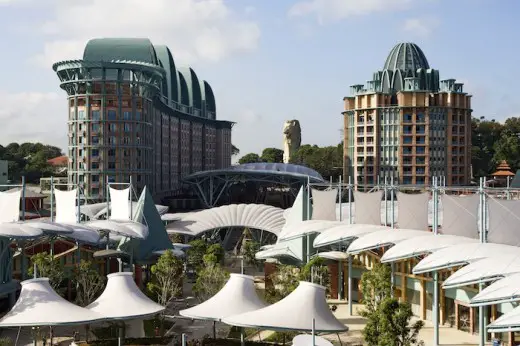 photo Courtesy of Resorts World Sentosa and Michael Graves & Associates
"Reminiscing over 50 years of projects is wonderful for me, but I am most excited about how the future of our practice is evolving from the energetic collaboration of our disciplines," says Michael Graves. "I hope that visitors experience the many scales of our designs with the same joy that we feel in creating them."
In addition to an extensive collection of Graves' architectural models, products, furniture, paintings, sculptural pieces, and photos of built projects from around the world, some of his never-before-seen drawings will also be on view, providing a behind-the scenes glimpse into the design process from original concept to the final product or project.
Michael Graves, Model of Brighton Pavillion for Target, 2003: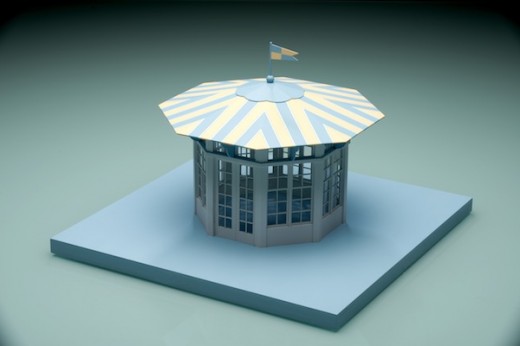 photo Courtesy of Michael Graves & Associates, photo: Ken Ek
"Michael is a true visionary. This exhibition will feature many of his never-before-seen drawings created over five decades, which will enable visitors to experience his thought process in the same space as the finished product. He approaches every project with a human sensibility; whether it's a hotel, office building, or product for home and health, he insists that it be intuitive and functional. And he is able to balance this requirement with streamlined design and a heightened aesthetic," says Tom Moran, Chief Curator at Grounds For Sculpture. "He is a master at his craft, and we are so pleased to be able to share his work and celebrate the 50 years leading up to this momentous exhibition."
Throughout the duration of Michael Graves: Past as Prologue, Grounds For Sculpture will offer special events, talks, tours, and hands-on art-making workshops for families and adults, in addition to a film series and a Product Design Challenge, all inspired by the exhibition. This exhibition has been made possible in part through the generous support of its presenting sponsor, Kimberly-Clark and by ALESSI, one of the leading "factories of Italian design."
Also on view during the Fall/Winter season is the International Sculpture Center's 20th annual Student Award Exhibition which features exceptional work by undergraduate and graduate student artists. The competition attracts international submissions of over 500 artworks and is juried by a distinguished panel of art professionals. The Fall/Winter season opens to the public on October 18, 2014, and its exhibitions are on view through April 5, 2015. Visit www.groundsforsculpture.org for more information and a calendar of events.
And by popular demand, Grounds For Sculpture is pleased to announce that it will be extending much of the Retrospective Exhibition of its founder Seward Johnson, through July 2015. The Retrospective, which was slated to close September 21, has drawn record attendance to the park, garnering numerous editorials and much acclaim for Johnson, now 84 years old. On view during the course of the extension will be many of Johnson's outdoor installations, including the 26-foot tall fan favorite, Forever Marilyn.
Grounds for Sculpture is located at: 18 Fairgrounds Rd., Hamilton, NJ 08619, USA
Martel College, Rice University, 2003: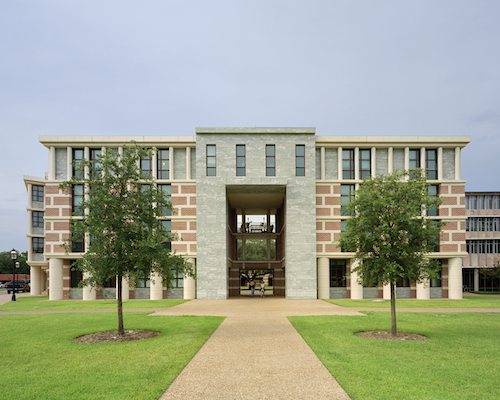 photo Courtesy of Michael Graves & Associates, photo: Richard Payne
ABOUT GROUNDS FOR SCULPTURE
Grounds For Sculpture (GFS), located in Hamilton, New Jersey (midway between Philadelphia and New York), is a forty-two acre not-for-profit sculpture park and arboretum founded by Seward Johnson. Its collection features more than 270 contemporary sculptures by renowned and emerging artists. Exhibitions change seasonally in seven indoor galleries. With rich educational offerings, a robust schedule of performing arts, and fun family events, the park is open year-round. Shopping and dining options complement every visit. Members receive free admission year-round plus a host of other benefits. For hours, admission prices, membership information, and a calendar of events, visit www.groundsforsculpture.org.
ABOUT MICHAEL GRAVES & ASSOCIATES
Michael Graves is renowned internationally as one of the world's most accomplished architects, artists, and designers. He is the winner of numerous awards and distinctions including the National Medal of Arts. Graves' work has been exhibited and widely published, and his drawings, paintings and objects have found permanent homes in museums and private collections around the world.
Michael Graves & Associates (MGA) is recognized as one of the leading design firms in the world. Through approaching projects aesthetically and empathetically, MGA achieves transformative results for their clients. Offering a full spectrum of services, MGA's architecture projects span the globe and the firm has brought over 2,000 products to market for clients such as Target, ALESSI, Stryker and Disney. With over 200 awards for design excellence, MGA is a unique, highly integrated multidisciplinary practice that offers strategic advantages to clients worldwide. For more information, visit www.michaelgraves.com.
Michael Graves, Alessi Tea Kettle, 1984: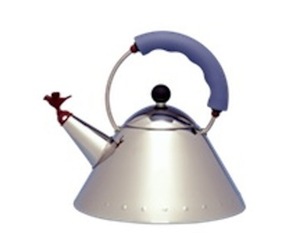 photo Courtesy of Michael Graves Design Group
Michael Graves Retrospective Exhibition images / information received 030914
Location: Hamilton, New Jersey, USA
Michael Graves Buildings
Maritime Xperiential Museum, Resorts World Sentosa, Singapore
Michael Graves & Associates



photo Courtesy of Michael Graves Associates
Maritime Xperiential Museum
Richard H. Driehaus Prize winner in 2011



Wounded Warrior Home Project at Fort Belvoir, Virginia, USA – picture from architects
Michael Graves – Key Design
Michael Graves Resorts World Sentosa Singapore
Design: Michael Graves & Associates ; Michael Graves Design Group



picture from architects
Resorts World Sentosa
Postmodern Architecture, key early PoMo work
Michael Graves Architect
Michael Graves & Associates Offices in New Jersey + New York, USA
Michael Graves : New York Architect
Exhibitions – chronological list
Buildings / photos for the Michael Graves Architecture page welcome
Michael Graves & Associates – Website: www.michaelgraves.com