Guggenheim Helsinki Design Competition, Architecture Contest, Architects
Guggenheim Helsinki Design Competition
Finland Architecture Contest – run by The Solomon R. Guggenheim Foundation
5 Sep 2014
Guggenheim Finland Design Contest
Organiser: The Solomon R. Guggenheim Foundation
Guggenheim Helsinki Design Competition News
Key Dates and Fall Programming Announced
Number of entries to be announced September 17; online gallery of entries to launch in late October; shortlist of six finalists to be revealed December 2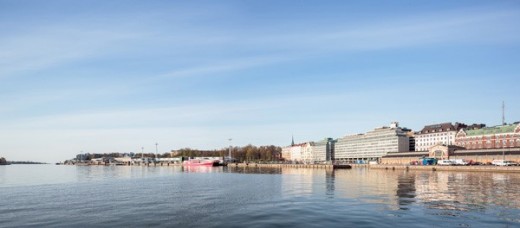 (HELSINKI, Finland, September 5, 2014)— The Solomon R. Guggenheim Foundation today announced key fall dates and programming related to the Guggenheim Helsinki Design Competition. The open, two-stage, international competition for the design of a proposed Guggenheim museum on the Finnish capital's South Harbor launched with events in Helsinki and Venice on June 4 and 5, 2014.
Key Dates
Submissions for Stage One of the Guggenheim Helsinki Design Competition are due September 10, 2014 at 12 noon EEST (Helsinki Time). On September 17, 2014, following administrative processing of the submissions by independent competition manager Malcolm Reading Consultants (MRC), the Guggenheim Foundation will announce the number of entries received.
Malcolm Reading, president of MRC, reports a high level of interest in the competition. "We are thrilled with the strong response to the competition website and with the numbers of competitors registering from many countries around the world," he says.
An online gallery of submitted entries will be launched on the Guggenheim Helsinki Design Competition website (www.designguggenheimhelsinki.org) in late October.
In early November, the eleven-member competition jury will meet in Helsinki to review the Stage One submissions and choose the top six entries to continue to Stage Two of the competition. The shortlisted entries will be presented in Helsinki at a media event on December 2, 2014. In accordance with European Union procurement rules, shortlisted teams or individuals will be named but will not be matched to their designs. Shortlisted designers will be invited to visit the proposed museum site in Helsinki in December. Stage Two submissions are due in March 2015.
The winning design will be announced in June 2015. The winner will be awarded a prize of €100,000 (approximately $136,000). The five runners-up each will receive €55,000 (approximately $75,000).
Fall 2014 Programming
Throughout the fall, the Guggenheim Foundation will present and participate in public programming and educational events related to the competition and to the Guggenheim Helsinki project.
On September 11, 2014 from 2:30-4:30pm at the Helsinki Expo and Convention Centre Messukeskus, the Guggenheim Helsinki Live series continues with a presentation by Guggenheim Foundation Deputy Director Ari Wiseman and competition jury chair Mark Wigley, as part of the design fair Habitare. Launched in October 2013, the Guggenheim Helsinki Live series invites public discussion and exploration of ideas related to the proposed museum project.
Beginning this month, Aalto University will initiate a series of competition-related programs in collaboration with the Guggenheim Foundation as part of a Museum of the Future course. Lectures by members of the competition jury and other experts as well as public symposia and workshops will explore the future of museum architecture, including changing visitor expectations, social and technological innovations, and new developments in the presentation of art.
"Designing a cultural building such as the proposed Guggenheim Helsinki on a site that is significant for the cityscape is an exciting and unusual architectural challenge," says Aalto University Professor of Building Design Pirjo Sanaksenaho. "We want to be part of such an interesting project and create discussion and opportunities that help develop and advance the understanding and practice of architecture."
In New York City, members of the Guggenheim Foundation and the competition jury will participate in a panel discussion on the future of museum architecture to be held at the Center for Architecture on October 15, 2014 as part of the city's fourth annual, monthlong Archtober festival of architecture activities, programs, and exhibitions.
"The possibilities created by the Guggenheim Helsinki competition demonstrate the great interest in the potential of this project both in Finland and abroad," says Ari Lahti, chairman of the Guggenheim Helsinki Supporting Foundation. "This unprecedented opportunity offers new ways to raise awareness of Finnish expertise in architecture and design and to contribute to a global exchange of ideas."
Guggenheim Helsinki Design Competition Timeline
• September 10, 12 noon EEST (Helsinki Time): Stage One submissions due
• September 11: Guggenheim Helsinki Live at Habitare with jury chair Mark Wigley
• September 17: Announcement of number of Stage One submissions
• October 15: Guggenheim Helsinki panel discussion in New York City as part of Archtober
• Late October: Launch of online gallery featuring Stage One entries at designguggenheimhelsinki.org
• Early November: Jury deliberations in Helsinki
• December 2: Announcement of six shortlisted entries in Helsinki
• December: Site visit by shortlisted teams
• March 2015: Stage Two submissions due
• June 2015: Winner announced
Timeline is subject to changes and additions.
Guggenheim Helsinki Design Competition information / images received The Solomon R. Guggenheim Foundation
Guggenheim Helsinki Design Competition Submissions
Location: Helsinki, Finland
Architecture Competitions
Contemporary Architecture Contests
Russian Architecture Competition, Russia



image from competition organisers
Nikola-Lenivets Architecture Competition
Ocean Platform Prison Competition – [AC-CA] Architecture Contest
Ocean Platform Prison Architecture Competition
Triumph Pavilion Architecture Competition, London, UK
Triumph Pavilion Architecture Competitions
Cambridgeshire Design Competition, UK
Great Fen Visitor Centre Architecture Competition
Comments / photos for the Guggenheim Helsinki Design Competition page welcome
Website: Helsinki