Lord Foster, Architecture Books, Film, Publication, Practice, London, UK
How Much Does Your Building Weigh, Mr. Foster? Book
UK release of Architectural Book + Film
27 Jan 2011
"How much does your building weigh, Mr Foster?" Publication
"How much does your building weigh, Mr Foster?" premieres at the Institute of Contemporary Arts (ICA) Cinema in London on Wednesday 26 January and will be on general release at the ICA from Friday 28 January, before touring the country. It is the first feature film about Norman Foster and the beginning of a series of Art Commissioners productions that focus on key figures in art and culture in the twenty-first century.
Tracing Lord Foster's career, from his childhood in Manchester to the global practice that he founded and chairs, the documentary looks at his architecture, why it matters and how difficult it is to do well. The film uses cinematography to capture the spectacular scale of projects such as the Millau Viaduct, Beijing Airport and Swiss Re, on the big screen for the first time.
The Art Commissioners production was directed by Norberto Lopez Amado and Carlos Carcas and written and narrated by Deyan Sudjic. First launched in February 2010 at the Berlin International Film Festival, the documentary was selected as 'director's choice' in the Berlinale Special. It won the TCM Audience Award for the 'Best European Film' at the San Sebastian film festival and was awarded 'Best International Documentary' at the Docville international documentary festival in Leuven. "How much does your building weigh, Mr Foster?" has recently been nominated for a Goya Award, Spain's most prestigious national film prize.
21 Jan 2011
Film release date: 28 Jan
How Much Does Your Building Weigh Mr Foster? Film



image from organisers
Tickets available: ICA, London
How Much Does Your Building Weigh, Mr. Foster?
HOW MUCH DOES YOUR BUILDING WEIGH, MR. FOSTER? traces the rise of one of the world's premier architects, Norman Foster and his unending quest to improve the quality of life through design. Portrayed are Foster's origins and how his dreams and influences inspired the design of emblematic projects such as the largest building in the world Beijing Airport, the Reichstag, the Hearst Building in New York and works such as the tallest bridge ever in Millau France. In the very near future, the majority of mankind will abandon the countryside and live entirely in cities. Foster offers some striking solutions to the problems that this historic event will create.
SHORT SYNOPSIS
"How much does your building weigh, Mr. Foster?" is the first feature film focused on the architect Norman Foster and it will be the beginning of a series of productions on the key figures of the art and culture of the XXI century. The film shows Norman Foster's journey from Manchester to a global practice. It talks about architecture, and why it matters, and how difficult it is to do it well. Norman Foster has rewritten the rules of architecture.
His vision and unswerving passion for excellence have created some of the most exceptional structures of our times. Architecture comes alive. Foster's projects are photographed in a cinematic style that seeks to bring the spectacular nature of their size and scale to the big screen. It also speaks to the specialists and the priesthood of design, but it is not just for them.
It speaks to everybody who has ever been excited by a work of art, or who has understood that some spaces have special qualities that others do not share. It's for everybody who has been excited by the daring of a bridge, jutting out into space, or by the spectacle of a skyscraper that can define the identity of a city.
It portrays how the world of art has influenced Foster and how Foster has brought the world of art into his design. Art, for the sake of the pleasure if gives and how, when combined with architecture, it leads to something greater and more uplifting that the sum of the two. It celebrates the special qualities of some of the most extraordinary structures of our times, and explores what it was that made them possible
BIOGRAPHIES
Norberto López Amado – Director
Tito López Amado has been working for the past 20 years as a filmmaker on diverse projects in cinema, television, and advertising. Born in Orense, Spain and based in Madrid, he studied law and film direction. In 1989, he joined the Spanish EFE news agency as a correspondent, covering diverse stories around the world such as the first Gulf War. He moved into the field of cinema directing a number of documentaries and short feature-films. His first full-length feature film, "Nos Miran", was a commercial success and was well received by critics worldwide. He is currently considered one of the leading directors of episodic television in Spain. Lopez's second feature film, "Zig Zag" is in pre-production.
Carlos Carcas – Director
Carlos Carcas is an independent documentary filmmaker based in Madrid. Born in Miami, Florida in 1968, he began working in film production after graduating from Boston University's College of Communication. He worked for several years for the international press agency Worldwide Television News (WTN) as a freelance cameraman and news producer in Peru, Haiti, Bosnia, Liberia and Spain. He has collaborated with Spanish director Fernando Trueba on several projects.
Among them, Carcas shot and edited "Blanco & Negro" which won the Latin Grammy in 2006 for the best long-format music video. Carcas also worked with Trueba on "The Miracle of Candeal", winner of the Spanish's academy's Goya prize for best documentary. In 2008, Carcas released "Old Man Bebo", his first feature length documentary, which he wrote, directed and edited. With this work, he was awarded the prize for best new documentary filmmaker at the Tribecca film Festival in 2008.
Elena Ochoa – Producer
Elena Ochoa was a Fulbright Scholar at the University of California, Los Angeles (USA) and Visiting Research Scholar at the Universities of Cambridge (UK), Chicago (USA), Kraków (Poland), Hamburg (Germany) and Pennsylvania (USA), amongst others. She was Professor of Psychopathology at the Complutense University of Madrid (Spain) for almost two decades; she has also worked in the Spanish National Television, Spanish National Radio and as well as newspapers such as El País. Until 2001, Elena Ochoa was Honorary Professor at King's College London (UK).
She founded Ivorypress in 1996 and acted as the co-Editor in- Chief during the making of the ten-volume C Photo Collection. Since the beginning, Ivorypress has been devoted to producing artist's books and other publications related to contemporary art, photography, design and architecture. In 2008 Ivorypress opened Ivorypress Art+Books Bookshop in Madrid (Spain) as well as Ivorypress Space, commissioning exhibitions of artists such as Miroslav Tichý, Ai Weiwei, Michal Rovner, Claes Oldenburg and Buckminster Fuller, among others.
Elena Ochoa was Chairman of the Tate International Council and trustee of the Tate Foundation for five years. Currently, she is a trustee of the Isamu Noguchi Foundation and is also the main advisor and trustee of the Art Trust Foundation. Elena Ochoa is the Founder and current CEO of Ivorypress and Art Commissioners.
Antonio Sanz – Executive Producer
Antonio Sanz has a wide academic background in Art History. He began his career as professional photographer then moved toward cinema where he has worked as director of photography, screenwriter and director. In 2005, Sanz joined Art Commissioners, a London-based company focused on the commissioning and promotion of artistic works.
He has curated art exhibitions around the world such as at the 2006 Biennale di Venezia, or the London Victoria & Albert Museum in 2008. He is the managing director of Ivorypress/Art Commissioners.
Deyan Sudjic- Scriptwriter
Deyan Sudjic is the director of the Design Museum in London. Born in London of Yugoslav parents, he studied architecture at the University of Edinburgh, but decided not to practice architecture. Instead he became a writer, and critic, and has established an international reputation as commentator and curator.
He was the founding editor of Blueprint magazine, and for four years was the editor of Domus, the authoritative Milan based architecture and design revue. He has been architecture critic for three of Britain's leading newspapers; The Sunday Times, the Guardian and the Observer.
He is the author of a number of well-received books. The Washington Post nominated his Edifice Complex as book of the year, and it has been translated into six languages. His authorized biography of Norman Foster was be published in 2010.
He spent four years in Glasgow, as director of the UK City of Architecture and Design project from 1996 to 2000, and was the director of the Venice Architecture Biennale in 2002. He has commissioned exhibitions in Istanbul, London, Glasgow, and Copenhagen.
Joan Valent – Musical Composer
Valent was born in Palma de Mallorca 1964. In 1988 Joan Valent moved to Los Angeles where he took lessons in classical composition, film scoring and orchestral conducting at the University of California Los Angeles (UCLA) and under the guidance of the composer Aurelio de la Vega at the University of Northridge (CSUN).
In 1993 Michael Douglas asked him to create and present the piece "Escape From the Century" (screened on TVE). In 1996 Valent relocated to Madrid. While accepting commissions from orchestras around the world he also founded the Ars Ensemble, with whom he recorded the live album "Ars." After the release of "Ars" in 2000, Joan Valent started to perform his music live and was nominated for the Spanish Premios de Música.
American pop singer David Byrne included the string sextet Ars Ensemble during his tour of Spain and Portugal in 2001. In April 2002 his second album "Ensems" was released in Spain, Belgium and The Netherlands. Valent & Ars Ensemble took part in the XXVII edition of the prestigious Sfinks festival in Belgium.
Since 2002 until the present, he has released several works of symphonic, choral, and instrumental music; 4 CD productions with Montserrat Caballé (two of them awarded with a Grammy); a DVD release of his concert for violin "Four seasons in Mallorca"; a CD release with works combining the violin, piano, and electronic music "Insula Poetica"; the creation of the ballets "Deseo" for Hojarasca Danza company, the Ballet "CARMEN" for Sara Baras Company, and many other recordings productions and arrangements for different pop, classical and flamenco artists. Valent is currently working on an opera, a new piano concerto, a new CD, and several movies scores scheduled to premiere.
Why This Documentary
The project emerged from an idea of the executive producer, Antonio Sanz, who has a multifaceted career in the world of art (photographer, film director and scriptwriter and curator of prestigious international exhibitions). His close collaboration with Elena Ochoa's publishing company Ivorypress led him to propose this project to her: publishing a book with moving images, a film exhibition on the work of one of the greatest contemporary architects.
Over the past five years, Art Commissioners, has undertaken the international commissions of contemporary artists like Richard Long, Anish Kapoor, Sol Lewitt and Cai Guo-Qiang and others. In the audiovisual field, Art Commissioners has produced The First Look, presented and screened during the Venice Biennale 2006 in the Italian Pavilion, Ivorypress' short films C Photo and the film Blood on Paper for the Victoria and Albert Museum in London.
Norman Foster Architecture Book
please note prices of Books vary from week-to-week
Rebuilding the Reichstag


Lord Foster
£29.75
1999, Weidenfeld Illustrated, 255 pp, hardcover
"In 1992 the decision was made to house the German parliament in the historic Reichstag building in Berlin. Sir Norman Foster won the subsequent architectural competition, and this book, written by him, discusses the design, evolution, and construction of the building".
Norman Foster Books
Norman Foster AV Monographs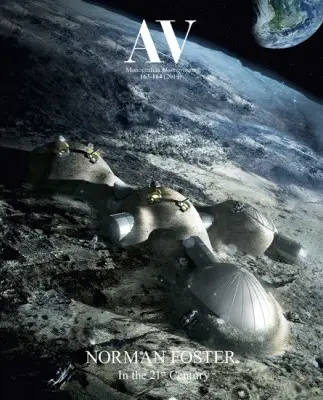 photo from publisher
Norman Foster AV Monographs
Foster + Partners Portfolio: 1967-2017 Book
Foster + Partners Portfolio: 1967-2017 Book
Architectural Design
Architecture Design Books – chronological list of publications
Contemporary Architecture Books
Norman Foster Buildings
Norman Foster design : Torre Collserola Barcelona
Norman Foster building : New Elephant House – Copenhagen Zoo
Comments / photos for the Norman Foster Architecture Books page welcome